►
◄
latest
habitat tv
blog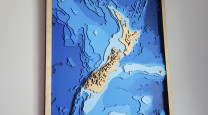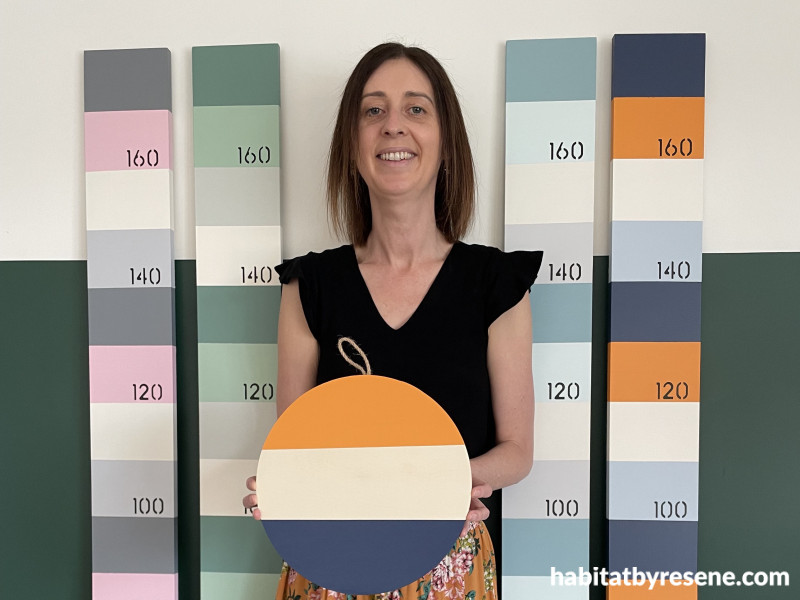 Elly's Design: Crafting childhood milestones and memories with colour
01 Nov 2023
Elena Husband, the mastermind behind Elly's Design, is a talented artist who creates whimsical height charts using Resene paints, adding a dash of colour and a touch of personalisation to children's spaces.
Elena's work is a vivid embodiment of the playfulness that defines childhood. Her creations primarily revolve around the idea of using colour to stimulate children's senses and spark their imagination.
"My main focus when I create pieces is about using colour and something that will appeal to children and their sense of play, imagination and fun," Elena says. "I love using different paint colours to create interesting colour combinations - eye-catching, fun pops of colour, as well as classic muted colour combinations."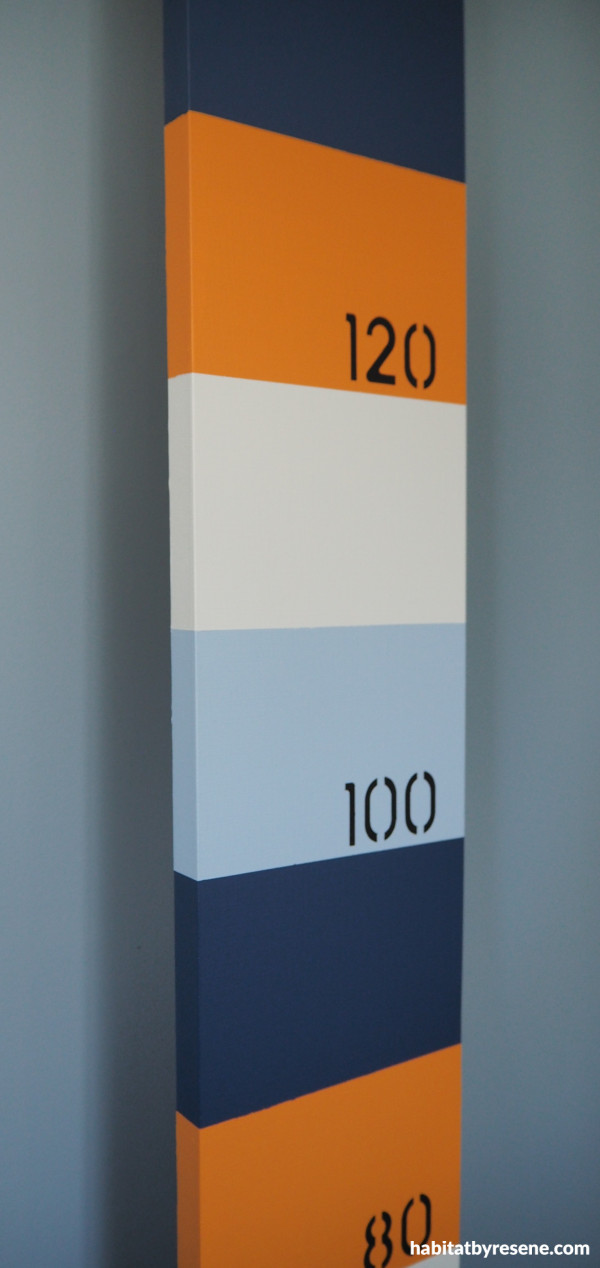 A close up of one of Elena's height charts, painted in Resene Biscay, Resene Flashback, Resene Double Bianca and Resene Spindle.
"When I had children, I wanted to decorate and personalise their bedrooms and play space. I came across a DIY feature in a habitat by Resene magazine showing a painted height chart. I made height charts for my children's bedrooms and personalised them with colours they liked and their names. I started creating more decor for their rooms focusing on colour and themes they love. Friends and family asked me to create pieces for their children and redecorate their children's bedrooms too."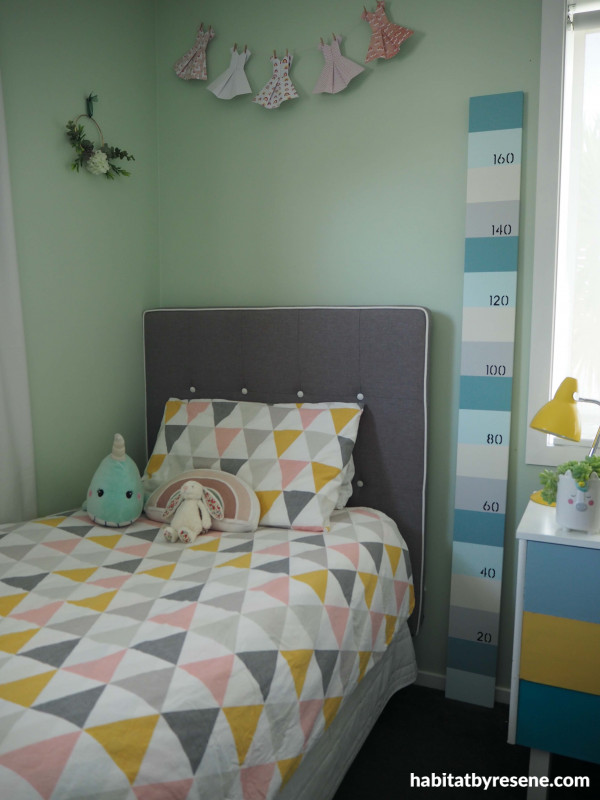 This height chart adds a lovely addition of colour to this child's bedroom, painted in Resene Ziggurat, Resene Foam, Resene Double Bianca and Resene Iron.
Elena's journey quickly evolved into a thriving business, driven by her talent and passion for creating beautiful and unique pieces for families. She primarily uses timber and Resene paints to craft her pieces, playing around with different colour combos.
Her inspiration, which fuels her creative process, is drawn from the Resene paint colour cards. Certain colours on these cards catch her eye and serve as the starting point for her artistic exploration. Elena's unique talent lies in her ability to combine and blend these colours to create visually stunning pieces.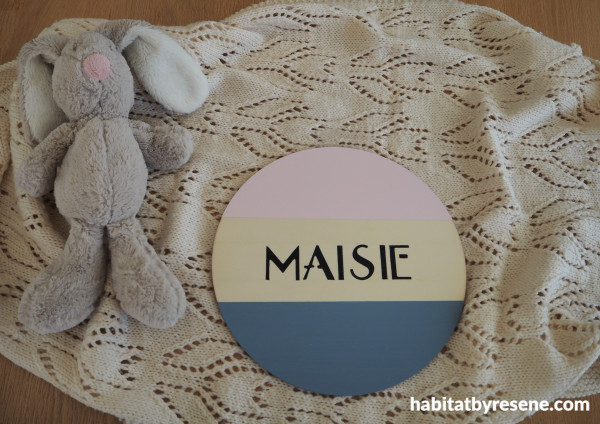 This special name plaque is painted in Resene Escapade and Resene Pale Rose, one of Elena's favourite colours.
"Over the years, my husband and I have had many DIY projects at home," Elena says. "We love the range of colours Resene offers, and the staff are always so friendly and helpful when we go into a Resene ColorShop. We love using colour on our walls to create a unique feeling in different spaces in our home; we tend to use a lot of greens or blues."
One might wonder about Elena's favourite Resene colour, and this would be the beautiful Resene Pale Rose. Elena loves this shade for its ability to contrast so beautifully with darker colours, adding a touch of elegance to her creations.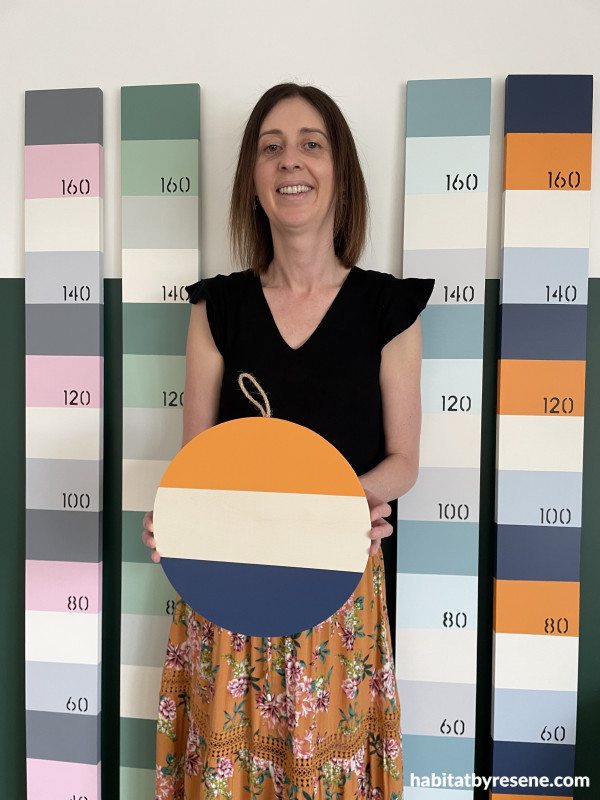 Elena with her wonderful height charts. From left to right, the first is painted in Resene Raven, Resene Princess, Resene Double Bianca and Resene Half Mishka. The second is painted in Resene Cutty Sark, Resene Summer Green, Resene Tasman and Resene Bianca. The third is painted in Resene Ziggurat, Resene Foam, Resene Double Bianca and Resene Iron. The fourth is painted in Resene Biscay, Resene Flashback, Resene Double Bianca and Resene Spindle. The name plaque is painted in Resene Flashback and Resene Biscay.
While Elena's passion and creativity shine brightly in her work, she considers Elly's Design a part-time endeavour for now. She loves the creativity it brings to her life and her family's home. However, her dreams for the future are even more vibrant. Elena envisions working with families to design and decorate fun bedrooms and play spaces for children, turning her passion into a full-time career.
Elena's passion for colour is evident in every piece she designs. Her height charts, name plaques and other decorative items are a canvas of creativity that appeals not only to children but also to the inner child in all of us.
Elena's artistic journey continues to add vibrant hues to the canvas of children's lives, one beautiful piece at a time.
If you're inspired by Elena's work and want to explore her creations, you can visit her website at www.ellysdesign.co.nz.
Published: 01 Nov 2023