►
◄
latest
habitat tv
blog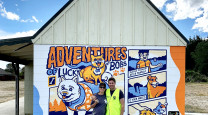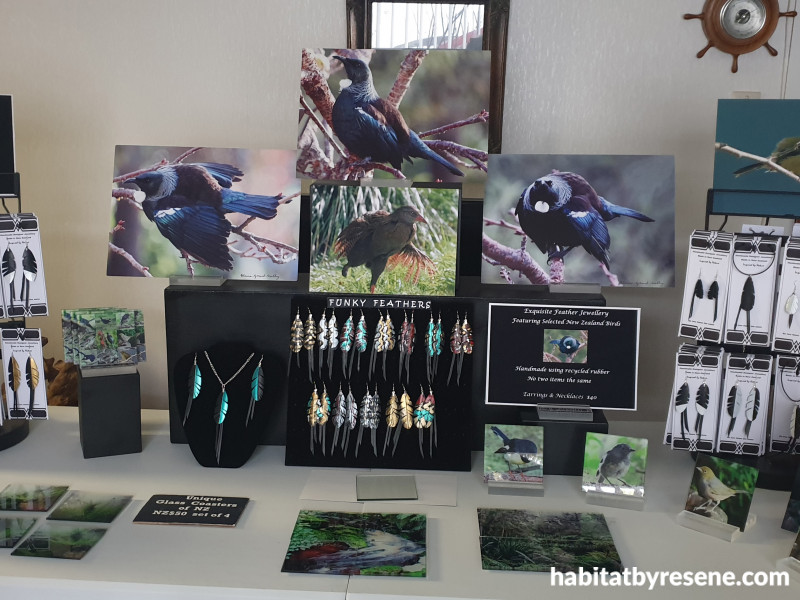 Flight path: Meet the artist turning bicycle tubes into fabulous feathers
11 Aug 2021
Elaine Grant-Dolby's feather jewellery is taking flight across the country. Her iridescent works, created from upcycled bicycle tubes, are soaring to new heights with a splash of Resene paint and an abundance of creativity that has us all aflutter.
Elaine decided to spread her wings and create Feathers by Design after a conversation with her son. "The making of feather earrings was cooked up over a BBQ with my son, who was a prominent cyclist, and away I went from there," says Elaine. "I have been 'retired' for a number of years, long giving up bosses.
"But I am not retired; I guess as one who delights in creativity I'd like to think I'll go on forever."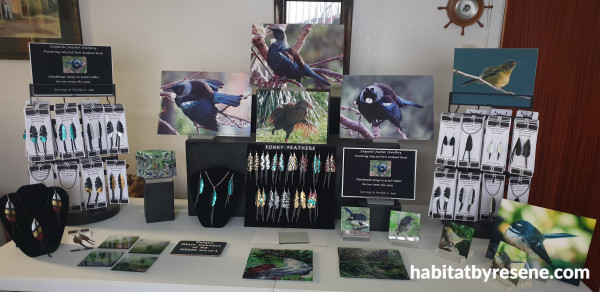 Elaine not only creates colourful jewellery, she also sells glass coasters of her photographs. Her favourite colour to use when creating her earrings is lustrous Resene Infinity.
Elaine finds inspiration outside her window, from the native birds that frequent her garden. "I'm finding delight in the birds of the wild and in my garden," says Elaine, who is also an award winning photographer. "My husband Duncan and I feed the birds each day for the reward of bird sightings and song.
"I use my best photos for inspiration, including of the tui that sit and bicker over food at my back door, and look for colours and textures that I then try to replicate with cut outs."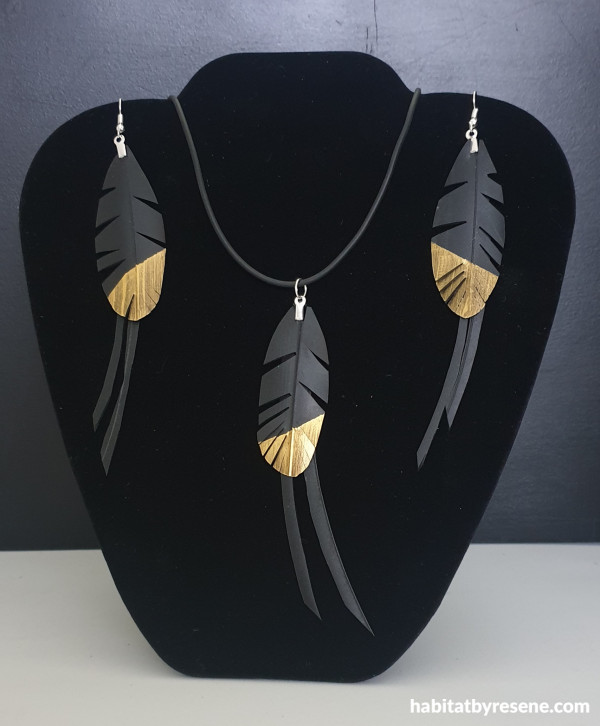 Elaine created this earring and necklace set using a base of Resene Apache with a topcoat of Resene Gold Dust.
Elaine uses cast-off bicycle tubes she receives from bike shops. She cleans the tubes up, cuts them into her unique feather shapes and brings them to life with bold metallic colours including Resene Gold Dust and Resene Pearl Shimmer.
"I enjoy turning something that is tattered and has obviously done the kilometres into something that is beautiful and quite unbelievable.
"I love the rubber's flexibility, which Resene paints can match, and also the ability of Resene to stick where a lot of paints will not."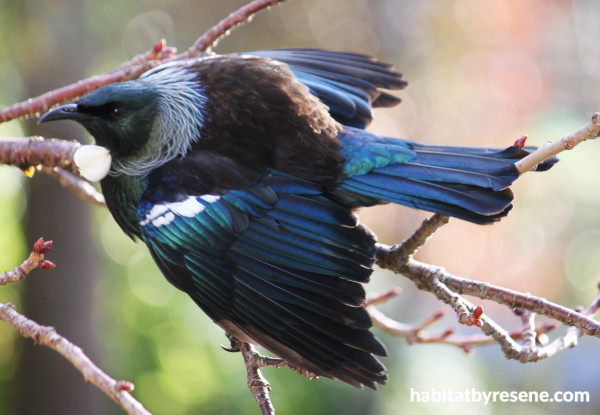 Elaine is also an award-winning photographer and loves spending time in nature, photographing native birds.
Elaine's favourite colour is Resene Infinity, a silver metallic with a fresh undertone of blue, and it has inspired her favourite piece by the same name. "Resene Infinity is such a beautiful, outstanding colour that matches my vision," says Elaine. "I love the texture and its thick consistency.
"I cannot recreate the brilliance of the tui, bellbird or delicate little silvereye, but I'm proud if I can get close."
Elaine fondly remembers the first time she used a feather and paint. "In the 1950s as a young child, I delighted in painting my uncle's house using a feather from his chook house and a tin of water. He said I was a great painter."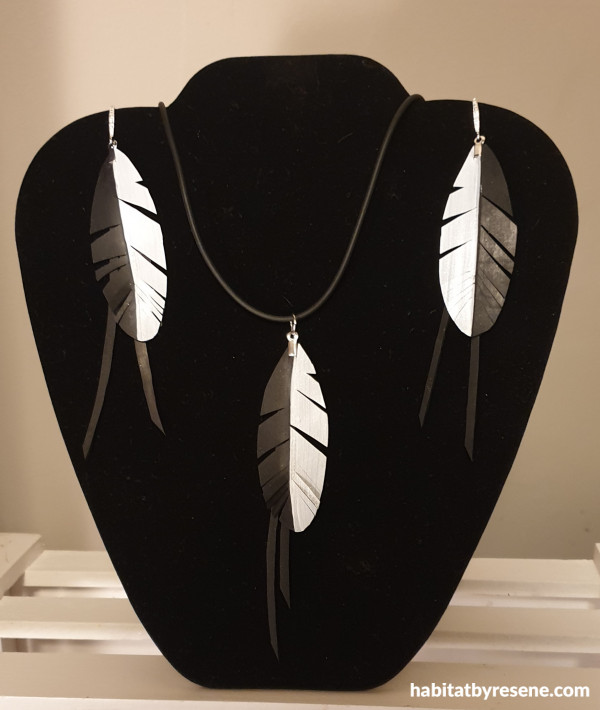 Resene Infinity, Resene White and Resene FX Pearl Shimmer bring these elegant earrings and necklace to life.
Since then, Elaine has created stunning masterpieces that have flown across the world. Her works have more recently been sold in several Dunedin malls and she enjoys interacting with her customers on a regular basis. "I love nothing better than a bit of banter. It's nice if they buy something, but if they don't I've enjoyed the chat," she says. "I like the technical brilliance of my work too; being able to use stunning paints that reflect what I see and feel.
"I love the idea that I reflect New Zealand, nature and recycling in my work."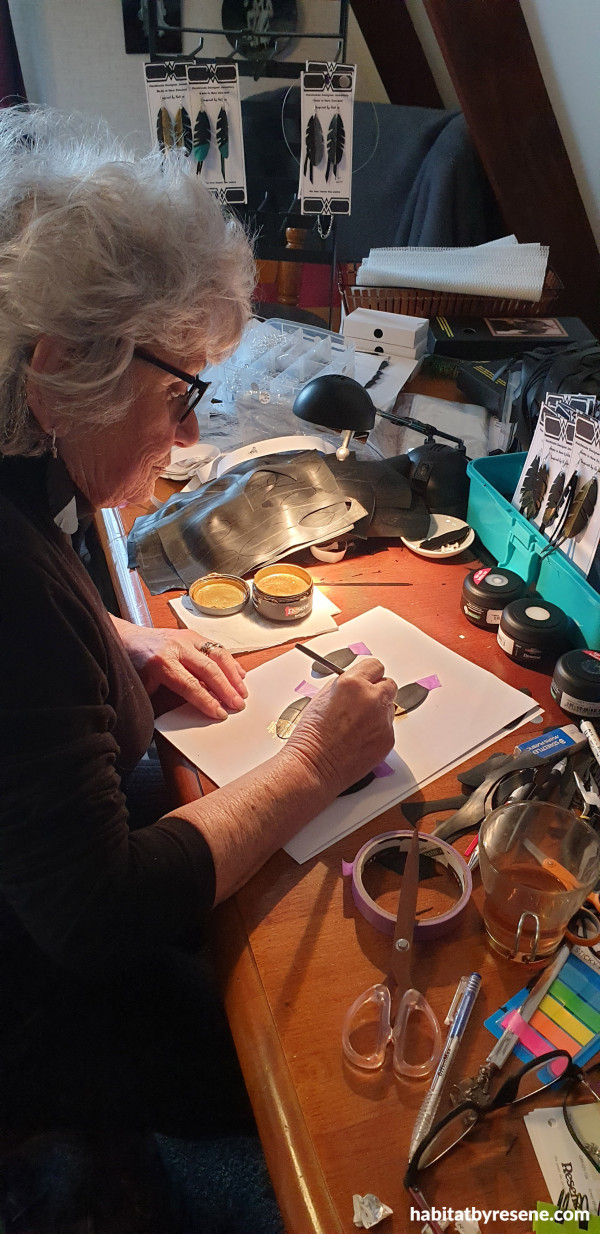 Elaine's intricate handmade work requires excellent time management. Everything is hand-cut and no two pieces are the same.
To see more of Elaine's colourful work check out her Feathers by Design website. You can also see more of her photographs and glass coasters here.
Published: 11 Aug 2021