►
◄
latest
habitat tv
blog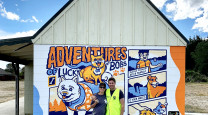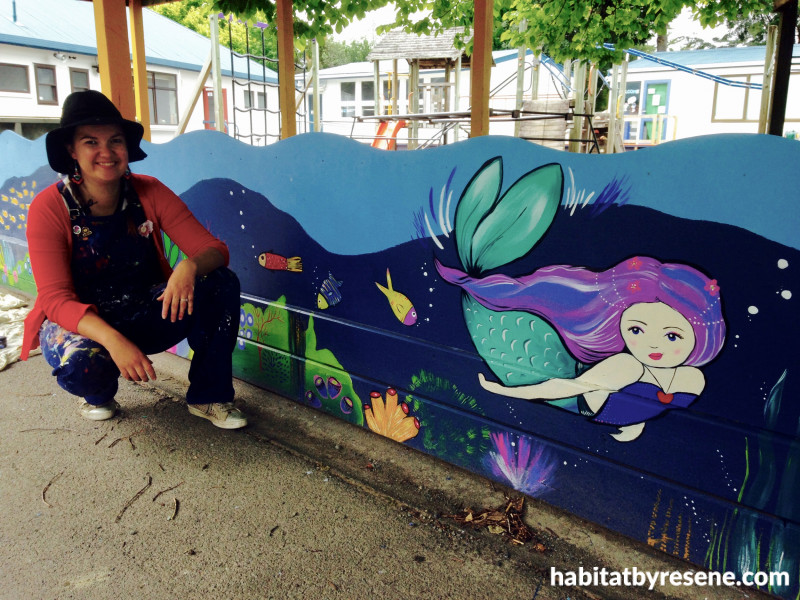 Flower power: Artist Katie Marshall's courage with colour
05 Aug 2021
When Katie Marshall discovered a pile of Resene paints, brushes and materials left on her doorstep one morning from her friends and neighbours she knew exactly what to do; return the favour with an artwork the community could enjoy. During lockdown last year, Katie painted a large, whimsical mural that brought joy to the people in her hometown of Masterton. The artwork entitled 'Earth Mother' reflects on New Zealand's hibernation during the lockdown and how the quieter time helped the environment heal.
"It's a special piece," says Katie.
"The veins in the Earth Mother's neck are painted to look like branches and she also has forget-me-nots floating down - so we don't forget about this time. Her earring is a chrysalis- representing new life," she explains.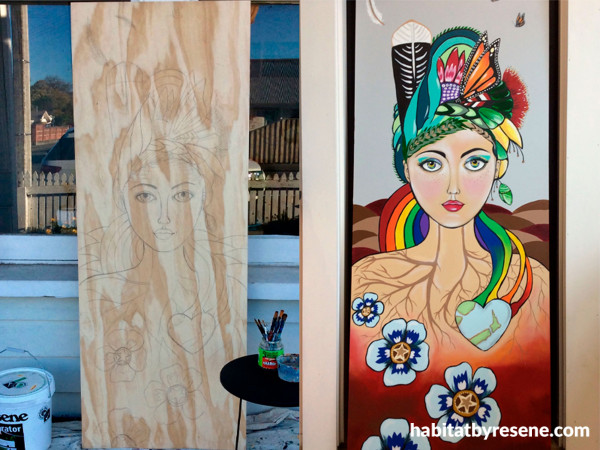 Before and after: 'Earth Mother' brightened Katie's street during lockdown with Resene Poppy, Resene Party Zoneand Resene Home Run.
"For me it was my way of connecting with people through my art," says Katie, who called the piece Earth Mother. "The mural was based around giving Mother Earth a rest during isolation, I think of that period in my life every time I look at it.
"My work is based around my love of flowers, bold colours and shapes. I love movement and try to capture the essence of it in my art."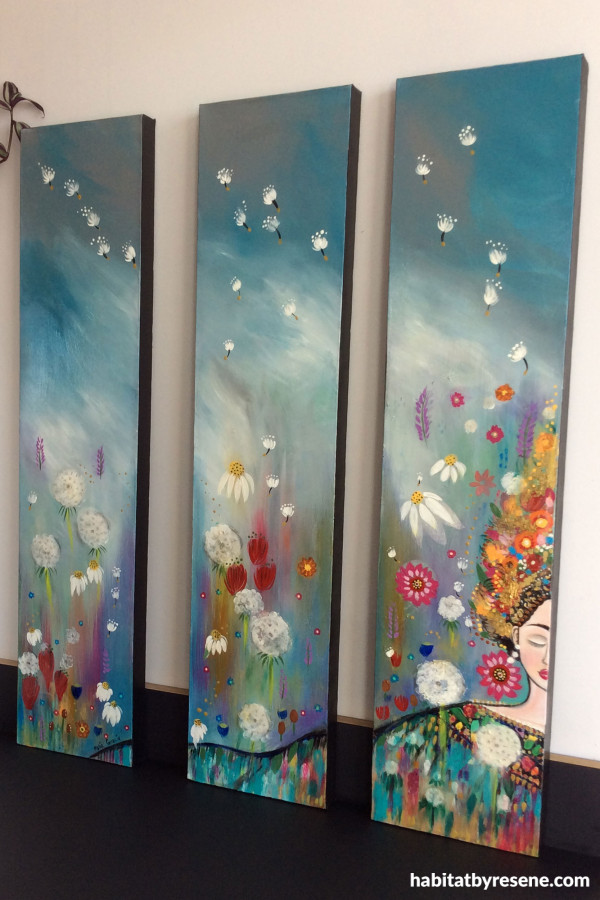 This Frida Kahlo inspired artwork incorporates Katie's eclectic range of Resene paints, includingResene Colour Me Pink, Resene Copper Fire and Resene Home Run.
Katie's artistic career kicked off at the tender age of fifteen, when she painted her first mural in the basement of her family home. Nine years ago, she made the move to become a full-time artist. "It can be a tough road, but I wouldn't have it any other way," she says.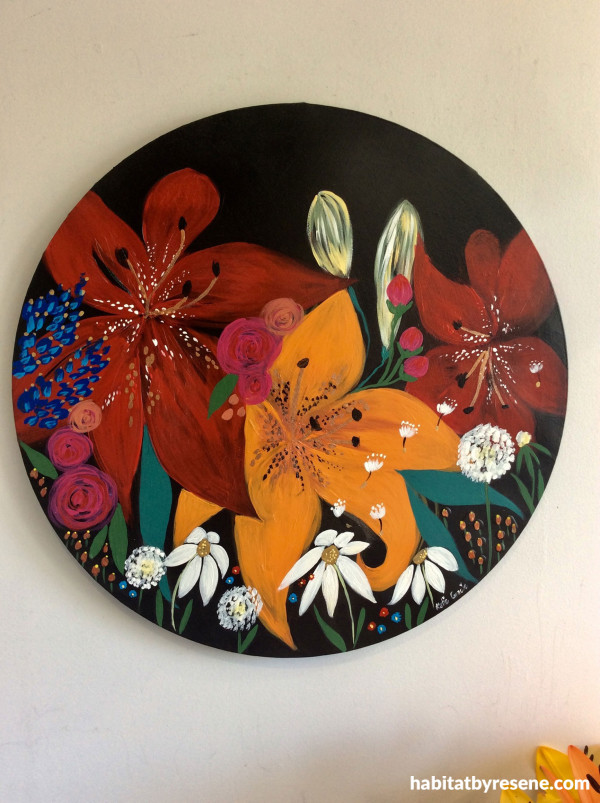 Inspired by the changing seasons, Katie uses Resene Poppy, Resene Party Zone, and Resene Copper Fireto create her masterpieces.

Resene Poppy and Resene Party Zone add a splash of happiness to Katie's paintings, and her inspiration comes from a unique source. "I love Frida Kahlo and her work," says Katie. "My daughter is also a huge inspiration and watching her freedom with painting and drawing really inspires me.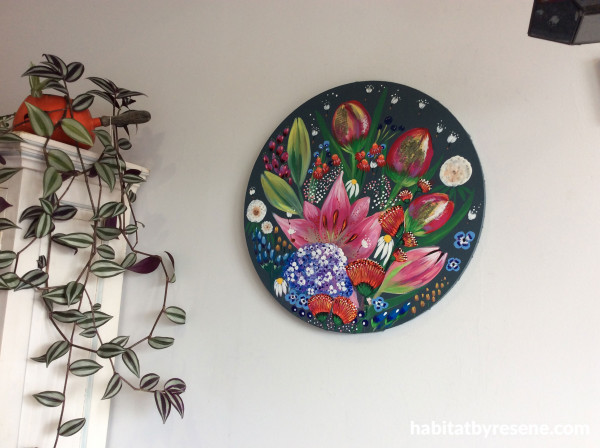 Katie's colourful bouquets on circular canvases bring the spirit and movement of spring indoors with Resene Poppy, Resene Colour Me Pink and Resene Home Run.
"I am very influenced by my surroundings and the seasons. My colour palette changes regularly and so Resene testpots are ideal for me given their size."
Using everything from circular canvases to wood and walls, Katie begins her painting process by sketching out her ideas and transferring them to her final choice of material. "I paint solely using Resene paint," says Katie. "I am comfortable with its texture and work with it in murals and my canvas pieces, I have used it on bowls and wine bottles and am currently wearing shoes I have painted using it.
"I love the range of colours Resene offers. Picking a favourite colour is really tough, it's like choosing a favourite child! I have Resene Colour Me Pink, Resene Copper Fire and Resene Home Run on high rotation."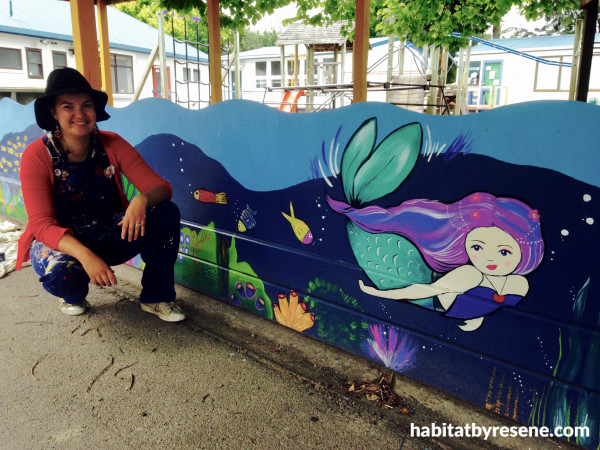 Since painting her first mural in the basement of her family home, Katie has taken her artwork to the streets, where she creates vibrant pieces for the community using Resene paints.
Check out more of Katie's work on her Facebook or Instagram
Published: 05 Aug 2021