►
◄
latest
habitat tv
blog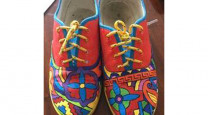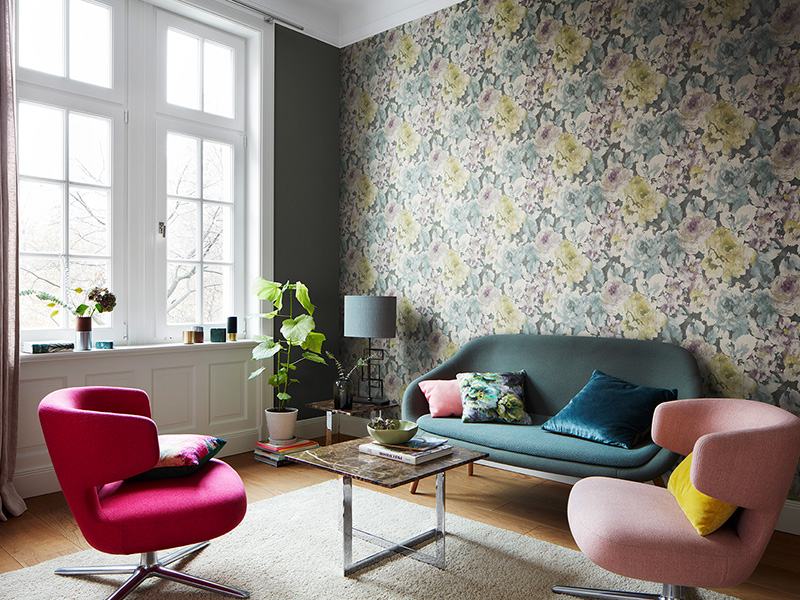 Flower power
12 Jun 2019
Wallpaper and floral patterns have gone hand-in-hand ever since the wallcovering was invented, but that doesn't mean they have to feel old fashioned.
Smaller, simpler floral patterns or those with a hand-painted effect generally carry with them a more traditional feel whereas larger scale florals and those with bolder colour palettes typically read as contemporary. The latter can be a great option if you're looking to build a modern scheme within a home that has older details, such as a villa. But in any case, it's what you pair with them that will really sell the look you're trying to achieve.
Here are four ideas to work floral designs from the Resene Wallpaper Collection into rooms that have entirely unique moods but still feel fresh.
Make an impression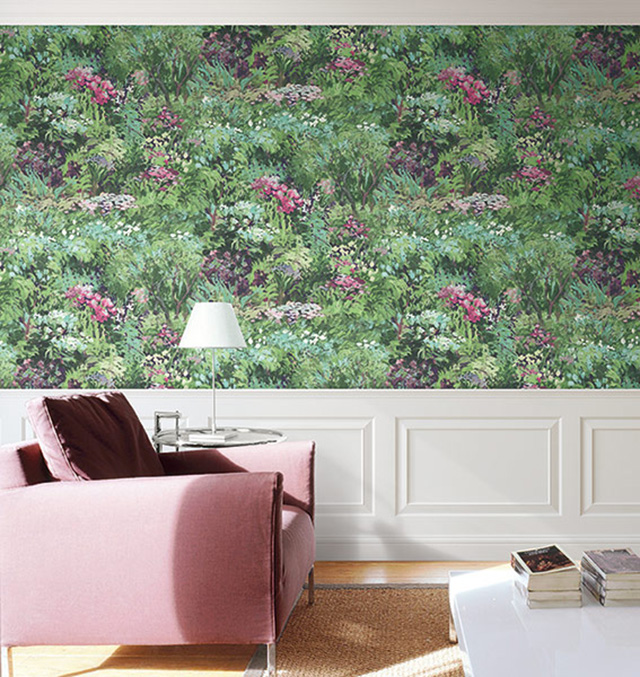 The painterly look of the French impressionist-style flowers in Resene Wallpaper Pattern FI70701 may have gained prominence in the 1870s, but there's no reason a design with the same artsy flair can't look just as cutting edge in a home today as it would have then.
Try it with a few small accessories in Resene Moonlight, a statement piece of furniture – such as a dining table – painted Resene Love Me Do, and a large vase or plant pot in Resene Purple Rain to play off the colours within the pattern. If you're lucky enough to have beautiful old wall panelling like in this space, keep it crisp in Resene Double Alabaster.

Farm fresh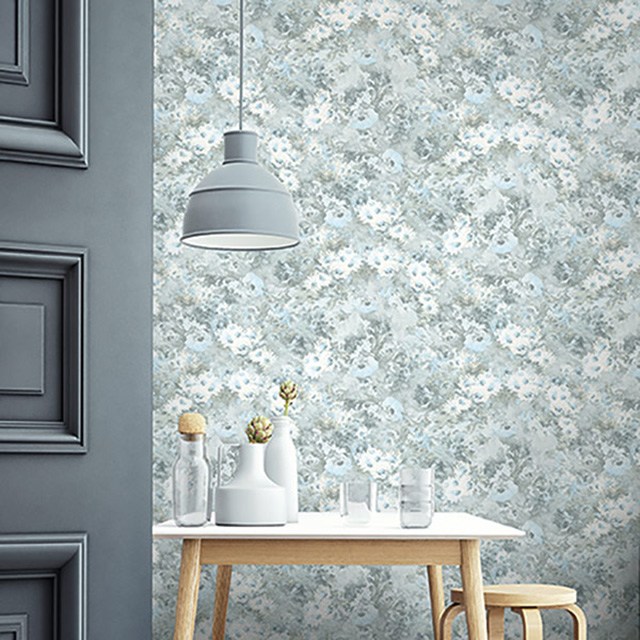 The steely blue and grey blossoms in Resene Wallpaper Collection FI71308, too, feature brush-like strokes from a time before, but when paired with simply designed furnishings that have clean and contemporary lines, the result is ideal for a modern farmhouse setting.
Try it with blonde timbers stained with Resene Colorwood Rock Salt and warm dusted blues like Resene White Island and Resene Slipstream on table accessories, such as the outside of a fruit bowl or a set of vases, and then try a classic dark denim like Resene Liberty or Resene Safehaven on doors and a pendant lamp.

In full bloom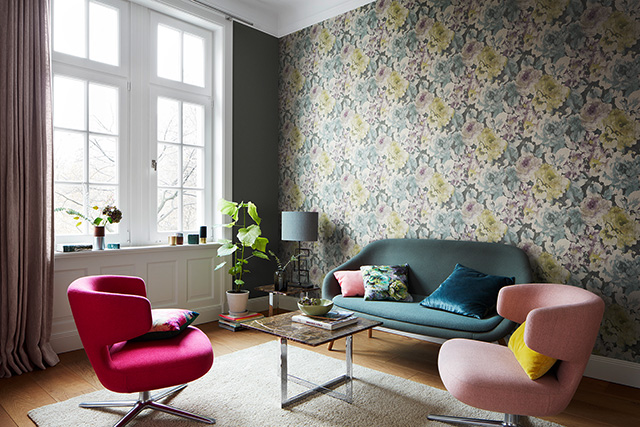 Colour is queen in this eclectic wallpapered lounge. The faded cabbage rose design of Resene Wallpaper Collection 455649 has an old fashioned vibe to it, yet the colours make it a suitable fit to bridge the gap between the traditional finishes of the space and the modern furniture.
While they're all different hues, the similarity between the shapes of the sofa and chairs make them match rather than clash. Opting for solid colours on the lion's share of the soft furnishings creates a restful contrast and keeps them from having to visually compete for attention with the wallpaper design.
To bring a similar palette into your own home, go for Resene Green Meets Blue on a major piece of furniture then try bringing in a mix of accessories in Resene Irresistible, Resene Shilo, Resene Fast Forward and Resene Wild Thing and a lampshade in Resene Unwind. For the trims and ceilings, opt for a bright white like Resene Elderflower and try a neutral stain for timber floors, such as Resene Colorwood Ironbark.

Subtle and sophisticated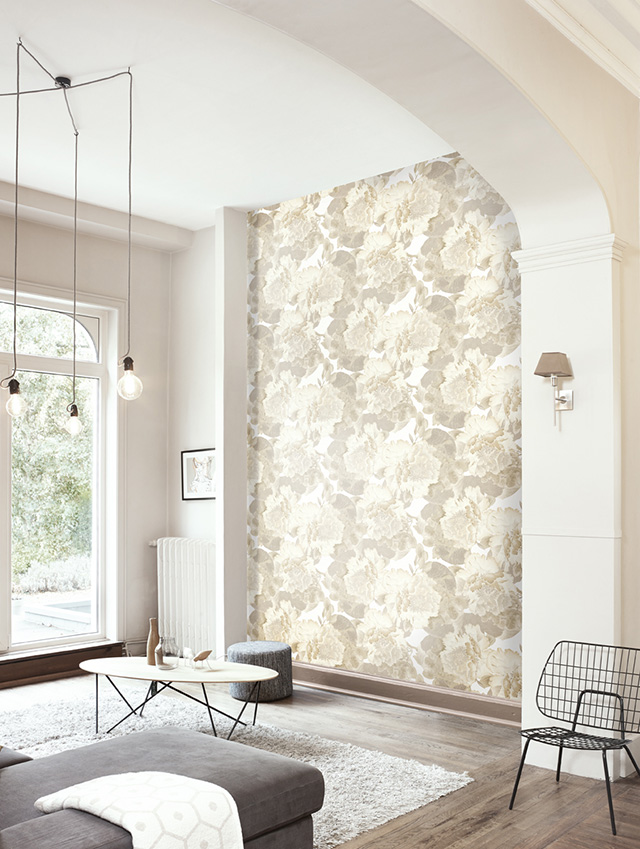 If you like the idea of a floral wallpaper but are weary of trying to pull off a look with a bunch of different hues, try Resene Wallpaper Collection GLA705. Its big, contemporary pattern allows for plenty of visual texture on a statement wall, making it a perfect pick for those looking to bring new life to a neutral scheme.
Team it with warm whites like Resene Quarter Spanish White on non-papered walls, accents in stronger Resene Half Spanish White, opt for Resene Rice Cake on trims and ceilings and stain timber floors in Resene Colorwood Jarrah to ground the space.