►
◄
latest
habitat tv
blog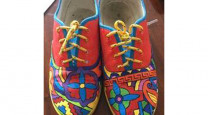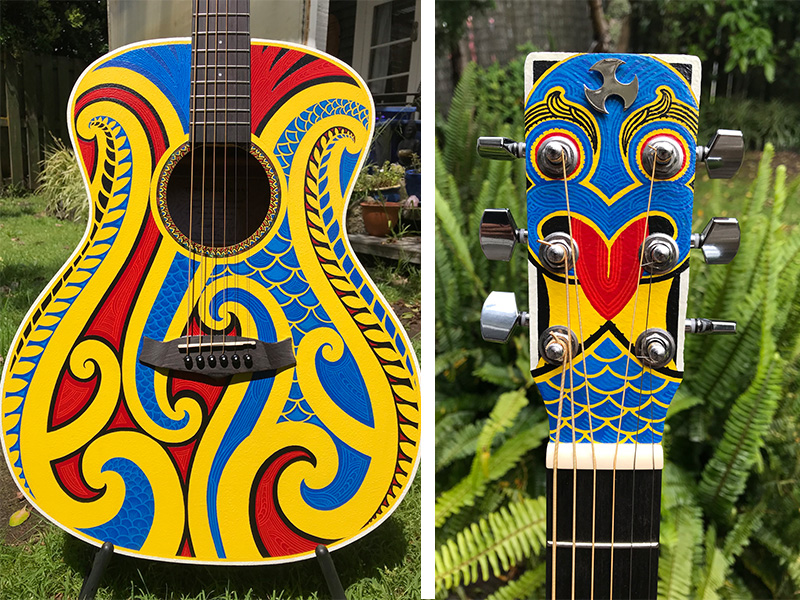 Hiwirori's masterful MOKO guitars make an impression
30 Apr 2019
Hiwirori Maynard has been a visual artist for more than 20 years. His journey began when he studied at Toihoukura School of Contemporary M?ori Visual Arts in Gisborne. While he is primarily a painter, Hiwirori works in a number of mediums and on a variety of surfaces. Our favourites are his incredibly intricate hand-painted MOKO guitars, created with an expert hand and a colourful array of Resene testpots.
Hiwirori tells us more.
Where does the inspiration for your work come from?
"My wha?nau (family) and those close to me within the arts community have been my inspiration over the years and they play a major role in the development of my work. Without their influences, I wouldn't be doing what I love."
What led you to choose guitars as a base for some of your artwork?
"A lot of my works over the years have been based around K?whaiwhai most especially the Pitau a Manaia pattern. My passion has always been both the M?ori performing and visual arts so I put my two passions together and created the MOKO Guitars.
Last May, I also started tattooing – another medium I was always interested in knowing more about. So far the journey has been an interesting one."
What are your favourite Resene colours?
"Resene Pompadour, Resene Red Berry, Resene Poppy, Resene Black, Resene Deep Koamaru, Resene Resolution Blue, Resene Endeavour, Resene Allports, Resene Geebung, Resene KaitokeGreen, Resene Bilbao, Resene Spanish White, Resene Hairy Heath…just to name a few."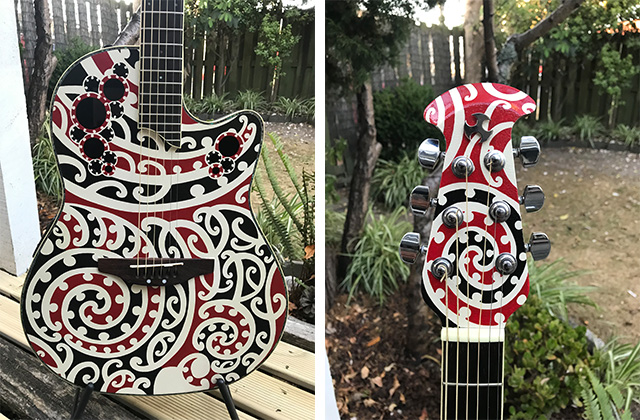 Hiwirori's 50th MOKO guitar, titled 'Manaia', is part of the Auckland Museum Collection and was created using Resene Spanish White, Resene Red Berry and Resene Black.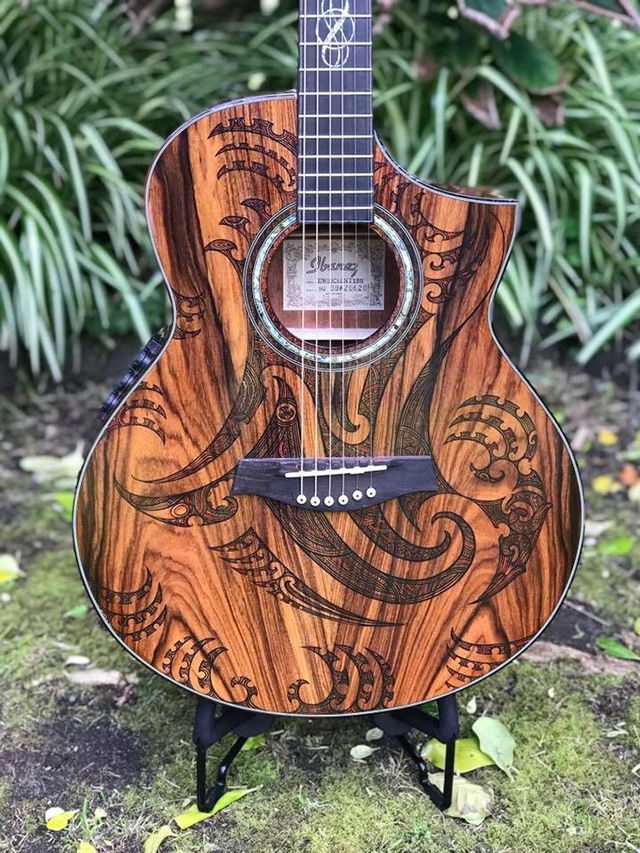 MOKO Guitar No. 37, titled 'Woody', is part of Hiwirori's private collection. He painted it with Resene Red Berry and Resene Black and a very steady hand.
M.O.K.O Guitar No. 44, titled 'Turangawaewae' features spectacular tone-on-tone details within each of the accent coloured sections. Hiwirori used Resene Red Berry, Resene Bright Red, Resene Resolution Blue, Resene Endeavour, Resene White, Resene Black and Resene Bright Spark to achieve the effect.

To see more of Hiwirori's stunning work, check out his Instagram and Facebook pages.