►
◄
latest
habitat tv
blog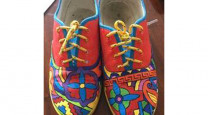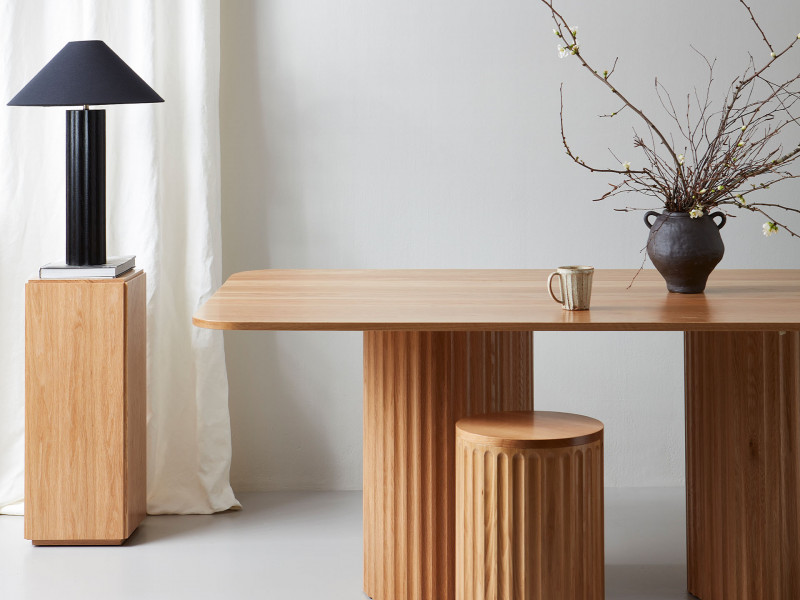 Homestyle's new furniture and lighting collection is a must-have for your home
05 Aug 2020
Homestyle magazine has just introduced their latest project; homestyle Editions, a stunning collection of curated furniture and lighting they've dreamed up and made in collaboration with local craftspeople in New Zealand. We chat to editor Alice Lines about the collection: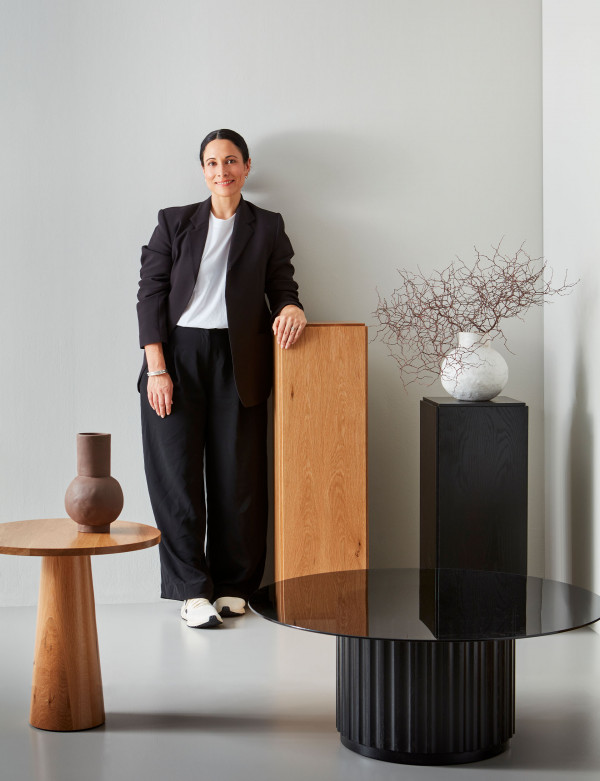 Editor Alice Lines stands with items from homestyle Editions – their first collection of furniture and lighting (from left to right) Hestia occasional table, Niche plinth in natural oak, Niche plinth in black satin and Monument coffee table. Walls in Resene Cloud and floor in Resene Half Stonehenge.
What inspired you to launch your own furniture and lighting collection?
As independent publishers, we also function as a creative studio in a consulting, design and styling capacity. Beyond the print page, we've produced imagery and stories for local brands, hosted workshops and conceptualised interiors for urban developments, to name a few of the ways we share our specialist understanding of homes and interiors. We're always dreaming up different ways we can add to our offering, and in-spite of all that we've faced as a small business through the pandemic, or perhaps because of it, 2020 was the year to bring to life an idea that had been percolating for a while — this is homestyle Editions — an online platform sharing pieces for your home, designed by us and made in collaboration with local artisans here in New Zealand.
What local artisans have you collaborated with?
For our launch collection — the first in an ongoing series of consciously curated offerings — we worked with manufacturers Southern Creations, who specialise in making refined wooden furniture in their Christchurch workshop, and Auckland based lighting specialist Eunice Taylor, who made the shades for our lamps.

The homestyle Editions furniture collection is created with natural oak, some with a black-stained finish. It's a style that works beautifully with the clean white walls in Resene Cloud and floor in Resene Half Stonehenge. From left to right, Column floor lamp, Hestia occasional table, Monument coffee table, Niche plinth in black satin and Niche plinth in natural oak.
The collection is comprised of plinths, tables and lamps – why these pieces?
We had been musing on the idea of a stool that would function as a multi-tasking piece around the home, and as we began to explore and resolve the design of this singular piece, one thing led to another and similar forms including a coffee table and dining tables were added, until a range of eight pieces was realised for the launch of homestyle Editions. As the collection took shape, it also offered us an opportunity to solve a problem we had stumbled on in our styling work, namely the local availability of plinths. A while back we had some made for our studio shoots, and saw an opportunity to create something similar for the home environment — simple, elegant objects to celebrate the art of display.
What inspired the look and concept of the collection? And what was it about this inspiration that drew you to it?
Following the tradition of neoclassicism, in designing these items, we drew inspiration from the architecture of ancient Greece and Rome. Fluted columns and rebated edges encourage light to play on the surface of each piece, while the smooth, hand-turned shape of the tapered bases offers a subtly feminine form.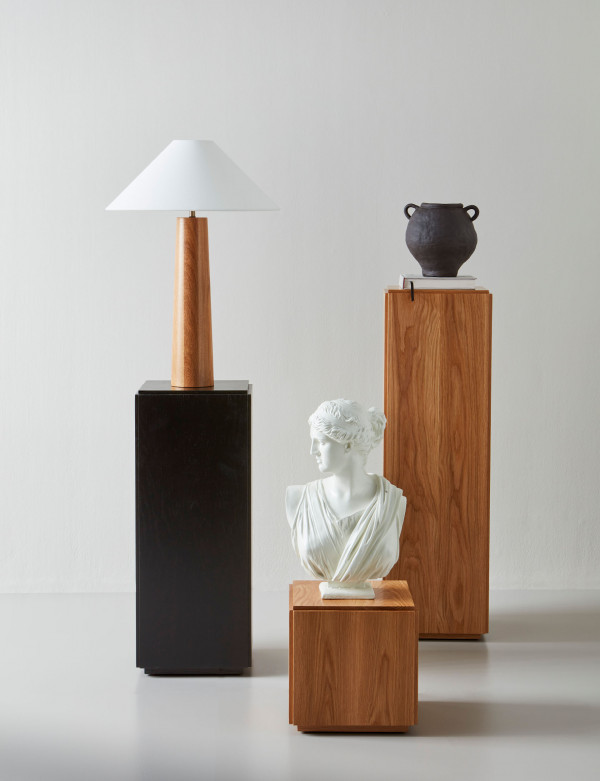 The homestyle Editions collection of plinths in black satin (left) and natural oak (middle and right) are must-have editions to any home. Wall in Resene Cloud and floor in Resene Half Stonehenge.
What do you love about the colour palette and material choices of your collection?
We've always appreciated the tactile warmth wood adds to an interior, and opted for the collection to be handcrafted in oak. It's a really versatile timber, which fits seamlessly with myriad interior aesthetics. We love how the black-stained finish can offer an entirely different mood to the natural oak, and the two pair together really beautifully too.
Any tips on how people can style these pieces in their own homes?
The pieces in this collection are intended to be timeless building blocks for your home — occasional furniture and lighting that can be arranged and rearranged to suit your mood or season of life. Place an Athena lamp on the end of a sideboard to start a statement vignette, pair the Hestia occasional table with the Monument coffee table for a modern take on nesting tables, or create a dramatic focal point at the end of your hallway with an objet d'art atop a plinth. Mostly, we want people to have fun with their interiors and hope these pieces can be the jumping off point for further embracing the art of display in your home.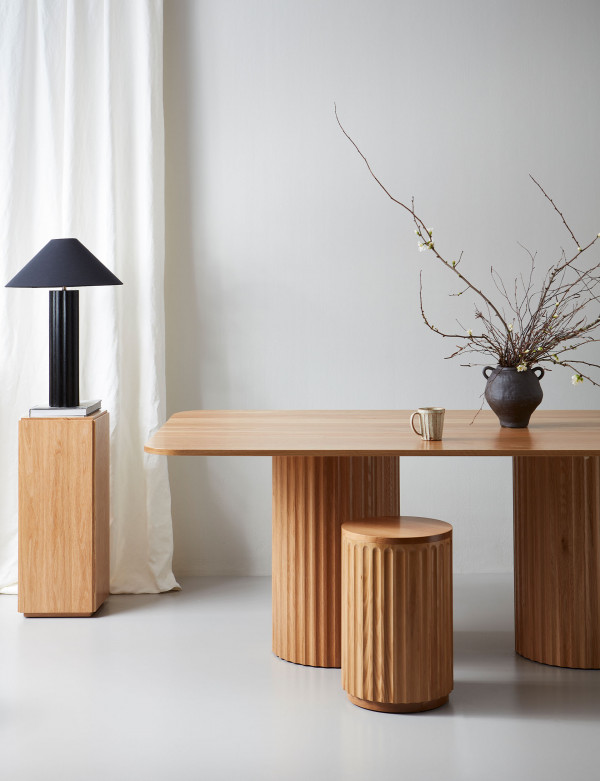 The homestyle Editions Twin Pedestal table and Museum stool make a statement with the Niche plinth and Column table lamp to the left. Wall in Resene Cloud and floor in Resene Half Stonehenge.
Find the collection at homestyle-editions.co.nz.
images Melanie Jenkins
styling Alice Lines