►
◄
latest
habitat tv
blog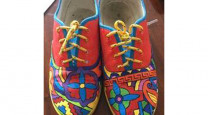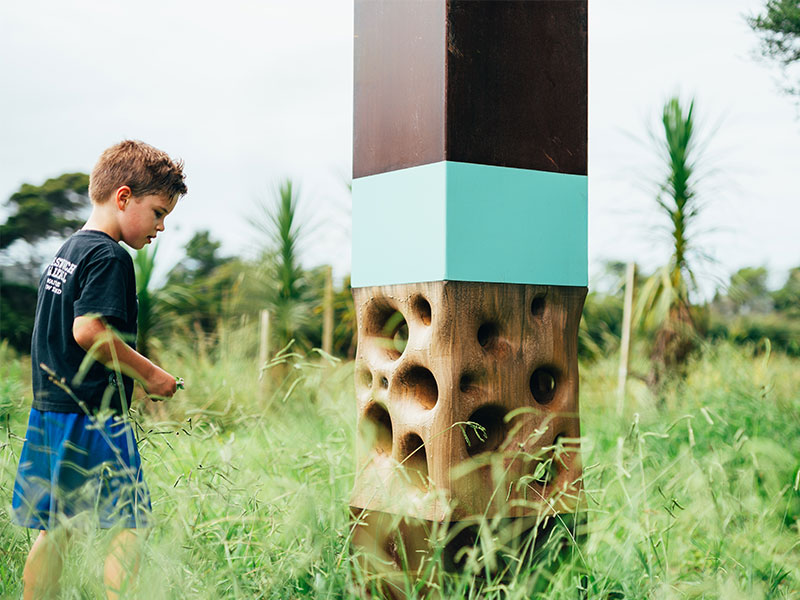 Isthmus Group's habitat markers colour the Te Ara Manawa coastal walkway
14 Jan 2020
The local community of Hobsonville Point has been given a beautiful connection with local ecology thanks to a clever project by the architects at Isthmus Group. 'Habitat markers' have been placed along the 4km stretch of the Te Ara Manawa coastal walkway, providing 'points of interruption' at natural features – with the help of eye-catching Resene colours.
With the coastal edge playing home to native plants plus wildlife from insects, tree lizards and terrestrial birds to fish, crabs and coastal birds, it was crucial that the markers added to the natural habitat, something Isthmus treated with the utmost care.
"As architects we have a role to play in making sure that our built environments do not compromise the natural environment. Isthmus bring attention to these issues by exploring the concept of kaitiakitanga (stewardship)," says Azmon Chetty, who is part of Isthmus' architectural team.
The habitat markers take the form of large posts, featuring a labyrinth of holes and hollows for birds and insects to make their homes. The holes were also designed to prompt curiosity, encouraging children to explore nature in a unique way. To give the posts a natural aesthetic, a palette was chosen that perfectly reflects locally sourced natural materials as well as local and universal Maori cultural traditions.
"The palette takes inspiration from Te Kiko o te tangi: heaven and elements, Te mata o te whenua: land, Nga Kararehe: fauna and Nga otaota: flora," says Azmon.
The team opted for Resene Frenzee, Resene Hi Jinx and Resene Sword (for heavens and elements), Resene Space Station (for meadows/land), Resene Ming (for estuary/land), Resene Double Napa (for stream/fauna), Resene Landmark (for pond/fauna) and Resene Kakapo (for bush/flora) to represent and differentiate each area.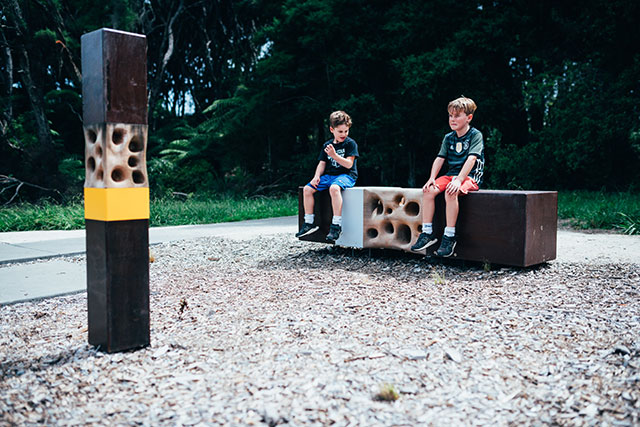 Resene Frenzee colours this habitat marker, with hallows created specifically to incite curiosity and give visiting birds and insects a home.
Isthmus Group chose this palette of colours to keep the markers both visually simple yet bold, and to not overwhelm the surrounding environment. The simple yet effective design and use of colours is impactful and shows how much care was put into the project.
"We have a critical responsibility as designers to respect whenua (land). This project makes this connection more obvious in a curious and fun way; architecture for critters as markers within a bigger project," explains Azmon.
"We hope the children of Hobsonville will come to know the natural community that they live amongst as well as the human one."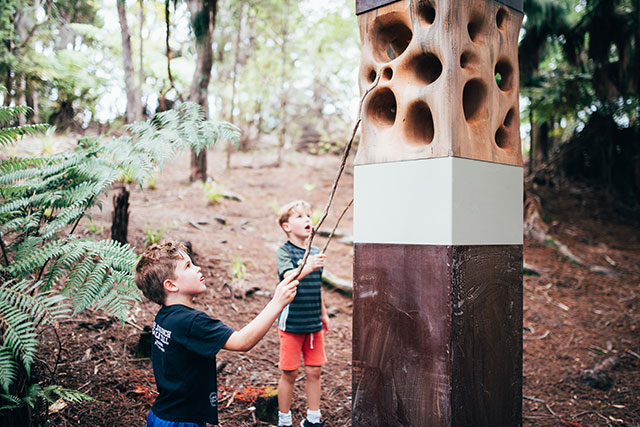 Resene Double Napa is painted onto this stream-adjacent habitat marker.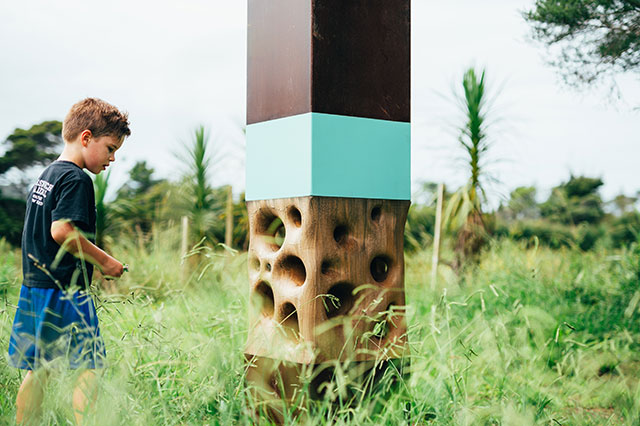 Resene Ming adds a pop of colour on this habitat marker, featuring a number of holes and hollows to act as homes for insects and birds.
imagesIsthmus Group