►
◄
latest
habitat tv
blog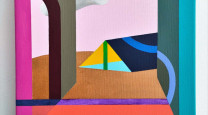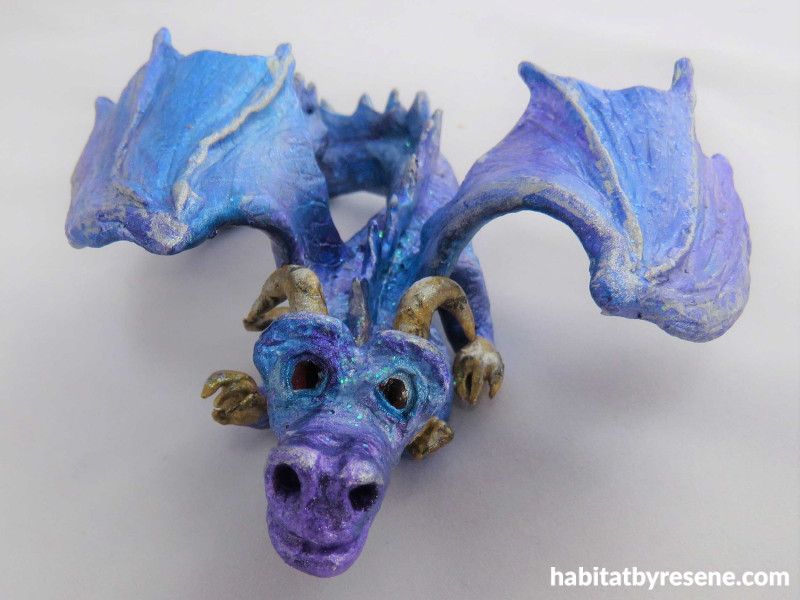 It's a kind of magic: Inside Arty Vicky's dragon's den
13 May 2021
When it comes to art, the magic is in the colour for Vicky Millman. Vicky, also known as Arty Vicky, has always been creative but only began thinking of herself as an artist ten years ago when she joined the Horowhenua Art Society. Vicky uses Resene paint to create everything from daring dragons and colourful driftwood sculptures to vibrant outdoor murals.
"I believe that colour has a huge influence on mental health and I love to paint in bright, cheerful colours," says Vicky.
"If my art makes someone smile then I know I have achieved my purpose."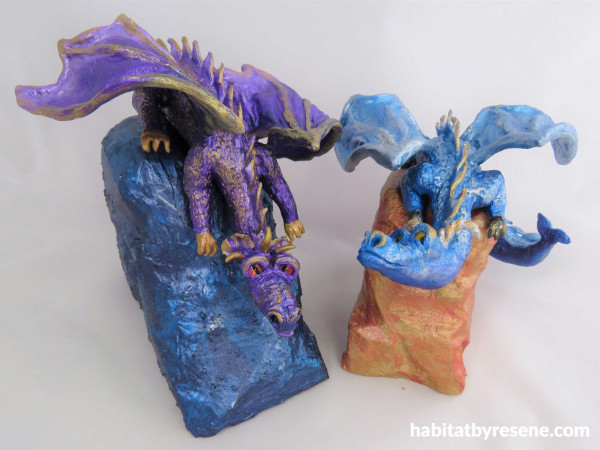 Two of Vicky's shoulder dragons, perched on their resting rocks. The dragons and rocks are painted in Resene metallics. The purple dragon (left) is painted in Resene Funtasia with Resene Gold Dust and the blue dragon (right) is painted in Resene Yeehaa with accents of Resene Scotty Silver.
One of Vicky's favourite pieces is her rainbow shoulder dragon sculpture. "I have attached it to the handle of my handbag and I wear it everywhere," says Vicky. "It was inspired by my glasses and my huge collection of Resene testpots.
"My dragons come from a need to make wearable art. I like to tap into a fantasy world where dragons are our companions and pets."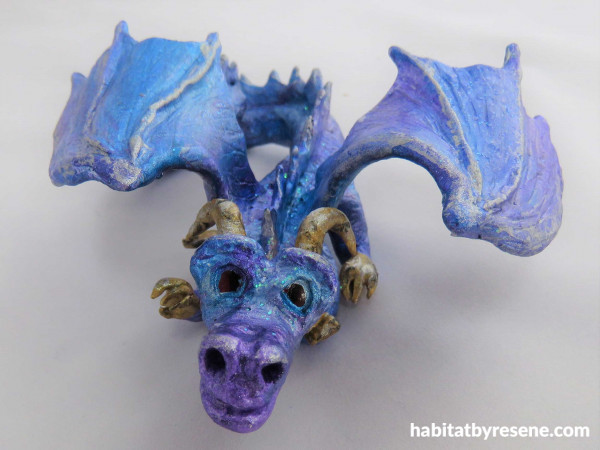 Vicky's brooch dragon is a piece of colourful wearable art and is painted in Resene Funtasia and Resene Yeehaa with accents in Resene Gold Dust.
Vicky's wearable dragons are created using an inner structure of wire and aluminium foil which is then covered in Cosclay. Cosclay was released last year in America and has enabled Vicky to create dragons that are robust enough to be worn on a daily basis. "I love giving each one a different character," says Vicky, who uses Resene Quick Dry primer undercoat and then paints the dragons with a range of Resene testpots.
"Usually I use metallics, but if I am using other colours, I give them a final coat of Resene FX Pearl Shimmer because it makes all colours look metallic.
"I am attracted to bold, bright colours and Resene testpots give me access to a huge colour range of quality paint at an affordable price."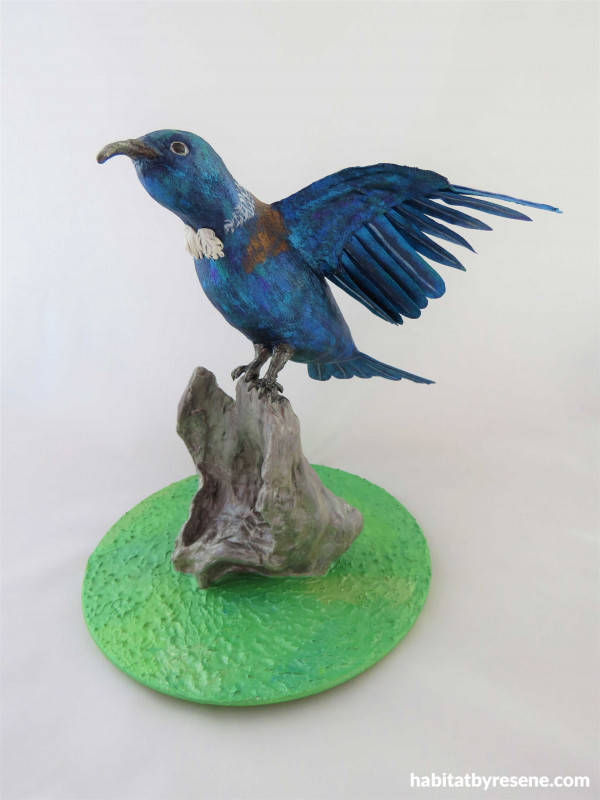 Vicky, who blossomed as a sculptor during her time at The Learning Connexion, created this detailed tui featuring Resene Go Go Go and Resene Yeehaa.
Vicky first began using Resene testpots five years ago when she studied at The Learning Connexion School of Creativity and Art.
"I blossomed, grew in confidence and became serious about sculpture," says Vicky. At The Learning Connexion, Vicky was encouraged to write her own briefs and challenged herself to create driftwood sculptures in a bold and unique way.
"Painting with metallics was a natural progression, because many of the facets and plains of driftwood show off the shine and shimmer of the paint," says Vicky.
"When I am making driftwood art, the shapes of the wood inspire stories in my head which dictate the work.
"I began adding something to each piece, such as a bird, figure or gemstone, and I found that each piece would take on that special meaning or story."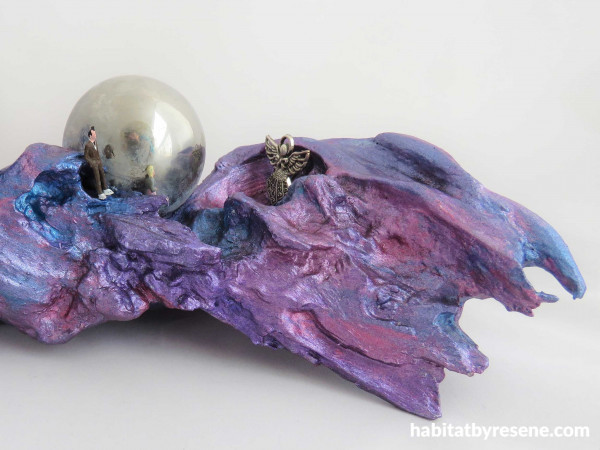 Vicky blended Resene Funtasia, Resene Yeehaa, Resene Bedazzle, Resene Scotty Silver and Resene Silver Aluminium together for this Doctor WHO inspired driftwood sculpture.
Vicky's collection of art projects are the first thing on her mind each day, but she is at her most enthusiastic on Wednesdays when she teaches her art class, Art for the Nervous Beginner, at the Horowhenua Art Society.
A valued member of the Horowhenua art community, Vicky and her dragons bring colour and joy to all those who come across her art.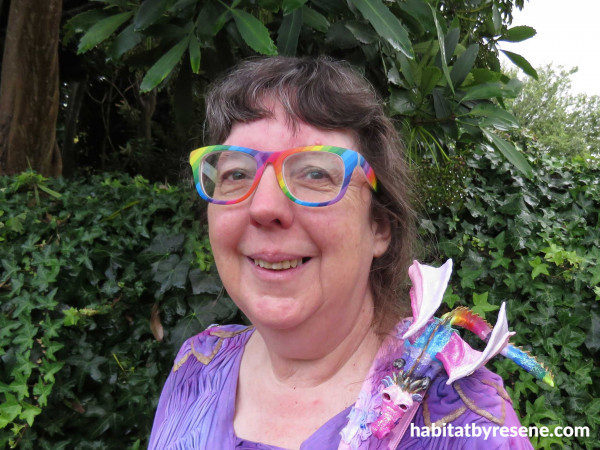 Vicky, pictured here with her favourite piece; a rainbow shoulder dragon, hosts an art class for nervous beginners at the local Horowhenua Art Society.
Check out more of Arty Vicky's work here
Published: 13 May 2021