►
◄
latest
habitat tv
blog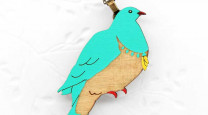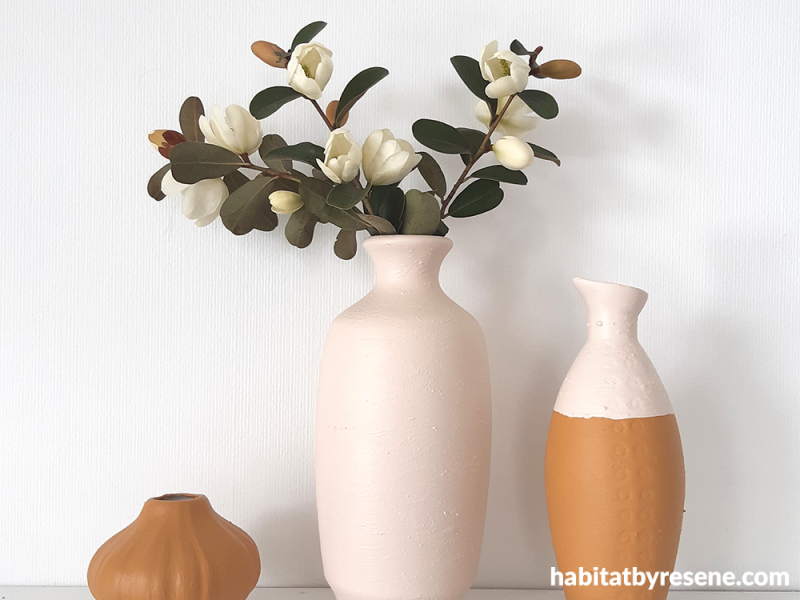 Jody Boggiani's upcycled ceramics are seriously chic
14 Oct 2020
Jody Boggiani has an eye for potential. It's what guides her hobby of upcycling ceramics, and what fuels her love of "turning an unwanted vase into a modern bud vase to add colour to a shelf." It is, in the end, about possibility; about what she simply calls "the knowledge of the end result".
A self-professed minimalist, Jody has a penchant for thrift store finds that are streamlined and simple. "The shape… should speak for [itself]," she says, a perspective no doubt informed by her experience working in small, locally owned retail stores for the past 10 years.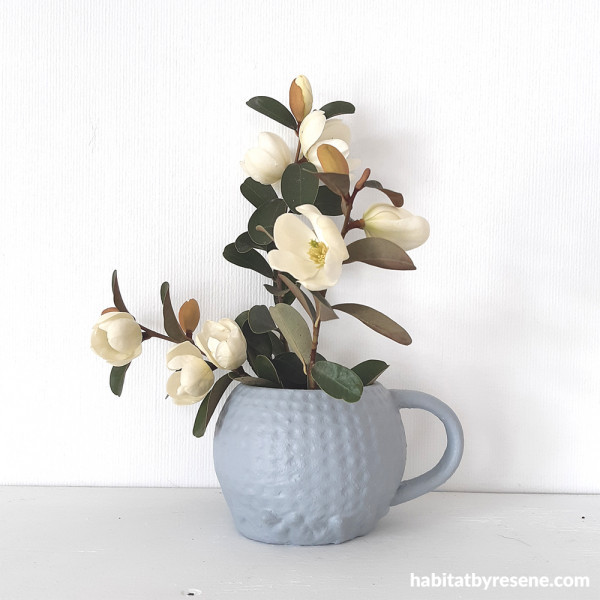 For a soft pastel grey finish, Jody painted this secondhand mug in Resene Longitude. It's now a perfect vase for flower clippings.
Jody believes this about colour, too. "I surf Pinterest and look at social media creatives to get inspired by colour. It could be clothing, jewellery, homewares – any colour combination can bring on the buzz. I generally gravitate towards earthy tones and subtle hues with a pop of contrast."
She then matches her findings with Resene paints, before adding her secret ingredient – baking powder – into her desired testpot. "I mix just half a teaspoon into the 60ml pot," Jody explains. "This gives the [ceramics their] chalk-like look and texture." Her top tip: "Baking powder reacts to the paint, so don't be afraid if it rises, just keep mixing."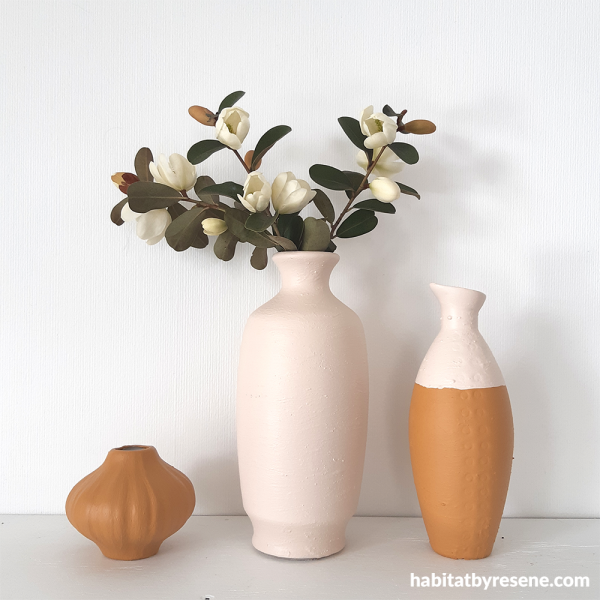 To complement the brown oxide colour of Resene Mai Tai, Jody paired it with Resene Just Right, a pink-toned pastel. The result is earthy and soft, and would match well with timber furniture, neutral knits and linens, and natural textures, like woven baskets and rugs.
"Raw pottery is a great surface to paint on," she says, noting the importance of including an undercoat if the vessel is glazed. "I do about three coats to give it a real earthy, clay look. There will be failures, but the upshot is that you can paint over it and start again."
Her process is intentionally slow, taking two to three days from when she paints the first coat to when she photographs her final, refreshed product. "I think the longer you can wait to dry properly between coats, the better the outcome," says Jody.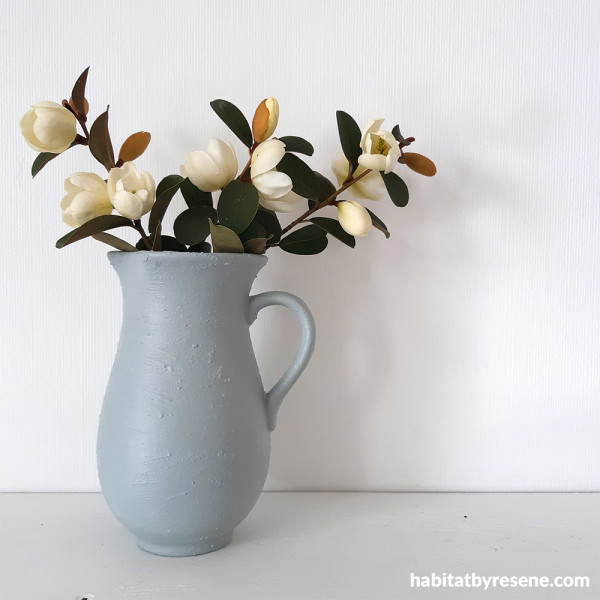 For this sinuous jug, Jody chose to refresh it with Resene Half Inside Black, a green-tinted grey that feels both moody and contemporary.
For someone who revels in thinking about unrealised potential, it is perhaps not surprising that she finds the final stage of her creative projects the most worthwhile. "The best part of [the process] is taking the photos. That's when I really appreciate the colours and vessels I've chosen."
Top tip If you're keen for a matte finish, try using Karen Walker Chalk Colour, which comes in a dead flat finish ideal for upcycling, small projects, furniture and small features.
Resene usually doesn't recommend modifying the paint as it can reduce the paint's stability, durability and performance, but it can be done for purely decorative small interior projects like this if the paint is used immediately. For a flat finish on larger areas use Resene SpaceCote Flat or Karen Walker Chalk Colour, which are matte flat finishes that can be tinted to a wide range of Resene colours.
images Jody Boggiani
Published: 14 Oct 2020