►
◄
latest
habitat tv
blog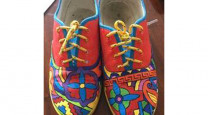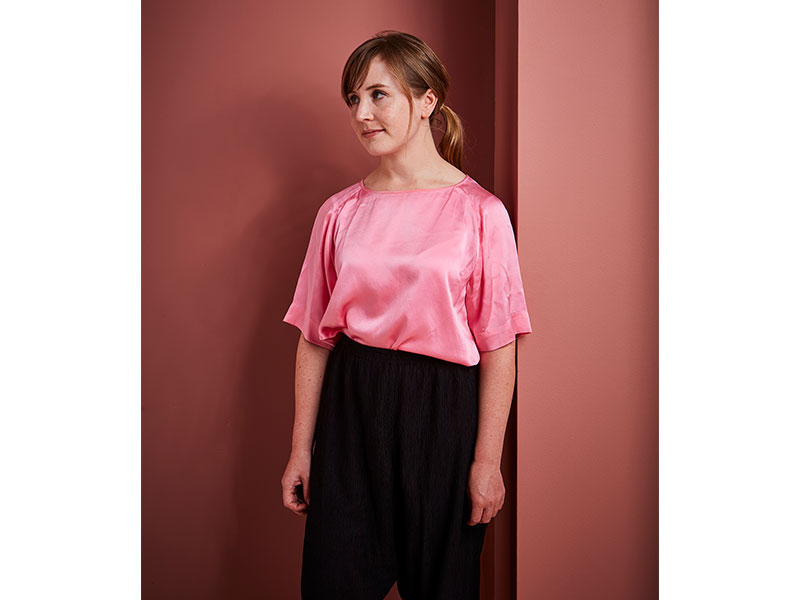 Juliette Wanty, Art Director of homestyle, on what inspires her
12 Nov 2019
Art Director of homestyle magazine, Juliette Wanty, is a trailblazer when it comes to breaking the rules in the interior design world. Her penchant for mixing old and new finds with Resene colours has made her latest creation – a Resene-infused spatial colour story – a treat for the eyes. We recently chatted with Juliette about what inspires her design work, her top interior tips and which Resene colours she's currently crushing on.
Tell us about the journey that led you to get into interior styling and your work with homestyle.
"After graduating from university with a degree in Industrial Design, I stepped into the world of publishing where I began work as a graphic designer and stylist. After several years of working for various interior and design magazines, I took up the role of art director at homestyle. As an independent print magazine, our small team also works on bespoke content creation projects for clients. Four years on, my work has naturally evolved as I've gravitated toward the set design aspects of styling."
How would you describe your design aesthetic? Where do you think it stems from?
"I believe interiors should embrace individuality not conformity, so my work crosses genres, not adhering to any one trend or set of rules. A common thread is that I mix original design with second-hand finds, as this aligns with my style ethos. I admire the design greats and contemporary studios and appreciate quality, lasting pieces – something old and new often share. Design and interiors have the wonderful ability to surprise and delight – this spark is something I aim to create in my work too."
What sorts of things inspire you?
"Travel – whether it's a trip overseas or to a new environment locally, it's refreshing to have a change in visual stimulus and experience something different from usual. I seek out places of architectural interest whenever I'm away—last year when in Europe I stayed in the candy-coloured labyrinth, La Muralla Roja—a mesmerising postmodern apartment block on the Spanish coast by architect Ricardo Bofill.
"I was also fortunate to visit the Rotterdam studio and visionary home of my design school classmate Sabine Marcelis, whose experimental nous with optical materials results in awe-inspiring creations. While at home, it's neat to be able to easily keep abreast of the exciting happenings of the international design community via magazines and Instagram. Also, looking to the past is always interesting. I admire the bravery and boldness of bygone eras of design, from the 40s through to the 80s. You'd think the past would be more conservative, but I think people were fearless and had a lot of fun. I enjoy visiting older baches, buildings and second-hand stores for this reason."
This cosy bedroom features nook walls and shelf in Resene Sixth Sense with surrounding walls in Resene Eighth Stonewashed.
What are your favourite types of projects to work on?
It is satisfying seeing a creative photoshoot through from start to finish—from generating the initial concepts, refining the details, and realising it in the studio with the team on the day. I am drawn to creating styled scenes with an architectural or spatial element, and exploring how colour, form, light, and texture can interact on a larger scale. This was exemplified in this spatial colour story (pictured), recently created for homestyle with Resene—an idea I'd had brewing for quite a while.
What advice or 'top tips' would you like to share with readers who might be looking to kick off spring with an interior refresh?
Start with a good old-fashioned spring clean. Then consider the elements of the room—move things around, and see what's working for you and what's not. If areas of your place are looking a little tired, a fresh lick of paint can make a real difference and is hugely satisfying.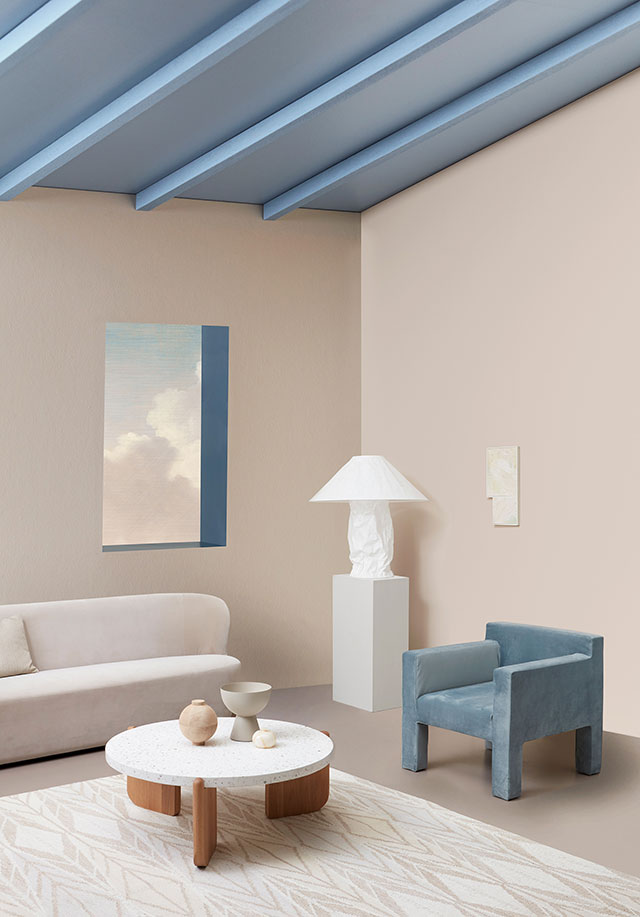 Creams and blues work beautifully in this modern living room with walls painted in Resene Dapper, ceiling in Resene Excalibur, floor in Resene Coffee Break and window ledge in Resene Safehaven. The dreamy 'window with a view' was achieved with a cloud design from the Resene Wallpaper Collection.
What would you recommend readers do if they feel stuck on a design project?
"If you're feeling stuck on a project, consider engaging an expert such as an architect or designer to help you out. Look to inspiration from interiors magazines such as homestyle to help identify your personal style – magazines are also a good resource for finding the right expert for you. "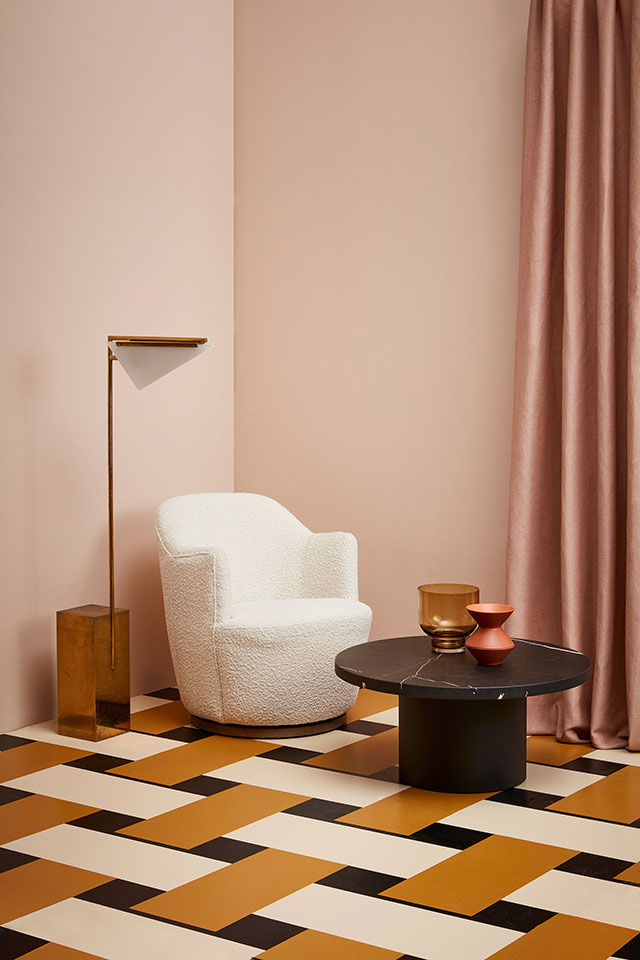 A retro patterned hero floor is paired to great effect with contemporary décor. Walls are painted in Resene Shabby chic, the floor in Resene Swiss Caramel, Resene Charcoal, and Resene Crowdpleaser. Vase painted in Resene Clockwork Orange.
What do you love about working with Resene?
"Resene has a plethora of colours to choose from, along with the prep products required to work on many surfaces. This makes for a lot of design possibilities. It's great being able to access this (and get help and advice from their friendly staff) all under one roof at Resene ColorShops."
What Resene colours are currently inspiring you?
"I'm currently attracted to blue hues, from optimistic cornflower-esque tones such as Resene Delta Blue through to more subtle grey-blues like Resene Excalibur. I like to mix cool with warm, and peachy apricots (such as Resene Tuft Bush and Resene Wax Flower) through to corals (such as Resene Glorious) have been piquing my interest too. I'm also partial to punchy pops of marigold (like Resene Cleopatra) and cobalt blue (such as Resene Submerge)."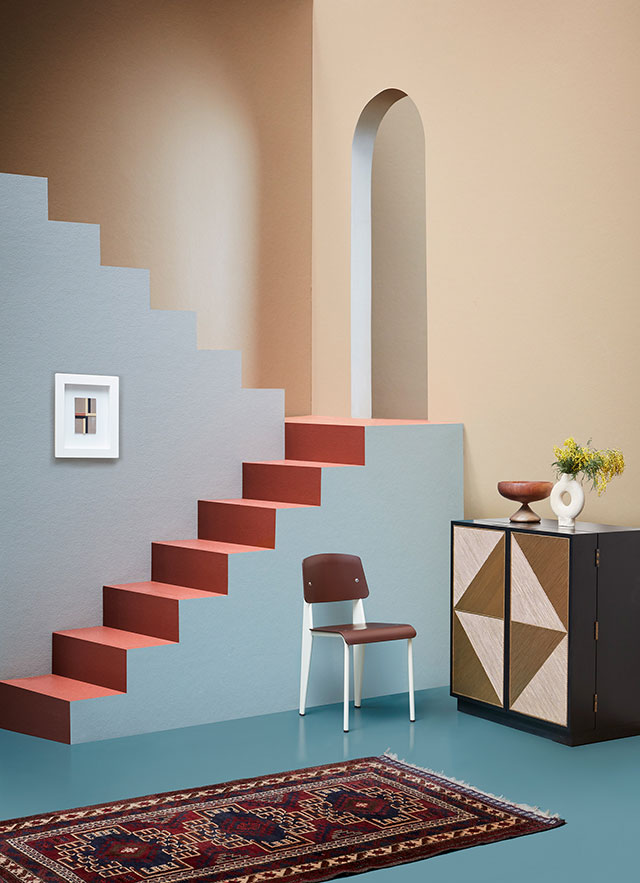 This stunning staircase scene showcases walls in Resene Helix, back walls in Resene Colins Wicket, steps in Resene Route 66, floor in Resene Grey Olive and an arched door in Resene Crowdpleaser.
To see more of Juliette's beautiful work, follow her on Instagram and check out her website. For more inspiration, check out homestyle's website and their Instagram feed.
stylingJuliette Wanty?
images Wendy Fenwick
special thanks to homestyle