►
◄
latest
habitat tv
blog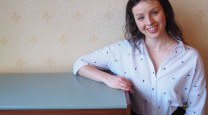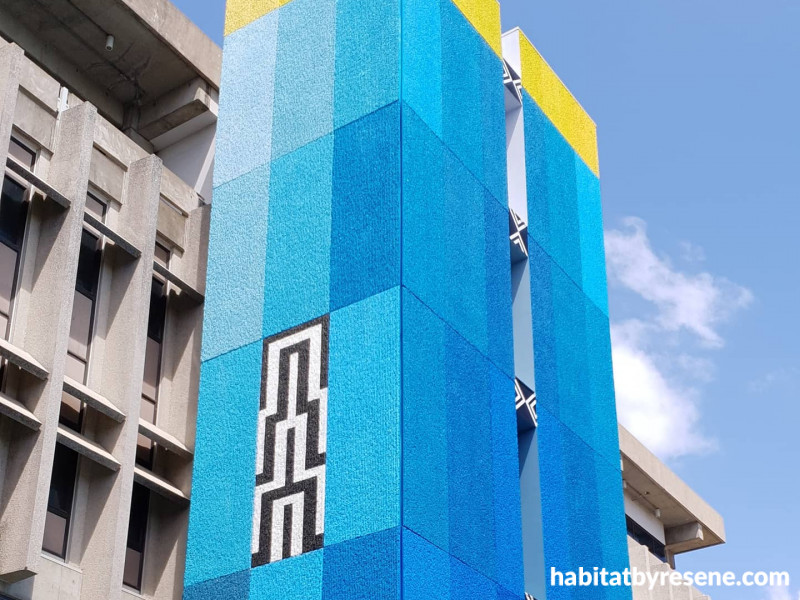 Kelcy Taratoa's gigantic geometric murals take colour to new heights
15 Jul 2021
Artist Kelcy Taratoa doesn't just think big – he paints big too. Kelcy's murals adorn many of the North Island's buildings, their whimsical graphic shapes brought to life with Resene reds, yellows and blues. But his work isn't all colourful designs and aesthetic shapes, hidden beneath are profound messages that reveal deeply personal, political and environmental beliefs.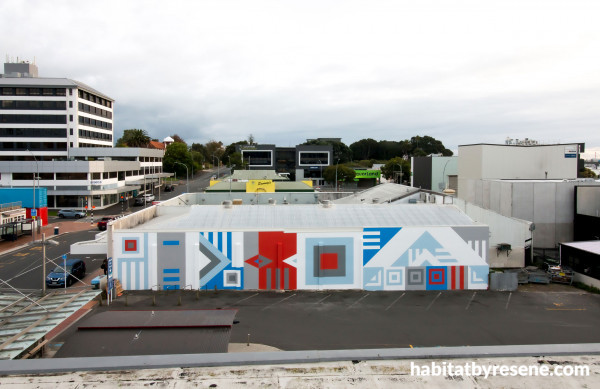 Kelcy's newest mural, 'Kotahitanga', embraces the diverse communities that live in and around the Tauranga CBD. He brought the composition to life with Resene Comfort Zone, Resene Lochmara, Resene Half Jumbo, Resene Whizz Bang and Resene Trojan.
Kelcy has always been fascinated by culture and his dream is to create a mural on the Tate Modern in the UK one day. His art provides a platform for him to engage in conversations of alienation and ethnic disparity, exploring the balance between natural life and virtual reality. He began his artistic journey under the tutelage of renowned artist Shane Cotton at Massey University and now divides his time between making art and teaching at Toi-Ohomai Institute of Technology.
"My work over the years has straddled comic-book superhero characters, overexposed graphics of urban settings and hyperreal colours," says Kelcy.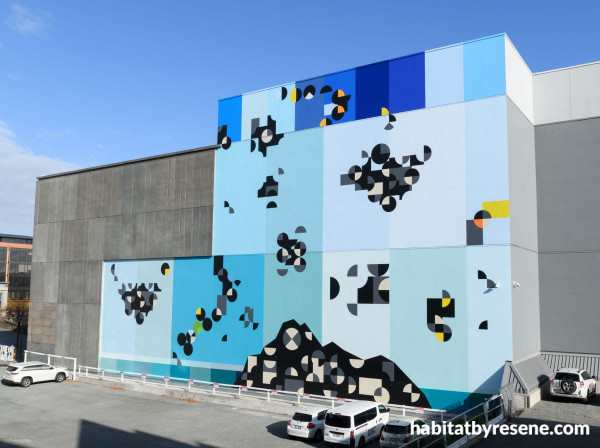 This abstract geometric mural entitled 'Te Tahu o nga Maunga Tumatakahuki' was created with Resene Refresh, Resene Bowie, Resene Malibu, and Resene Wet N Wild. The mural is located on the exterior wall of the Christchurch art gallery Te Puna o Waiwhetu.
Kelcy's most recent mural work is titled Kotahitanga and is located in Tauranga's CBD. Standing in full view of the Tauranga City Library, Kotahitanga aims to engage with Tauranga's diverse communities through a bold movement of geometric shapes coloured in Resene Comfort Zone, Resene Whizz Bang and Resene Trojan.
"Geometry is a universal language used to represent ideas about the natural world and cultural values," says Kelcy.
"Kotahitanga draws specifically from te ao Māori to communicate notions of unity, togetherness, solidarity, and collective action.
"This public space provide an opportunity to engage with local communities to help them connect with the work in their space. This is equally as enjoying and important as creating the work."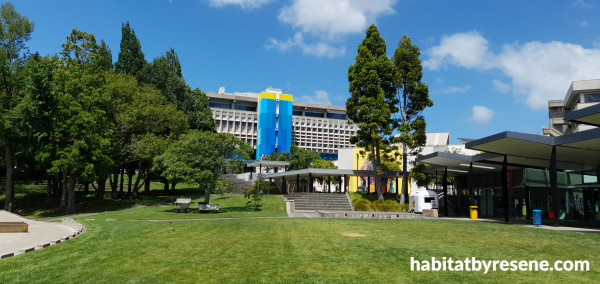 Kelcy's mural 'Ngā Wai e Rua' brings the exterior of this building, and the park beyond, to life with its blue hues in Resene Refresh, Resene Aquarius, Resene Optimist, Resene Bowie, Resene Malibu and a pop of yellow Resene Spotlight.
Over the two weeks it took to complete the mural, Kelcy had many meaningful conversations with school children, adults and visitors from around New Zealand about the ideas behind Kotahitanga. He also worked with his wife, Mel, to complete the mural with the help of scaffolding, allowing them to navigate the wall, marking out the design with chalk and masking tape before applying Resene paint with rollers.
"When I apply colours at the designated site, it's a special moment as it reaffirms the essential process when all the colours were chosen from a colour chart, because I had to imagine them in the space all collaborating to support the design," says Kelcy, whose colour palette features Resene Half Jumbo, a rich warm grey.
"Resene paints, in my experience, are incredibly supportive of artists and art institutions.
"Resene has supported other mural commission projects I've done and their systems are of the highest quality. The colour range is extensive and impressive."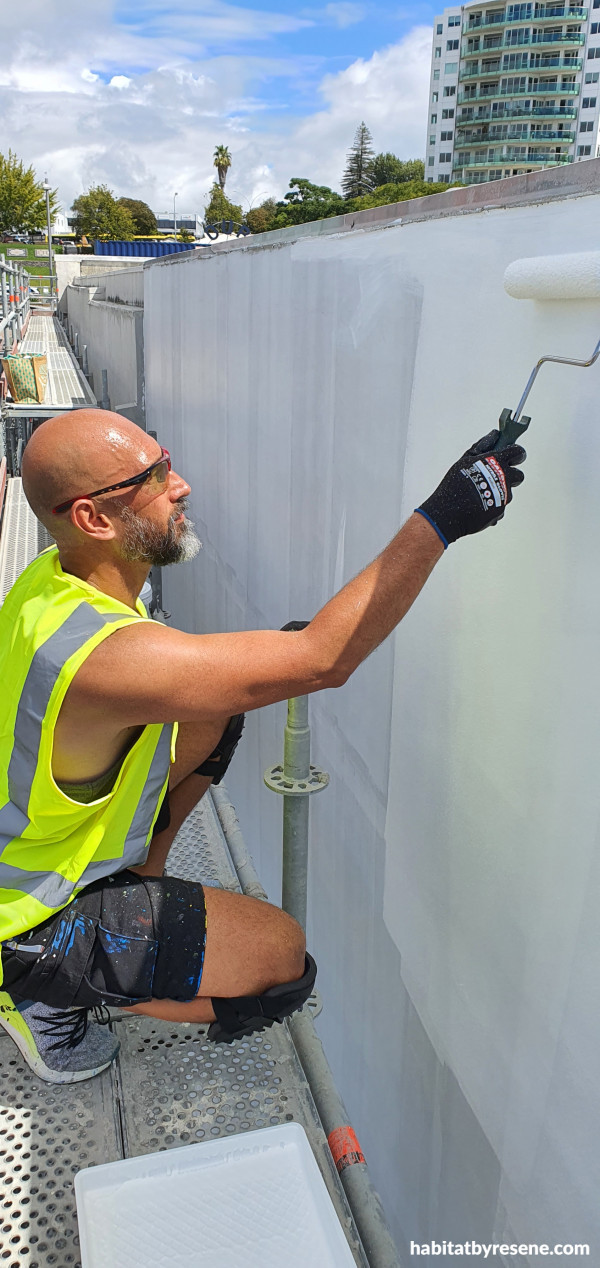 Kelcy creates his the outlines of his artwork using a laser length finder, straight edge levels, chalk line and masking tape before painting the composition with Resene paint.
While Kelcy has a passionate approach to the creation of all his murals, Kotahitanga holds a special place.
"Not far from the site for 'Kotahitanga' is our stronghold, Ōtamataha Pā. Tauranga CBD is within the boundaries of Te Materāwaho. So producing artwork on my whenua (tribal lands) has been very special for me."
Check out more of Kelcy's work on his Instagram @kelcytaratoa or see his work here:
https://www.bartleyandcompanyart.co.nz/artist,Kelcytaratoa,2229
https://melanierogergallery.com/stockroom/kelcy-taratoa/
images Jamie Coxon
Published: 15 Jul 2021