►
◄
latest
habitat tv
blog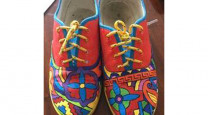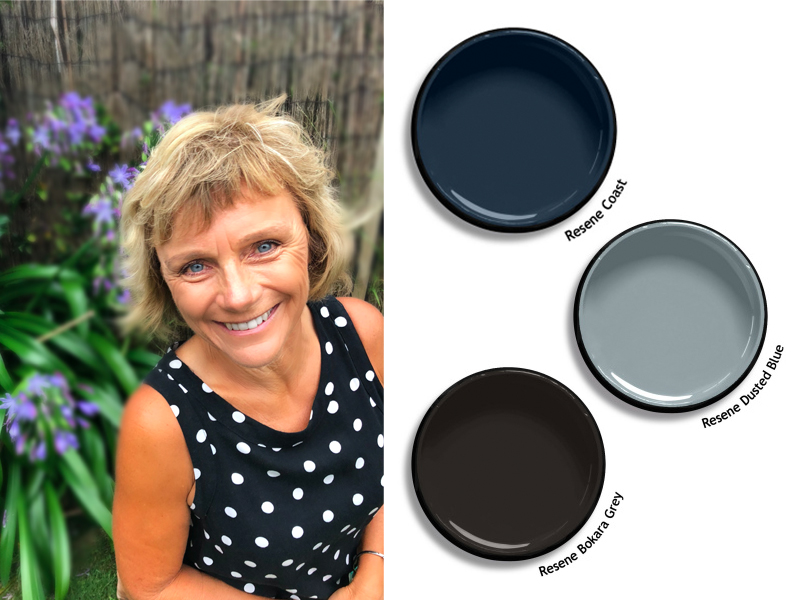 Kim sees the joy in colour
31 May 2018
From starting out as a Resene colour consultant to now running her own business Kim Nicol of All Colour Matters gets a thrill from helping people pick the perfect paint colours for their home.
She tells us more about her exciting world as a colour consultant.
Tell us a bit about yourself and your work.
My love of colour saw me leave my furniture sales job 16 years ago and join Resene – I found I was always advising clients what colour to paint their home to best show off their new sofa, so it seemed a logical step to spend all day working with colour. I have recently set up my own business All Colour Matters, here in Wellington. I am delighted with the amount of work I have secured through word of mouth in such a short time.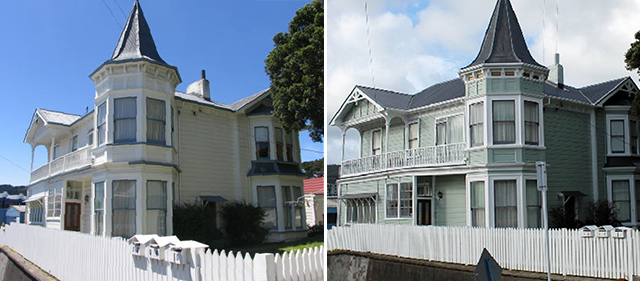 Before and after of an exterior refresh project by Kim Nicol, with the weatherboards repainted in Resene Robin Egg Blue, Resene Half Tuna on the inner sash and Resene Quarter Pearl Lusta on the trims.
Do you have a favourite or particularly memorable project?
There are some houses in Wellington that give me a lot of pleasure when I drive past knowing I helped transform them.
Perhaps one of the most enjoyable projects was for clients with a bungalow in Mt Cook, bulging with beautiful art and bold colour.
The brief was to create a calm space still using colour. Resene Tasman and varying strengths of Resene Periglacial Blue and Resene Pravda fitted the bill perfectly but, being a lover of colour, the client also wanted something with a bit of oomph.
We used Resene Zomp as well, which teamed up nicely with the rimu kitchen cabinets to bring a punch of colour to the centre of the home.

Do you have a signature or favourite style?
I don't really have a signature or style, as being a colour consultant is all about listening. However, I am loving petrol blues found in bedding, curtains and paint colours such as Resene Coast.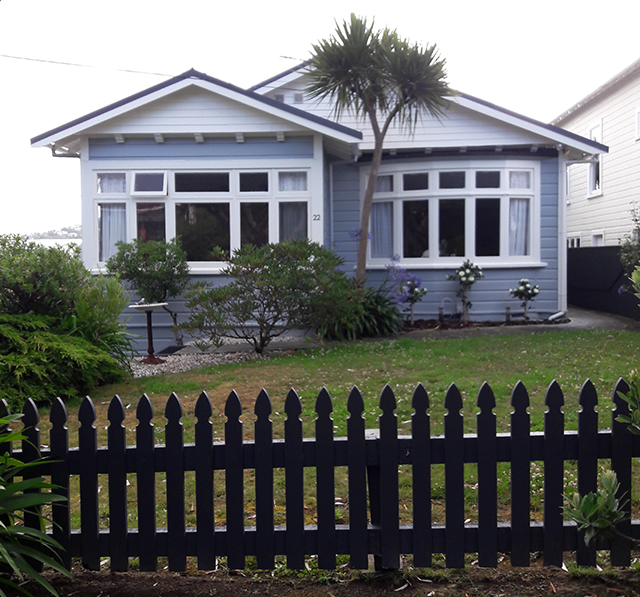 Another colour refresh by Kim Nicol. The bungalow's exterior has been painted in Resene Dusted Blue, Resene Quarter Pearl Lusta on the trims and Resene Fuscous Grey on the fence.
What design trends are you excited about at the moment and why?
I'm having fun with colourful front doors but draw the line at using them on certain beautiful villas and bungalows that suit a more elegant look. I'm intrigued by tiny houses and the movement's clever use of space and colour.
What Resene colours are you drawn to at the moment?
As mentioned earlier, I'm drawn to Resene Coast for its moodiness when used in interiors.
I like Resene Dusted Blue for use on exteriors, as it moves away from grey but is still muddy enough to work in most environments.
I love Resene Bokara Grey for its warmth and softer appearance compared to straight black.

If you were designing for yourself, what three things would top your wish list?
Gorgeous fabric – everything is better with beautiful pattern, texture and colour.
Tricks learnt from the tiny house movement, such as storage and multi-use rooms.
An inviting kitchen for friends to gather around and share stories and laughter.