►
◄
latest
habitat tv
blog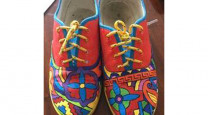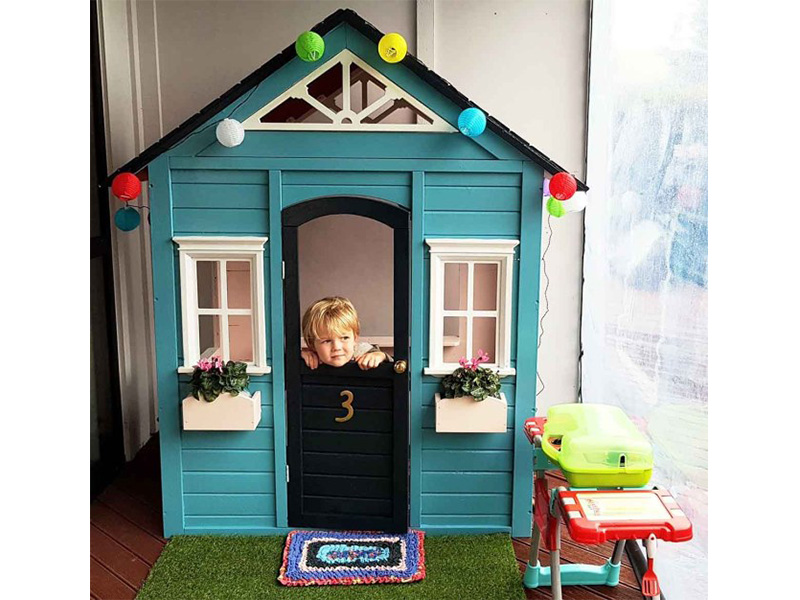 A Kmart cubby house gets a creative Kiwi update
12 Jun 2019
Jarrod Rendle and his family turned a $199 Kmart Cubby House into a playhouse palace fit for a princess (and prince), injecting a bit of Kiwi flavour into the Kmart Cubby House makeover craze.
This past Christmas, Jarrod was on the lookout for a little place his kids could make their own. At 5 and 3, he knew his son and daughter were still young enough to get a lot of enjoyment out of it, but he also knew that window of time was closing.
"We were really underwhelmed by the playhouses available and spent ages hunting online on sites like eBay and Trade Me and looked through all the kitset playhouse suppliers. What we discovered is that cubby houses are either cheap, small and made of plastic, or substantial, kitset jobs and really, really expensive! However, our budget was just a few hundred dollars."
"Christmas was fast approaching, and that's when we stumbled upon an article about the Kmart Cubby House makeover craze happening in Australia. Needless to say we were blown away and we became hooked on the idea of making our very own 'Kiwi' version of this awesome idea from across the ditch."
"Unfortunately, Kmart can't ship all of the items available on their website. You'll find their cubby houses listed as 'in store only'. This means they can't ship them, and you can't get them sent between stores either – so if you want to upcycle your own cubby house, source one early or you could miss out altogether." In Jarrod's case, a well-priced cubby house suddenly became a bit more expensive once shipping cost was factored in.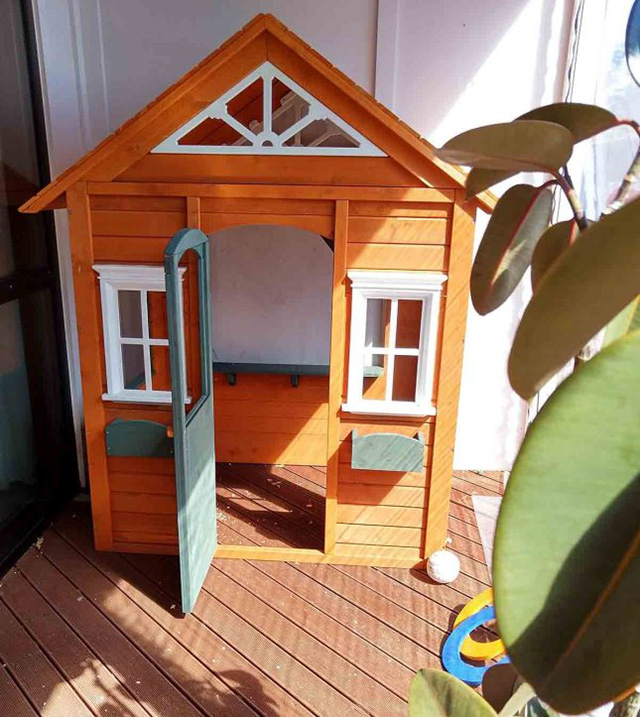 The original Kmart Cubby playhouse prior to the Rendle family's renovation. Jarrod says that all it took was a bit of colour to bring the cubby house from "brown-stained boring" to "classic Kiwi cool."
Jarrod says that he had a fairly simple concept for the playhouse makeover: to give it a bit of a Kiwi bach flavour, add a 'bit of bling' and LED or solar-powered lighting for playtime in the evening.
"We found some perfect colours at Resene for the job. We took the kids to the Resene ColorShop in Kapiti and let them choose their own colours. Predictably, our daughter choose pink for the inside and our son choose blue for the outside.
"The great staff from the Kapiti ColorShop also sold us a special primer for stained timber called Resene Wood Primer – which is a solvent-based primer, so it's not suitable for kids to use, but it goes on quick and dries to a good, paintable surface so the kids could help with the topcoats."
"The outside colour is awesome. It's called Resene Norwester, which is perfect seeing as how we reside on the West Coast – and it's literally a colour we'd choose to paint our actual house. The inside colour is great too: Resene Dust Storm. It's born out of the millennial pink trend, but it's more of a softer pastel with hints of salmon in it. We used it for all of the inside walls as well as the planter boxes"
"Finally, we had some semi-gloss paint from an earlier project in a deep shade of blue/black called Resene Element. We thought this would go well with Resene Norwester and protect the roof and door from knocks and weather."
Next, Jarrod and his kids embellished adding a 'lawn' out the front, planter box gardens, gold letterbox numbering, a gold door handle, lantern party lights and even a 'BBQ'.
"We've placed the kids' playhouse right next to the 'big' house, on our actual deck. This means the kids can play in it and still be part of the action. Since it's under shelter, they can still play in there in inclement weather, including the fairly ferocious Norwester we get hit with every summer!"
"We're really stoked with how our Kiwi-style Kmart cubby house makeover has turned out, and the kids just LOVE it."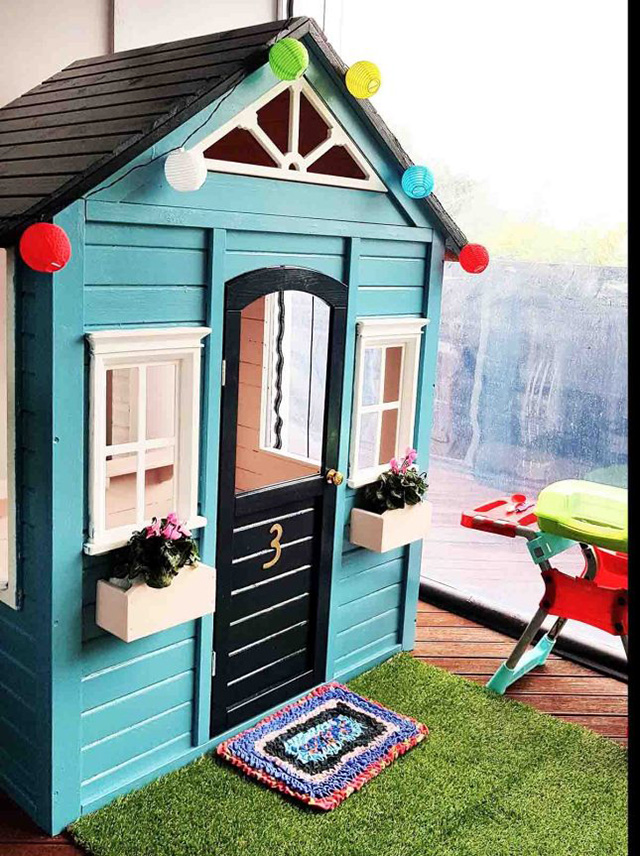 The Rendle children helped pick the colours for their playhouse makeover, and we positively love their choices. The exterior is painted Resene Norwester, the door is in Resene Element and the interior walls are in Resene Dust Storm.
To read Jarrod's full story, visit the Kiwi Families website.
Special thanks to Jarrod Rendle and Kiwi Families.