►
◄
latest
habitat tv
blog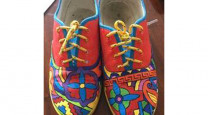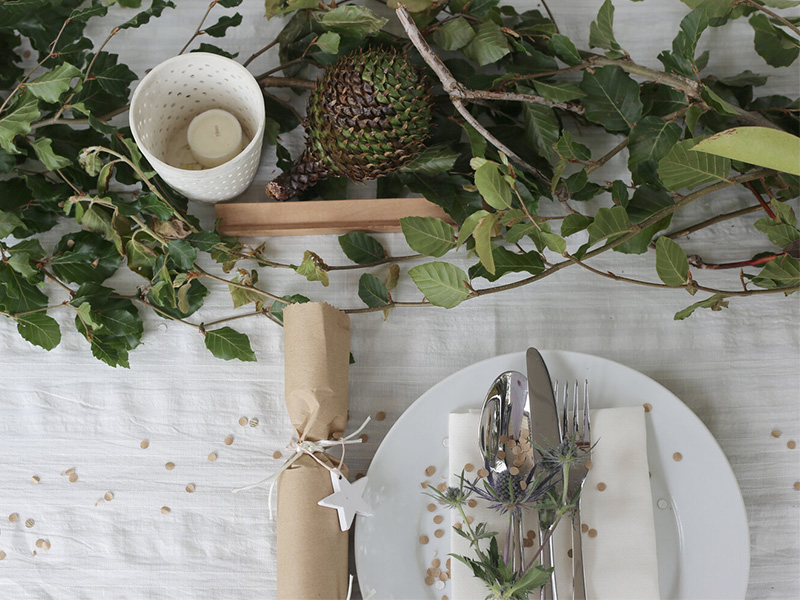 Last minute ideas for Christmas decorating
17 Dec 2019
Christmas has a way of sneaking up on us, and whether you're super organised or behind the curve, finding yourself with a never ending to do list is part of the silly-season deal. After buying gifts and stocking up the fridge, you may have found yourself forgetting to adorn your home with festive décor. No need to panic – we have some super easy tips courtesy of Kate Alexander from Places and Graces.
Turn everyday décor into festive fare
Kate recommends making Christmas work around your existing décor and uses everyday items as a nod to the season. Filling a green vase with Jaffas, adding fairy lights or piling silver baubles under a cloche are just a few easy ways to make festive décor work with your existing accessories.
"Red and green is my all-time favourite Christmas scheme, so I guess I'm a traditionalist at heart," she says.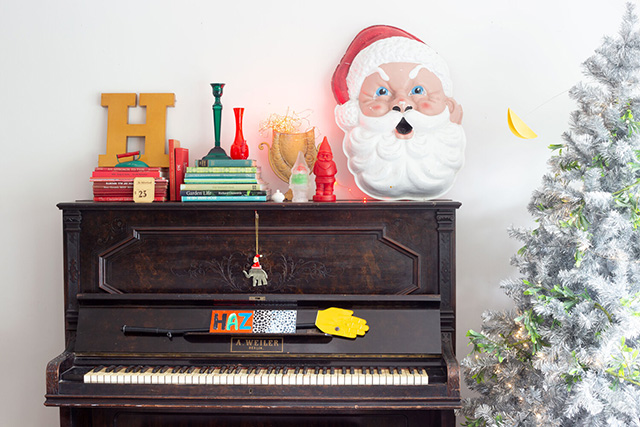 Kate has made the top of this piano a festive feast for the eyes with stacked books in red and green, as well as candleholders and fairy lights. The red vase is painted Resene Roadster and the wall is in Resene Black White.
Add a touch of tinsel
Adding tinsel around the house is another easy trick Kate utilises, whether around paintings or on table accessories. It's a quick easy way to infuse Christmas spirit throughout your home, without overwhelming it with shimmer.
For anyone celebrating at their bach or near the beach, Kate also recommends leaning into the environment with some fresh coats of paint. "Give your Christmas a fresh nautical feel by using Resene Blue Moon or Resene Comfort Zone together with Resene Mercury and Resene Alabaster."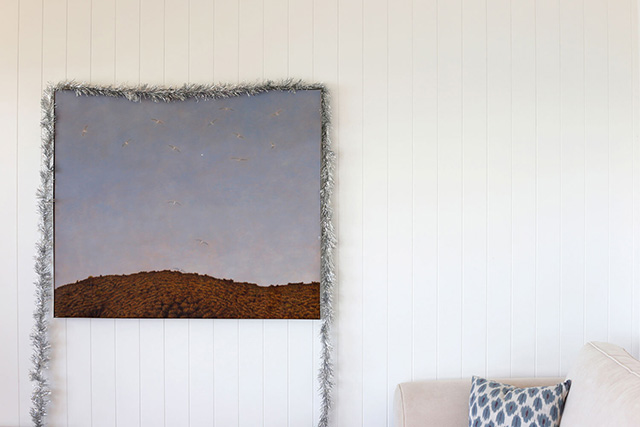 Tinsel lovingly wraps around this painting, offering a relaxed beach aesthetic. The wall is painted in Resene Alabaster, allowing the blue touches in the room to stand out.
Let greenery guide you
Kate recommends adding greenery to entranceways for a real joyous experience. Her friend's home, seen below, features greenery throughout her bungalow as well as baubles on doorknobs, a wreath on each door plus tinsel to provide a connection.
On coat hangers, she swaps jackets for elf coats, adding a touch of fun and colour. Another top tip from Kate is to use natural resources like pine, pumice and ivy branches to bring a lush, festive look to dining room tables.
If you're looking to bring more green into your Christmas scheme, Kate suggests using unexpected shades like Resene Windfall or Resene Aquamarine.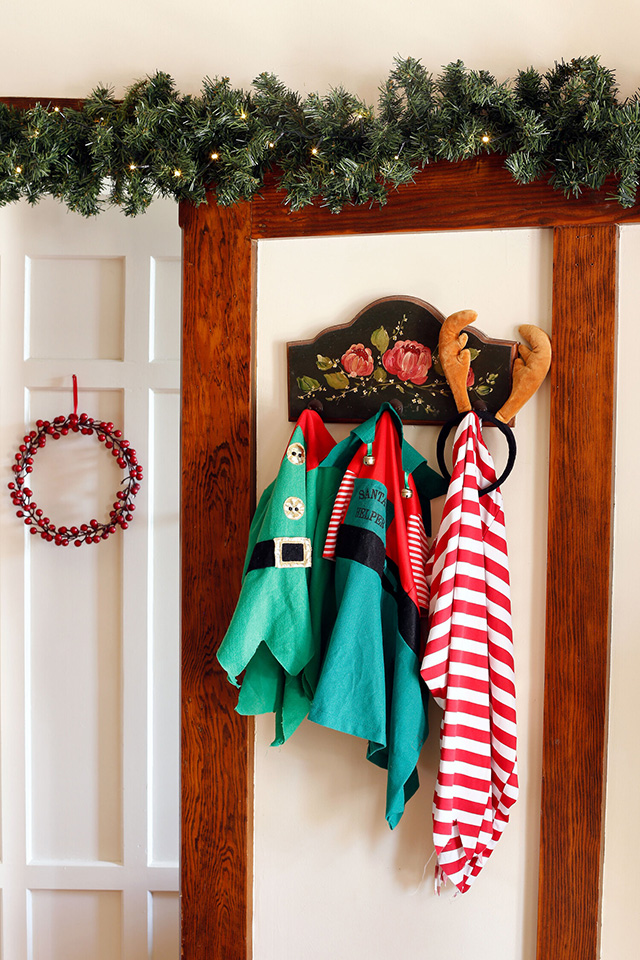 Kate's friend uses greenery to welcome guests through entranceways, as well as colourful elf coats on coat hooks. The wall is painted Resene Pearl Lusta.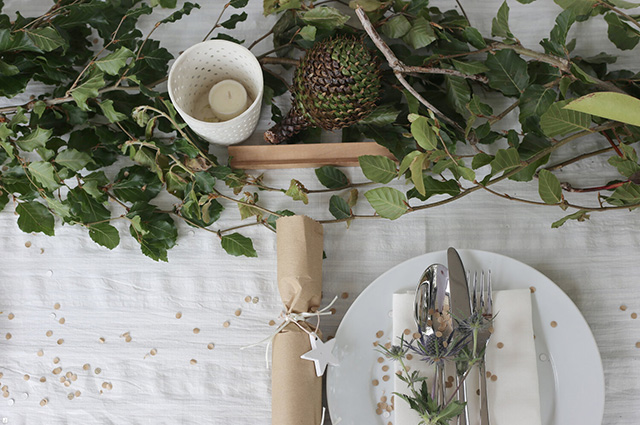 Weaving natural touches like ivy and pine cones into your décor is a cost-effective (and quick) way to give your table a festive feel. To bring the greenery on your table to life, Kate suggests painting items in warm Resene colours like Resene Cinnamon, Resene Toffee, Resene Sourdough and Resene Whisky Sour. "Not only do they sound like ingredients in a tasty Christmas lunch, their warm buttery brown tones work wonderfully with fossicked seasonal greenery."
For more Christmas decorating tips from Kate, read the full story on the Places & Graces blog.
Stunning table settings
Your Christmas feast shouldn't be the only attractive thing on the dinner table. Check out BeautyEQ style director Louise Hilsz's clever ideas for festive table tops to really impress your guests this year.
Resene Wallpaper Collection HAN100346626 provides a light contrast next to the table painted in vibrant Resene Roadster. The cutlery is in Resene Solid Gold metallic paint, the large plate is in Resene Vibe and the small plate is in Resene Candy Floss.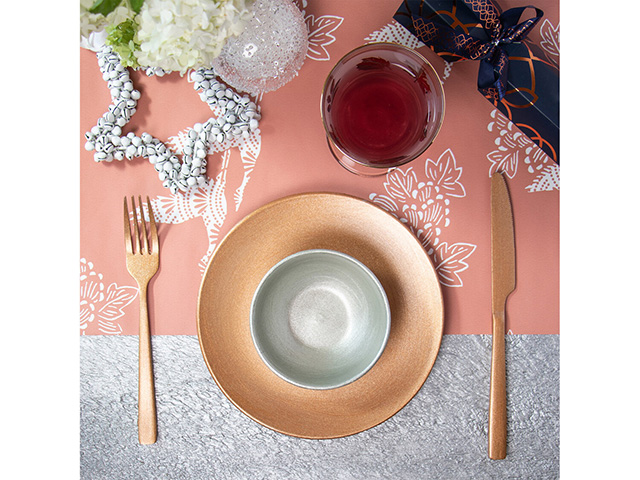 Louise made this table top the perfect golden setting with Resene Wallpaper Collection HAN100313333. The table is painted in metallic Resene Silver Aluminium, the plate and cutlery are in Resene Bullion metallic paint and the bowl is in Resene Proton metallic paint.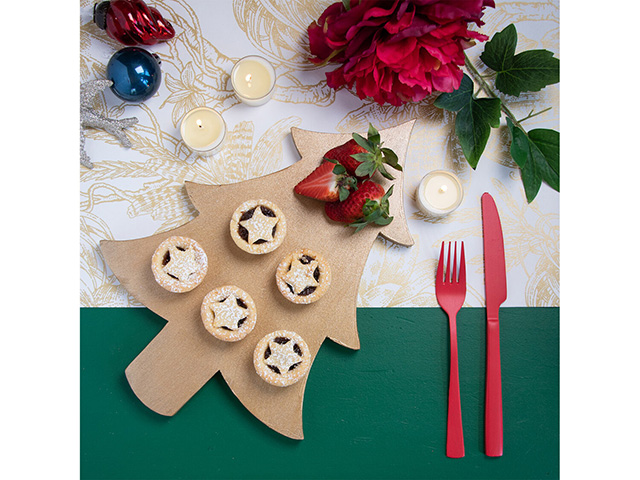 Louise chose Resene Wallpaper Collection 289625 for this table setting, which features chic touches of gold that go hand in hand with the table painted in Resene Kaitoke Green. The tree-shaped board is painted in Resene Solid Gold and the cutlery is in Resene Candy Floss.
Learn how to get the full look on the Beauty EQ website.
Note: The painted cutlery and dinnerware shown in this story are for inspiration only to illustrate colour schemes you could try in your home. We don't recommend paint on utensils and plates you are directly eating with, or off.
styling and imagesKate Alexander,Louise Hilsz