►
◄
latest
habitat tv
blog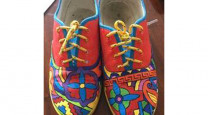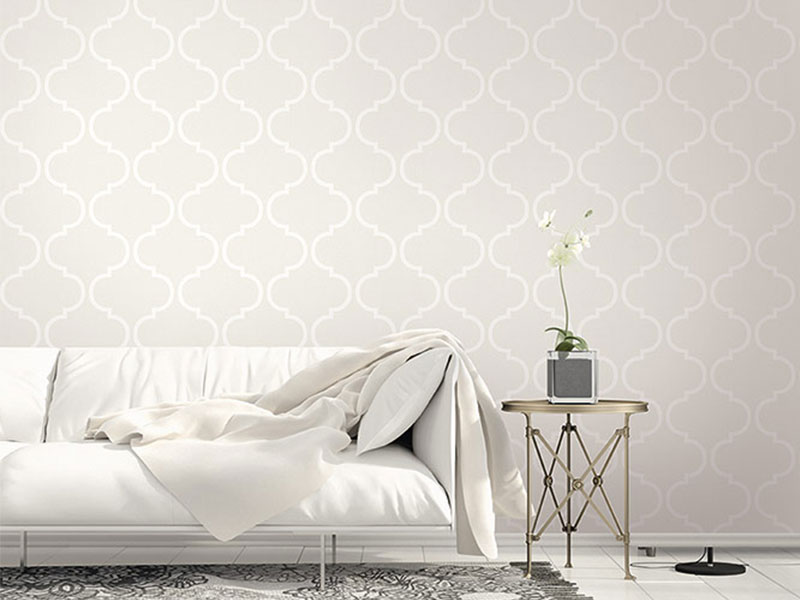 The latest on lattice
11 Sep 2019
Intersecting geometric repeating patterns, often called 'lattice', are classic designs that you have likely seen before. Many of these timeless patterns have been used for hundreds of years in art and architecture, which is part of the reason that they seem to evoke a sense of old world charm.
While lattice designs may have been around for eons, it doesn't mean they're off the table as an option in an on trend space. These designs work well with a blend of old and new – think beautiful antiques mixed with contemporary elements.
The key to pulling off this kind of eclectic look starts with picking the right colour palette. Try one of these designs from the Resene Wallpaper Collection featuring fresh takes on classic patterns along with fashionable colours from the latest Resene The Range fashion colours fandeck.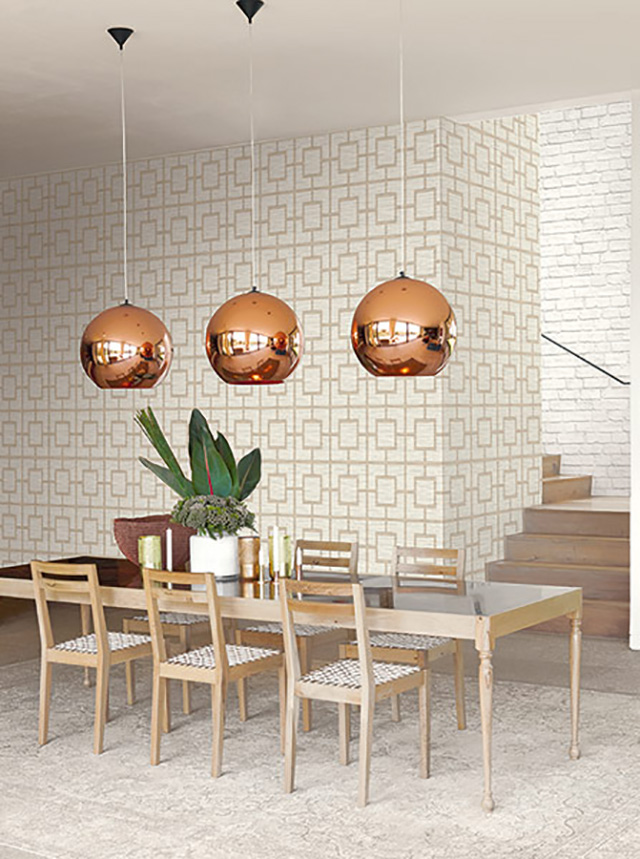 A square lattice like Resene Wallpaper Collection OY33107 brings in a touch of old world flair while the simplicity of its shape helps it pair well with contemporary design elements. Try it as an accent in a dining room along with a table in Resene Dapper, floor in Resene Despacito, adjacent walls in Resene Rice Cake, a centrepiece in Resene Artisan, then bring in some copper light fixtures for interest and greenery for balance and freshness.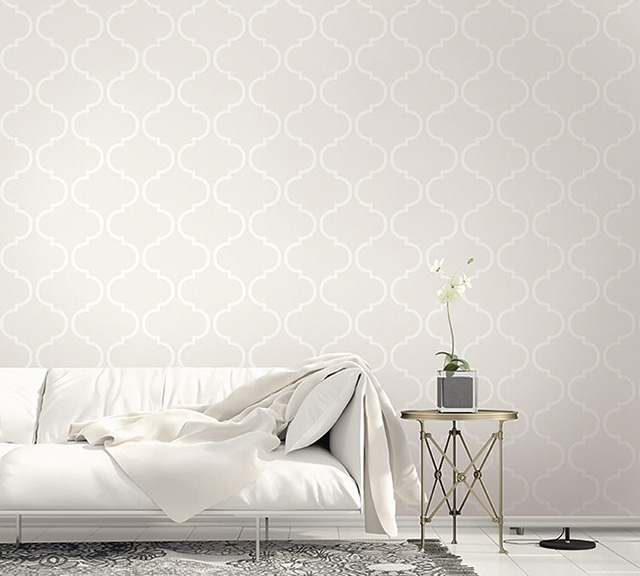 Opting for a white-on-white lattice like Resene Wallpaper Collection OY34803 is a lovely way to add visual texture to a space where you want to stick to a neutral scheme. Play up the simplicity of its palette by using it as part of an achromatic tonal scheme in a lounge. Go for a floor in Resene Sea Fog, skirting boards in Resene Double Sea Fog, a coffee table in Resene Silver Chalice and a few small accessories, such as plant pots or a tray, in Resene Quarter Baltic Sea for contrast.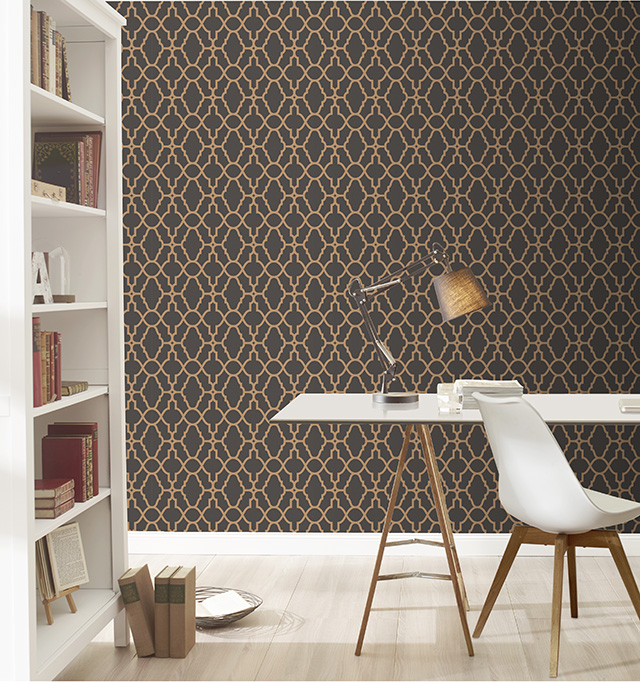 Some decorative elements remain in style regardless of how long they've been used. A good example of this is the quatrefoil – a symmetrical shape with four lobes or 'foils', resembling a simplified flower or overlapping circles. While quatrefoil designs have been around for more than 600 years, the shape is still timeless. Resene Wallpaper Collection 309331 features a lattice made up of intersecting quatrefoils in a striking gold and brown palette.
Build a scheme that plays off the colours in the design for a timeless home office. Try a timber floor in Resene Colorwood Whitewash, trims and a bookcase in Resene Eighth Spanish White, a lamp shade in Resene Earthen and small accessories in Resene Swiss Caramel and Resene Rebel.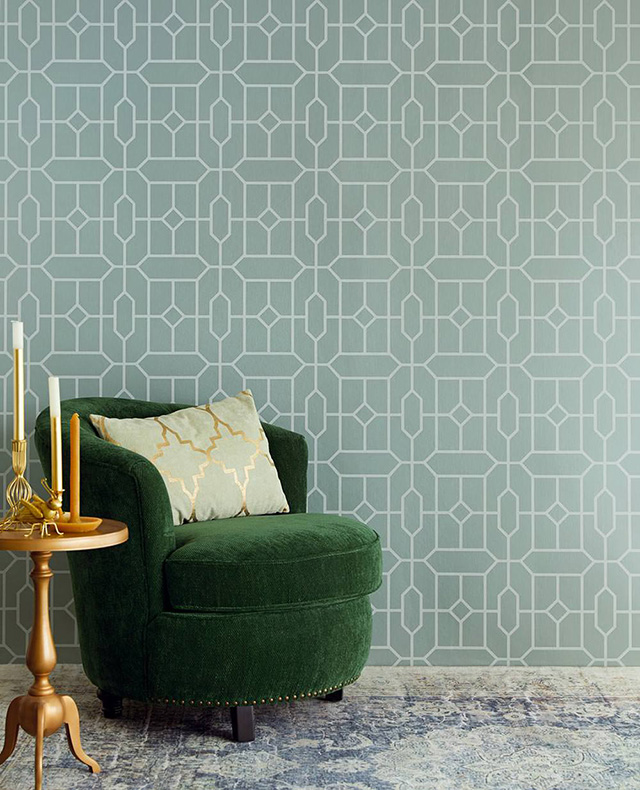 Diamonds and 'baguettes' make up the pattern in Resene Wallpaper Collection 382511, which bring an air of glamour to the design. Try it with floors in Resene Secrets, adjacent walls in Resene Helix, a major piece of furniture, such as a sideboard, in Resene Mother Nature then amp up the luxury factor with metallic details in Resene Solid Gold, a velvet armchair and a decadent rug. As a finishing touch, double down on lattice with a similarly patterned cushion.