►
◄
latest
habitat tv
blog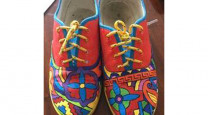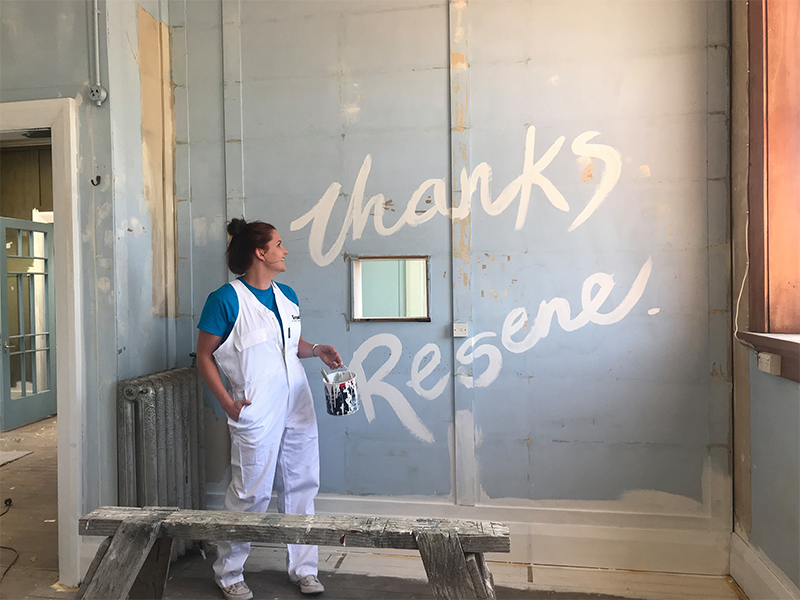 Louise's colourful co-working space is proof risks can pay off
10 Dec 2019
When Louise Evans decided to leave the big smoke and chaotic ad agency life to move home to Invercargill, nothing could have prepared her for the colourful journey she was about to embark on.
With freelance work coming in thick and fast, Louise soon realised she needed an office to base herself in. This led her to the inspired idea of creating a bold and colourful shared coworking space – a first for Invercargill. She soon stumbled upon a forgotten loft that was full of character and old world charm.
"It was derelict, but had so much potential. And I'm a sucker for potential," Louise says.
Bursting with ideas she could barely contain, Louise had big plans to go wild with colour and leave all thought of grey behind. But before she could begin the painting process, there was a lot of work to be done on the structure. From sanding and removing hundreds of old nails to hammering and building desks, no stone was left unturned. "At some point the plumbing broke – it's a heritage building, after all. The ceiling caved in. I repainted. I sanded the floors. The process went on, and on, and on, and on."
Once the hours of work, early mornings and roping in anyone and everyone to help was over, it was time to get painting, and Louise was very clear on her vision, and creative in her execution.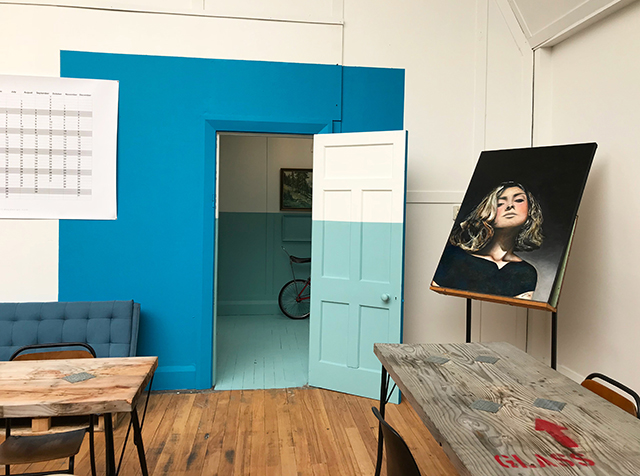 This fun two-tone feature wall is painted in Resene Half Black White and Resene Bowie. The two-tone door and floor beyond have been anchored in Resene Half Kumutoto with Resene Half Black White above.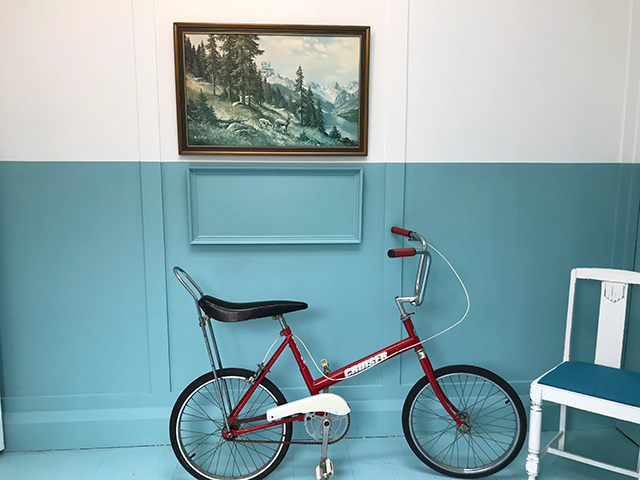 The floor and lower three quarters of the wall have been painted in Resene Half Kumutoto. The rest of the wall and ceilings are in Resene Half Black White.
Louise found the colours of her dreams while perusing Resene's extensive colour range and worked closely with the team from Invercargill's Resene ColorShop to nail down each and every choice. Wanting colours that screamed creativity, Louise opted for a wide range of hues that work with the building's unique characteristics and flaws.
A huge wall in one room had massive structural cracks, but seeing the potential to be different and daring, Louise opted to celebrate the building's story rather than cover them over. "I was inspired by the Japanese art of Kintsugi, where broken objects are repaired using gold. I wanted curious people to find more and more hidden gems everywhere they looked," she says.
Arguably, one of the project's most successful elements is the multi-coloured floor, painted entirely with Resene testpots. "The multi-coloured floor was a risk, but it's a showstopper. And the neutrality of the front room in contrast to this floor is peaceful," explains Louise.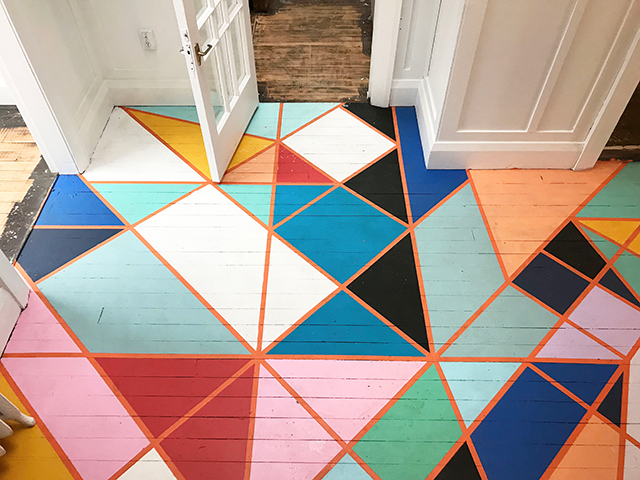 Louise painted this impressive patterned floor in a multitude of Resene testpots, including Resene Ballerina, Resene Half Resolution Blue, Resene Turbo, Resene Perfume, Resene Sonique, Resene Del Toro, Resene True Blue, Resene Sail, Resene Touche, Resene Foam, Resene Aqua, Resene Rapture and Resene Turbo. The surrounding walls are in Resene Half Black White.
Louise's love for Resene colours runs deep, and her passion for every unique tone is infectious. Resene Kumutoto and Resene Bowie are her favourites and feature heavily in the space. "I'm now also feeling the love for Resene Kandinsky, and Resene Crusoe reminds me of Frida Kahlo."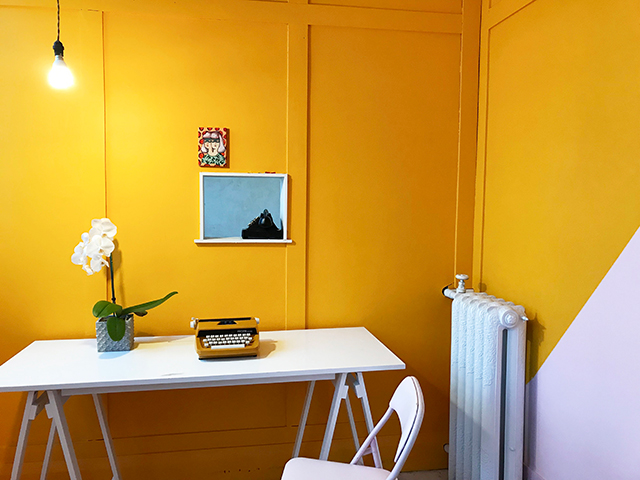 The middle front office was given a funky two-tone geometric look in Resene Vanilla Ice and Resene Buttercup.
For anyone wanting to create their own coworking space, Louise has one key tip: power points and extension cords. "One of the major reasons this space isn't viable any longer as a co-working space is the power boards are too old to put more power through. Plugs are as vital to an open office as coffee and WIFI."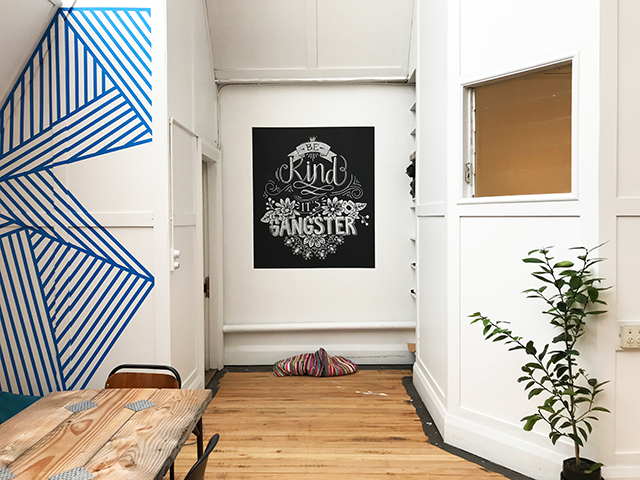 Louise painted a square of Resene SpaceCote tinted to Resene All Black on the above wall to allow a local artist to create a chalk painting. Surrounding walls, ceilings and trims in Resene Half Black White. The stripe design has been created with painting tape.
Although the Cahoots space has since evolved from a co-working space to a function room for hire, its charm remains the same thanks to Louise's flair for colour. "No one will understand your vision of the space until it's done. Don't be afraid of colour. You can paint over it. But you won't want to."
images Louise Evans