►
◄
latest
habitat tv
blog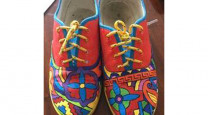 Lynda upcycles Resene fandecks with a little horticultural magic
24 Jul 2019
When she's not tinkering outside in the garden, there's nothing more that writer Lynda Hallinan loves than a good book. As an avid reader and self-confessed bookworm, she tends to avoid the growing giantess that is technology in favour of a literary page-turner. An e-book is the exception to this rule, however – it's a slice of tech that's in favour when the weather is warm and there's dead-heading dahlias or ripping out weeds to be done. But when winter kicks in, Lynda puts down her gardening gloves and turns to the page.
"My bedside table pays homage to both Dr Seuss and architect Antonio Gaudi, with a gravity-defying tower of novels, gardening encyclopedias, cookbooks and children's story books," Lynda explains. "I can't resist a five-star book review, or a Booker shortlist, so that wonky piles of books grows bigger every month, eventually colonising other furniture in the house."
But it's not a short attention span that Lynda says is her worst literary habit, but the fact that she is an affluent page-folder. It's a habit that is often considered shameful to international bookworms, in particular Lynda's friends. In order to prevent this, she has turned to an age-old solution: a book mark, but has decided to design her own out of Resene fandecks and a sprinkle of horticultural magic.
"It's inspired by my American artist friend Linden Eller, who collects paint coloured samples on which to sew the collages she crafts from the pages of op-shop books. I thought it would be fun to press flowers onto this season's snazziest new paint shades in Resene's The Range fandeck."
It's a beautiful preservation of once-loved blooms and foliage alongside the warm tones of Resene Just Dance and the green fingered hues of Resene Waiouru. The colour coordination of flower to Resene colour not only makes for a great chapter indicator but demonstrates the type of accompanying colours that work well together, brought out by the colours within the flower.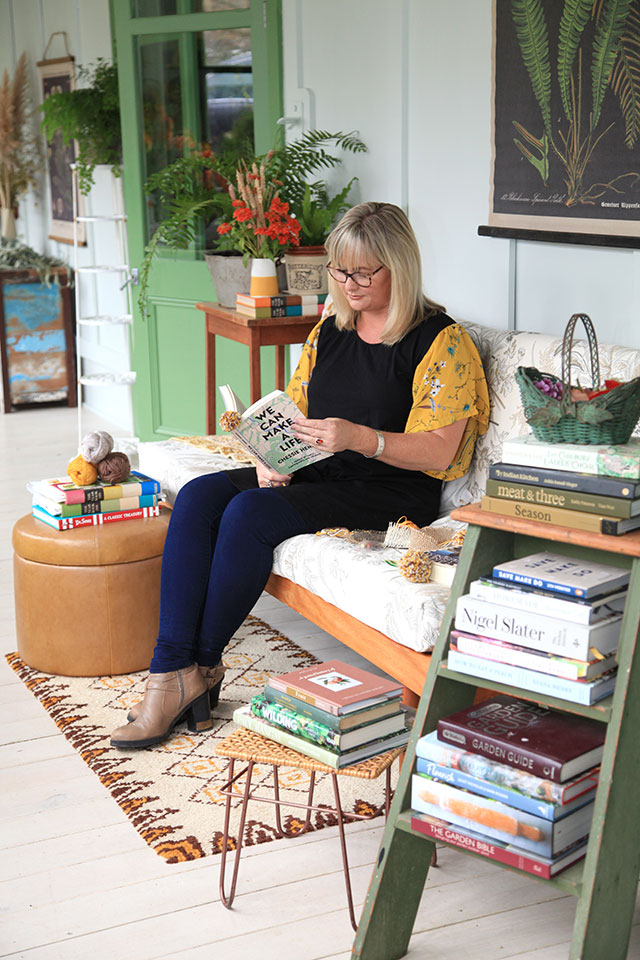 Lynda Hallinan rarely sticks to one book at a time; her bedside table, couch, coffee table and retro wooden stepladders are overflowing with paperbacks. To combat page folding, Lynda has upcycled her Resene fandeck into beautiful book marks.
Lynda decided to banish her page-turning days and create bookmarks inspired by nature, using a Resene fandeck.
Inspired by Lynda's idea? Follow these top tips for pressing flowers to make your own Resene fandeck bookmarks:
The beauty of preserving flowers from your garden is that you don't even need a professional flower press. All you need is a stack of books!
Harvest your flowers and foliage on a sunny day, after the dew has dried. The less moisture in the petals, the better; fleshy petals will turn mouldy before they are dry.
Flowers with flat, open faces, such as pansies or the individual florets of hydrangeas, are easiest to press. Pick off the petals of daisies such as zinnias, cosmos and marigolds and discard their chunky centres.
Blue flowers, including cornflowers, pansies, larkspurs and lobelias, retain the boldest amount of colour.
Arrange the flowers in a single layer, making sure none are touching, on a sheet of plain typing paper or baking paper. Sandwich between another piece of paper and slip into the pages of a large heavy book.
Press under a stack of books for a month.
To arrange pressed flowers, handle carefully with tweezers. Add a small blob of craft glue to the underside of the petals, then press firmly into place.
Special thanks to Your Home & Garden magazine / Bauer syndication