►
◄
latest
habitat tv
blog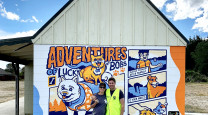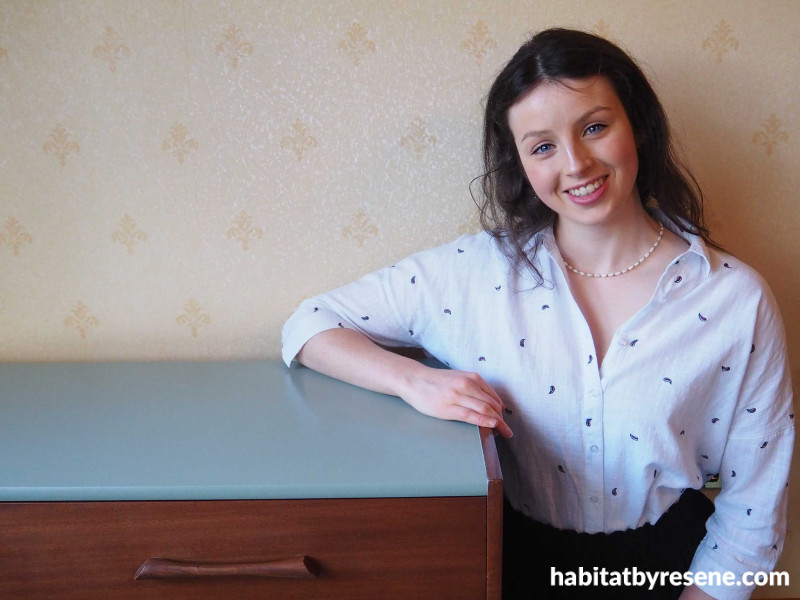 Meet Miss Upcycle NZ and her masterful creations
14 Oct 2021
When Kate was eight years old, her parents sat her in front of her an old wooden dresser, gave her a pot of lilac paint and a paintbrush and told her to go wild. A few years on, Kate's passion for upcycling has risen to new heights and her stunning works have been included in several local art shows. With a motivating motto, saving one unloved piece of furniture at a time, and a collection of stylish Resene paint colours, Kate's business Miss Upcycle NZ has us truly inspired.
Kate first began taking upcycling seriously in university, where she renovated a dresser and bookcase for her flat. "I have always loved the idea of upcycling and didn't want to buy something from a big chain store that would only last a few seasons," says Kate. "I love to shop local and being able to purchase quality second-hand furniture from the op shops is a win-win for me.
"It started off as a dresser and a bookcase and from there I had people asking me to enter my upcycled furniture in local art shows."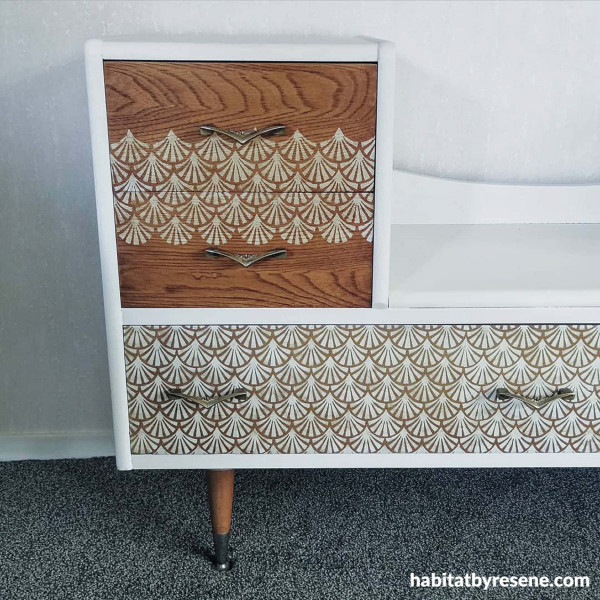 Delicately stencilled, this piece was painted with crisp Resene Black White.
Kate has found her creative outlet in upcycling pre-loved pieces of furniture, working with everything from side tables and drawers to large cabinets. "I love upcycling as it has the power to change the feel of any space," says Kate. "One piece of furniture can become a real focus point and feature for the room.
"I view all of my upcycled work as pieces of art; all unique, all reflective of the mood that I am in when I start."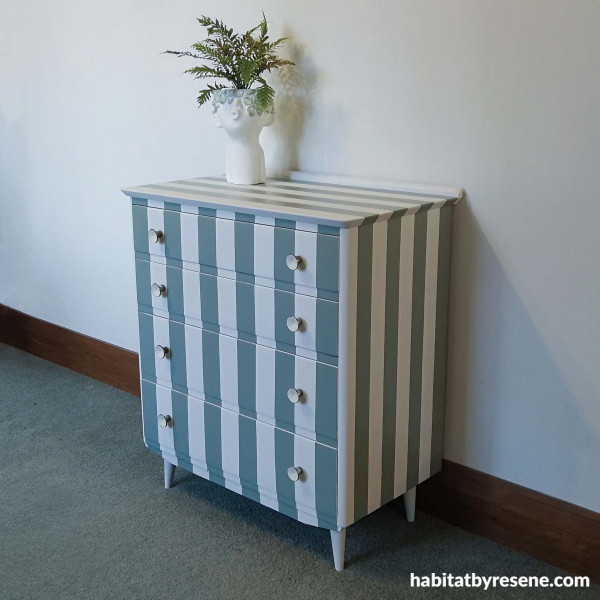 For this striped tallboy, Kate paired stripes in Resene Half Merino with deep grey blue stripes mixed with Resene Undercurrent, Resene Blue Moon and Resene Coast.
Kate draws her colour inspiration from the changing seasons outside her window. With the change in season comes a change in colour tone, from darker colours such as Resene Coast in wintertime to lighter floral colours such as Resene Blue Smoke in spring. She incorporates elements such as wallpaper and stencils into the mix, creating interest with clean lines and patterns. "Once I have an initial idea of what I want the upcycle to be I usually take a drawer or some photos into Resene and have a chat to the team about what products would work best on the wood," says Kate. "I love going to Resene as it is a one stop shop!
"I got hooked on Resene by using their testpots. They are the perfect amount to test out your ideas and design. Ever since then I have used Resene paint."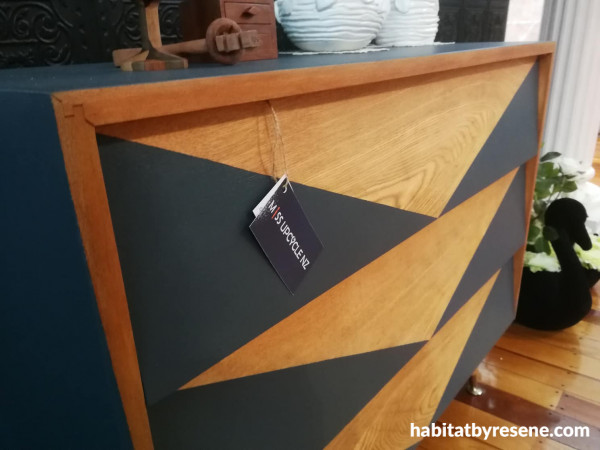 One of Kate's favourite upcycles, this set of drawers got a modern refresh with Resene Coast.
With a keen interest in everything upcycled, Kate has not only painted and stencilled works, but has also tried her hand at decoupage and upholstering. "I love trying out new techniques and trends which has led my style to be quite eclectic with what I have upcycled," she says.
"My style can range from minimalist clean lines to really fun bold bright pieces – it all depends on the era of the furniture and the mood I am in."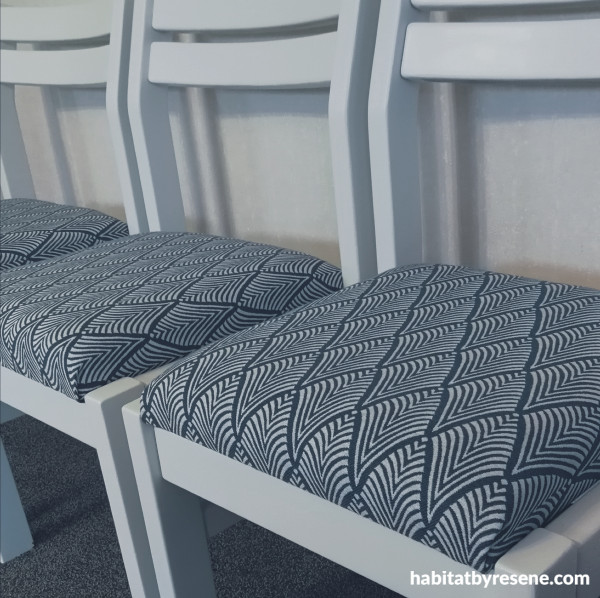 These classic dining chairs were given a fresh update with Resene Black White.
Despite experimenting with bright and cheerful Resene colours, Kate is constantly drawn back to dark and moody blue hues. "My favourite colour is Resene Coast, as you can see I have used it a lot!" she says. "It's just such a moody rich colour but yet it can look so different in different lights.
"My dream piece of furniture to upcycle would be anything Mid-Century. I love the contrasting sleek lines, functionality, gentle curves and the honest use of materials as it embodies everything I love about upcycling."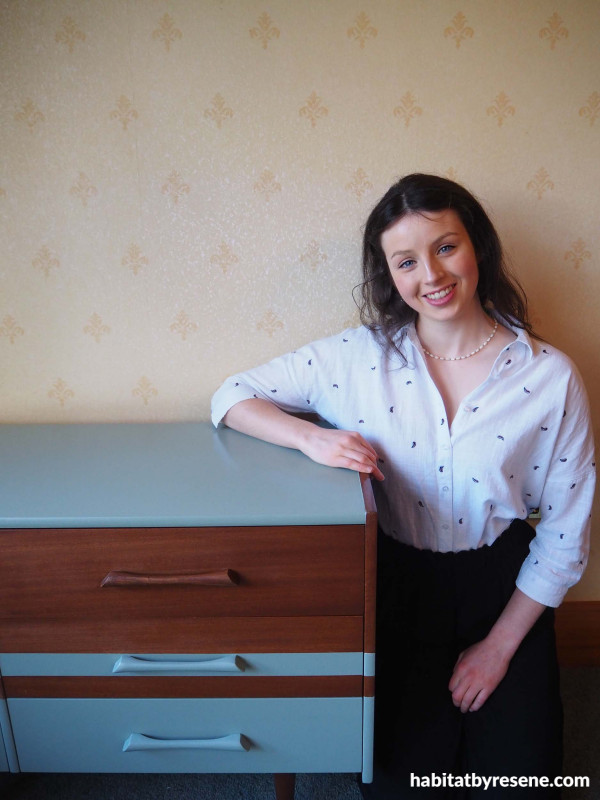 Kate, pictured here with a set of upcycled drawers in Resene Blue Smoke, hopes to one day turn her passion for upcycling into a full-time job.
You can check out more of Kate's work at Miss Upcycle NZ's Facebook or Instagram
Published: 14 Oct 2021