►
◄
latest
habitat tv
blog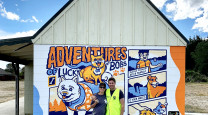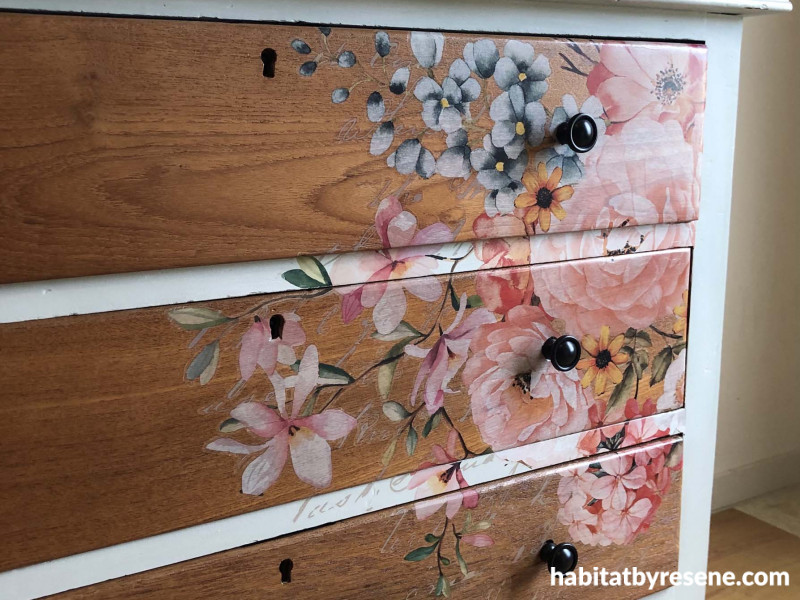 Melanie's upcycled masterpieces are straight from the top drawer
23 Sep 2021
In the late 90s, craft enthusiast Melanie took a paintbrush to her old childhood lowboy drawers and painted them in vibrant orange and blue. Two decades later the lowboy is still going strong – having found a new home in her 11-year-old son's bedroom – and Melanie's passion for upcycling has grown exponentially. With her new business, Mix Design & Co, Melanie now rejuvenates unwanted furniture into fabulous statement pieces with a wide variety of Resene colours and stains.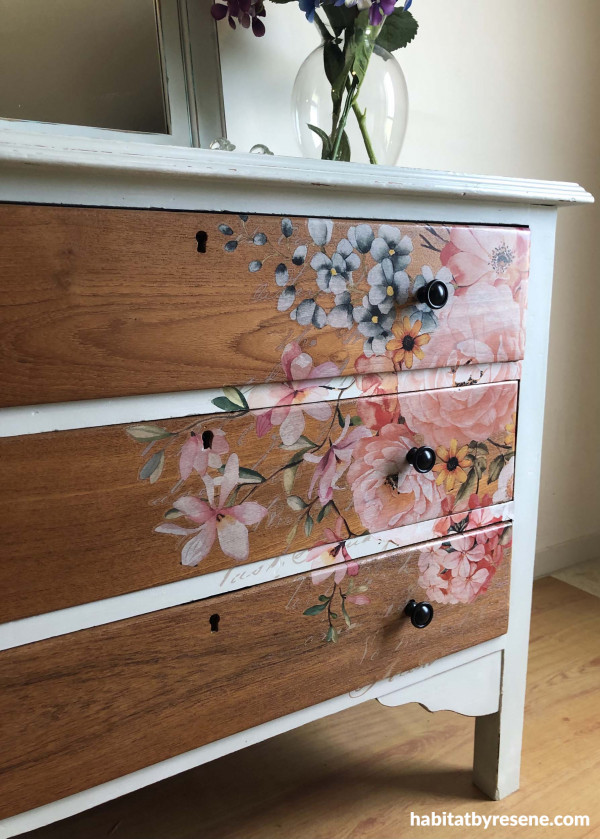 This solid oak vintage dresser was painted in Resene Half Robin Egg Blue and finished with a beautiful floral furniture transfer. The natural wood was sealed with Resene Qristal Clear Polyurethane.
Juggling single motherhood with her beautiful but labour-intensive work, Melanie works at home from her garage. "The beauty of that is being able to work around my kids," says Melanie, whose budget-conscious business has led her to not only paint furniture, but also do all the repair jobs needed to bring the pieces to life. "I've been a crafty person for as long as I can remember and have dabbled in just about everything.
"My favourite thing about upcycling is that it's fun and rewarding – and somewhat addictive."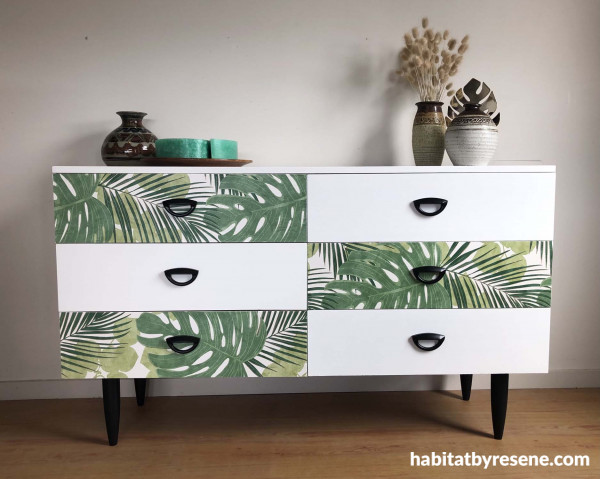 This colourful lowboy is painted in Resene Half Merino with legs in Resene Nero and Melanie finished the piece with leafy green decoupage.
Melanie finds inspiration in magazines and on Pinterest, but also by taking some time to stand back and look at a piece, letting her imagination take hold. Her current obsession is incorporating patterns and textures on pieces through stencilling, decoupage and mixing it up with hardware. "When I buy a piece to upcycle, I usually have some sort of idea or vision in my head on how I want the piece to look once finished," says Melanie. "However sometimes that vision may change halfway through the process, so I just roll with it.
"There's no rules when it comes to creating! No right or wrong way."
Working with a variety of styles from different eras, Melanie transforms old cabinets, drawers and side tables into fabulous works of art using a carefully chosen range of Resene neutrals. "I tend to mostly stick to neutral colours to suit most people's décor and interiors,"
says Melanie. "I love using Resene paints because Resene has always been a trusted brand of paint. It's durable, has a large colour palette and a nice, smooth finish.
"My favourite colour is Resene Robin Egg Blue. I love greens and blues, and Resene Robin Egg Blue is a mix of both; a soft, cool colour that is gender neutral and looks amazing on both vintage and modern pieces."
Her dream as a creative would be to one day upcycle an old wooden kitchen interior with Karen Walker colours. "I think it would be so satisfying!" says Melanie, who finds the ultimate joy comes from passing her pieces on to their new owners. "I love that I have extended the life of an old piece, adding my own personal touch.
"Knowing that once it's finished it can move on to someone else to enjoy for years to come."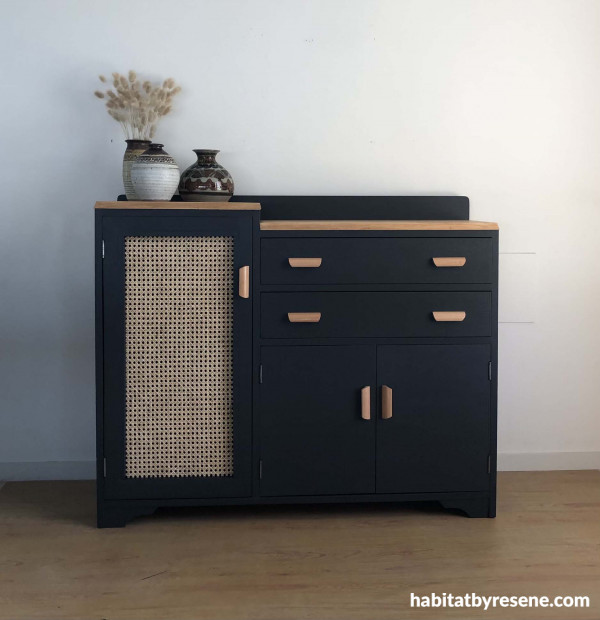 A modern look has been given to this solid oak unit painted in Resene Nero. Melanie refurbished the piece with new wooden handles and a rattan mesh door.
See more of Melanie's work on her Facebook and Instagram
Published: 23 Sep 2021