►
◄
latest
habitat tv
blog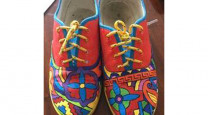 Melinda Butt turns the most unsuspecting walls into joyous works of art
30 Sep 2020
When artist Melinda Butt made the decision to go beyond her canvas and to the street – painting, instead, remarkable amounts of empty, exposed wall outdoors – she turned towards something more purposeful: a new direction, focused as much on creativity as on the happiness of people.
"I really enjoy transforming neglected spaces into bright, enlivening experiences for the greater community," she says of her now "true passion".
It is a move that has defined her work for the past six years of her fifteen-year career, and one that has brought with it a sea of unabashedly fun, colour-rich art in Resene paints. Her inspiration is telling, part pop art, part art deco, part Bauhaus, mixed in variable amounts and knitted together with nods to architecture, retro Japanese poster art and, most recently, Egypt.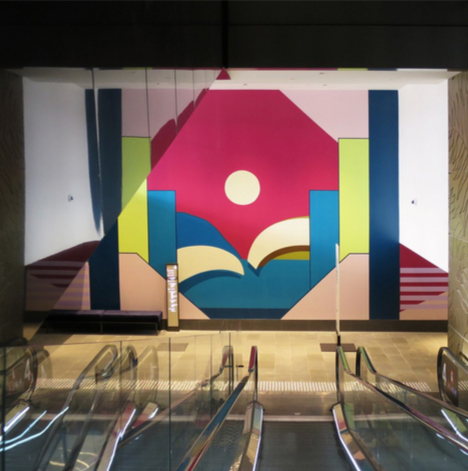 For one of her biggest projects, a mural in Newmarket Westfield Mall, Melinda used bold pink Resene Irresistible, Resene Cherub, Resene Kitsch, Resene Confidante, Resene Canary and Resene Half Orchid.It's a beautiful combination that was born because of a want "to use a colour scheme that promotes a sense of excitement, creating a playful, vibrant, otherworldly atmosphere".
"Colour choice is one of my main priorities," says Melinda, citing Resene Irresistible and Resene Kitsch as two of her favourites. "It is extremely important to me to choose a palette that is perfect for the space. I have seen first-hand the positive impact colour has on our emotional state. While this is known and used to effect in branding and graphic design, it is often overlooked in spatial design."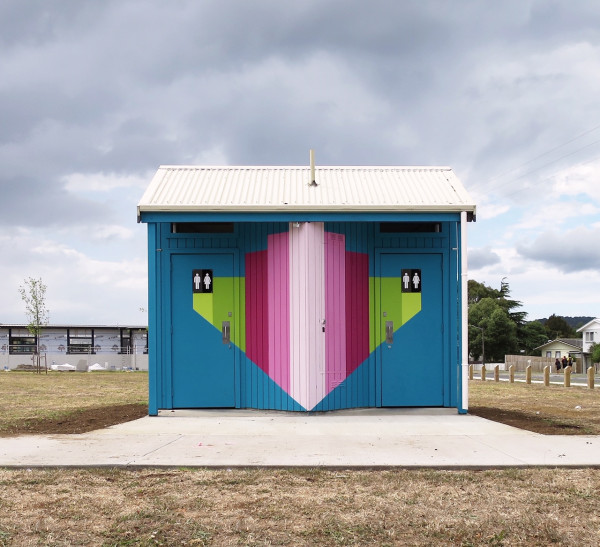 In Hamilton, Melinda transformed a small building of cubicles located next to a playground into a joyful structure using teal Resene Kitsch as her main colour. She complemented this with Resene Canary, Resene Half Limerick, Resene Irresistible and Resene Smitten.
For Melinda, the decision over which Resene paint colours to use often comes down to just three factors: light, the activity taking place in the space she is painting and how she wants her work to be experienced.
"I use bright, bold colours in high activity zones as it helps to lift one's mood, increase a sense of safety and create a sense of excitement," she explains. "In other environments, I will use a more subdued palette to reflect nature and promote a sense of calm."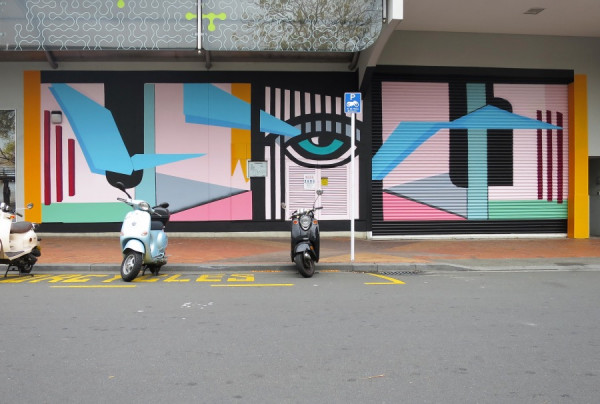 Along a path leading to a shopping mall, Melinda produced this stunning work using Resene Hemisphere, Resene Curious Blue, Resene Pink Lace, Resene Longitude, Resene Ballerina, Resene Bright Spark and Resene Black.
The idea of increasing the scale of one's work can be, for anybody, a daunting one, but Melinda sees it differently: "The bigger the challenge, the bigger the reward."
artist Melinda Butt