►
◄
latest
habitat tv
blog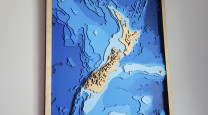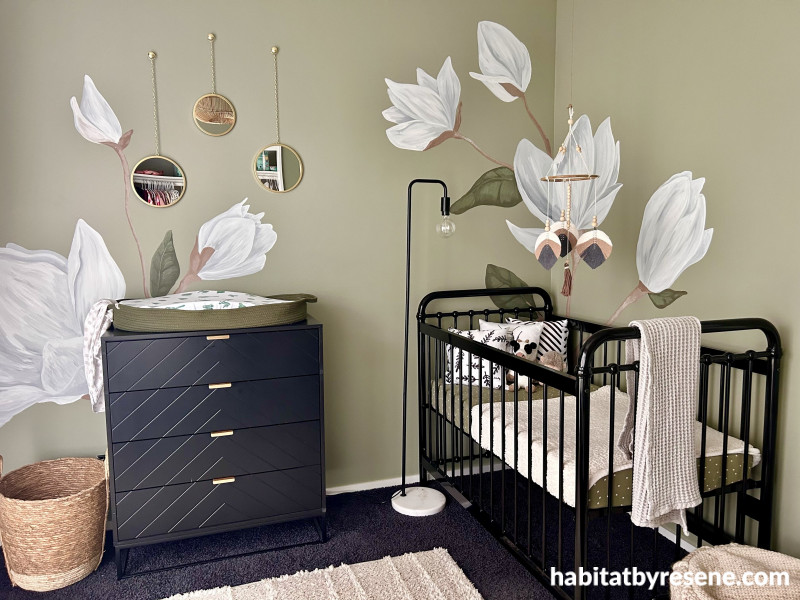 Merel's murals: Transforming empty spaces into art
15 Aug 2023
New Zealand, with its breath-taking landscapes and vibrant art scene, has long been a source of inspiration for creative souls. One such artist is Merel Ijpelaar, an artist whose journey from the Netherlands to beautiful New Zealand led her to discover her true passion for transforming empty spaces into works of art using Resene paints.
Merel's journey in New Zealand began in Whangamatā, in the beautiful region of the Coromandel. However, life had a surprise in store for her when she met her future husband, who happened to live in New Zealand. Leaving her homeland of the Netherlands behind, Merel embarked on a cross-continental journey, finding a new home in the Land of the Long White Cloud. "The things you do for love," Merel says.
After settling down, Merel and her husband welcomed a little bundle of joy into their lives. Embracing motherhood, Merel took a break from her artistic pursuits to focus on her role as a new mum. But now, as she enjoys the delights of maternity leave, she looks forward to diving back into her passion for painting interior murals for others.
Having recently moved to Lake Hāwea, Merel and her family have settled into their new home. With empty walls just waiting to be brought to life, Merel couldn't contain her excitement at the prospect of turning her artistic vision into reality.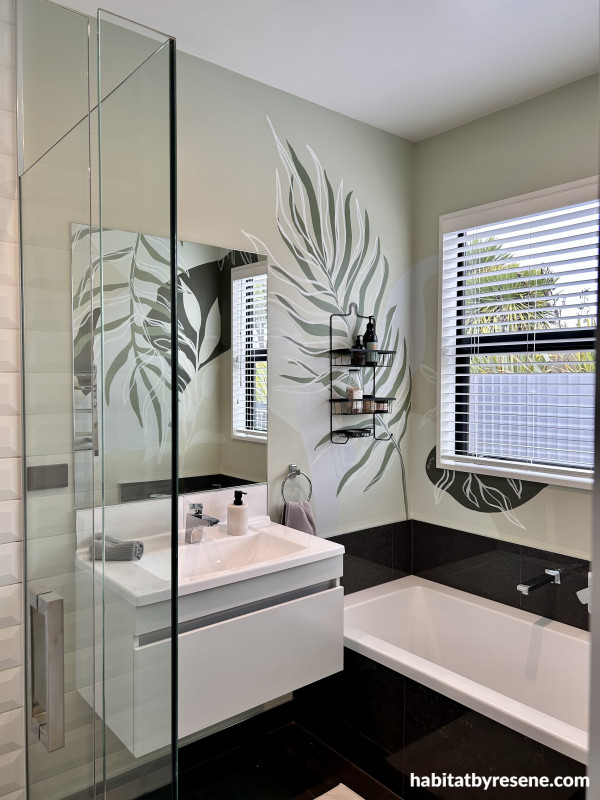 Merel's bathroom, adorned with the shades of Resene Beryl Green, Resene Bach, Resene Raptor, Resene Half Emerge and a custom made light green.
One of her unexpected ventures began in the bathroom, where she initially planned to paint the walls in Resene Beryl Green from the Karen Walker Paints collection. However, once she picked up her brush, she found herself unable to stop. The walls transformed into a delightful canvas using an array of tranquil greens and subtle relaxing shades.
"I didn't want the room to be too overpowering with colour, I wanted a space that made you feel relaxed when you take a shower or a bath, that's why I chose to go with a green and light grey palette, to have a fun and zen space," Merel says.
Her artistic project continued to the nursery, where her focus was to design a floral theme for her daughter, without resorting to traditional pinks. Merel's love for magnolias inspired her, and as fate would have it, the house she purchased had magnificent magnolias right outside her daughter's room.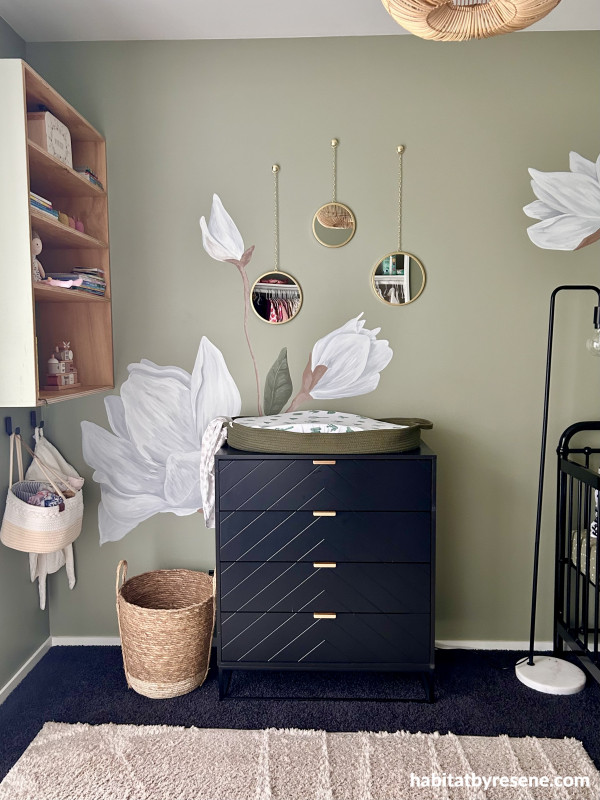 The nursery walls are adorned with hues such as Resene Locust, Resene Black White, Resene Atmosphere, Resene Slate Brown, Resene Just Right and Resene Raptor, creating a whimsical and soothing space for little Wynter.
As a seasoned artist, Merel relies on her design process to choose the perfect colour palettes for her murals. Using Procreate, a digital design tool, she crafts her vision and then heads to the Resene ColorShop online. There, she carefully selects colours that align with her design and orders them for delivery or collection at her local Resene ColorShop.
Unlike her usual murals for clients, where she meticulously plans and tests colour combinations, this time, she allowed herself the freedom to 'wing it'. However, this led to an unexpected realisation during the bathroom mural project. The greyish green of Resene Half Emerge shade didn't provide enough contrast with Resene Beryl Green, prompting Merel to adjust her approach and create additional shapes for better harmony.
Among the thousands of stunning Resene colours, Merel currently finds herself enchanted by Resene Beryl Green. "I have a new favourite every season," she says. "But this is a nice zen colour that can change your room into a soft warm and calm space without it being to overpowering. I feel like you can never go wrong with green."
Merel invites art enthusiasts and curious minds to explore her designs on Instagram, @Birdydesignnz. For more details and inquiries about her remarkable murals, or to have one painted in your own home, visit Merel's website at www.birdy-design.com
Published: 15 Aug 2023