►
◄
latest
habitat tv
blog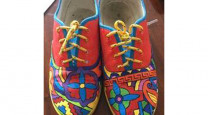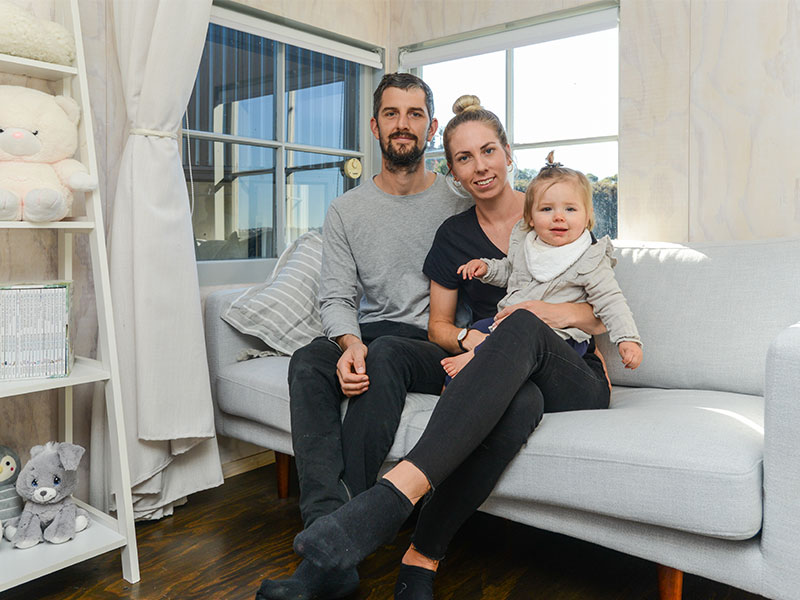 Mike and Loren's tiny house embraces minimalism
12 Feb 2020
At just 22m2, Mike and Loren's Hawke's Bay home is not your average dwelling. Tiny houses have been making waves in the building industry the last few years, and knocking down expectations with their chic designs. For Mike and Loren, their tiny home design journey began five years ago when the concept was relatively fresh to the New Zealand market. Thanks to Mike's skills as a mechanical design engineer, and Loren's as a fashion designer, they created a practical home painted in neutral shades of Resene paint.
Knowing a practical and functional layout was crucial to a successful tiny home, Mike and Loren were sticklers for details, establishing what they both needed, wanted and desired to make their house work for their lifestyle. As a result, their build wasn't in a traditional vein of tiny houses. "Normally, tiny homes have loft spaces at each end for sleeping quarters. Ours is single story and a little wider, too. We found it fun to do things slightly differently and not as the status quo," Mike explains.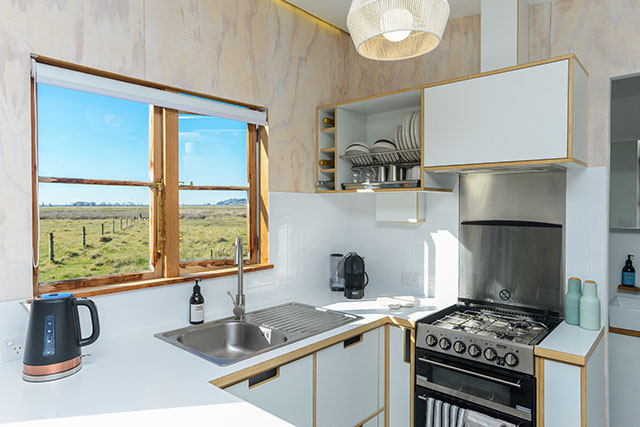 The young family made sure that they had storage aplenty as well as enough space to house their full-size appliances.
Individual living spaces were achieved by building sections raised to different heights. This offered an open plan appearance with the benefit of separation between key living areas. Significant space and storage were allocated to the kitchen as it was the most used room for the young family. "We wanted to include decent sized appliances and we can access almost everything from one place without having to walk."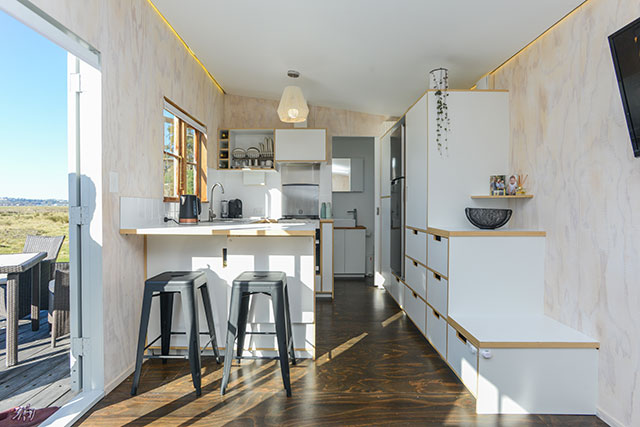 The kitchen is the heart of the home for the family. Mike and Loren chose natural hues to enhance light and space. They added additional storage necessary for a growing family. The walls have been washed in Resene Colorwood Whitewash with Resene Zylone Sheen Zero paint tinted in Resene White used for the ceilings, joinery and for the kitchen backsplash. The floor is stained in Resene Colorwood Dark Ebony and sealed with Resene Qristal ClearFloor 1K. The trims and windows are in Resene Atmosphere.
To create a sense of space and height within the compartmentalised house, the couple decided on a subdued yet light and bright colour palette inspired by Scandinavian design trends and a Kiwi bach aesthetic. Mike and Loren showed a deep appreciation for how colours can make or break a tiny home, as ceilings are usually lower and side walls are closer together. "In order to open up the space, we wanted fresh, bright hues on the walls," Loren says. To further achieve the open plan, minimalist look, Loren and Mike used Resene Zylone Sheen Zero interior paint, which would maintain the overall aesthetic. To elevate the design, they relied on soft furnishings to add texture and a point of difference in the room.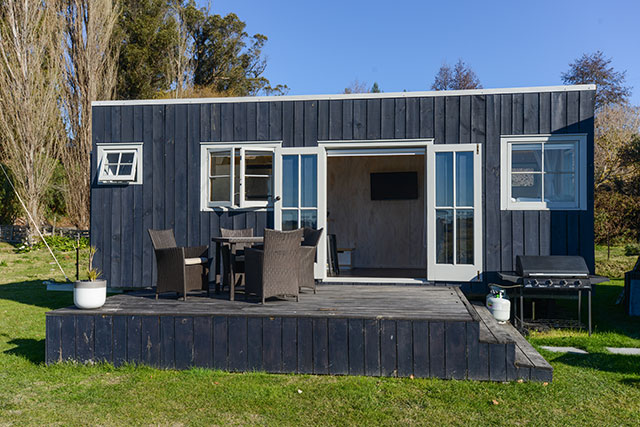 Mike and Loren spent five years' worth of weekends constructing their tiny house. The timber cladding is finished in Resene Woodsman Wood Oil Stain tinted to Resene Woody Bay. The windows are painted in Resene Lumbersider tinted to Resene Atmosphere.
Notably, the exterior of the home deviates from the neutral palette, cladded in recycled pine stained in deep blue Resene Waterborne Woodsman Woody Bay timber stain. The windows are trimmed in soft grey Resene Atmosphere for contrast – a choice that reflects the understated and natural effect common of both New Zealand beach-side homes, as well as homes in Scandinavia.
Mike and Loren had to make adjustments once their daughter Hazel was born, opting to wrap a curtain rail around the cot to further compartmentalise the space. The new parents also have an additional space outside – a shed where they can retreat to.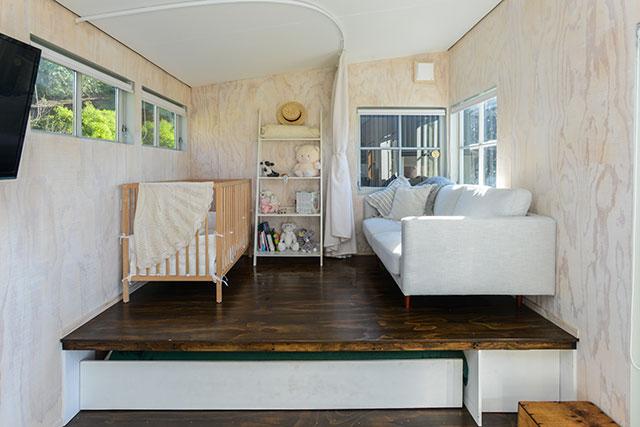 Mike and Loren's bed slides out from beneath a raised platform so that maximum floor space is available during the day. When their daughter Hazel was born, they added a curtain rail to compartmentalise her sleeping area. The plywood walls are in Resene Colorwood Whitewash, the ceiling and joinery is in Resene White, the floor is in Resene Colorwood Dark Ebony and sealed with Resene Qristal ClearFloor 1K and the windows are in Resene Atmosphere.
While Mike concedes another baby would make things a little trickier space-wise, he still believes a tiny house can work for families when planned well. "I'm keen to build another house after what we learned from the first. In all, it's an experience we will never forget."
For anyone looking to build their own tiny home, Mike and Loren advise preparing yourself for hard work and planning ahead for what you want your life to look like in a few years' time. Visually, they recommend sticking to a neutral colour palette to open up the space, plus choosing your favourite part of your home and making it a feature in your tiny house.
Find out more about Mike and Loren's tiny build at www.weemakechange.co.nz.
imagesTim Whittaker