►
◄
latest
habitat tv
blog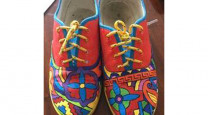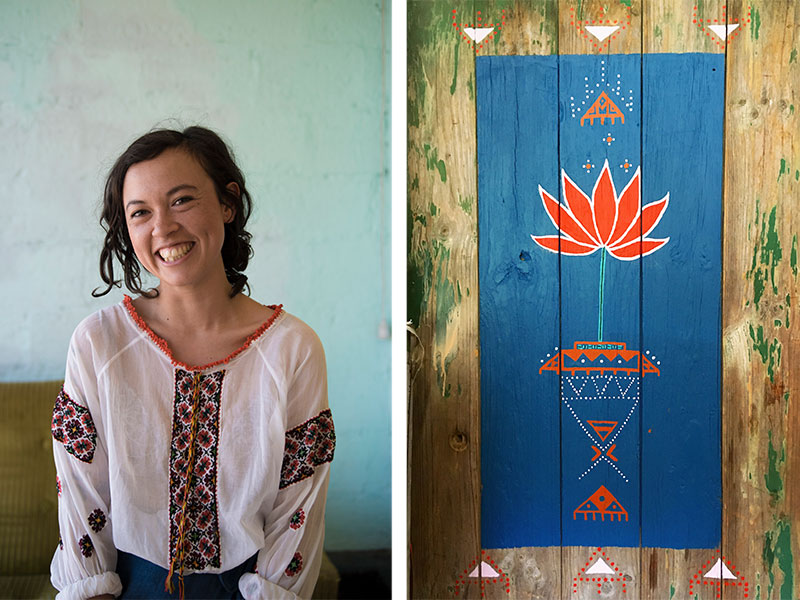 Nadika's desert influence artworks
25 Oct 2018
A trip into the Australian desert lit the spark of inspiration for painter, jewellery maker and tattoo artist, Nadia Suartika, also known as Nadika.
Nadika and her partner, travelled north into desert from their home in the Adelaide Hills with the idea of painting doors in different locations inspired by the surrounding landscape and natural environment. That project evolved into another collaboration in which Nadika decorates her partner's handmade furniture in intricate patterns using Resene paints. She tells us more about her work: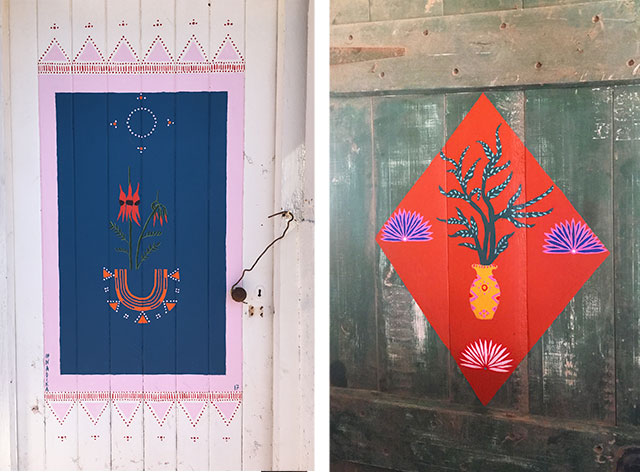 How did your latest project come about?
After our trip into the desert my partner and I enjoyed the energy of working together. We then went on to start a collaboration project called Rinjani Creations, adorning my partner's handmade furniture, which often uses refurbished and recycled timber, with ornate patterns and symbols relating to a story behind the piece. I really like the interplay of art and useful objects. Having a great love and appreciation for growing things led me to painting pots for indoor plants.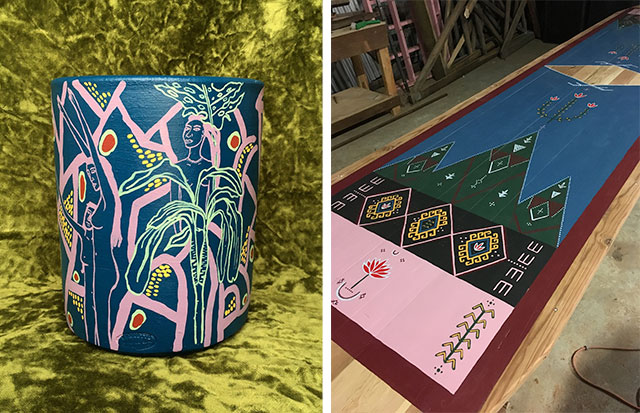 How has the style of your pieces evolved?
My style and designs will continue to evolve but they keep the same theme of pattern motifs, plants and bright contrasting colours. The canvases to which I apply the painting will also continue to change.
What has influenced your work?
I draw a lot of inspiration from Asian, African and Middle Eastern handicraft. I love it when everyday objects are adorned by artists with their own unique colour and designs. It brings these special objects to life and enhances them through the use of colour and detail.
How do you incorporate Resene products and paint into your work?
I use Resene paints for plant pots, doors, furniture, murals on walls and sometimes for details on my jewellery.
As well as creating beautiful designs on pots, doors and her partner's handmade furniture, Nadika also uses unique colour and design in her jewellery.
Do you have a favourite piece?
My favourite piece is the blue door with red lotus flower. This was the first door I ever painted for a friend's wedding at a very special time in my life.
Do you have a favourite colour?
It's hard to choose one colour, so I will tell you my top three. Resene Bright Red for its amazing vibrancy and what it brings to a composition with just a touch. Resene Spinnaker seems to be the perfect tone of blue that ties in well with my palette and Resene Floyd pale pink is a must for most of my paintings.
See more of Nadika's work on Instagram: @__nadika__ or @rinjani_creations; her jewellery is at nadika.tictail.com