►
◄
latest
habitat tv
blog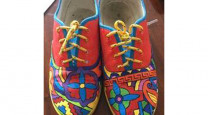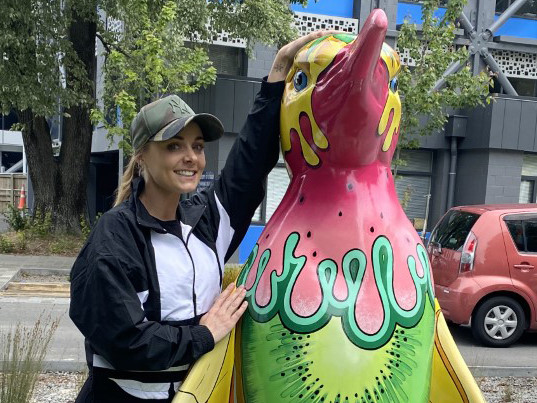 Meet the artists behind Christchurch's Pop Up Penguins
17 Dec 2020
There's never been a better time to be a birdwatcher in Christchurch. One hundred twenty penguins waddled into Canterbury at the end of November and have made themselves right at home across the region. Pop Up Penguins is a public art event running until the middle of February when Harcourts will auction off fifty 160cm colourful birds to raise funds for Cholmondeley Children's Centre.
The larger-than-life penguins are the creative creations of a variety of local and national artists, from many different artistic backgrounds. With Resene paints in hand, they've brought the birds to life with a splash of colour, a dash of humour and some incredible ideas. Here we meet three artists who can now claim penguin painting as a feather in their cap.
Gemma Rae Dudson: Fruitypatooty and Aztec Floral Fusion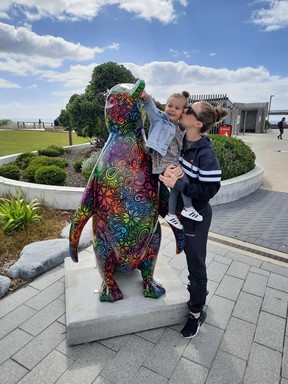 Gemma Rae and daughter with her mandala-inspired penguin Aztec Floral Fusion.
While 2020 has been full of changes, make-up and body paint artist, Gemma Rae Dudson could never have predicted switching soft curves of her usual models for portly penguins. The concepts for Gemma Rae's two colourful Resene-adorned penguins began as ideas for a body painting competition. "I looked at the penguins as I would when I body paint someone. I follow the lines and shapes of the body, and straight away, I was inspired to make the penguins giant, full-body versions of my body painting designs."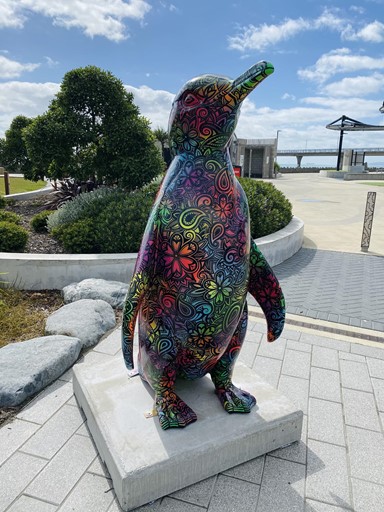 Aztec Floral Fusion, which took artist Gemma more than 100 hours to complete.
Gemma's eye-catching designs are labours of love - she estimates that her Aztec Floral Fusion penguin alone took almost 100 hours, with Fruitpatooty not too far behind. "I have two young children, so I only really had nights free. My husband and I joked that we didn't see each other for a couple of months!"
It's not the first time Gemma's been wild with the paintbrush; one of her designs featured in 2014 when a herd of well-dressed giraffes strolled into town for the event "Christchurch Stands Tall".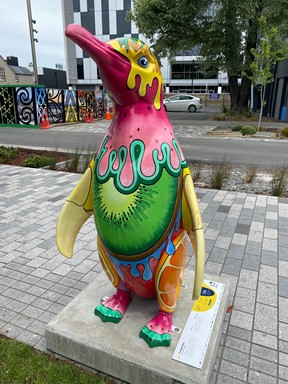 Fruitypatooty celebrates flavours outside of the little blue penguin's usual diet of squid and red cod.
Gemma's penguins are a kaleidoscopic melody of big, beautiful paint shades. "I love bright, bold colours, but I'm a sucker for pink! Resene Rapture is one of my favourites." The names of the shades she used are as memorable as the finished product: Resene Limeade, Resene Pirate Gold,Resene Butterfly, Resene Wham, Resene Candy Floss, Resene Pizazz and, of course, Resene Outrageous.
Meet Aztec Floral Fusion the penguin at He Puna Taimoana, the New Brighton Hot Pools. 195 Marine Parade, New Brighton.
Find Fruitypatooty the penguin on Oxford Terrace, Christchurch.
See more from Gemma Rae on Instagram @gemmaraeartist
Katrina Perano: One Fish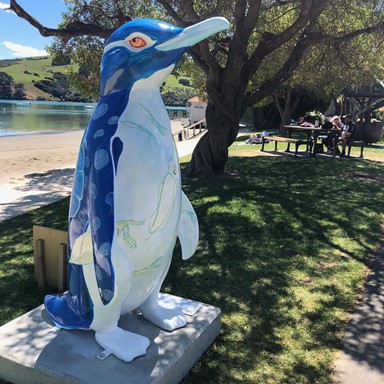 One Fish has quickly become a community favourite in Akaroa.
Katrina Perano's very large little blue penguin waddled into town with one thing on his mind - food. He's an ambassador for Akaroa's penguin colony, which is the largest on mainland New Zealand. "I was largely inspired by a conversation I had with Avril from Pohatu Penguins, a local conservation tourism business. From what I had witnessed at sea and her with her penguins, we realised that the sea birds are very hungry. Their food sources have become scarce, so instead of red cod, they're eating more and more jellyfish."
Katrina grew up with salt air in her lungs and a pencil and paintbrush in her hand. She spent her time either entranced by her grandfather's colossal cabinet of curiosities (including a preserved nautilus) or hanging out on a fishing vessel. Katrina's grandmother taught her to draw at four-years-old, mainly to keep her out of mischief. "As a child, I always wanted to be a zoologist, which is part of why I'm an animal artist - I can study creatures to my heart's content. Creatures of the sea mesmerise me, and I love creating artworks using them."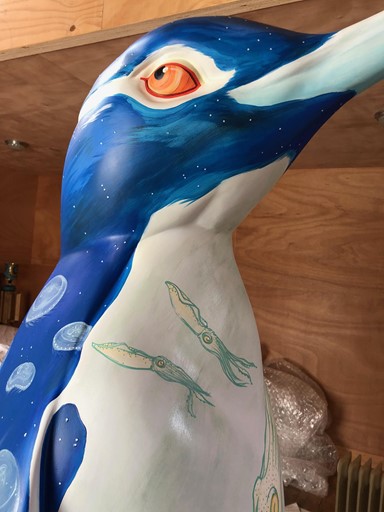 Resene FX Nightlight gives Katrina's penguin a glow reminiscent of bioluminescence.
While Katrina works with all mediums, her talent shines on unusual canvases. She recently placed third in the professional mural section of the 2020 Resene Mural Masterpieces, so turning her paints to a penguin wasn't out of the ordinary. Her finished piece took "33 delightful hours". Katrina used a range of colours, including Resene Bondi Blue, Resene Big Bang, Resene Hot Toddy, Resene Tranquil, and her favourite, Resene Foam. "I love Resene paints and products, and the staff have been so helpful. I've been astonished by the bioluminescence in the water and wanted to illuminate the penguin at night somehow, so they recommended Resene FX Nightlight to create the effect; it's fantastic." She also used Resene Paint Effects Medium to achieve the watercolour style.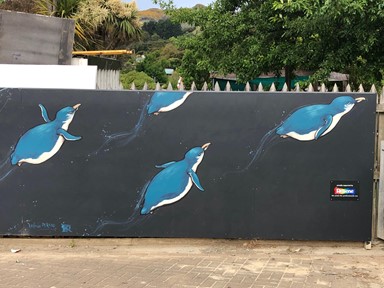 Penguins also starred in Katrina's award-winning entry for the 2020 Resene Mural Masterpieces.
With Katrina's penguin happily joining the Akaroa colony, she's already looking for her next big project. "I am never bored. I firmly believe that with life having its many hard patches, the art of beauty, delight, joy, and amusement, are vital. I have a dastardly plan to decorate Akaroa with murals."
Discover One Fish at the Corner of Rue Lavard and Rue Benoit, Akaroa.
See more from Katrina at facebook.com/katrina.perano.art
Lisa Rudman: Mophead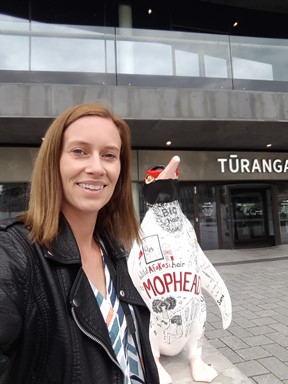 Lisa and Mophead outside his home at Tūranga, Christchurch public library.
While a penguin's feathers rarely ruffle, there's one 160cm tall waddler with a somewhat more out-there do. Christchurch-based artist Lisa Rudman has created 'Mophead', a bird-shaped ode to the award-winning book of the same name by former poet laureate Selina Tusitala Marsh. Mophead is a graphic memoir that encourages young readers to embrace their differences. It captured the attention of young and old, and as a result, was Supreme Winner at the 2020 NZ Book Awards for Children and Young Adults.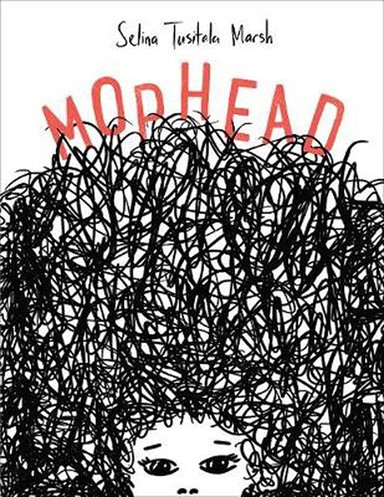 Mophead, by Selina Tusitala Marsh, is available from bookstores or online.
"I had a vision of how the story would work on the penguin, and I collaborated with Selina remotely (she lives in Auckland) to decide on the flow. It was a process that evolved," says Lisa. "I first started sketching the illustrations, and then added the black line, and finally the Resene paint. The illustrations came to life when I started adding more and more colour. Overall, it took me about a month to complete."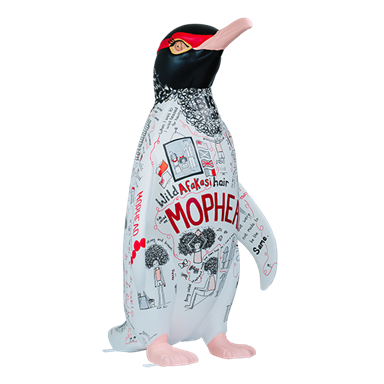 Lisa used Resene Pohutukawa for the book's title, "it's a great deep red".
Lisa moved to Christchurch from the UK in 2019 and works on her art part-time. "My art style typically incorporates black and white linework, bright pops of colours, and vibrant typography."
Selina was both author and illustrator for Mophead (the book), and their penguin collaboration leant neatly into Lisa's fine-line style. The switch from paper to penguin was harmonious. Lisa selected a palette of Resene's clean, bright neutrals with a pop of red. "The Resene colours I used are Resene White, and Resene Quarter Grey Chateau, with pops of Resene Roadster, Resene Pohutukawa and Resene Cornflower. My favourite colour is Resene Pohutukawa - it's a great deep red that I used for the title 'Mophead.'
Visit Mophead the penguin outside Tūranga. 60 Cathedral Square, Christchurch.
See more from Lisa on Instagram @lisarudmancreative