►
◄
latest
habitat tv
blog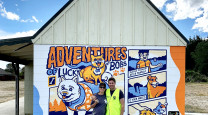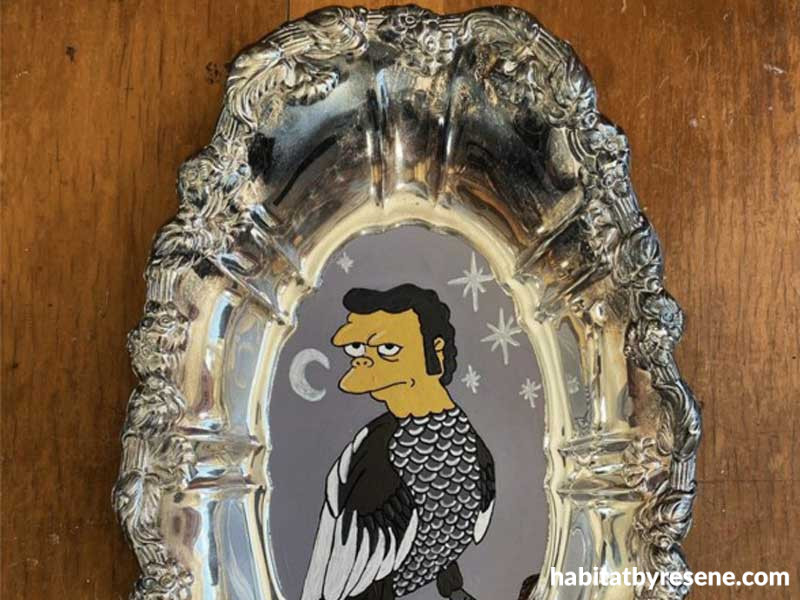 An artist gives silver salvers a Resene makeover for a whole new generation
14 Dec 2021
Artist Casey Trownson readily admits to an addiction to Resene testpots – and puts them to good use as she upcycles and repurposes throwaways from the past into modern treasures. That includes anything and everything with a paintable surface, from rusty saws, old hand-held mirrors, and silver-serving trays from a bygone era. Casey says she uses paint in her projects, which are under the name Frankenstein Design, to counter the modern day throw-away culture.
"Over time, I've trained my eye to see second-hand goods differently, and to think, 'How could this piece be re-used or repurposed?'" say says.
"I naturally integrate comedy and playfulness into some of my pieces, while others have dark and/or taboo undertones. I chose the name Frankenstein Design for my art life because just like Dr. Frankenstein, I put together mismatched 'donor' pieces. To be quite frank, often the final product, just like Frankenstein's monster, is by no means perfect, but functions well enough," she says.
Casey's art has caught the eye of others too, her upcycled silver trays are particularly popular and each one has an original 'goth-chic' twist that references pop art and cartoon characters.
'I bring you love' is inspired by an episode of The Simpsons where Mr Burns glows like an alien. Casey used Resene FX Nightlight glow-in-the-dark paint on top of the Resene Alabaster to make the character glow. Other colours in this project include Resene Pizza, Resene Hawkes Blue and Resene Flourish.
"My favourite completed piece is called 'Crow Szyslak'. I love the play on words and overall comedy it projects, being a Dr. Frankenstein-style mash up of The Simpsons character Moe Szyslak, and a magpie," says Casey.
Casey started Frankenstein Design as a creative outlook after experiencing postnatal depression.
"Becoming a mum really shook my identity," says Casey.
"The anhedonia (inability to experience pleasure) I experienced with postnatal depression made me forget what my hobbies and interest were. I took up painting. My first piece was painting a cheetah print on a skimboard using whatever paint we had lying around the house. I found painting each individual spot so satisfying.
"I quickly adopted my mother-in-law's addiction to buying testpots from Resene and would make a Saturday activity out of going to Resene, closing my eyes and picking a random testpot. This challenged me to practice using and matching colours I never previously would have considered."
At first, her artworks were intended to be for display only until customers asked about using them as platters for food. Resene's tech experts recommend Resene Concrete Clear as the protective coating for the trays. This tough waterborne glaze usually used on masonry and brick surfaces can also be used over solid colour or metallic decorative paint finishes and can be wiped clean.
Casey finds the quality of Resene paint ideal for her work.
"The first time I used Resene paint, I was struck by how velvety it was to paint with when using a detail brush. It glides over a variety of surfaces, and its hardiness when dry makes it an ideal choice for my pieces, which I like to make useful. The waterborne Resene Lumbersider is also ideal for my unsteady hand because it wipes off clean when needed," she says.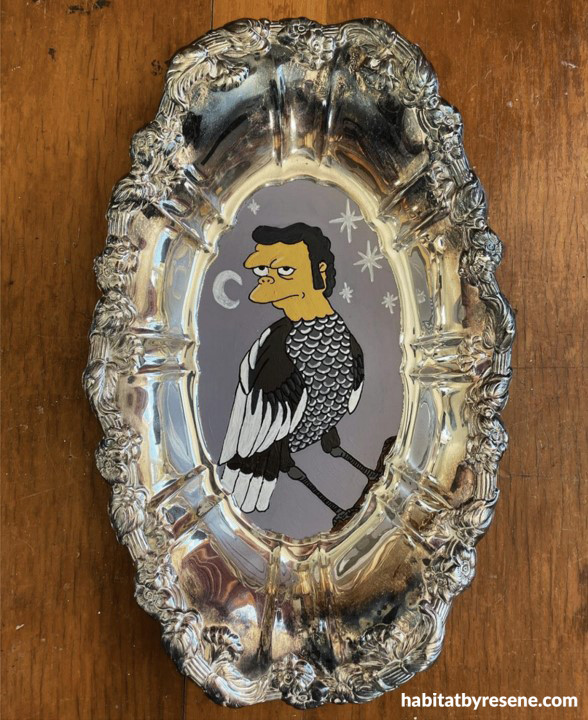 Casey's artwork 'Crow Szyslak' is inspired by the Simpson's character Moe Szyslak and features Resene Hawkes Blue, Resene Tulip Tree, Resene Foundry, Resene Eighth Bokara Grey, Resene Alabaster and Resene Cod Grey.
With a vast collection of Resene testpots, Tracey has acquired some favourites, including Resene Tulip Tree and Resene Pizza, but one is her standout. "Resene Bazaar is my all-time favourite because it can soften up the goth-chìc look I'm so obsessed with, but also complements this style as it has a moodiness about it. I tried to convince my husband to paint the whole house exterior in Resene Bazaar, but we came to a compromise with the front door, which I'm more than happy with."
See her designs @frankenstein.design on Instagram or Facebook.
Published: 14 Dec 2021