►
◄
latest
habitat tv
blog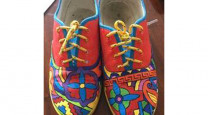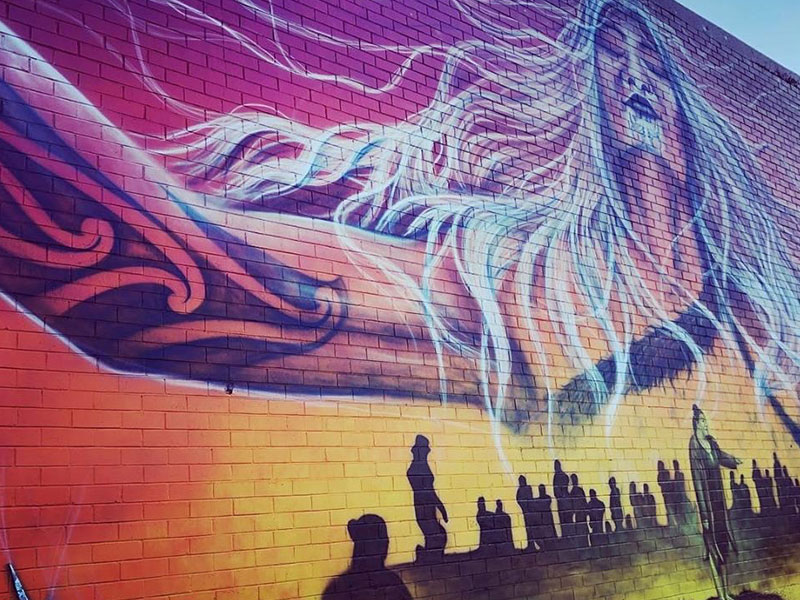 Ng? Atua Hou is revitalising Aotearoa one wall at a time
17 Apr 2019
A wall between the primary school and a busy supermarket car park in Auckland's Onehunga neighbourhood has been injected with life thanks to a colourful new mural by artist Bobby MacDonald. The 'People's Weaver Mural', featuring local champion Amiria Puia-Taylor (Ng?ti Te Ata Waiohua/Ng?ti Tiipa) is just one of many yet to come, and part of a much greater project intended to revitalise the area, Ng? Atua Hou.
The concept stems from decade long year journey of becoming a father of two, and a dedicated partner, as well as Bobby's hunger to reconnect with his Turangawaewae of Whirinaki. It sparked a desire to dig deeper into his love and appreciation for M?tauranga M?ori, Ng? Atua me ng? tikanga (M?ori Gods and legends) and to truly understand what it means to be urban M?ori.
Bobby tells us more.
What is the Ng? Atua Hou Project?
Ng? Atua Hou is a revitalisation mural project series that aims to return the mauri of our spaces through the reconnection of whakapapa, visual storytelling and the awakening of 'Ng? Atua Hou' embodied in today's generation.
The People's Weaver mural is the first of many where we aim to explore beyond Auckland to a national and global platform and will encourage a strong environmental advocacy with how mural arts can be done sustainably and in harmony with our natural environment.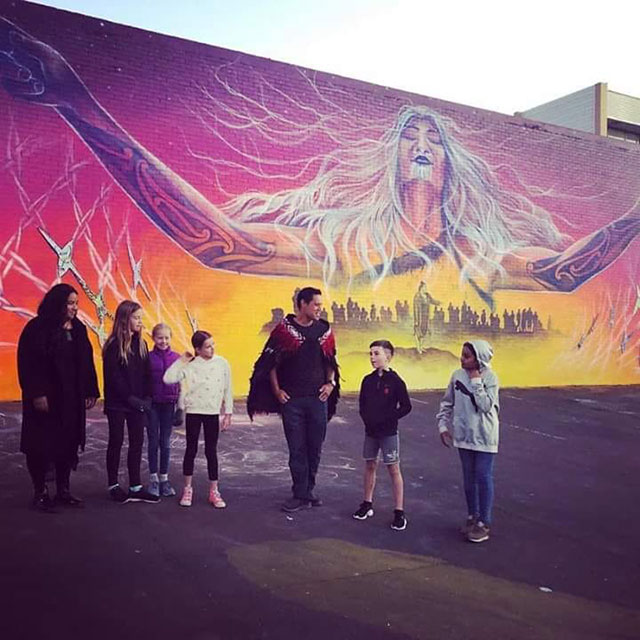 Bobby MacDonald (centre) and Amiria Puia-Taylor (left) with members of the community in front of 'The People's Weaver' mural in Onehunga, Auckland.
In 2019, we aim to complete a minimum of five large mural projects, solely with Resene Lumbersider exterior paints using a battery powered Graco Air Compressor – to keep up with the workload and meet the demands of our vision to 'Colour in our communities, one Atua at a time'.
Over the next 10 years, we aspire to contribute towards revitalising Papatuanuku through partnering up with like-minded leaders, organisations, community groups and artists to create a powerful ecology that promotes Aotearoa to the world as world leaders of Mural Arts that underpins a strong sense of Kaitiakitanga – guardianship of land and sea. We think Resene is our number one product of choice as their Environmental Policy aligns strongly with our practices.
The major outcomes we foresee are:
A deeper connection to our land, sea and environment through a Te Ao M?ori world view
Ng? Atua Hou to be world leaders of Mural Arts through a Te Ao M?ori world view that embraces all
100 mural projects over a time span of 10 years
10,000 practical impactful relationships with school students who are passionate about mural arts
10,000 Kaitiaki (Local leaders) to feature in an online 'Hall of Fame' Participation Landing Page. This is an eco-friendly method of recognising talent, minimising our carbon footprint by minimising waste for those who have successfully completed an Ng? Atua Hou Mural Art Project
Ng? Atua Hou to become a platform and safe space for an ecology of like-minded and passionate artists who want to work in public spaces
When will the next mural be underway?
Ng? Atua Hou has four more mural projects in the pipeline for Onehunga and M?ngere. One is in partnership with Mau Academy due to be completed by October.
Is there anything our readers could do to help support the project?
We are always on the search for wall spaces in our communities and have aspirations of building a team or partnering up with visionary creatives who believe in our aspirations and are eager to help us add value to the vision. We need digital storytellers, technicians, app software developers and scientists. One of the major challenges we are currently faced with is proper transportation and access equipment. We are currently hiring what we need to get the job done while we look for investors and sponsors who are eager to help to alleviate the stress for us as artists.
What has influenced your work and how has your style evolved over time?
Through the evolution of my art career, I have had the privilege of being involved in many different groups who have all had a part in my way of thinking including Te Rakau Hua, Te R?rangatira, FLEP, The 312 Hub among some of the people who have helped evolve my thinking from generic to more specific to how I see Papatuanuku. This, in turn, has planted a seed of hunger for me to look into my own whakapapa and made me more clear that my art practice can feed my wh?nau, hapu and iwi where I now see I have the potential to serve my own people before serving others.
I see Ng? Atua Hou as a platform for so many other urban m?ori who may not know their culture to begin to investigate, learn and perhaps recreate a safe turangawaewae (place to stand) for them all to stand on as I am also learning along the way too.
Do you have a favourite Resene colour?
That's a hard question, but it's Resene Riptide hands-down!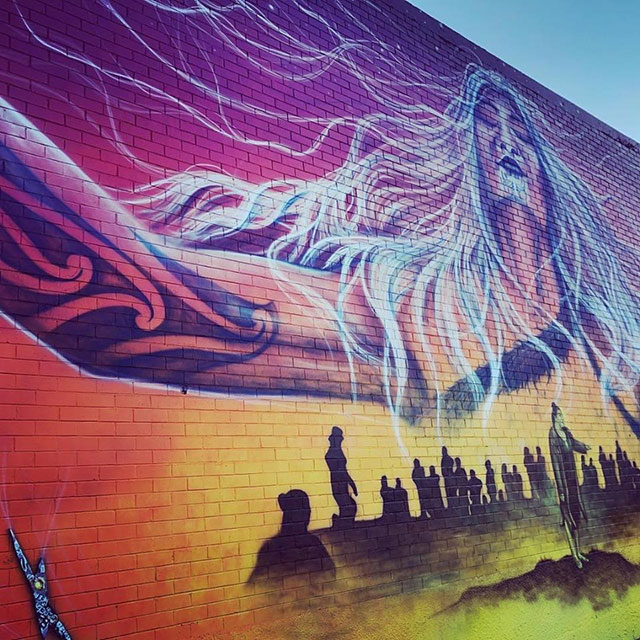 'The People's Weaver' mural in Onehunga.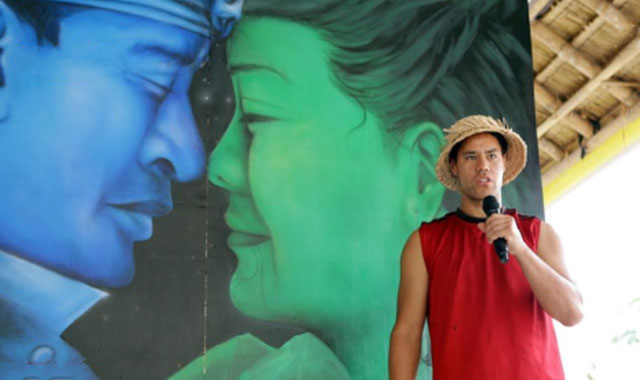 Bobby brought Resene paint over to Bali to create this stunning mural.
To stay updated on the Ng? Atua Hou Project, visit www.ngaatuahou.nz and sign up to their newsletter. To see more of Bobby's work, visit www.oxyart.nz
images Amiria Puia-Taylor, Bobby MacDonald