►
◄
latest
habitat tv
blog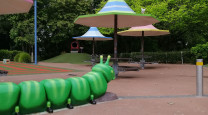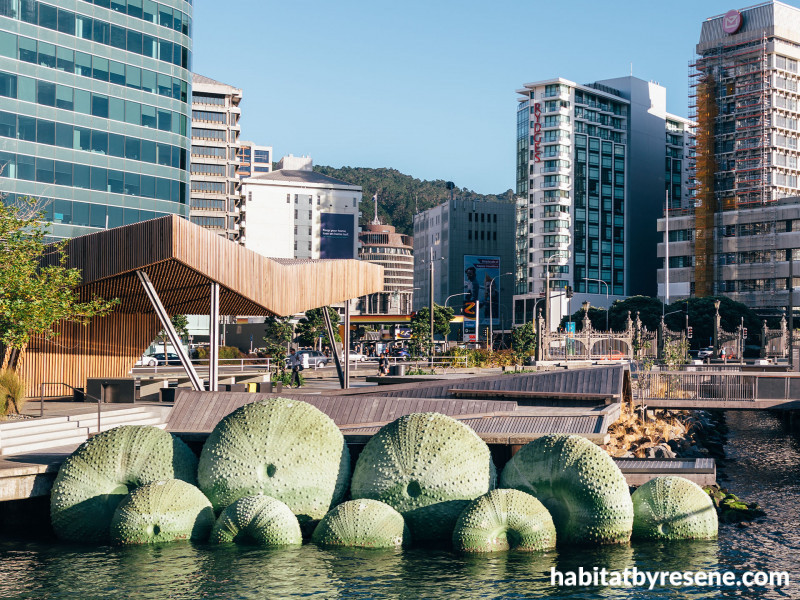 North Kumutoto is a heritage-meets-happy-place on Wellington's waterfront
15 Jun 2020
For tourists and Wellington residents alike, a walk along the waterfront is one of the many must-dos when you're in the city. And one of Wellington's latest additions – a beautiful public space that connects the city to the harbour – brings another jewel to the capital's crown.
Located just north of Queens Wharf, North Kumutoto is stage two of the area's development and brings a nod to the site's heritage in both its design and materials.
The selection of Resene colours for the project was no different, keeping true to the location's history and the exposed environment of the waterfront.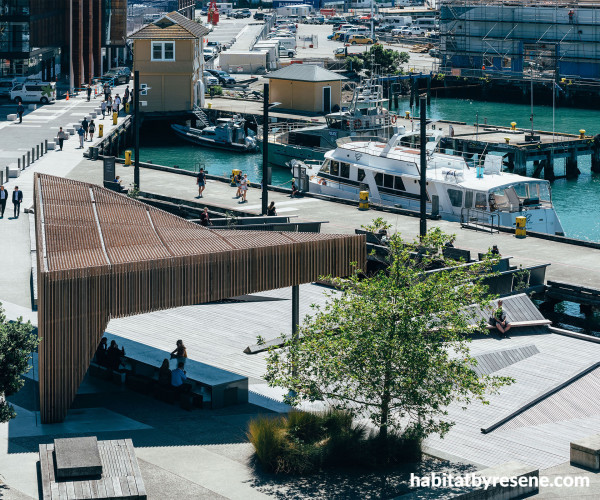 Designed by Isthmus Group, the colours of North Kumutoto take their cue from original features found by the waterfront, from heritage gates to bollards along the walkway.
"A subtle colour palette was required in order to tie into the weathering of the cedar pavilion and the timber decking at one of the sites," says Sophie Jacques, of Isthmus Architects.
"Here are pops of colour on the waterfront tying back to the shipping industry and maritime environment."
The original heritage wharf gates aligned with Balance Street were also restored to their former glory and finished in Resene Blast Grey, "which is consistent with many vertical elements on the waterfront," she says.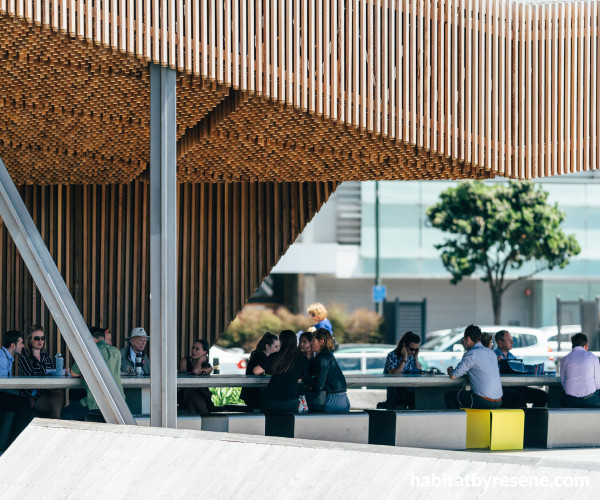 "We also painted one seat at the long lunch table under the pavilion Resene Turbo yellow, which was colour matched to the historic bollards that march along the edges of the wharf."
The Heritage Eastbourne Ferry Building was also given a facelift, with Resene Buff painted on its weatherboards and Vapro-SS Flashing.
North Kumutoto balances historic features with new amenities, with a modern seating area, and a stunning cedar batten pavilion that provides shades and protection from all kinds of weather.
The long table bench seats were painted in Resene Blast Grey 2, a custom colour which adds extra contrast to the Resene Turbo seating.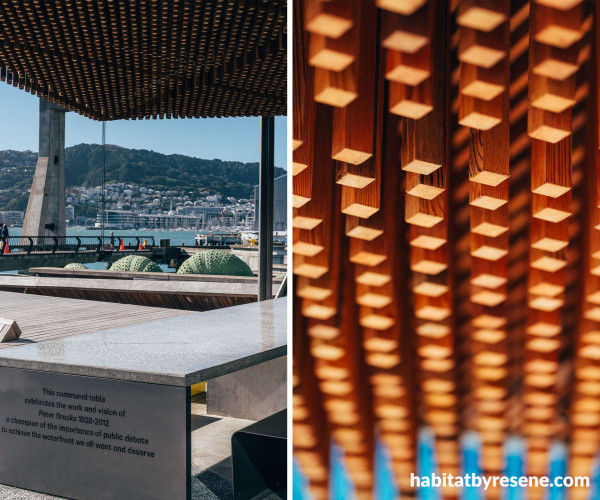 The paint colours were each chosen in a finish that would last throughout the waterfront's harsh conditions – from Resene Uracryl tinted to Resene Blast Grey 2 on all the pavilion's steel, to Wood-X Cedar mineral wood oil (available from Resene ColorShops) on the pavilion's cedar timber battens.
North Kumutoto holds spiritual significance to the Te Atiawa iwi and takes its name from the historic Pa which once overlooked the area. Heritage advisors and archaeologists have worked hard to ensure the location is preserved, which was carried on into the design of the public space.
"The area continues to be a working port, and this provides a vital historic link between the past and the present," says Sophie.
"The recognition for heritage is sewn throughout the Kumutoto precinct."
design Isthmus Group
images David St.George
Published: 15 Jun 2020