►
◄
latest
habitat tv
blog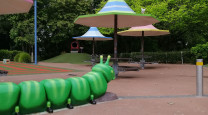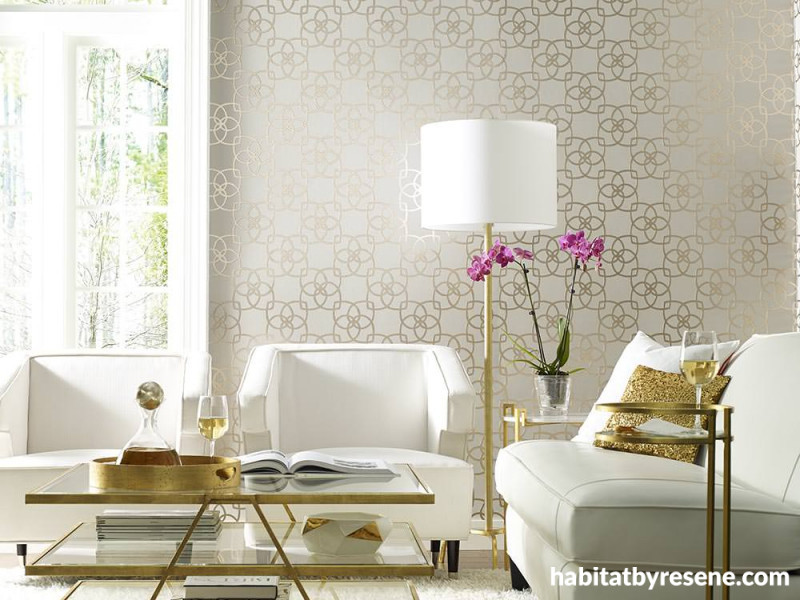 Opulence is the name of the game when it comes to these rich-looking wallpaper designs
24 Jun 2020
While some feel like look of pared down minimalism is the epitome of luxury, unless it has been executed perfectly, it can run the risk of being something much worse: boring. The other side of that coin, a room that's dripping in decadence through its use of rich textures and patterns, can make a much stronger style statement – plus, it's simpler to pull off.
Combine our top tips with these lavish designs from the Resene Wallpaper Collection and a layered, more-is-more approach and you can easily create a covetable space that'll be the envy of your friends and visitors.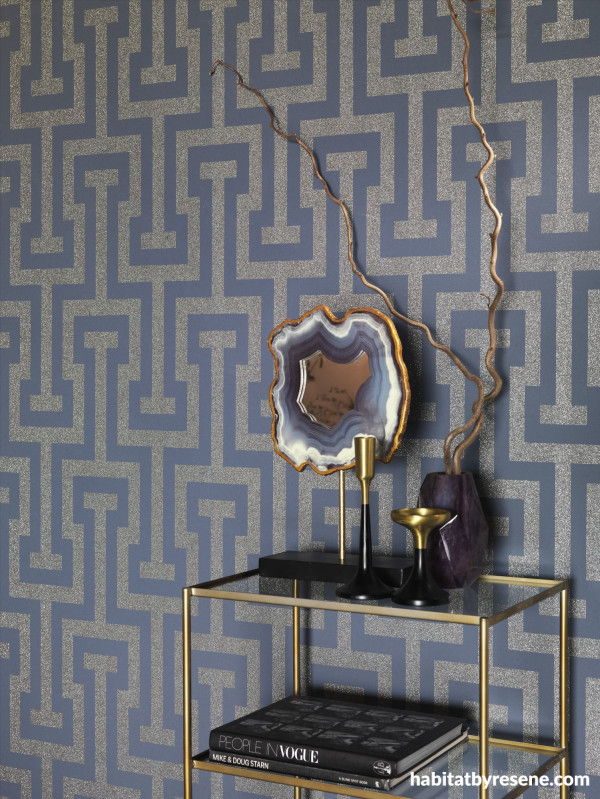 There are few things in this world that say 'opulence' the way that metallics do. Resene Wallpaper Collection 523928 features a geometric key design that brings the luxe look of glittering gold on to your walls. Play up its inky drama in a master bedroom with adjacent walls in Resene Avalanche, a ceiling in Resene Half Hammerhead, floors in Resene Colorwood Pitch Black, bed linen in Resene Breathless and add accessories like a jewellery box and vase in glossy Resene Enamacyl tinted to Resene Nero.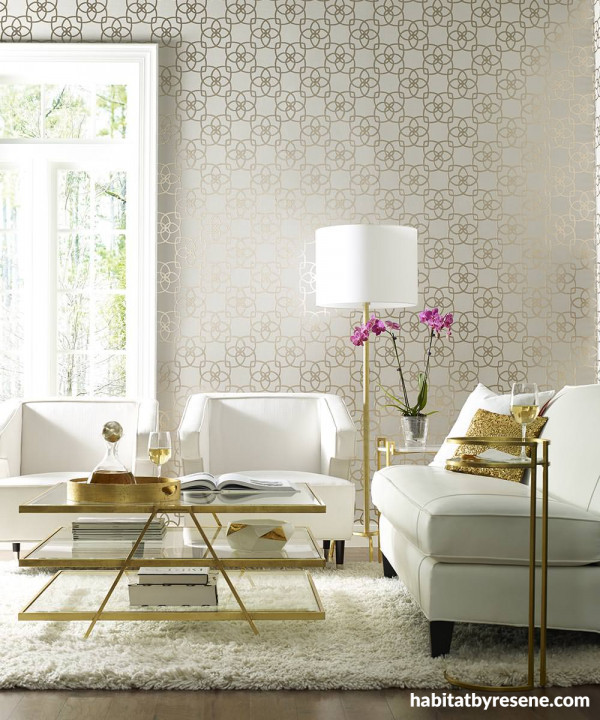 Resene Wallpaper Collection YG200203 is the perfect choice for those looking for buttoned-up elegance in a formal living or dining space. Try it in a glamourous white and gold scheme with trims and ceilings in Resene Quarter Pearl Lusta, structured sofas in Resene Bianca, a pair of armchairs in Resene Quarter Bianca, a lamp, tray and throw cushions in Resene Solid Gold metallic. For contrast and to anchor the space, go for timber flooring in a rich espresso brown like Resene Colorwood English Walnut.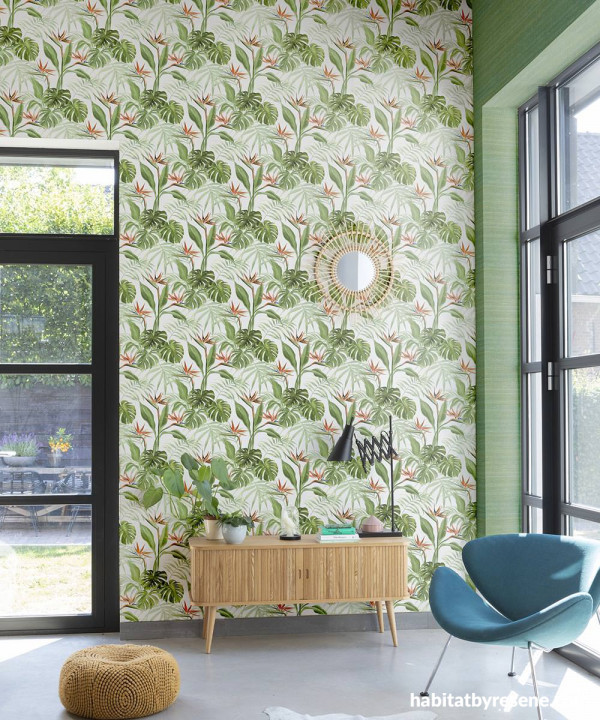 The tropical pattern in Resene Wallpaper Collection 529029 – add the number for this design has an exotic flair and its large-scale design makes it a natural choice for bringing a more casual opulence to a bedroom or lounge. Try it with an accent wall in Resene Norway, floors in Resene Cloudy, wood and rattan furniture stained in Resene Rock Salt, a contrasting lamp in Resene Quarter Bokara Grey and a statement chair in eye-catching Resene Dauntless for an eclectic-chic space.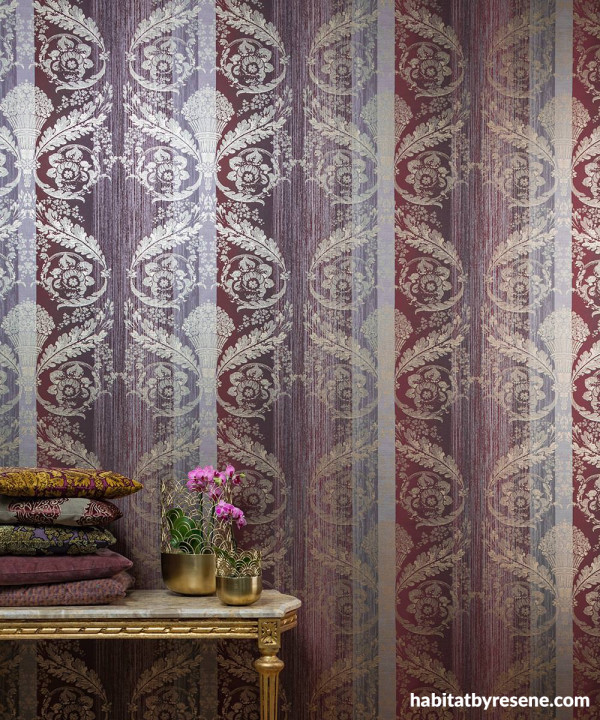 The sheen and damask-meets-stripes design of Resene Wallpaper Collection 64295 is ideal for a dining room decked out in over-the-top luxury. Combine it with exotic timber floors stained in Resene Colorwood Dark Rimu, embroidered satin curtains in Resene Mai Tai, a baroque style table in Resene Astra, velvet or silk upholstered Queen Anne dining chairs in Resene Avant Garde, a gilded chandelier and a console table painted in Resene Goldmine metallic for a look that's fit for royalty.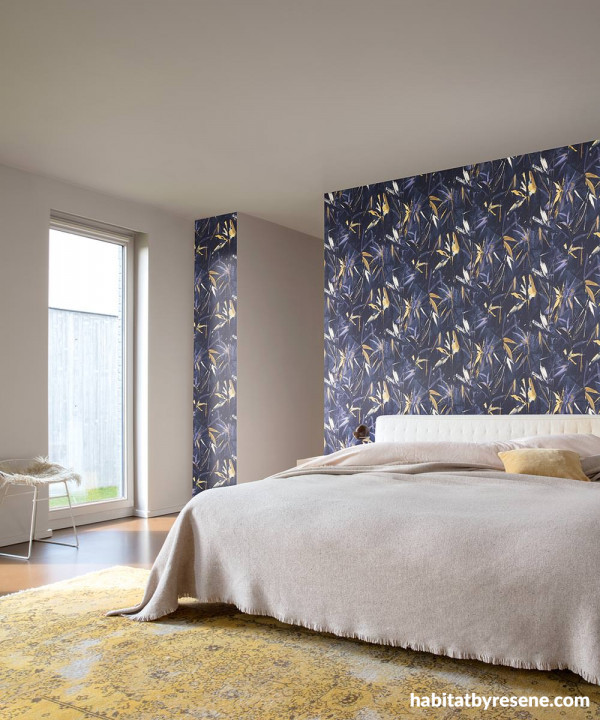 Indigo is a colour that bring to mind richness and royalty, and it's a hue that features heavily in Resene Wallpaper Collection IUM101. Try it on a single wall in a bedroom behind the bed with adjacent walls and ceiling in Resene Cararra, floors in Resene Colorwood Limed Oak, a woven headboard in Resene Quarter Blanc, stonewashed bed linen in Resene Triple Blanc and a rug and velvet accent cushion in Resene Apache for a soft and sumptuous approach to opulence.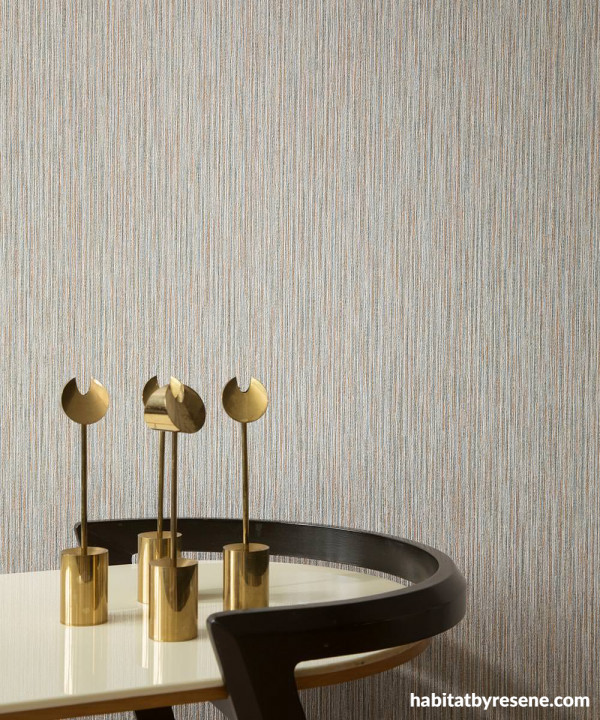 Textured and complex, Resene Wallpaper Collection MO1407 will bring plenty of understated interest to your walls without the boldness of more graphic designs. In an open plan kitchen/dining space, layer it with high-gloss cabinets in Resene Half Parchment, ceilings in Resene Half Tea, floors in Resene Quarter Ash and an island in Resene Colorwood Riverstone to play off some of the wallpaper's variegated nuances. Then, add a dining set in Resene Colorwood Sheer Black for contrast and go for brass toned handles, fixtures and utensils to finish the look and bring in some extra luxury.
Published: 24 Jun 2020