►
◄
latest
habitat tv
blog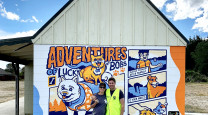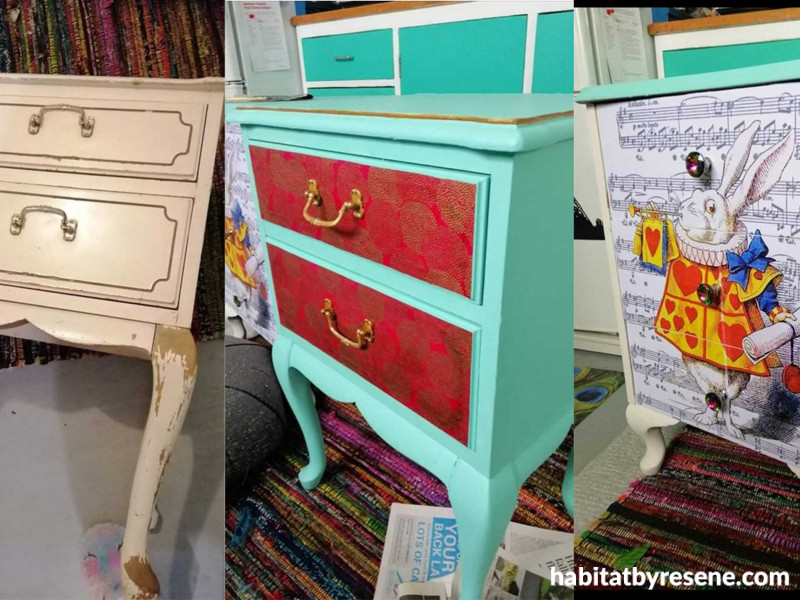 Our readers are creating everything from colourful cabinets and caravans to entire solar systems
23 Sep 2021
From creative lockdown upcycles to schoolroom projects, this reader roundup sees our readers leading colourful lives with Resene paint. With splashes of Resene Hot Chile, Resene Edward and Resene metallics, their projects are sure to inspire. So, grab a paintbrush and show us what you can do!
Out of this world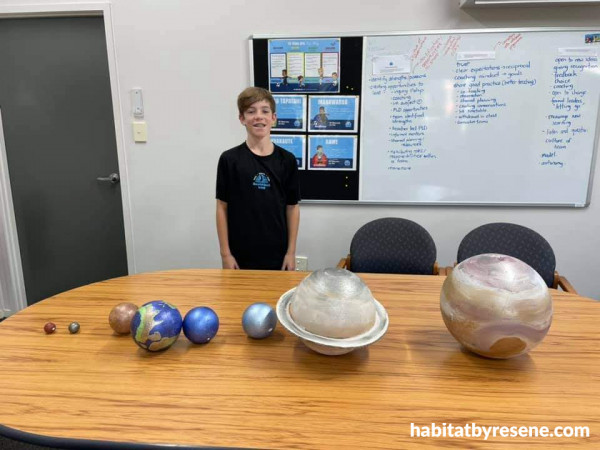 Clements' year 7 science class were wowed when he presented his gold-star solar system project. He created the shimmering project by attaching polystyrene balls to long sticks and painting them in glittering Resene metallics, including Resene Go Go Go, Resene Scotty Silver, Resene Time Warp, Resene Goldmine and Resene Copperhead. Clements picked a dominant colour to use for each planet and blended several colours to create the swirling tornado on Jupiter. "He loves outer space and, as most do, struggles with the concept of how big the earth seems when we live on it, but really how tiny we are in the big universe," says Clements' dad Mike. "We purchased a variety polystyrene balls in different sizes to best replicate the different sized planets.
"They didn't have a ball big enough for the sun. If they did, it would not have fit in the car."
Ride in style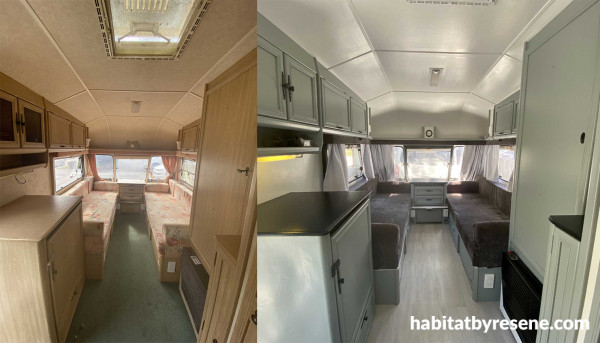 After Chelsey's trip home to Canada was cancelled due to Covid, she and partner Adam bought a 1993 Lunar Caravan and set themselves to work. After two full months of ripping it apart, refurnishing the interior with elegant countertops in Resene Black and painting it in moody Resene Edward with Resene Wan White trim, the couple were ready for a quintessential Kiwi holiday. Chelsey says that picking the paint colour was the hardest part of the entire project. "You have to think about if the job is for you or if you plan on passing it on, because the colours you like the next person may dislike," says Chelsey. "So with our caravan we wanted to stay modern but give the cabinets a slight colour tint to make something a bit different.
"It helps picking colours if you already have a specific item like cushions or fabric picked out, because you can take that into your local Resene ColorShop and see what colours match and highlight that item."
Check out more of Chelsey's work here
Put the kettle on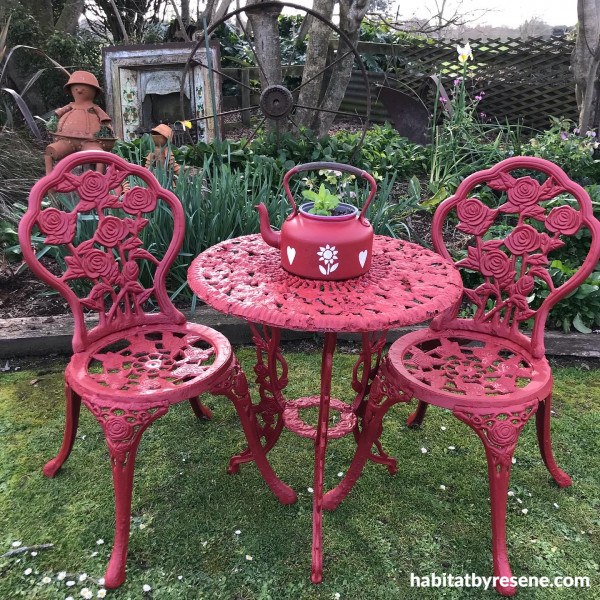 Red hot and ready for a garden party, Julie's Resene Hot Chile garden table and chairs bring a pop of spice to her garden. Julie purchased the table and chairs when she first moved to New Zealand twenty years ago and has been dedicated to keeping them looking sharp with a fresh lick of paint every few years. "I decided I wanted a red that went well in my garden and looked nice amongst the green of the trees," says Julie. " I didn't want a bright shiny fire engine red. That is why I love the Resene Hot Chile colour so much.
"I also painted my little old metal kettle in Resene Hot Chile and stencilled it - it looks great on the table."
Down the rabbit hole
Lockdown provided Emi the perfect challenge: upcycling old furniture into colourful works of art. She transformed a vintage side table into a whimsical statement piece with Resene Aqua and accents of metallic Resene Solid Gold on the handles and edge. Things got curiouser and curiouser when she painted a second set of drawers with a fresh coat of Resene Aqua on the top, embracing her love for music with drawers papered in music sheets and finished with Alice in Wonderland's White Rabbit.
Behind the screens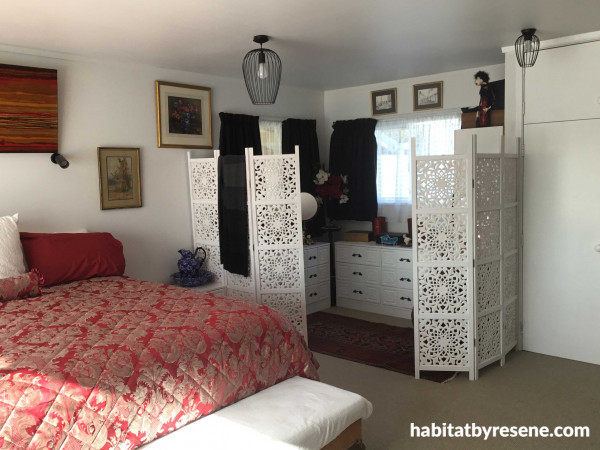 When Sue and Roger moved from their 120-year-old farmstead into Te Puke as part of their retirement, the first order of business was to create a luxurious master bedroom. Sue transformed their double garage into a relaxing bedroom haven with Resene Black White on the walls, ceiling and trim. "With the sudden threat of the second lockdown, we rushed off to Tauranga to buy thermal draped black out curtains – black so the theme was black and white," says Sue.
She updated her furniture to match the monochrome theme, painting the sets of drawers, screens and the 45-year-old headboard in crisp Resene White. Sue then brought the space to life with bold pops of red and gold.
If you have a project that features Resene paint, get in touch, we'd love to see it! For more inspiration and ideas check out Tips | Habitat by Resene
Published: 23 Sep 2021