►
◄
latest
habitat tv
blog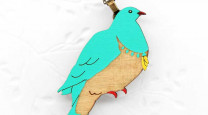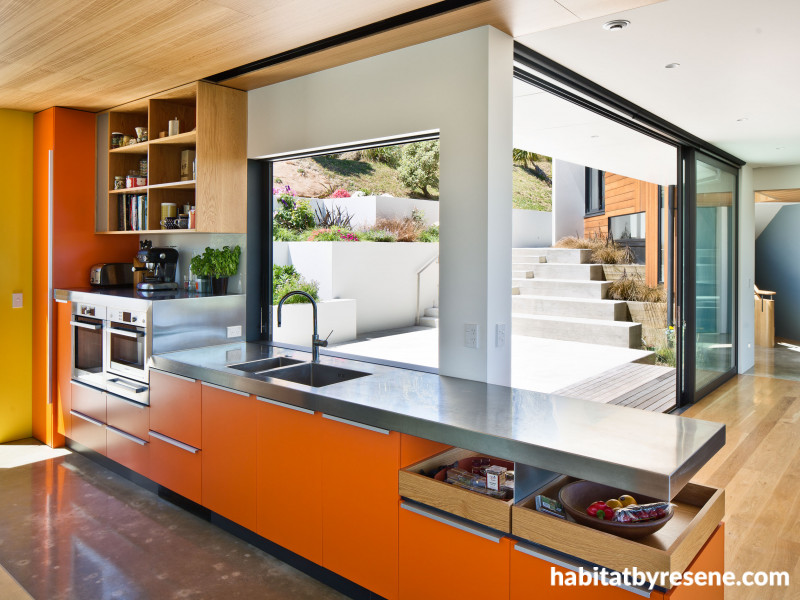 Paint It Orange: Learn more about arthritis and how to create a home that assists you  
18 Nov 2021
Arthritis is one of the leading causes of disability in New Zealand and this year Resene is running Paint It Orange to support the crucial work done by Arthritis New Zealand. For every 60ml orange testpot sold in November, Resene will donate $1 to the charity.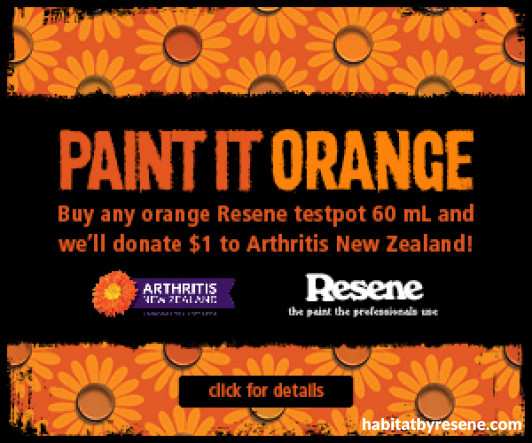 Arthritis New Zealand advocates on behalf of Kiwis with arthritis, raising awareness through online activities, support magazines and arthritis IQ courses. The charity also provides a peer support service by connecting people of similar ages and types of arthritis, an arthritis education telephone service and Facebook page, and funds a range of research with the overriding aim: "improving the life of every person affected by arthritis".
What is Arthritis?
Arthritis is a term used to describe more than 140 conditions that affect joints. People of all ages can get arthritis and it can involve almost any part of the body, most commonly the knee, hip, spine and other weight bearing joints. Symptoms can include pain, stiffness and difficulty moving the joint as well as muscle aches and fatigue. The most common forms of arthritis in New Zealand are osteoarthritis, gout arthritis and rheumatoid arthritis.
In raising awareness about the condition, Arthritis New Zealand hope to encourage early diagnosis, as it is a crucial part of preventing further damage to joints.
"Arthritis New Zealand is a national charity that provides information, advice and support to people diagnosed with any of the more than 140 forms of arthritis," Philip Kearney ,Chief Executive Officer of Arthritis New Zealand .
"Arthritis affects more than 700,000 New Zealanders and is a leading cause of disability. There is no cure, but the condition can usually be managed effectively. Most people with arthritis continue to lead productive and fulfilling lives. Arthritis New Zealand has been helping people with arthritis since 1966. We also advocate for people with arthritis by funding research, contributing to health policy, and collaborating with healthcare professionals.
Our support service, Arthritis Assist, includes the many ways we help New Zealanders living with arthritis. You can find out more about how Arthritis New Zealand can help by visiting the website www.arthritis.org.nz or find us on Facebook."
Ideas for around the home to assist with arthritis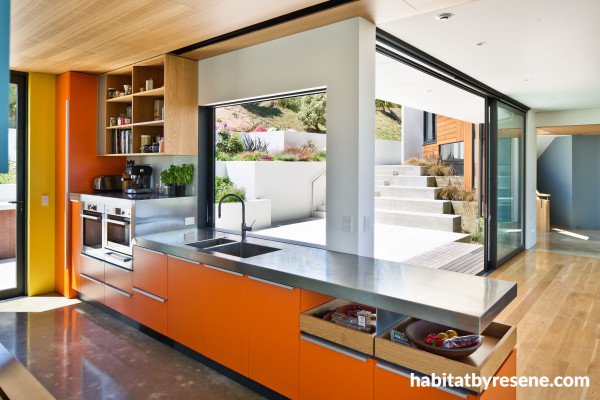 The owners of this contemporary Hamilton home made some courageous colour choices for the kitchen, helped by their architect Gerald Parsonson. The main colour is orange Resene Trinidad with a bright yellow Resene Banana Split end wall.Image by Paul McCredie.
Good home design can go a long way to making everyday living easier and more accessible for those suffering from arthritis. With a few thoughtful design changes, you'll be able to create a home layout that works for every member of the family.
"Implementing a considered home design will go a long way in helping remove some of the frustrations of everyday tasks," says Philip.
"It would help manage flare-ups because there will be less likelihood of people overdoing it on their good days, and it will make everyday life a little bit easier. People living with arthritis may find some simple household tasks challenging due to limited mobility or pain. It would be easier for a person with arthritis to live in one-level homes that don't have steps and smaller homes so that they are easy to maintain. Consider easy-to-open taps with levers, draws, and lever-type door handles too. Soft flooring, such as carpet, rugs or cork floor are easier for the feet and knees. Handlebars on elevated toilets and baths and showers can help, and dining chairs with arms, so people can stand up more easily, are some other ideas to help a home be more mobility friendly."
1.Keep commonly used items at chest height
Keeping commonly used items, such as kitchen crockery, glasses, food and other necessities at chest height is a good way to increase accessibility within a house. Minimising the need to reach higher or bend down will also minimise pain levels and make daily tasks easier to manage. Storing essentials in multiple locations is also a smart idea for those days when moving from room to room can seem hard.
2.Raise power points off the floor
Power points should be considered when creating an accessible home. Positioning power points at the same height as chairs or light switches is an efficient way to ensure there will always be easy access to power without the need for constant bending over. Ensure that a few of the higher power points have a small bench or shelf built next to them for charging devices such as phones.
3. Use Resene SmartTouch
Resene SmartTouch paint is the perfect and trouble-free solution to make turning lights on or off easier. With Resene SmartTouch, your wall becomes the light switch – simply tap anywhere on a wall finished in Resene SmartTouch to switch lights on and off. It's ability to cover large parts of the wall – the active area is up to two square metres in size – makes it the ideal option for every household member, whether they be tall, short, young or old, mobile or mobility impaired.
4. Try Resene Non-Skid Deck & Path for safer outdoor areas
Reduce the risk of slipping with Resene Non-Skid Deck & Path. Resene Non-Skid Deck & Path is a textured waterborne finish, designed to provide a comfortable walking surface for all interior and exterior situations where a non-skid finish is desired. With extra grip, it makes outdoor areas and indoor smooth surfaces alike safer, giving you confidence in your home. Don't limit Resene Non-Skid Deck & Path to your floors, its comfortable grit texture makes it perfect for rails and stairs too.
5. Move towards more light
Let the sunshine in by opening blinds and curtains on a regular basis – more light in a space means a lesser chance of mishaps. Invest in brighter lightbulbs, especially in smaller spaces or areas of frequent movement such as stairways and choose low-glare lampshades.
---
"Donations to Arthritis New Zealand make a huge difference to the lives of people with arthritis. Every year we provide vital support to thousands of New Zealanders with arthritis and their support network too," adds Philip.
"Arthritis is a chronic condition that has an impact on our economy, health care system and most importantly on our people. That's why it is important that Arthritis New Zealand, with the generosity of our donor community can continue to provide education and support services to those affected by arthritis."
Find out more on the Arthritis New Zealand website or donate now
Published: 18 Nov 2021