►
◄
latest
habitat tv
blog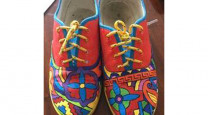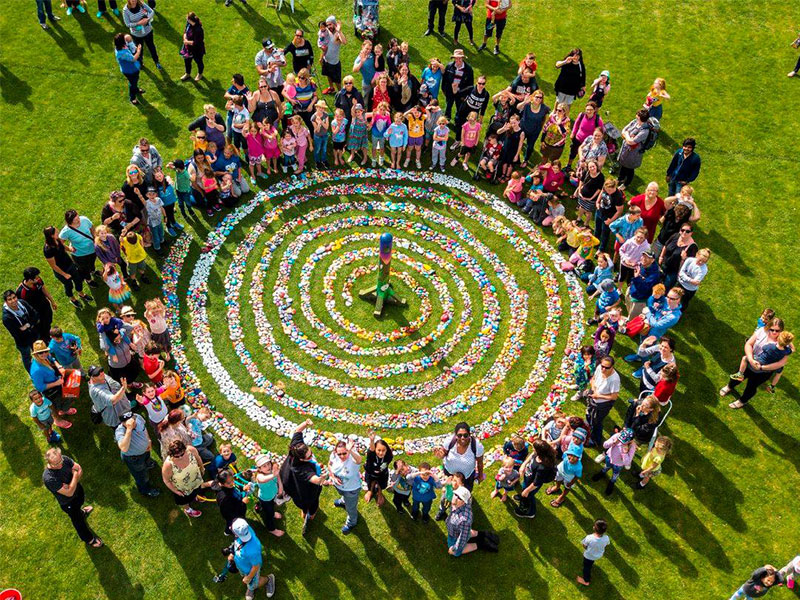 Palmerston North's koru of colour grows
04 Sep 2019
Living in an era with a growing digital landscape means that many children are spending an increasing amount of time in front of a screen and less time outside. In order to encourage outside play, Heather Knox saw the chance to kick start a movement entitled 'Palmy Rocks'.
Supported by Palmerston North City Council, Palmy Rocks was founded to give children and families the perfect excuse to get outside and enjoy the natural environment. The project encourages children to explore their creative side by painting rocks in a bold explosion of Resene paint, before hiding them in parks and other public spaces.
"It's building an unprecedented sense of curiosity in the everyday city environment," Dave Charnley of Palmerston North City Council says. "Palmy Rocks has been another tool in the kit that Heather has used to promote balancing children's screen time with wild time."
The project has since caught the attention of special needs providers, businesses and retirees. Additional campaigns have now been developed, such as family get-togethers in parks under the Manawatu Microadventurers campaign. Rhythm n' Rocks is a new, joint collaboration between Palmy Unleashed and Palmy Dirty 30 which involves rock painting as well as local entertainment, food and the creation of a huge koru out of 5,800 Resene painted rocks.
"The idea grew out of a photo exhibition for Palmy Rocks' 1st birthday and the desire to know how many rocks live out in Palmy land. The challenge now is to get the community to contribute towards building a rock koru installation. This encouraged people to paint rocks and bring in ones that they had stashed at home," Dave explains.
They enlisted the help of local artist Keli Jarvis who used an array of Resene testpot paint to produce a piece of art inspired by the outdoors. It's known as a three-dimensional peace pole to act as the centrepiece of the community koru. She felt that the representation of Te Apiti would honour the symbol of the koru and the community it represented.
"It's about new life, growth, regeneration, harmony, nature and kindness. To capture the essence and energy of this magical space, I needed the richest colour palette. I've used the colour range from Resene before and knew they would have just what I needed," Keli explains.
"To ombre the sunrise from the stars, I used Resene Pukeko, blending into one of my favourite shades, Resene Belladonna," Keli explains. "I then used Resene Shirley Temple to match the glow of the morning sun."
To help create the community koru, the event organisers set up a rock painting station with 500 rocks to paint on the day. A variety of Resene testpot paints were supplied to offer local families the opportunity to experiment with colour as well as learn techniques from other people in their community. The result is an eclectic explosion of colour and nature.
"It was great to see the project to come together. Rock after rock, the koru grew as families arrived with their creations. Children danced and swung around the post, weaving in and around the painted offerings. I often still stumble across a few painted palmy rocks, hidden amongst the mossy feet of our native trees," Keli says.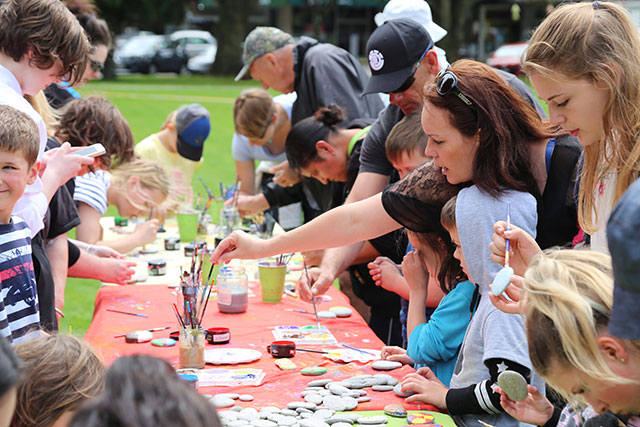 The Palmerston North community come together to celebrate the outdoors at this council lead Palmy Rocks event by painting rocks with a selection of Resene paints.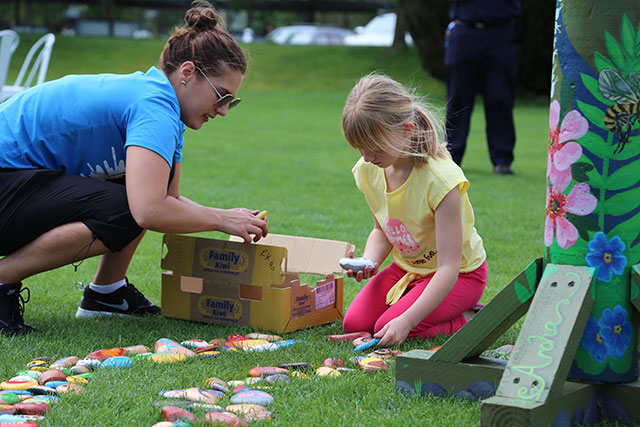 Children help create the community koru.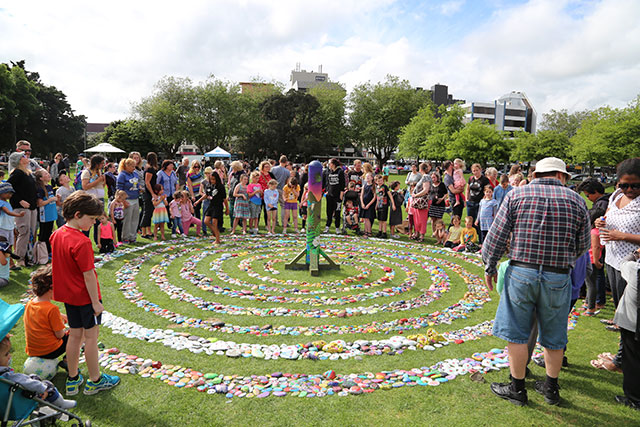 Local artist Keli Jarvis created a custom-made peace pole using a variety of Resene paints. Her favourite shade is Resene Belladonna, a bright fuchsia hue.