►
◄
latest
habitat tv
blog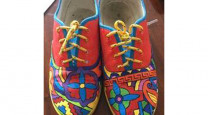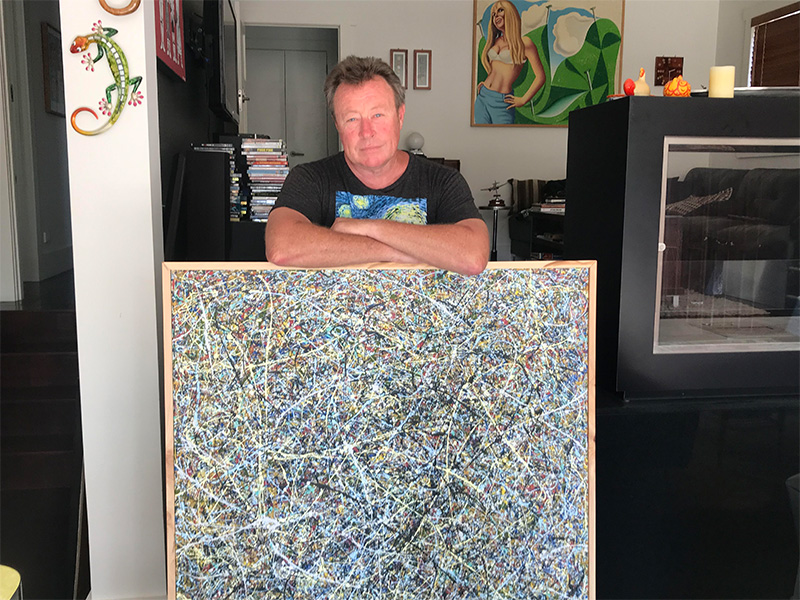 Paul Walsh's pop art is an exploration of daring colour
26 Feb 2020
After 30 years in the customer service industry, Paul Walsh has moved into a more creative direction, leaning into his passion and talents as a pop artist. It wasn't such a random turn for Paul, whose love for the arts dates back to his childhood, and remained a strong theme throughout his high school career.
Paul says it seems art followed wherever he went in his career. While working as a zookeeper, he often found himself creating animal signs and illustrating activity books for visiting children. From there, he's gone on to create countless murals, illustrations, caricatures and other commissions in his spare time.
Inspired by the likes of Roy Lichtenstein, Andy Warhol, David Hockney and Jackson Pollock, Paul's work is decidedly bold, daring and undoubtedly inspired by pop culture. The Auckland-based artist has also found inspiration at home in Aotearoa.
"New Zealand artists that I have real appreciation for and have no doubt influenced my work are Ian Scott, Peter Siddell, Rita Angus and W A Sutton. My favourite New Zealand work is W A Sutton's 'Nor'wester in the cemetery,'" he says.
Paul's fun and frisky use of colour has birthed courageous works that demand attention. Whether creating his Star Wars-inspired pieces or, as evident recently, paintings that are evocative of Jackson Pollock's style, Resene's extensive range of testpots have been along for the journey.
"I really like the convenience of using the testpots. The paint itself will yield work that is virtually bulletproof and can be hung in strong sunlight with limited worry of fading. And of course, if damages do occur, they can be easily touched up again," explains Paul.
There's no better example of Paul's love for pop art than his most recent work titled The Race, which pays direct homage to his "all-time favourite'' pop artist, Roy Lichtenstein, as well as one of his favourite songs, 'The Race' by Yello. The impressive and large piece features a frame by frame comic book-style, which Paul has incorporated with nods to Lichtenstein's work including WHAAM!, In the Car and Okay Hot-Shot, Okay!.
"But a keen-eyed fan may see more," Paul teases.
'The Race' features eye-catching colours like Resene Regent Grey, Resene Shakespeare and Resene Bullseye on expertly drawn cartoon designs. "Lichtenstein used to take panels from cartoon books and magazines and present them as singular work, so I thought it would be fun to take these works and return them to a cartoon format."
From his extensive body of work, Paul is particularly fond of his fighting robot paintings, since he's a keen collector of vintage robots. "It was fun to line them up like they were having a scrap and then paint them. The best, I think, is 'Kapupu vs Ballisto'. Most people who visit would claim the 'YMCA Storm Troopers' are their favourite, and often take a photo of it."
Paul's favourite Resene colours are also hues he tries to incorporate in most of his work. "For a bold yet moody red – Resene Pirate. For a happy, eye-popping summertime blue –Resene Pelorus and the deep dark tones of Resene Zeus takes on a life of its own in different lighting," Pauls shares.
Paul is currently hard at work finishing 'The Race' and has plenty of other colourful gems in the pipeline. By the looks of things, he'll have colour and art enthusiasts commissioning his distinctive pieces in droves.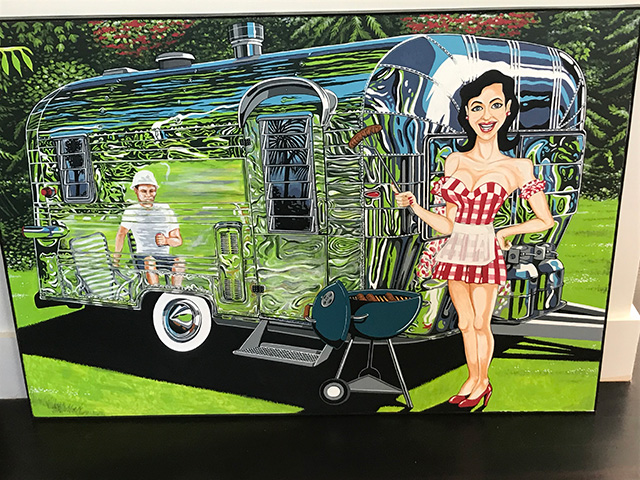 Paul's Sossie Time features a range of Resene colours including; Resene Midnight Moss, Resene Lima, Resene Astronaut, Resene Shakespeare, Resene Abbey, Resene Regent Grey, Resene Arapawa and Resene Pirate.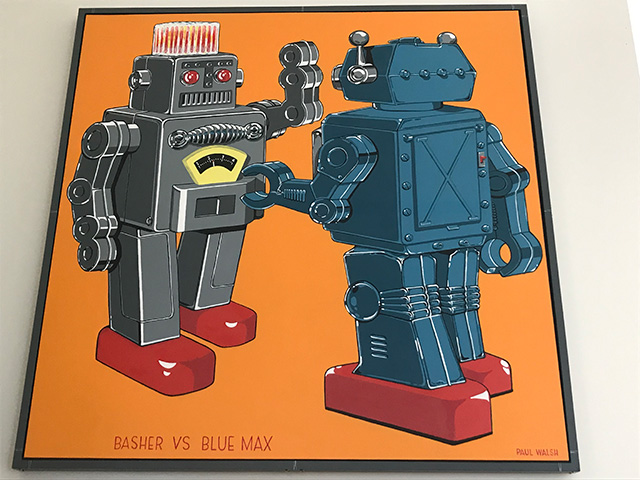 Basher vs Blue Max features Resene Abbey, Resene Regent Grey, Resene Pizazz, Resene Pirate, Resene Guardsman Red and Resene Astral.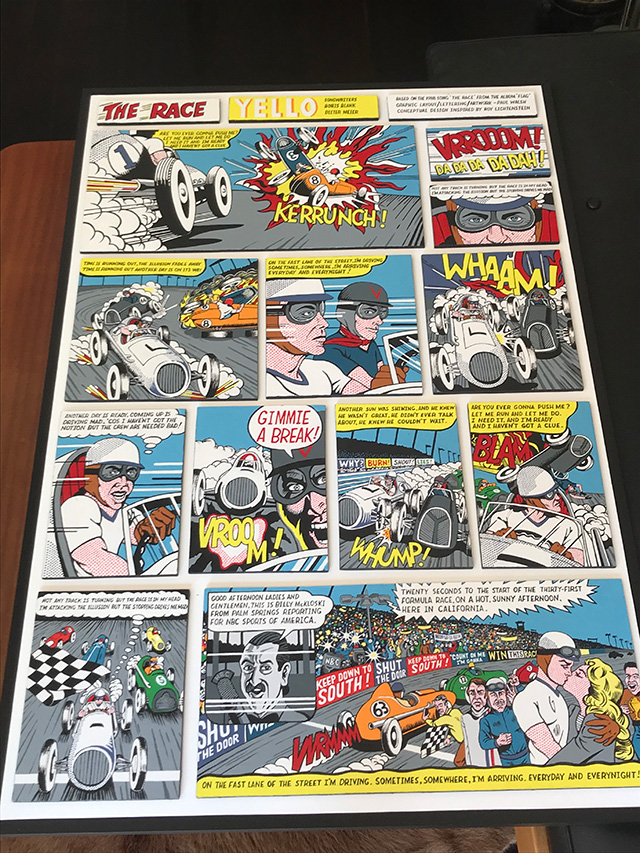 The Race features Resene Regent Grey, Resene Shakespeare, Resene Bullseye, Resene Hive and Resene Cabaret.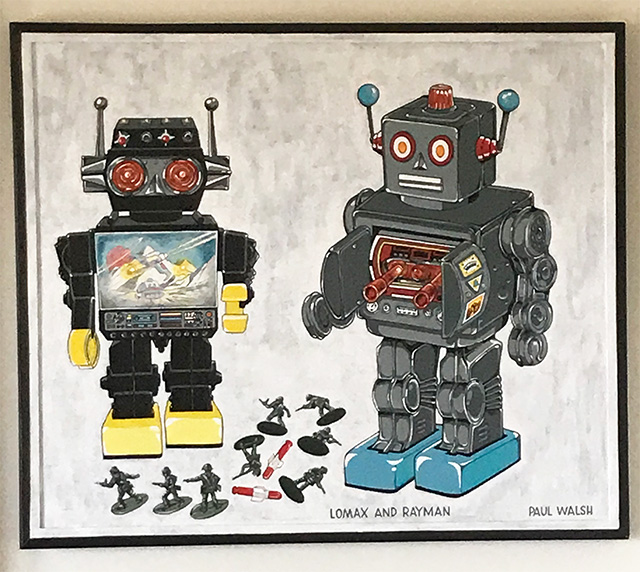 Lomax and Rayman was painted in Resene Abbey, Resene Regent Grey, Resene Pirate, Resene Guardsman Red, Resene Astral, Resene Pelorus and Resene Finlandia.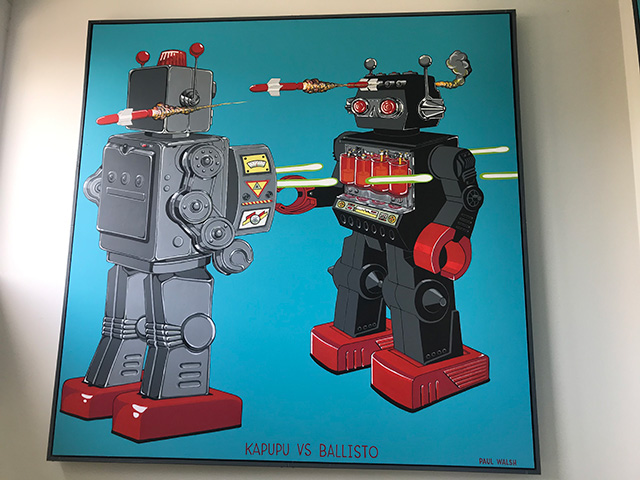 Kapupu vs Ballisto is one of Paul's favourites and uses; Resene Abbey, Resene Regent Grey, Resene Pelorus, Resene Pirate, Resene Guardsman Red and Resene Lima.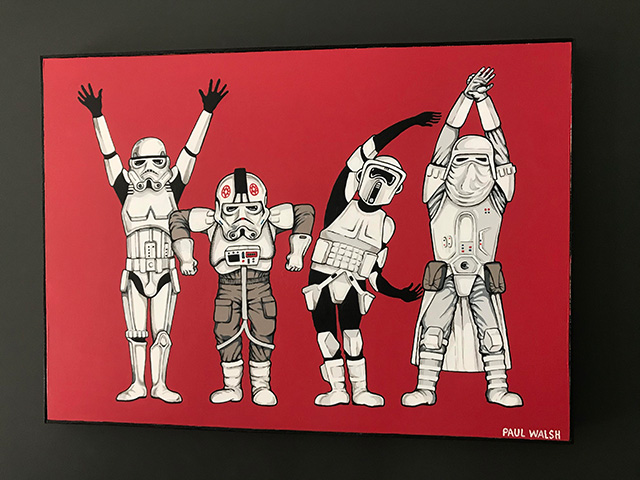 YMCA Storm Troopers is popular with visitors to Paul's home, and features Resene Half Surrender, Resene Regent Grey, Resene Hurricane and Resene Pirate.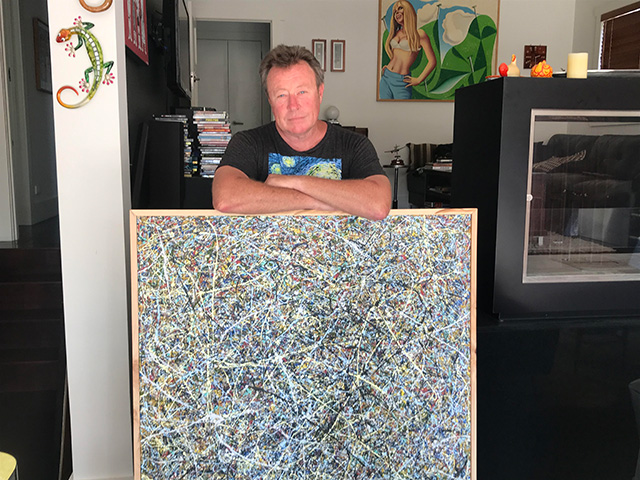 Paul stands with his Pollock-style painting which features; Resene Hive, Resene Splat, Resene Wet N Wild, Resene RSVP, Resene Grey Olive, Resene Coast, Resene Concrete, Resene Fast Forward, Resene Lemon Ginger, Resene Hurricane and Resene Zeus.
To get in touch with Paul about his work or to request a commissioned piece, email [email protected].
images Paul Walsh, Rachel Fawcett