►
◄
latest
habitat tv
blog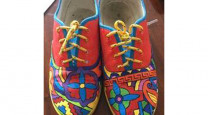 Property blog: lighten up your home this winter
25 Jul 2017
Chase away the winter blues away by fitting your house with good lighting – not only will it make your house look bigger, but it will make it feel warmer too. Here are six top tips for brightening up your property.
Embrace natural light
Make the most of any sunlight your house does get during winter by cutting back trees that block light from entering your windows. If you are renovating or building, and natural light is important to you, plan for large windows and carefully place them to catch the most sunlight as possible.
Go solar
Another way to make use of natural light is to consider adding skylights or solar tubes into the ceiling to allow more light in. Solar tubes funnel natural light down a tube from the roof and are a cheaper alternative to skylights. They can work particularly well in rooms that don't usually get much sunlight.
Two (or three) are better than one
Many large rooms in older-style homes were designed with just one central pendant light – this may light up the spot over the dining room table well, but leave the corners of the room dim and shadowy. Adding a standing lamp or table lamps in the gloomier spots will give an instant lighting boost, helping the room to feel more spacious at the same time.
LED is king
Energy-efficient LED lighting is the way to go if you are updating your lighting, say the experts. Emitting a cool, white bright light, LED lights are known to banish shadows in every room, and can be used for strip lighting to brighten large spaces or spot lighting for task-oriented areas such as the kitchen.
Don't forget the nooks
Adding lighting in smaller spaces that don't traditionally feature natural light, such as pantries, reading nooks and short hallways, is a great way to brighten up the darker spots of your home.
Invest in dimmers
Installing dimmable lights means you can adjust the brightness in your lighting to suit any of the seasons. Invest in dimmable lighting for key areas of your home such as the lounge and dining room, and create the right lighting at any time.
Top tip... If your home is low-light most of the year, paint the walls in a semi-gloss (Resene Lustacryl) or gloss paint finish (Resene Enamacryl) to reflect as much light as possible.
For more information about buying and selling, see the Harcourts website.