►
◄
latest
habitat tv
blog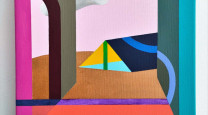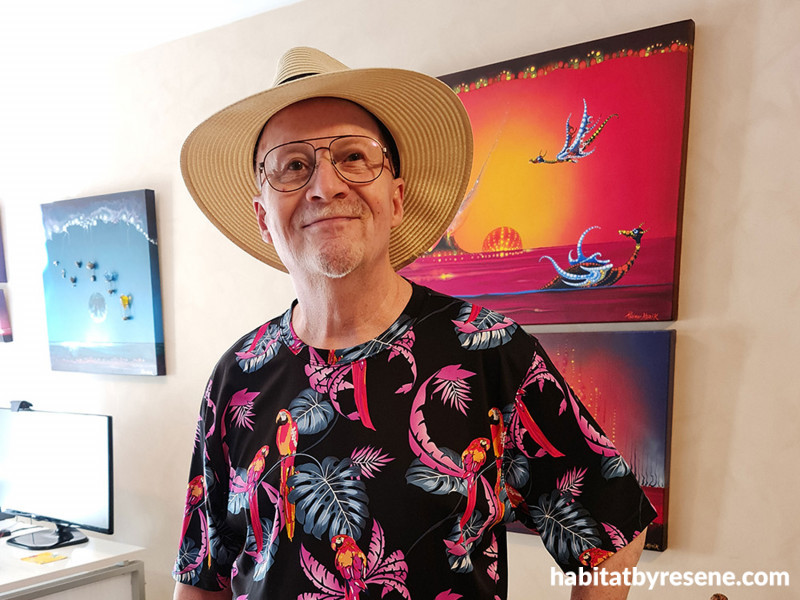 Rainer and the dragon: A magical tale of an artist with a small brush and big dreams
01 Jul 2021
Artist Rainer Kozik is a wizard with the paintbrush, crafting magical landscapes and brewing up whimsical stories. Growing up amongst medieval castles and villages in his hometown of Traunstein, Bavaria, Rainer was surrounded by stories of ancient events, heroes and miracles. Now, he harnesses the dragons and other mystical creatures that run wild in his imagination and channels them into marvellous paintings that are brought to life with Resene paint.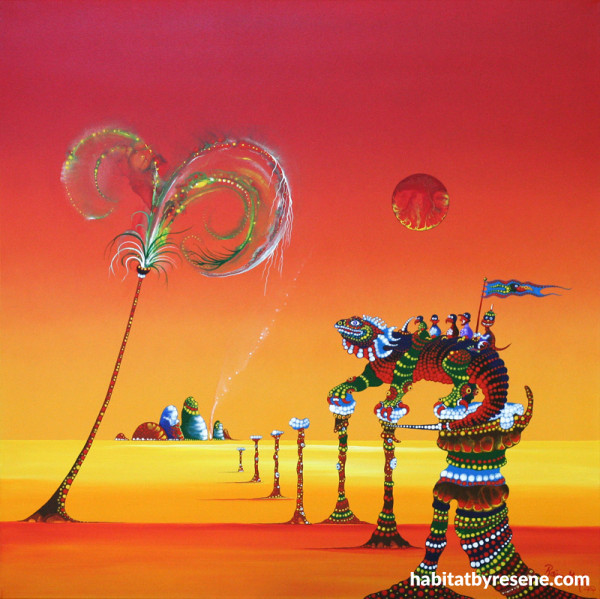 This piece, entitled 'Burning sands will not stop us', uses Resene Guardsman Red and Resene Turbo to create the blended deserts.
During the winter of 1969, Rainer boarded the Australis and sailed halfway across the world in search of adventure. A few years later, when wandering the misty streets of Queenstown, he came across a small paint shop. Inside lay a treasure trove of colour; with gem reds, glittering golds and pasture greens as far as the eye could see. Rainer emerged from the shop with armfuls of Resene paint and never looked back.
"I just love colour and Resene supplies that brilliantly," says Rainer. "I started to experiment with Resene and came up with the most amazing effects simply by putting colours together, wet on wet.
"In those early days, I could not afford canvasses, so I started to paint straight onto slabs of timber."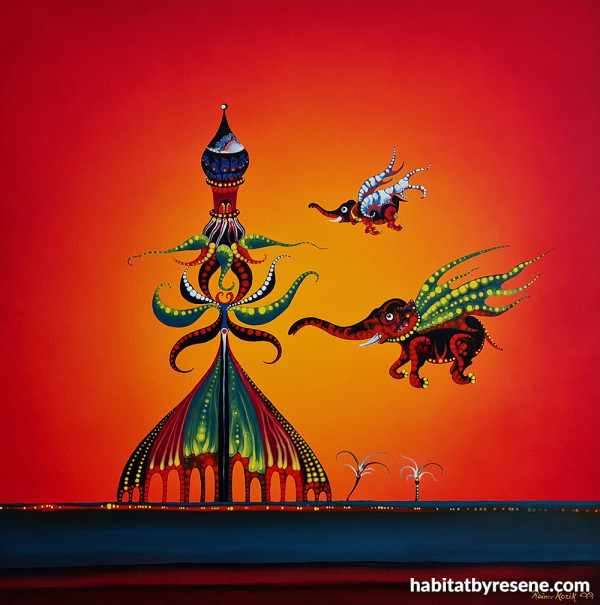 Rainer's favourite piece, 'Sommer Schloss,' is a massive one metre square painting. His sunset tones are created with a mix of Resene White, Resene Guardsman Red and Resene Turbo.
Rainer, a qualified Master Painter, began his journey with paint as a house painter. "It soon became clear to me that I needed to vent my creativity in a more artistic way," says Rainer, who started to dabble in fantasy art and romantic surrealism. "With most of my major art pieces I like to write a little story to accompany the painting, with stories flowing into one another to create a wonderful fantasy world to escape to.
"My travels have taken me across Europe, New Zealand and Australia and I have been lucky enough to have held various exhibitions, with many of them selling out."


'The land of Isidor' is a fantasy landscape that uses highlights in Resene White and shadows in Resene Black.
Rainer's world of flying elephants and floating lands are coloured with three main hues: Resene Guardsman Red, Resene White and Resene Turbo. His favourite piece, Sommer Schloss (meaning summer castle) is a riot of colour and movement. "The elephants in Sommer Schloss are called Castle Merchants. Gigantic Castles are grown from a Magick Onion and taken to places in need of warmth and beauty," says Rainer. His detailed paintings often take days to finish. "I use a mixture of acrylics and enamels on stretched canvas to create an acrylic pour effect.
"I don't have 100% control over the acrylic pour effect, so I like to call it organised puddling."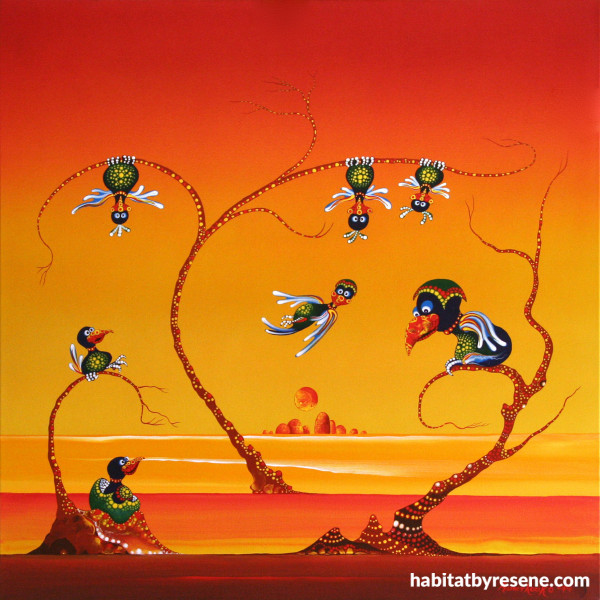 'The amazing school of flight' uses Rainer's go-to blending technique for his desert pieces using Resene Turbo and Resene Guardsman Red
Rainer's inspiration blossoms from anything in nature; shimmering waterfalls and crystal oceans, colours of the sunset and the magic of a full moon. "I'm also a big fan of Australia's native birds behaving like clowns," he says. "My favourite colours to work with are bright yellow Resene Broom and Resene Guardsman Red.
"I've done everything from running my own art café in Surfer's Paradise to opening a small art gallery with my wife in Hope Island. But we are now both retired and enjoying taking life easy, with a glass of wine in one hand and a paintbrush in the other!"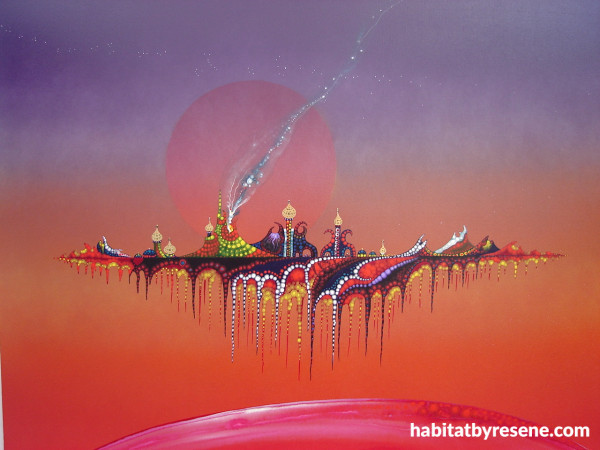 A whimsical floating land, 'Planet bickering' uses Resene Guardsman Red with highlights of Resene Turbo.
Visit Rainer's website www.kozikart.com or check out his Facebook page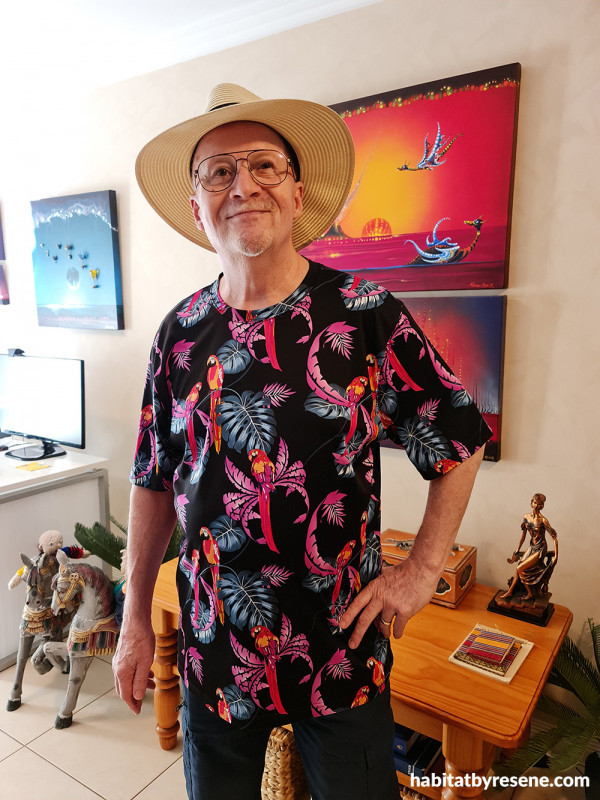 Rainer's mystical subject matter is inspired by his childhood spent living among the castles of Bavaria.
Published: 01 Jul 2021