►
◄
latest
habitat tv
blog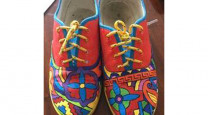 Randall Froude brings Provence to this Kiwi kitchen
18 Dec 2019
When artist Randall Froude saw the brick wallpaper design on his friend's kitchen wall, he was gripped from the get-go. Finding himself utterly inspired, he wondered how he could use his artistic talents to build on the eroded brick design.
"It had 'good bones' for me to work over to build on my feeling of Provence, an area I have long loved," says Randall.
At 89 years young, Randall boasts a wealth of experience in the art industry, having been a working artist for 70 years. In the early stages of his career, Randall was painting early NZ historical subjects, and since spent time travelling the world, exhibiting his work in galleries from California to Japan and beyond. Now he finds enjoyment in his work as a teacher, and describes his style as quite varied and hard to define.
His passion for painting is evident in this kitchen wall mural, which expands on the theme of the chosen wallpaper. While the design is from an older collection, you can get a similar look with Resene Wallpaper Collection XXL4-025 or Resene Wallpaper Collection EW3103, two other brick designs.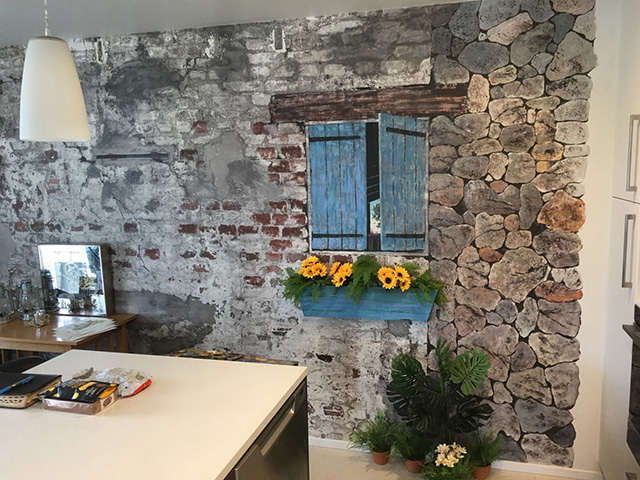 Inspired by his love of Provence, Randall used a range of Resene testpots to add handpainted elements to build upon this kitchen wallpaper including Resene Black, Resene White, Resene Touche, Resene Desperado, Resene Hot Chili, Resene Curious Blue, Resene Log Cabin, Resene Bokara Grey and Resene Half Sisal.
When initially approaching the project, Randall's thought immediately went to Resene testpots, which he had used many times before while building backdrops for theatre. "Choosing the colours was wonderfully easy because the colours in the wallpaper were already there. All I had to do was match them and then add my own touch to blend my work into the wallpaper, thus making it difficult to see where there wallpaper stopped and I began," explains Randall.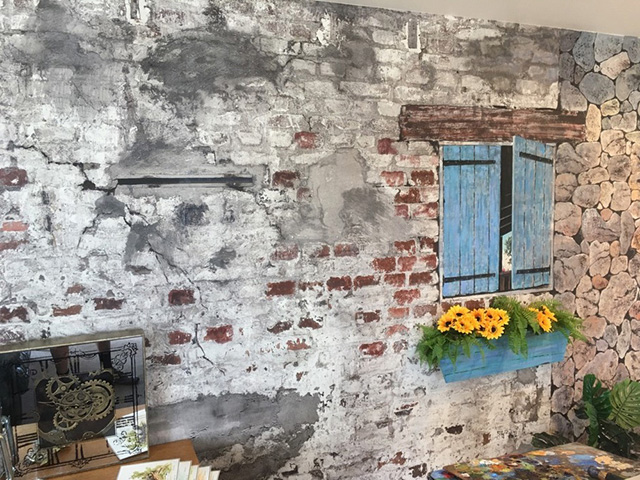 As a big fan of Resene testpots, Randall knew exactly what he was going to use to create this charming mural: Resene Black, Resene White, Resene Touché, Resene Desperado, Resene Hot Chili, Resene Curious Blue, Resene Log Cabin, Resene Bokara Grey and Resene Half Sisal.
Creating the kitchen wall mural presented its fair share of challenges, not to mention expressions of doubt from Randall's friends who thought he had lost the plot. With Randall, being 89 and banned from climbing ladders, getting the right reach required some assistance from a friend and a sturdy coffee table. "I survived to be able to tell this story," Randall jokes.
When asked about his favourite Resene colour, Randall explains that it's tricky for an artist to choose. However, he concedes Resene Black Rose as a warm and rich tone he's partial to.
"For me it has a feeling of opulence, and for many years I have used this colour as a background, thus allowing me to highlight the parts of the paintings that deserve to be highlighted."
images Randall Froude