►
◄
latest
habitat tv
blog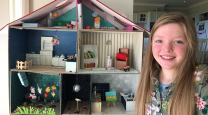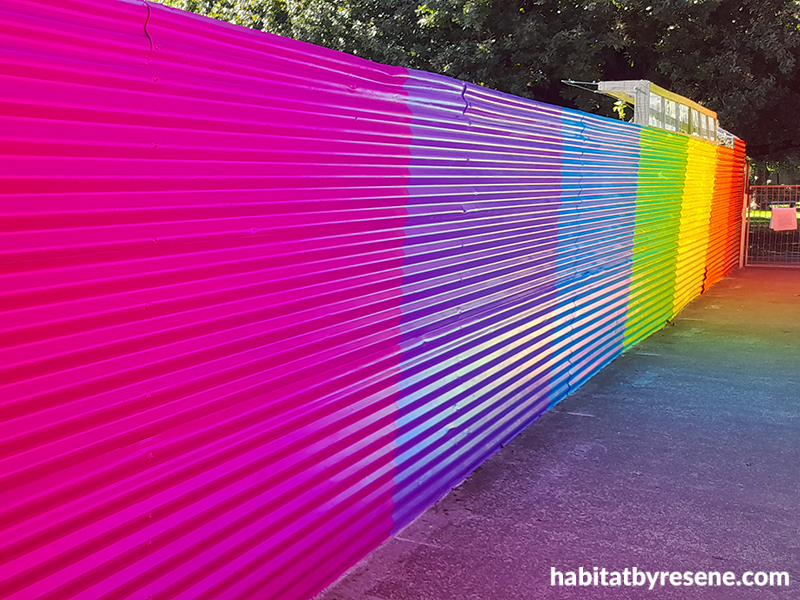 Reader Round Up: A delicious Resene-inspired cake and a rainbow alley
12 May 2022
Our talented readers have been busy again this month. In this round up, we see readers using Resene paints and colours to makeover fireplaces, breathe life into Chorus boxes and even inspire one very impressive birthday cake. Take a look.
Bold and blue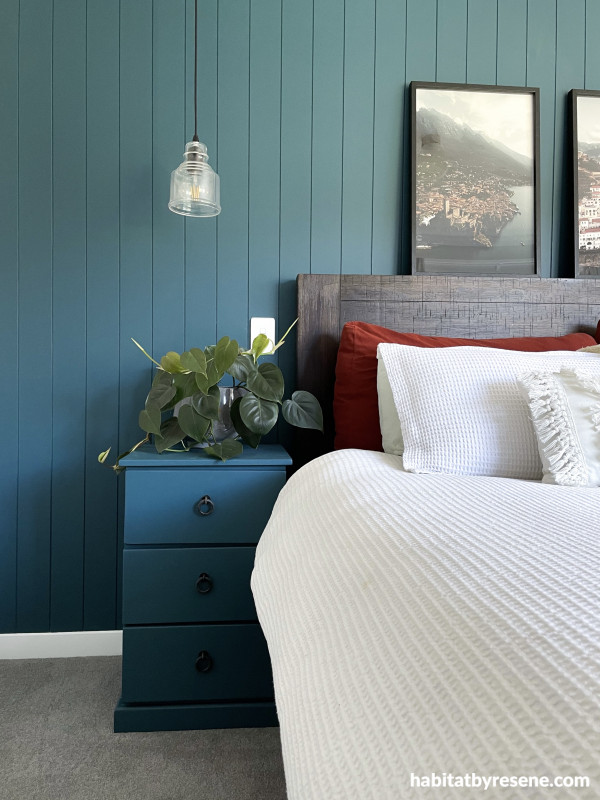 Lower Hutt's Emily and Ben had a clear vision from the start for their rundown 1960s bungalow. Black mould, layers of peeling paint and a rotting lime green kitchen didn't faze the couple. "It had a lot of light and we could instantly see the potential to make it lovely. We knew if we worked hard, we could make this our home," Emily says. The pair used Resene Fast Forward as the main feature of the master bedroom.
"I saw this colour online and the attraction was instantaneous. I knew we had to base the whole bedroom around it and the moment it touched the HardieGroove walls it was bliss. We painted our bedside tables the same, so that they just melt into the wall.
"Every time we come into our room we stop for a moment to appreciate that tone, it really is the dreamiest deepest teal." You can follow Emily and Ben's renovating journey @our.place.gets.a.peel on Instagram.
Staying toasty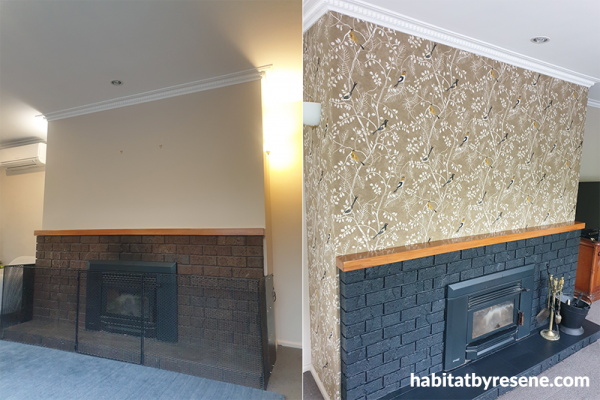 Rachael's fireplace in her living room has been spruced up with a whole new look for winter. "I really hated the brown 70s original textured brick, so we decided to paint it in Resene Black as a neutral colour to use as a frame for a statement wallpaper. The lounge was painted in Resene Quarter Drought by the previous owners, so we wanted a paper that would make our working fireplace a feature, but also match the existing colour," she says.
Resene Black has beautified the brick and combined with chic Resene Wallpaper Collection KEN503 the whole space has been transformed. Nightingale birds now perch on leafy branches on what was a blank wall. "I love the Resene Kent Wallpaper Collection range of wallpaper. I settled on that particular print as I like the bird motif and the colours worked well."
A Resene-inspired cake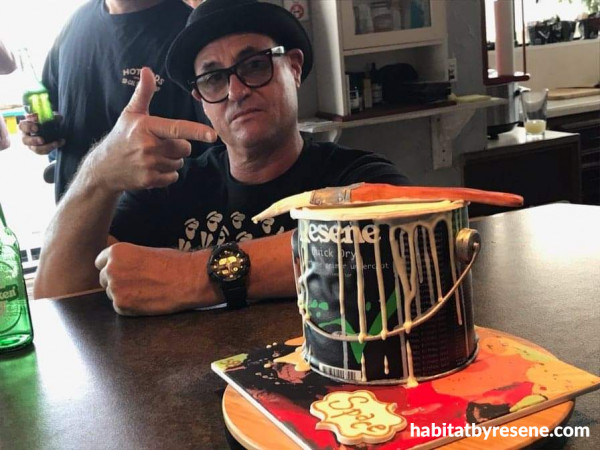 This reader submission really does take the cake. You have to look twice at this paint pot and dripping brush to realise it's sponge and icing, not tin. This cake was made for Mt Maunganui local Shane Warbrick's birthday, a contemporary Māori artist, painter and decorator who is a fan of using Resene in both his work and art. "The cake was made by Mount local Josephine Aceron, and it tasted as good as it looked once we got over the fact it shouldn't be wrecked," birthday attendee Delanie says.
A slice of Kiwiana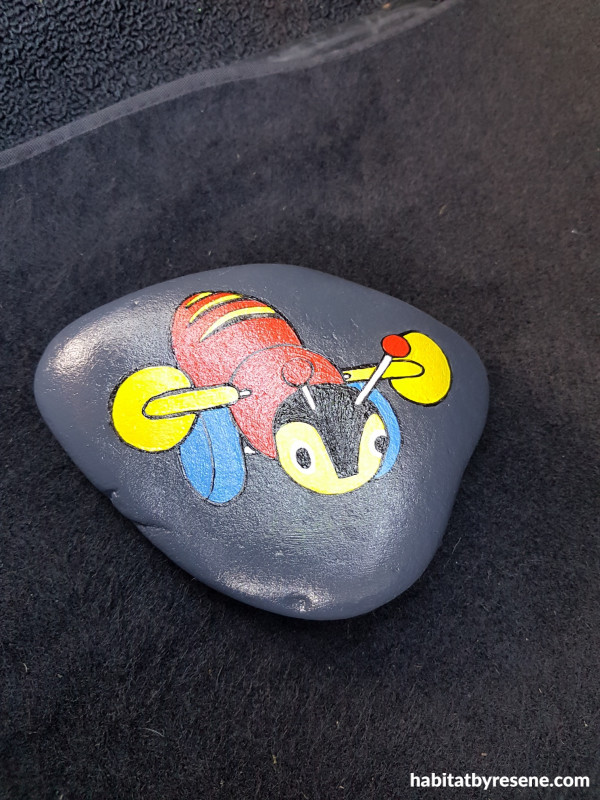 Artist Debbie has enjoyed experimenting with Resene testpot colours to create vivid and vibrant paintings on rocks. She started painting during the first lockdown to keep herself occupied and found herself hooked. "I paint cartoon-style, images from Disney, and a lot of remembrance rocks for people too for their pets. I have quite a collection of Resene colours now." Resene Black, Resene Bright Red and Resene and Resene Wild Thing all appear here. Resene Clearcoat UVS and Resene Art Action Glaze gloss works great as a topcoat.
From paper to the public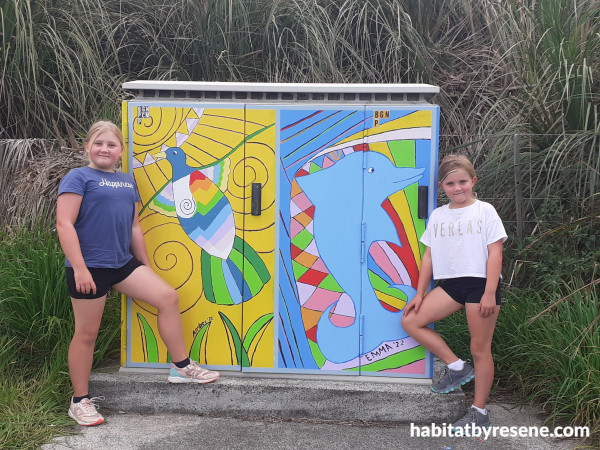 Emma and Amber have been busy brightening up this Chorus box in Dunedin. Their vibrant work features a dolphin and kererū and was created with the help of the Saddlehill community board, Chorus and expertise from their local Resene ColorShop. "The girls took some of their artworks that they had created at their Caveart Studio art class and painted them on a local Chorus box to help beautify the area. Given it was their first time painting they appreciated the support from the local Resene ColorShop," says proud mum Lisa.
Rainbow alley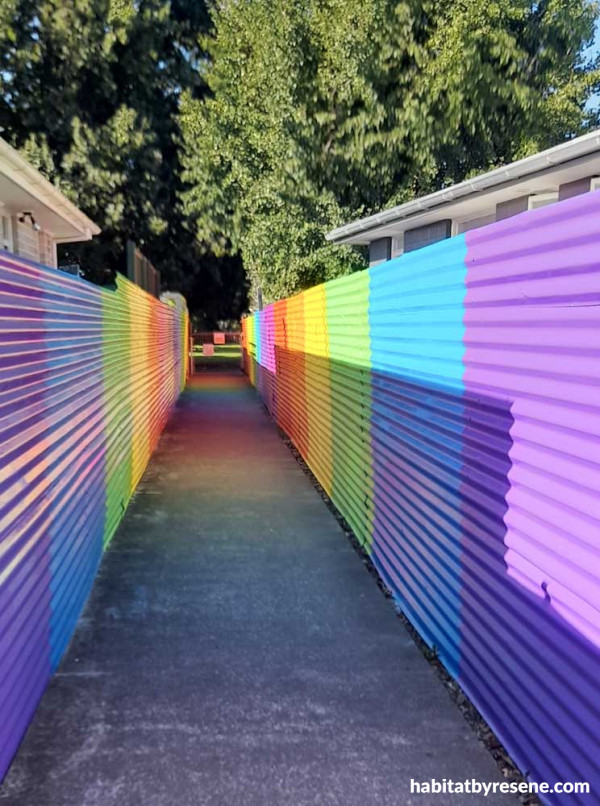 Lucknow Home and School Association's rainbow alley looks fantastic in Resene paints. A mundane concrete alley is now a magic piece of the walk to this Hastings school" "At a whānau hui, we did an audit of our spaces. Discussion was had around our alleyway entrances and how some children can find them scary. This was especially evident during Covid, when parents were encouraged to drop their children at the end to walk on their own. We wanted to create a bright and friendly entrance space for our children to use," says the school's principal, Brendon White.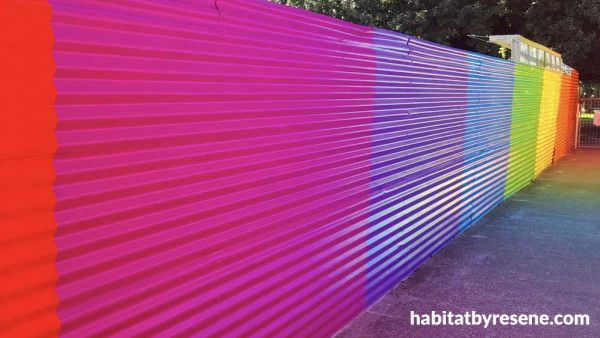 "It looks great, we love the way the sun reflects the rainbow onto the concrete below. It looks even better in person," says Katie, who was the makeover's project manager. Her local Resene ColorShop expert in Hastings helped her pick her bright shades: Resene Wham, Resene Havoc, Resene Adrenalin, Resene Turbo, Resene Endeavour,Resene Kingfisher Daisy and Resene Sassy.
Published: 12 May 2022