►
◄
latest
habitat tv
blog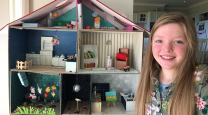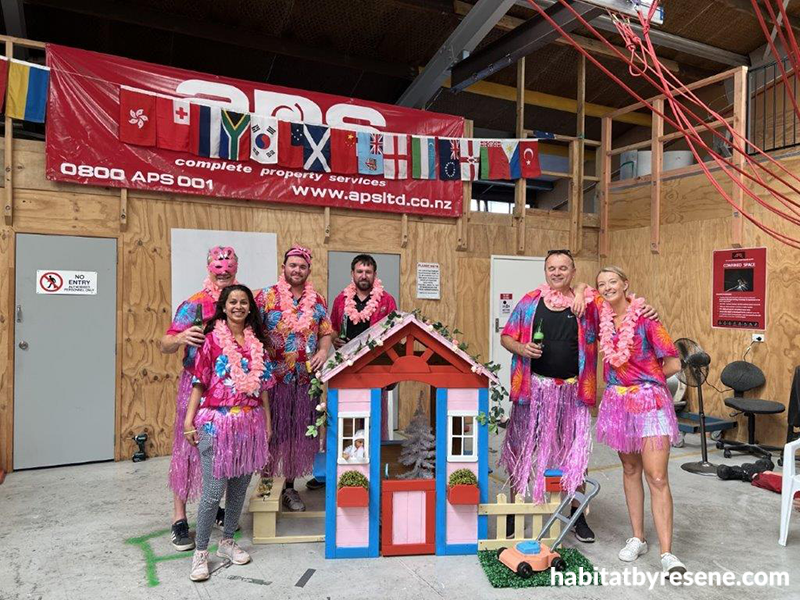 Reader Round up: Our readers are painting everything from dollhouses to doors
31 Mar 2022
Our creative readers have been busy. In this round up, we see readers using Resene paints and colours to spruce up cottages, bring mannequins to life, brighten doors and delight daycares with dollhouses. Take a look below.
Cottage chic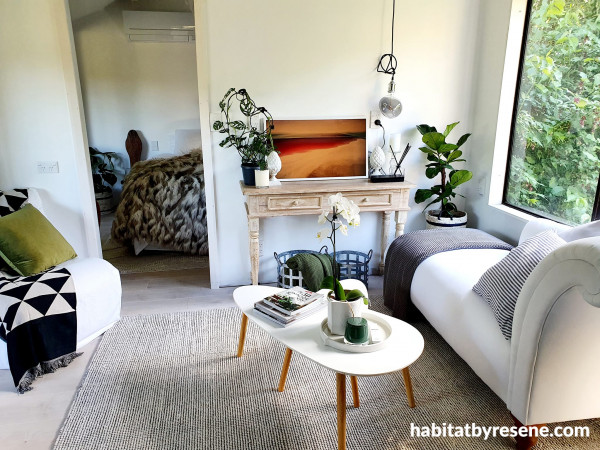 Loretta's old cottage has been painted and completely transformed with Resene Alabaster on the walls, trims and ceilings.
Loretta's old cottage in Whitemans Valley, Upper Hutt has been transformed with a lick of Resene paint. "It was a horrible, rundown cottage we inherited when we brought our home. We stripped it back and renovated it into a light and airy tiny home." The cottage has been painted completely with Resene Alabaster. "My husband and I argued back and forth over the paint, me wanting Resene Half Black White and him wanting Resene Alabaster. He was right, and I'm eating humble pie on that one."
Initially the space was meant to be an office and extra guest space, but it's now a Covid sanctuary for their son, who is helping to vaccinate people in Wellington. "It's for him and his partner when they need it, and will be their place to isolate should he become infected with Omicron given his work. I guess I'm not the only parent now that has to work out how they can safely provide space for their kids in this time." Resene Alabaster in the space is an integral part of why it is a beautiful place to be now, Loretta says.
A bit of sparkle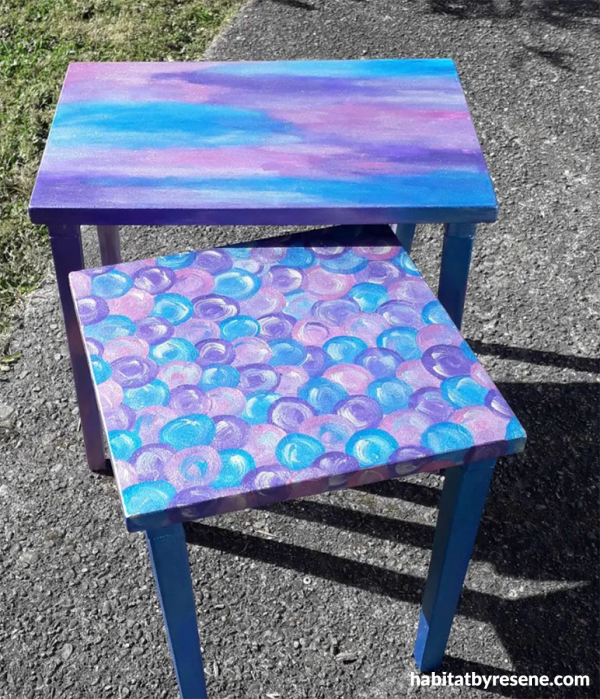 Vicky's side tables have been given a new lease of life in groovy Resene Proton, Resene Funtasia, Resene Sugar and Spice, Resene Yeehaa and Resene Scotty Silver metallic.
Levin's Vicky Millman (aka Arty Vicky) has been busy painting life into a pair of old side tables. Until recently they were dressed in cloth covers for 16 years. "They've just been sitting waiting for me to get to them. The inspiration is just to make my home prettier, really. I use Resene testpots for almost all my art, but the metallics are my all-time favourites."
A bold entrance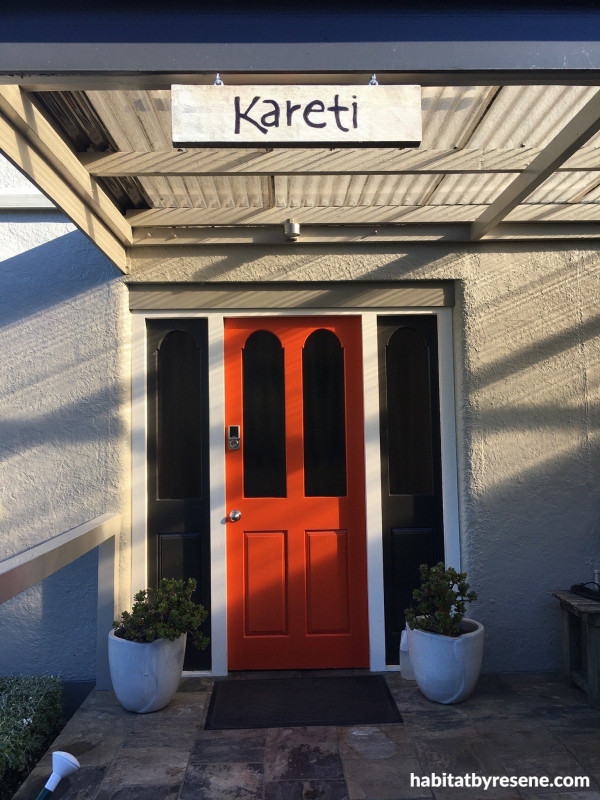 Karen's striking front door was given a makeover with Resene Kamikaze.
Karen's front door was originally green when she purchased her home, and not a colour she particularly loved. "Orange is my favourite colour, and the house has some awesome orange features inside – including orange kitchen cabinetry – which we loved. So we wanted to feature the orange as you enter the house." The colour is Resene Kamikaze, and Karen says everybody always comments on how great it looks.
Mannequin madness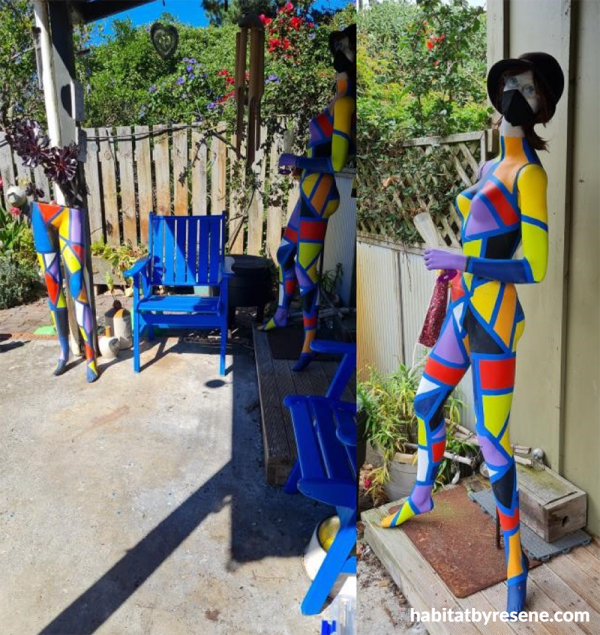 Emma's outdoor furniture is painted in bold Resene Endeavour. Her mannequins painted in a variety of Resene testpot colours offer delight to passers-by.
Emma's Waitārere Beach front porch is a delight for all who walk past. Her outdoor furniture is in vibrant Resene Endeavour, complemented by funky mannequins in a variety of Resene testpot colours. "I had these mannequins, and I wanted them bright and fun. I didn't do any prep-work or base colour, I just put strips of masking tape around them and started painting. I chose the Resene testpots, as they have a huge colour range that are bright and cost effective." She put on two coats of paint and they've had pride of place on the porch ever since. Emma says they've never had a need for touch-ups, even though they are in a coastal village with a harsh salt air environment.
Dollhouse delight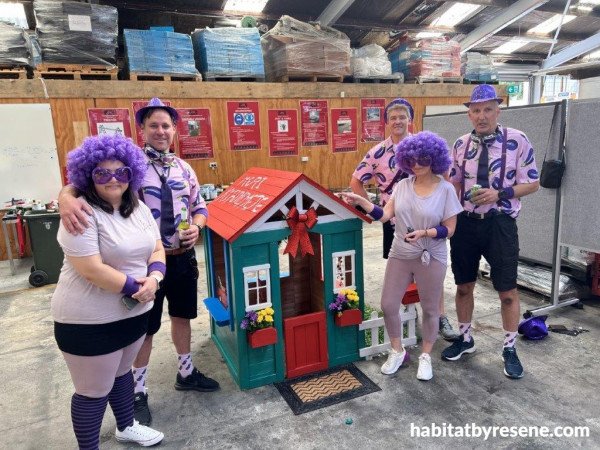 A colourful team building exercise Auckland saw Resene painted dollhouses donated to childcare centres.
The APS team got busy creating these colourful dollhouses recently, a team building exercise as part of their annual 'Big Day Out' for employees. "This year's event was held in our Auckland office in St Luke's, but included our teams from Waikato and Bay of Plenty," says Ian Durham, the company's senior marketing manager. "Rob Creemers, the owner of APS, has used the company growth as an opportunity to put back into the community." This includes the building and painting of dollhouses, which has turned into an extremely competitive event.
"We had incredible support from Resene. We were given a myriad of testpots, with a wide range of colours. Two members of each team were given the task of choosing colours and competing against other teams for their colour of choice, this took place while the other team members were constructing." Naturally, everyone was after the bright colours. "Fortunately, the range provided by Resene was so extensive, the opportunities were plenty!"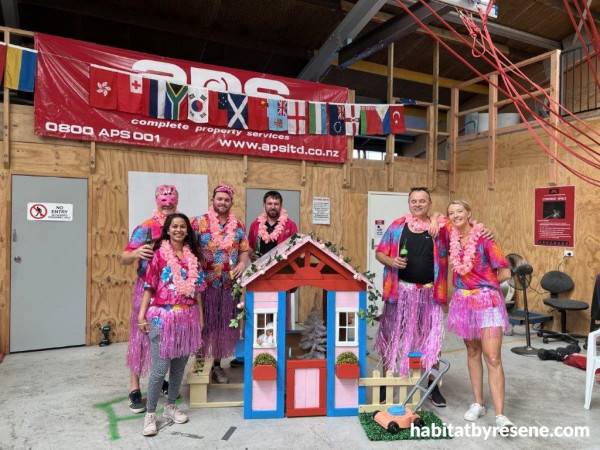 The dollhouses have been gifted to a range of childcare centres. Two were also given to the Bellyful Charity in Whitianga, who sold them and raised enough money to feed 75 families three dinners each.
Rock on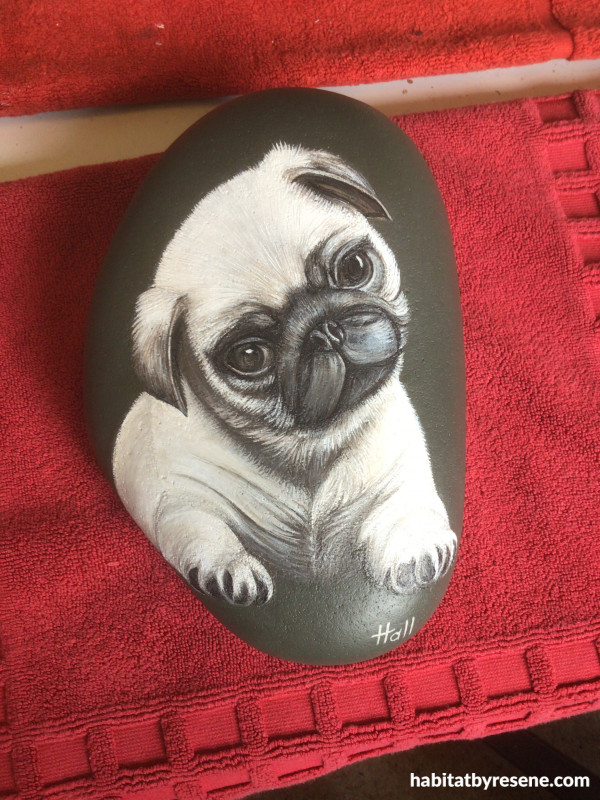 Reader Gaye painted a gorgeous pug using Resene Eighth Tea, Resene Mischka, Resene Trojan, Resene Grey Chateau and Resene Black.
Artist Gaye Hall painted this adorable little pug on a rock with Resene testpots. "Resene have such a wonderful range of testpot colours that I just dream in front of the colour charts and pick." This pup used Resene Eighth Tea, Resene Mischka, Resene Trojan, Resene Grey Chateau and Resene Black. "I was asked in 2019 by a volunteer at a gallery if I would paint her beloved pet dog on a rock if she sent me a photo. She did, and I did! During lockdown hours last year, I decided to tackle another dog rock. I copied this pug dog from an old calendar photo."
Box of treasures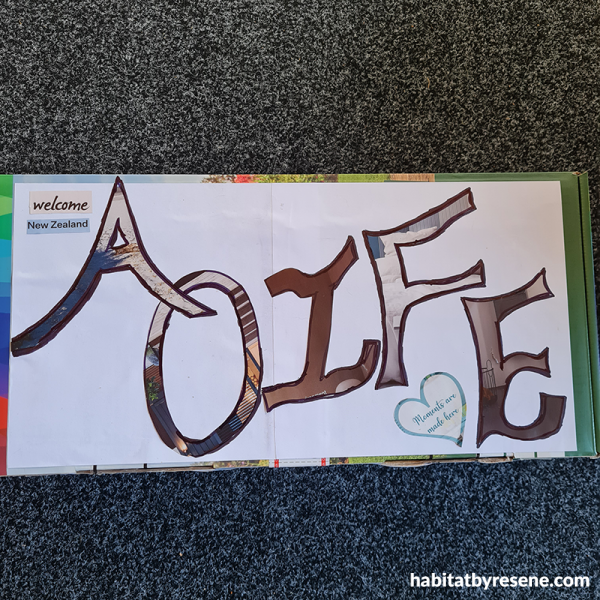 Lyndsay was inspired by the most recent issue of habitat by Resene to create a box of treasures for her grandchild Aoife. Lyndsay cut up pieces from habitat, which she says is her favourite magazine, and decorated a box for her grandchild who is visiting New Zealand for the first time when her son Simon returns home for a visit in April.
"Aoife, born on Waitangi Day 2020, lives in Surrey, UK, with her dad, our Kiwi son, and her Irish mum, Orla. Of course with Covid we have yet to meet Aoife," says Lyndsay.
The mystery box is following on from a tradition started by Lyndsay's relatives when she was a child.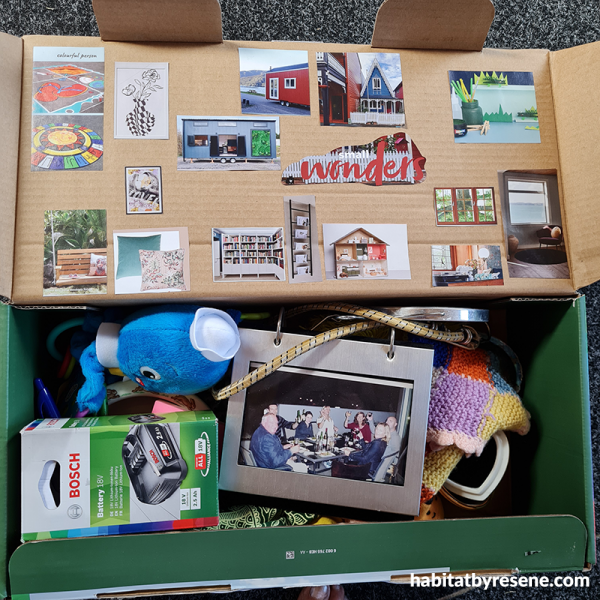 "When I was a kid one of my grandmothers had a "mystery suitcase" and every time I visited her I loved to explore the fascinating contents. So, I guess Aoife's "mystery box" will start a family tradition. I have been inspired by the gorgeous content of your latest issue! The box just contains little things that I hope a two year old will have fun with on her first Kiwi adventure."
Have a Resene painted project you'd like to share? Get in touch by emailing [email protected]
Published: 31 Mar 2022