►
◄
latest
habitat tv
blog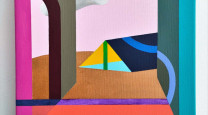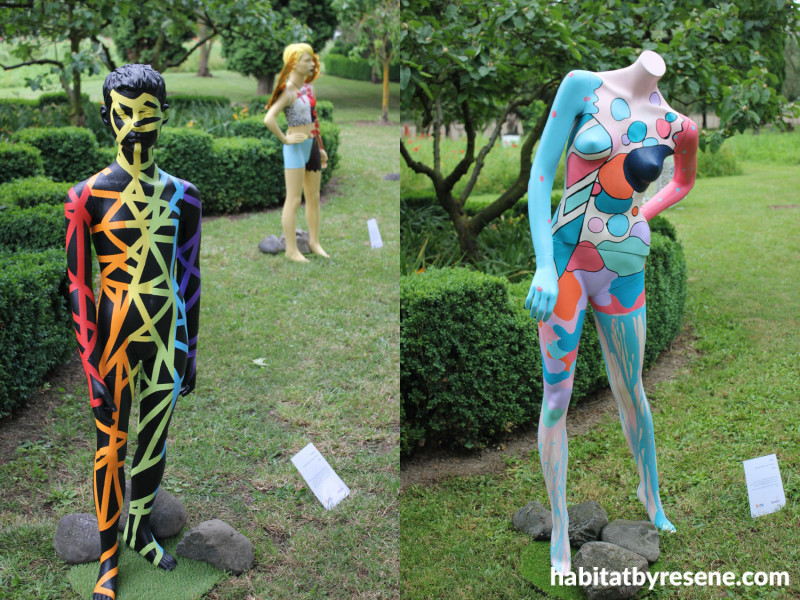 Reader Round up: Our readers are painting everything from massive murals to miniature libraries
28 Apr 2021
Our creative readers have been painting up a storm. In this round up, we see readers using Resene paints and colours to produce a sensational sensory playground, add some vibrancy to their unique garden storage and bring mannequins to life with colourful personalities.
Dynamic duo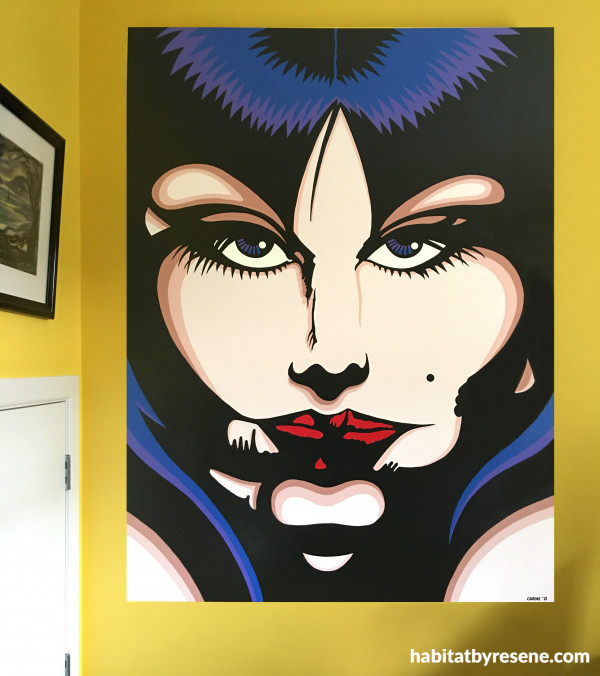 When it comes to creating striking artwork, talent runs in the Maxwell family. Carne and her son Roy use Resene paint to colour their masterpieces.
Carne's pop art painting (above) features Resene Nero, Resene Vanilla Ice and Resene Paper Doll. "This painting was inspired by reading comics as a young teenager," says Carne. "The comic artwork, especially the black and white illustrations, caught my attention and inspired me to pick up a pen and draw." The pop art painting is a step away from her usual style, but when Carne finds inspiration, great things happen. "I love the vision I get when I see something that inspires me to paint. The best part of the painting process is completing a section, or if I'm lucky the whole painting, and knowing when to step away."
You can find more of Carne's work here.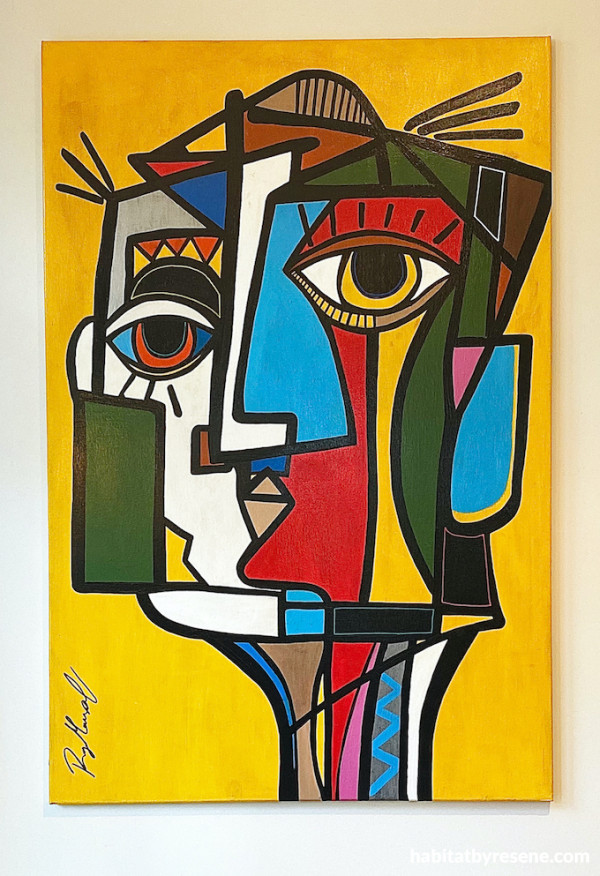 Carne's son Roy inherited the creative gene and his style is influenced by cubism, surrealism and expressionism. "The complexity of the human face allows me to explore colour, shape, and contrast. My main inspirations come from everyday life," says Roy. Recently spending time in Melbourne, Roy was inspired by the vast array of street art and has enjoyed embracing his own style. His work features Resene Bright Spark, Resene Havoc and Resene Picton Blue. "I love it that art has no boundaries or rules. One day I'll use a paintbrush and the next a putty knife. I have just begun my journey as an artist, and I am looking forward to seeing where it will go."
Roy has recently started up an Instagram page to showcase his work. You can see more of his paintings here.
Out of the woods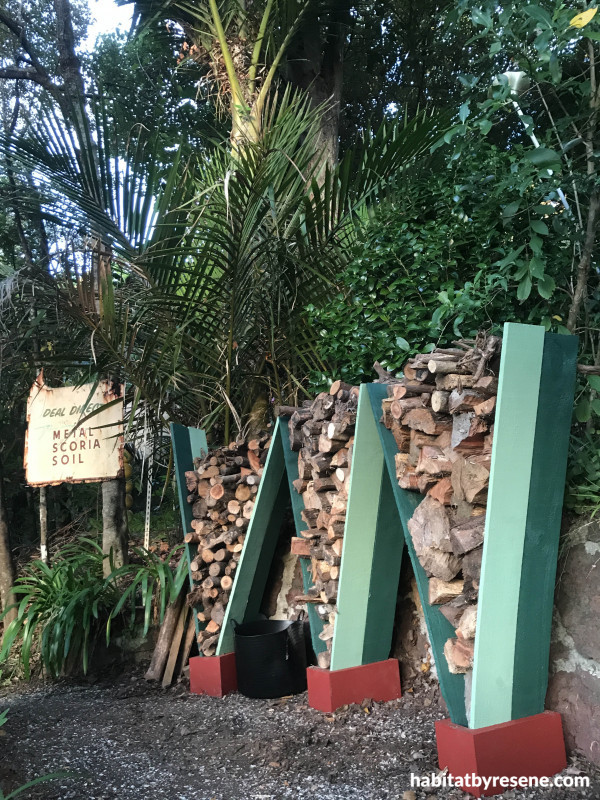 Martin from Buggyrobot was inspired by the latest issue Habitat by Resene to get his firewood in order while also add some colour to his Titirangi garden. He added stability by hammering a reinforcing steel rod into the ground and stacking the wood around it. He finished off his wood stackers with a lick of Resene Amulet on the boards and Resene Red Oxide on the base to provide a rustic look. How to instructions here: DIY firewood stacker | Habitat by Resene
Schoolyard pick

Waterloo School's new artwork and sensory playground has students jumping for joy. Initially drawn in chalk by Liz Baxter, the artwork got a permanent finish in Resene paint with the help of fellow parents and teachers at Waterloo, Carolyn Robb and Jenny Fraser. "Parents have been very verbal with positive comments," says Liz, who chose Resene Resolution Blue, Resene Turbo, Resene Colour Me Pink and Resene All Black to colour the vibrant work. Taking 40 hours to complete, the artwork wasn't without its challenges. Liz had to navigate painting the bumpy concrete by painting two layers of basecoat. The painters also had to time the painting for during the weekend, when there was no foot traffic going through the school. Some cheeky dog pawprints still snuck in there, but that has just added to its overall character. "It's easy to see the children are happy with the artwork as they all line up to complete the circuit," says Liz. "My favourite part of the design is the sun, rainbow and pot of gold combination which my daughter suggested. The red paint of the ladybird has a real pop to it that stands out beautifully too."
Up the garden path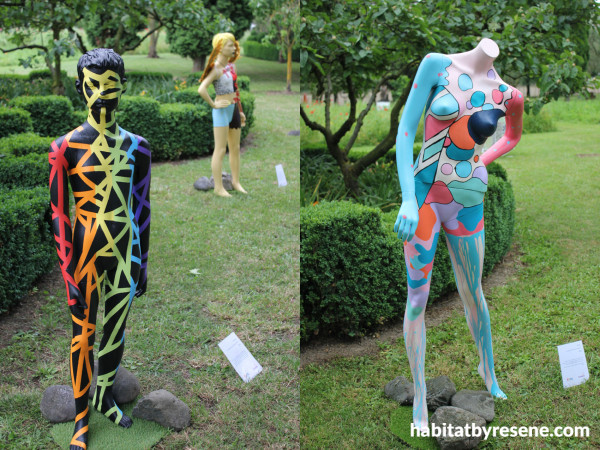 The Maraekakaho School made a splash with its seventh annual Wildflower Sculpture Exhibition. The exhibition is run on a volunteer basis and is part of the extension art program at the school. "We believe every student has the capacity to excel at something," says Keryn Whitney who was involved in running the programme. "Our goal is to expose the children to a diverse range of arts in the hope we can connect and engage them in learning across all subjects." The intermediate school students were given a group of fibreglass mannequins and told to express their ideas in a three-dimensional format. Their work then formed a 'real-world' exhibition. "Our past experience shows the benefits to the students is immense through their exposure to different experiences, learning hands on skills, and the sense of achievement and pride that comes from producing something with your hands."
Paint the town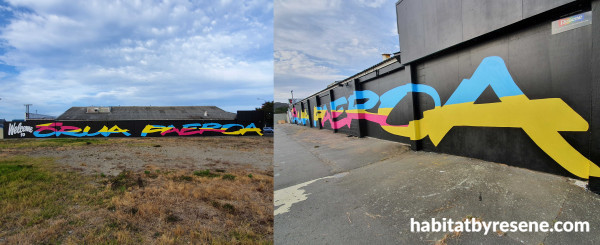 This colourful new mural is a welcome sight for residents and visitors to the New Brighton region. Organised by the New Brighton Outdoor Art Foundation and painted by members of the greater New Brighton community, the Welcome to Ōrua Paeroa mural has not only transformed a neglected wall, but also added a sense of belonging. Painted in Resene Black, Resene White, and Resene Malibu with pops of Resene Scrumptious and Resene Gorse, the subject of the mural, Ōrua Paeroa, is the Te Reo name for the Eastern area of Christchurch stretching from the Travis Wetlands to the sea. "New Brighton and Te Ihutai have considerable cultural and historical importance for Ngāi Tahu and Ngāi Tūāhuriri," says organiser Gavin Fantastic. "It has been a place of settlement and use – in particular, for mahinga kai purposes – for the people of Ngāi Tahu for over 600 years."
One for the books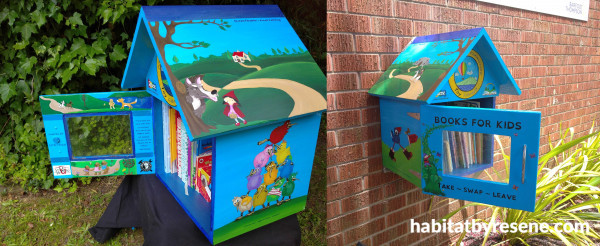 The North Shore community is turning over a new leaf with their new, vibrant Community Toy Library. "The Toy Library has a steady flow of little feet passing through and is ideally placed to promote literacy and sharing," says creator Estée Fourie. "I love to paint in my free time; it fills my cup and I enjoy the mindfulness. As such, I jumped at the opportunity to produce and decorate the box." The library sports a range of Resene paints, including Resene Curious Blue, Resene Limerick and Resene Glitterbug and features some of the most loved titles from New Zealand children's literature. "For me, the library had to visually tell storybook stories; from fairy-tales in enchanted lands to local favourites. I hope that each visit will spark the imagination," says Estée. There is also a hidden easter egg; a dedication to her family including some of her children's own drawings.
Published: 28 Apr 2021