►
◄
latest
habitat tv
blog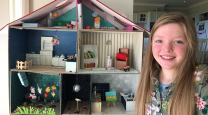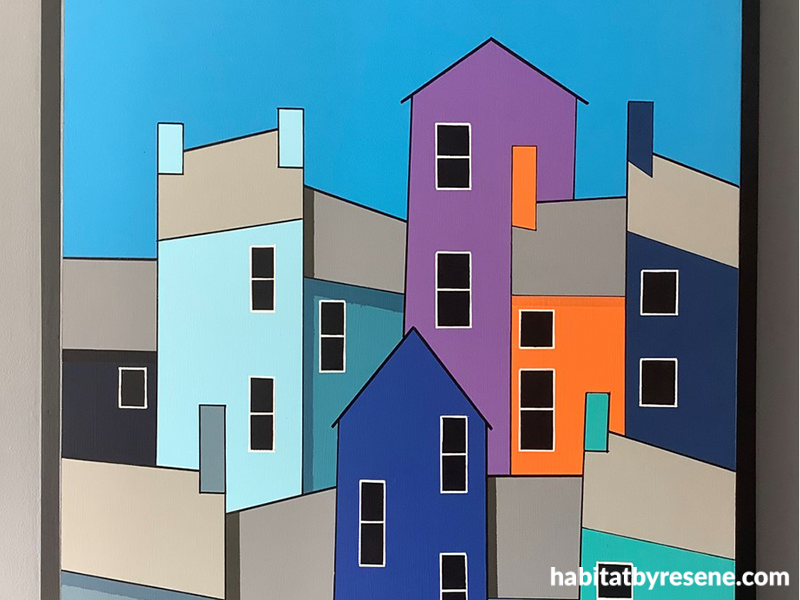 Reader round up: Mural walls, makeovers and mudcakes
16 Jun 2022
It's been another month of Resene fans across the country getting their creative juices flowing. There's no shortage of impressive projects using Resene paints and wallpapers, check them out below.
Flower power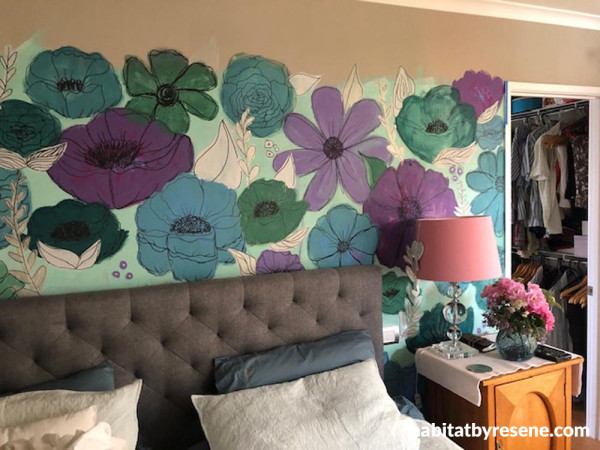 A bedroom wall has been transformed into a floral paradise by clever 17-year-old Ruby. Inspiration for colour choices came straight from nature. "We had spent a few days in Akaroa and collected paua shells. I thought the colours were mesmerising, so that was the inspiration for the colours," says grandma Maria. "The design inspiration was all Ruby's. She had made me two beautiful images of these stylised flowers as gifts, and I absolutely loved their unique quality, they had a very mid-century modern vibe about them which I loved."
Ruby used Resene Vista blue, Resene Groovy, Resene Proton, Resene Gulf Stream and Resene Belladonna. "The staff member who helped us with the choice of colours in the Rangiora Resene ColorShop was absolutely brilliant, we took in our paua shell in to choose the colours and she identified the colours for us."
Sitting pretty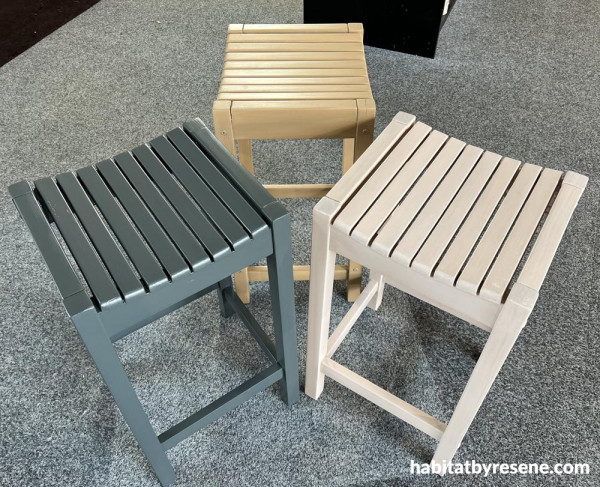 Staff at Orakei Resene ColorShop have been busy working on these elegant kitchen bar stools that wouldn't look out of place in the Hamptons. "These kitchen bar stools have been completely sanded back and then coated with the Resene Colorwood We Speak Beach range. They look fabulous in Resene Bask, Resene Shade and Resene Becalm," shop manager Geri says. "I found the product very different to the traditional Resene Colorwood stains, no wiping off excess is required.
Geri is a huge fan of the Resene Colorwood range, having used them for several shop displays in the past. "I found a speed brush was still the best applicator to achieve a lovely silky finish. We used approx 3/4 of each 250ml pot to apply two coats per stool. Our team are all thrilled with the results."
Bright and bold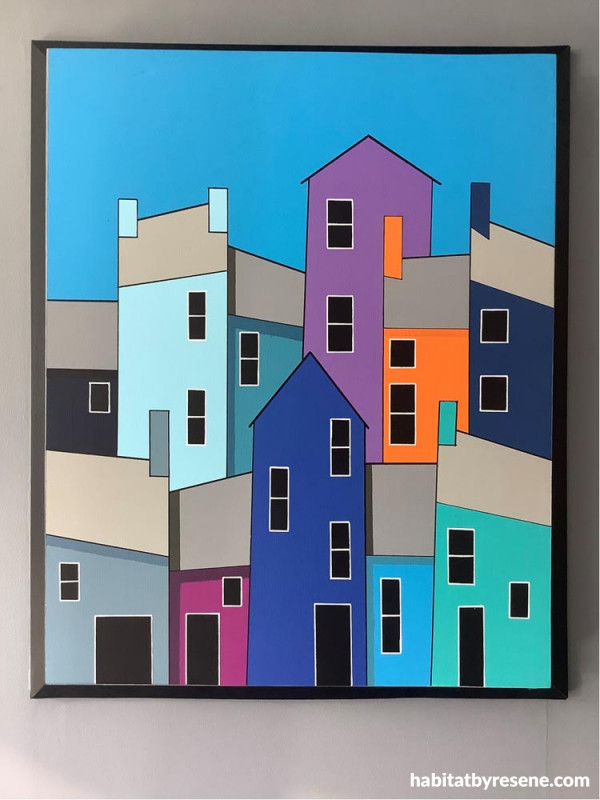 Artist Wally Pritchard shared a charming painting he created using Resene paints. "I started painting about eight or so years ago, I just had a need to create something and originally it was never intended for the public eye or selling. I'm not sure what I was going to do with these paintings as there was no plan going forward, I just had a need to create something," he says.
"Mostly my art is abstract, I don't have a particular style. Whatever happens, just happens. I am not a taught artist so I am continuously experimenting with different kinds of techniques and media to see where it leads to, every day is like a school day."
When Wally began painting he wasn't sure what he was going to use, then he found Resene testpots. "I was like a kid in a candy store. Resene had such a huge range of bright, bold, vivid colours, very easy to use and I haven't stopped using them since."
His two favourite Resene colours are Resene Curious Blue and Resene Adrenalin, both featured above. "Both colours are extremely bright and bold and they get used somewhere in most of my work. Inspiration-wise, I love the outdoors and there is nothing better than the colours of the early morning. No one is the same, as the light changes so do all the colours, the colours are bright clean and fresh and filled with emotion."
A brand-new look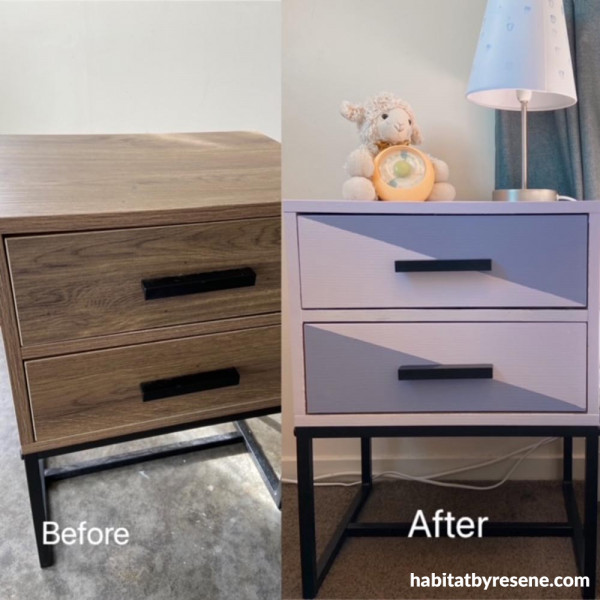 This bedside table is gorgeous in lilac tones and miles away from its original look. Bokyung is a big fan of Resene paints, using them often in her home for craft and renovation projects. A new tin of Resene Fog she bought has transformed this piece. "I have been painting since January this year, and this bedside table was my third project." Painting is her happy place, it offers her a sense of calm, Bokyung says. If you're starting with an unpainted piece of furniture, contrast Resene Fog with Resene Covert for a two tone effect.
In the mountains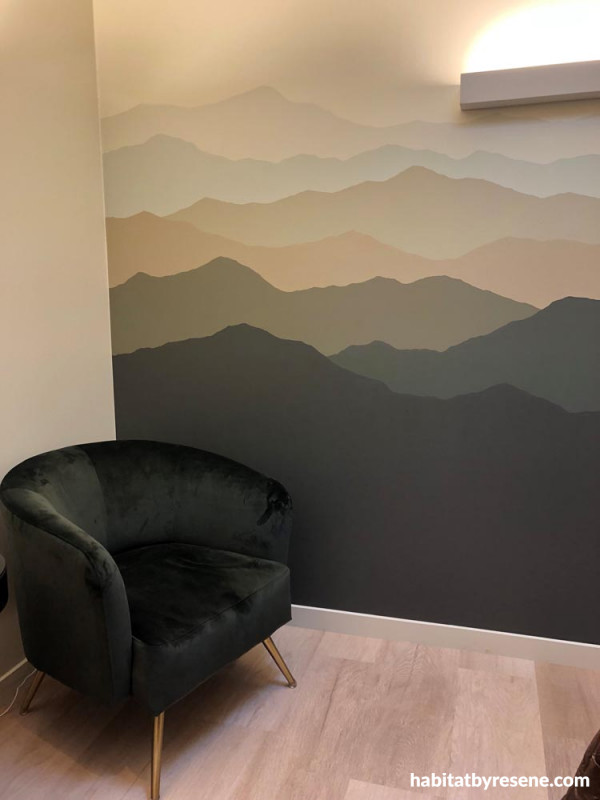 Resene Colour Specialist Jackie is playing with paint outside of work. "This is a commercial job in town, for Total Body Concepts, a health and beauty treatment place in Christchurch." The mountain wall has transformed the space, and is stunning in Resene Double Thorndon Cream, Resene Ash, Resene Half Lemon Grass, Resene Grey Olive, Resene Pale Oyster, Resene Cobblestone, Resene Quarter Karaka, Resene Armadillo.
Find her artist Facebook page: 'Colours by House On The Hill Design'.
Too delicious to eat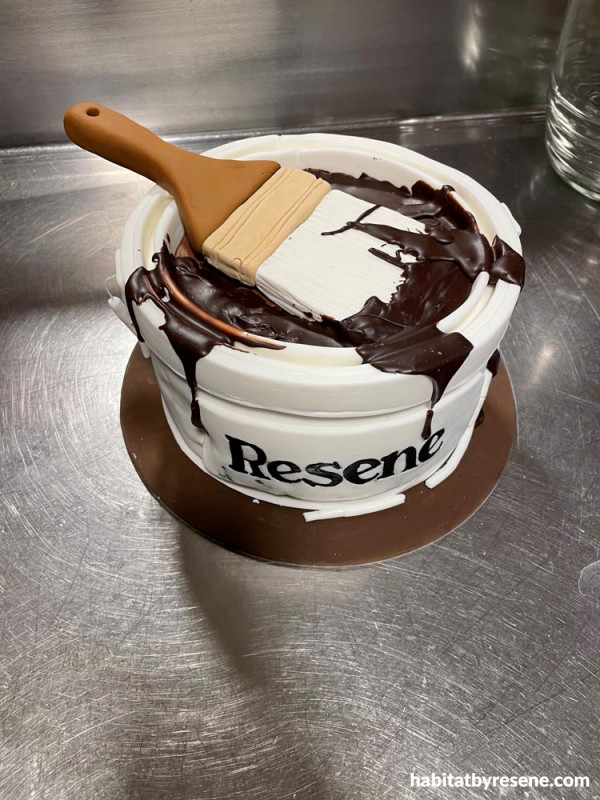 Complete with a paintbrush and dripping brown paint, this impressive cake looks almost too good to eat! The clever cake was made by Dianne Hutton from Invercargill, as a thank you for Matt Fowler in Otago from Fowler Decorating.
Stunning in rust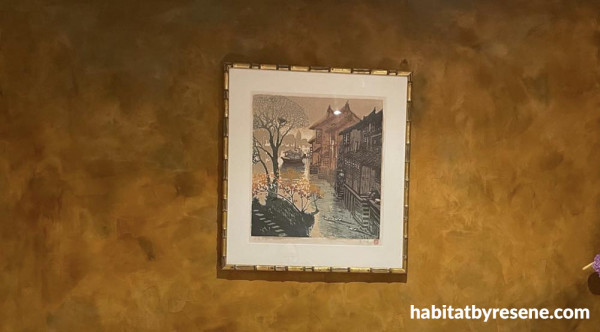 "I've been wanting to try Resene FX Faux Rust effect for a while and got the chance when creating this wall feature. I love the effect so much. The paint has metal flecks in it and you add an activator and make rust," says reader Wendy. "I have been upcycling furniture for many years for myself and friends, and for the past year and a half as a small business, Wai o Taiki Furniture Redesign." Find Wendy's designs on Facebook.
Lakeside living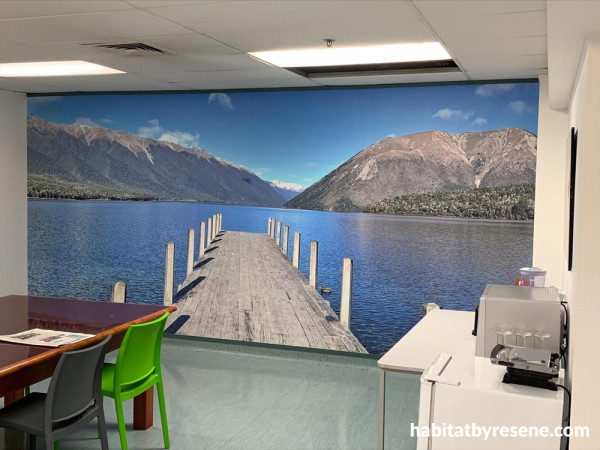 Resene's Northern Regional Office lunchroom space is stunning with a recently installed Resene WallPrint mural. "The mural is from a photo taken by Neil Macdonald from Aspiring Walls and is of Lake Rotoiti. This shows how a plain space can be transformed with a mural," says Resene's Northern Region Regional Retail Manager Ingel. The mural is nearly 5m tall and consisted of ten individual lengths.
"The wall was originally coated in Resene SpaceCote. After sanding with 80g sandpaper, the wall was coated with Beeline Primer Sealer, an adhesion primer/sealer for wallpaper on smooth surfaces. Once dry, the wall was then coated with granulated ShurStik size – the total prep time was around an hour."
Hanging was simple. The individual drops were number one through ten. The wall was pasted one length width at a time. "So basically for three hours work, we completely changed the room look."
Published: 16 Jun 2022