►
◄
latest
habitat tv
blog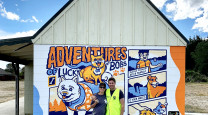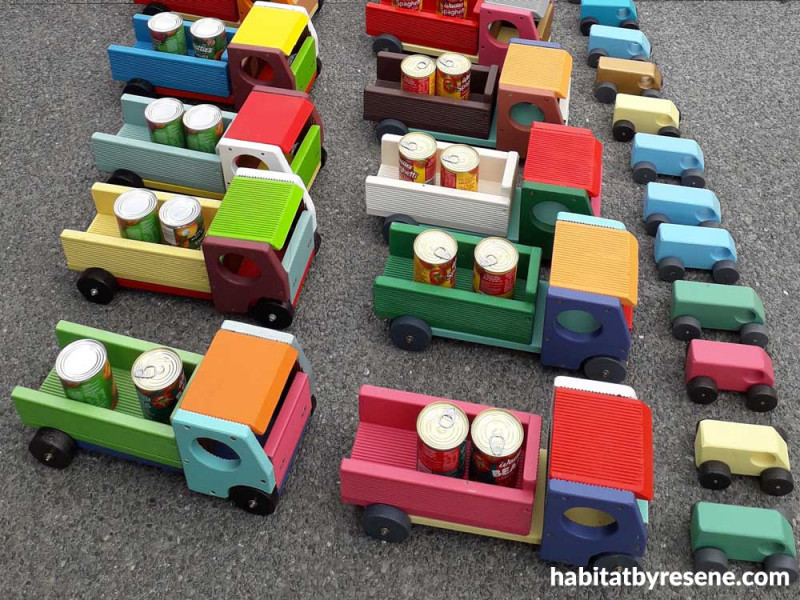 Reader roundup: From a toilet fit for a Pharoah to a rainbow beach installation, our readers are a creative crowd
16 Dec 2021
'Tis the season for creativity as our habitat readers share their ideas for adding colour about the place.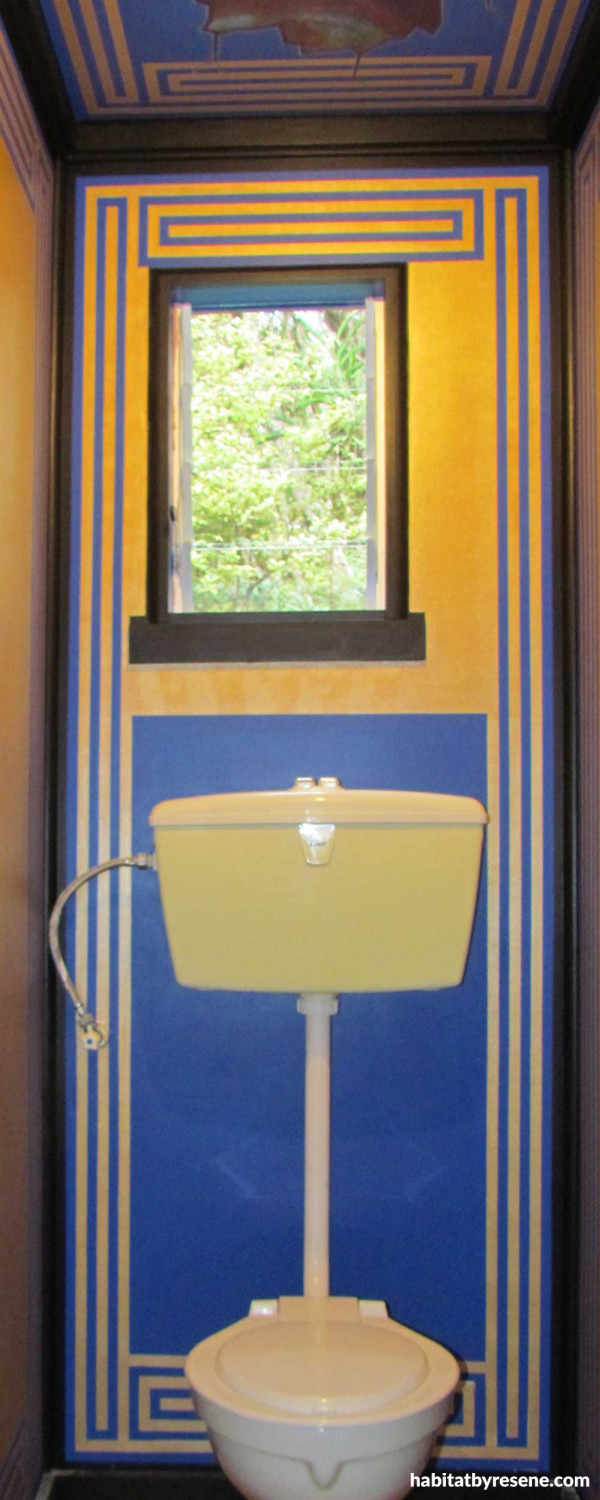 Egyptian fantasy graces a toilet fit for a Pharoah
In Peter's home the smallest room in the house is truly a throne room – channelling the funerary finery of no less a Pharoah than Tutankhamun, the Egyptian boy king, through the modern palette of Resene paint.
"My inspiration was the blue and gold strips from Tutankhamun's Gold Mask, or what Howard Carter (the archaeologist) famously described as, "wonderful things," says Peter, a passionate surfer from Piha, owner of a surf tourism business christmasislandsurf.com and clearly a dab hand with the paintbrush. Peter has used Resene colours and modern methods to get this look, with Resene SpaceCote Low Sheen tinted to Resene Black, Resene Resolution Blue, and Resene Apache, and added Resene FX Metallic Gold Dust overtop for extra sparkle.
"I used Resene paints because the testpots were a great way to try my ideas first." Resene FX Metallic is a handy hack – an easy way to add some metallic bling to just about any surface.
Modestly he says, "It was more 'technical drawing' than art. Anyone with patience and masking tape could have a go."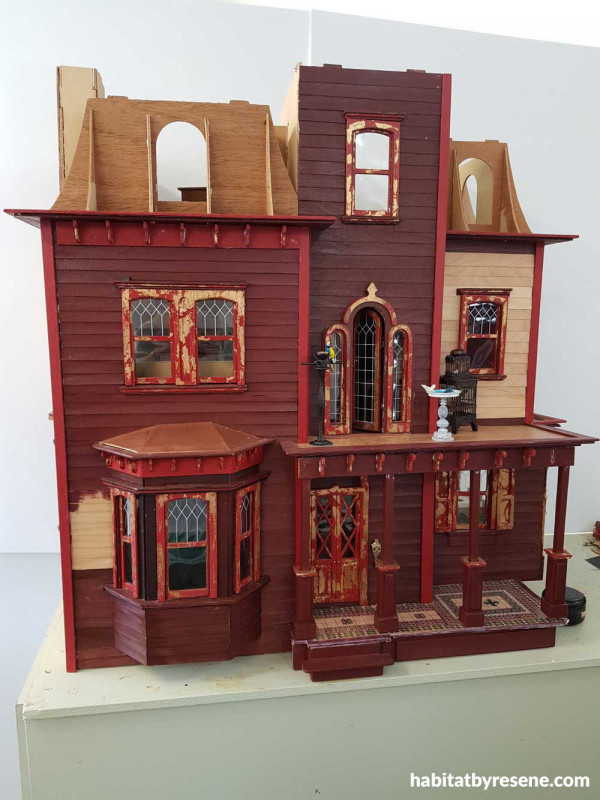 Marvellous in miniature
Jill Gibson got hooked on miniature work 30 years ago when she used her small creations to help her recover from a health issue. Now it's a fulltime job as she publishes her own bi-monthly magazine for miniaturists Downunder. She has 11 dollhouses - and a large workshop which features creations such as her miniature Steam Punk Mansion in Resene Brownie Points and Resene Hot Chile. The roof is yet to go on but Jill says that will be Resene Copper. See more of her work here: https://miniaturetimetraveller.com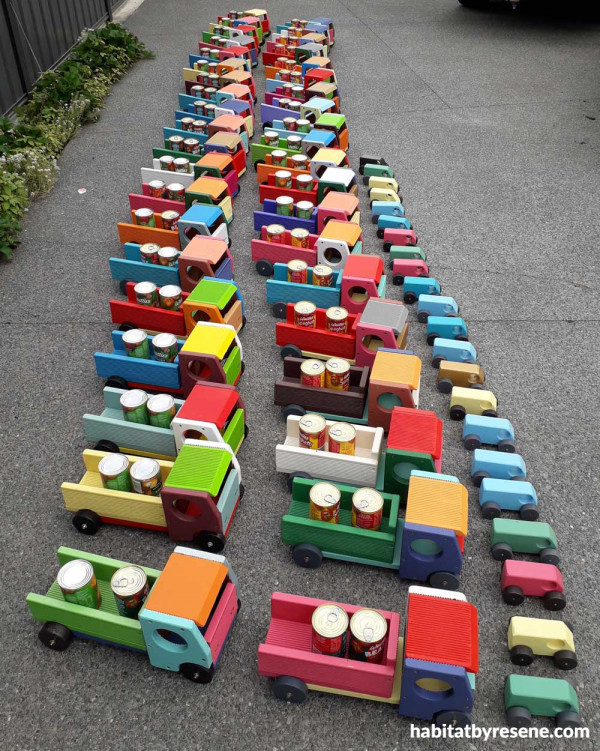 Toy story
Napier local Tim McVeigh came up with the winning idea to make handmade toys to donate to the Salvation Army, painted in Resene colours. Resene donated a range of potluck coloured paints and Tim got to work, coordinating the colours in a range of combinations before applying the paint onto each. The multicoloured result is a standout that we think kids will love. They're on their way to the Salvation Army Christmas tree.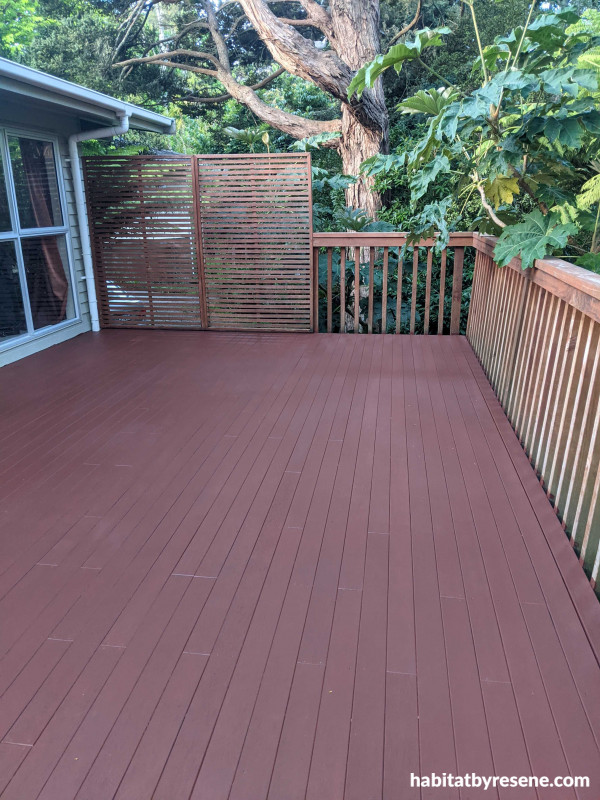 Deck the halls… or stain the deck
Gareth Jones was looking for a long-lasting finish on his deck – and this one chimes in nicely with the festive season colours. He chose Resene Woodsman Wood Oil Stain in Resene Cedar. Gareth also recommends a handy shortcut… getting someone else to do the painting! Gareth's partner, Hannah Tapner, is a freelance artist and Gareth says, "I cheekily suggested she'd be more than capable of doing this without my help when she had a sunny mid-weekday free (a day after it was cleaned). I couldn't assist, because of my day job - so I claim no credit whatsoever on how it came out!" Nice work Hannah!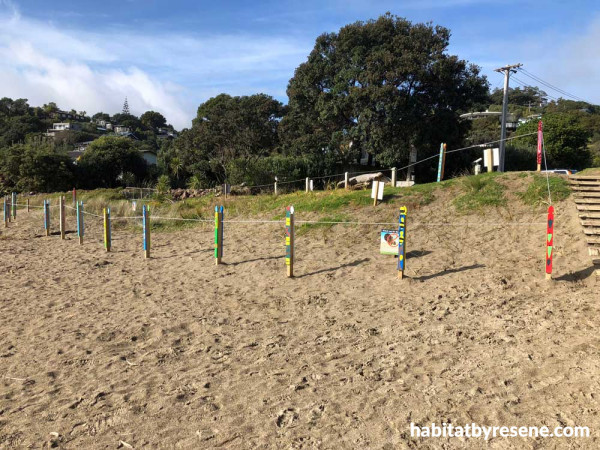 Rainbow connection
Waiheke Island local John Mead says his grandsons Felix, Otis, Archie and Eli were staying over Queen's Birthday weekend and discovered a supply of fence pickets in his shed. They had long admired a display of painted pickets at Palm Beach, a project by children from Te Huruhi Primary School. The boys got to work over the school holidays and many Resene testpots later the result is a stunning rainbow coloured entrance to Palm Beach (and John did get approval from Auckland Council for the project.) The result is a colourful triumph which features Resene Candy Floss, Resene Chilean Fire, Resene Turbo, Resene Wham, Resene Resolution Blue, Resene Boogie Wonderland and Resene Giggle.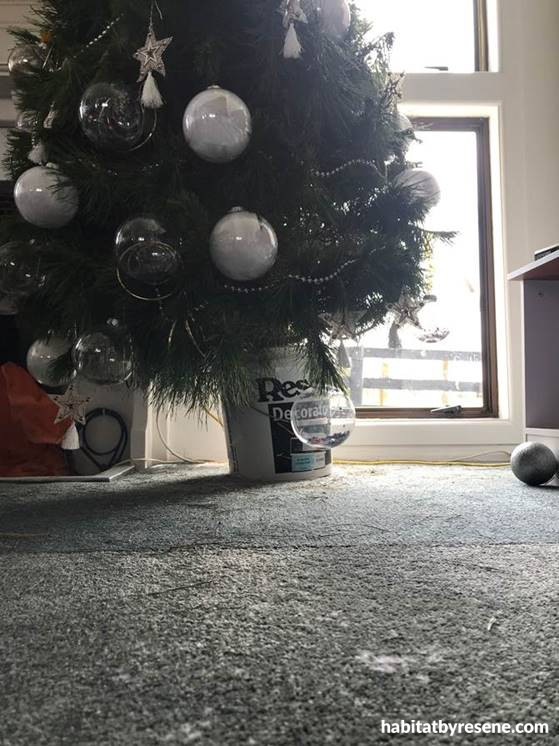 Buckets of fun
Dave Bates of Mainly Decorating in Franklin, is a professional painter and decorator, well known for his projects. Daughter Stacey Bates was not surprised to find his clever and handy hack with the Christmas tree. Stacey sent in this pic of Dave's tree standing inside a Resene Decorator paint bucket in the centre of the lounge. No doubt it will be recycled later for another use too.
Published: 16 Dec 2021