►
◄
latest
habitat tv
blog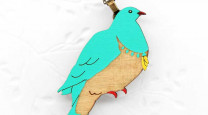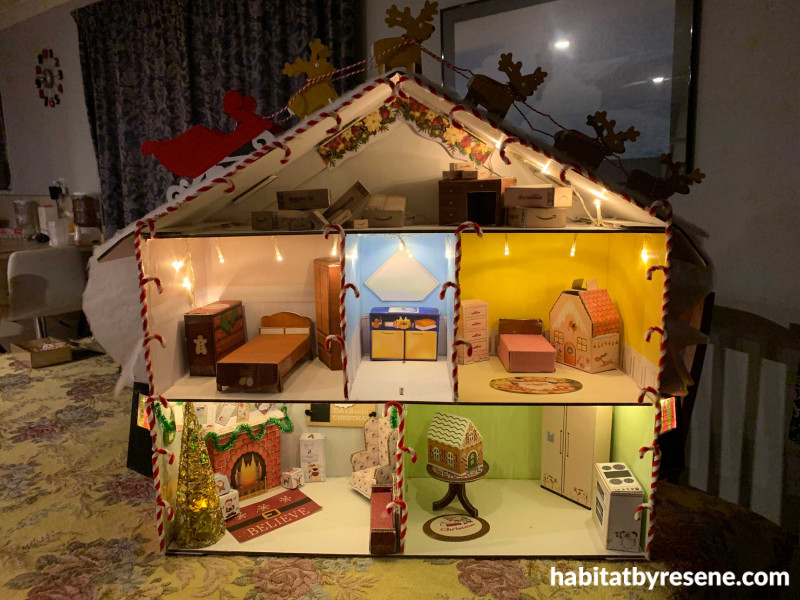 Reader roundup: From intricate dollhouses and little libraries to vibrant hospital murals, our readers are taking creativity to a whole new level
11 Nov 2021
It's amazing what wonderfully whimsical and astounding things can be created with a simple paintbrush, Resene testpot and dash of imagination. Readers from across the country have been cooking up colourful projects with a focus on making their communities a better and brighter place to be. From artists and hobbyists to inspiring schoolkids, this reader roundup has it all.
Little libraries, big smiles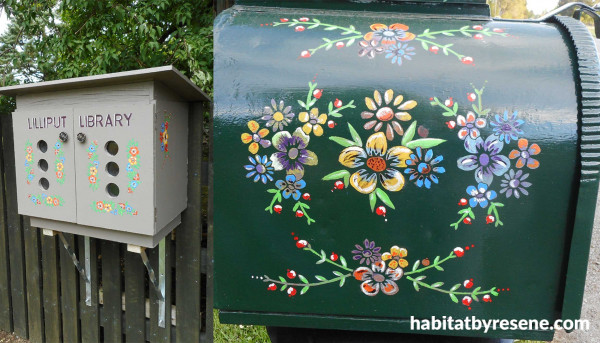 When Irenie moved to her new home in Peel Forest a year ago, she took one look at the dull grey letterbox and knew it had to go. With a splash of Resene Tory Blue and Resene Lightning Yellow, Irenie created a whimsical floral letterbox that was the envy of the street – then she went a step further. Using her upcycling skills, she transformed an old television cabinet into a little library and became a guardian for Lilliput Libraries – a nation-wide collection of tiny libraries run by community volunteers.
"Our Peel Forest village can be a busy summer holiday hot spot and I know when I am traveling around I like to find and read a good book," says Irenie. "I wanted to create something colourful and striking and wanted bright primary colours for the stencil flowers.
"I knew Resene testpots would have the variety and quality finish for the job. It was so lovely to have passer-byers admiring and commenting on the progress."
Read more about Lilliput Libraries here or find your nearest Lilliput Library here
Painting it purple for a good cause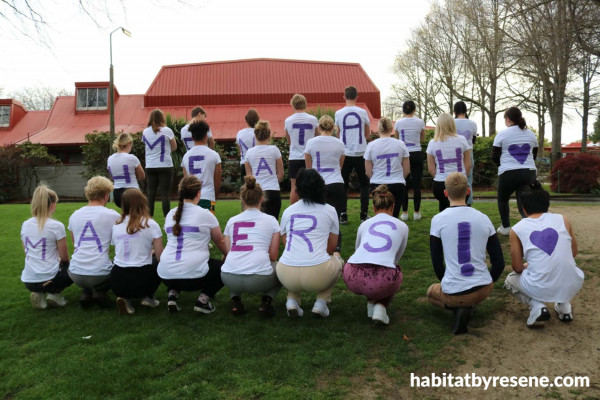 Members of the Ashburton College Student Exec rolled up their sleeves and got painting to support Mental Health Awareness Week this year. Using this year's Mental Health Awareness colour, purple, the students painted their shirts with supportive messages in a vibrant array of Resene paint. "We were very passionate about this since it greatly affects the youth of today," says Easterlin, one of the event organisers. "The most enjoyable part was when the student exec painted their shirts with purple paint which was a nice bonding experience for us. All of our effort as a school shows our unity as a team and our support for mental health awareness.
"The paint was kindly donated by Resene and we also painted encouraging messages on the front of our shirts for students who may be struggling with their mental health."
Through a gold coin donation and bake sale, the school raised over $1,100 that was donated to the Mental Health Foundation.
Check out Ashburton College's upcoming events here
Marvellous in miniature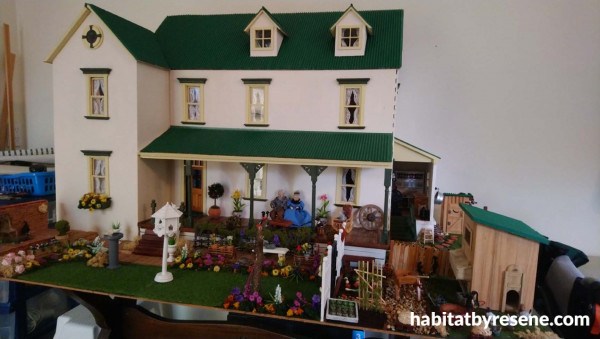 This darling dollhouse in daring colours has been a long time in the making for hobbyist Patricia. Inspired by the Wairarapa heritage home she had previously renovated, Patricia set out eleven years ago to design and furnish a dollhouse in the late Victorian/Edwardian era.
While the result of this house is spectacular, creating the intricate detail was no picnic. With three attic rooms, three bedrooms, one bathroom, a lounge, dining room and kitchen all encompassed in the three-story home, Patricia has spent years cutting and laying hundreds of ice block sticks for the wooden floors, creating working sash windows and making handmade stained glass. The exterior is in Resene Colonial White with trim in Resene Butter and Resene Olive Green, and roof in Resene Kaitoke Green.
"We had used Resene heritage paints on our Wairarapa home, so we naturally used the same range for the dollhouse," says Patricia. "Recent additions have been a garden containing a formal garden at the front and a kitchen/vegetable garden at the side with an outhouse toilet, a henhouse and a pond with tiny goldfish.
"My next project is to make a greenhouse to complete the scene. As I am now 81 years old I want to complete my project while there is time!"
Bright, bold and beachy
The mystery of the missing pickets has given this colourful Waiheke beach legendary status. In July 2019, the pupils of Te Huruhi Primary School lovingly painted pickets in bright Resene colours, installing them in the sand at the Miro Rd entrance to Palm Beach. A few days later, the students were dismayed to discover their bright pickets had disappeared. Much like the pickets themselves, the story has a cheerful ending, as the pickets reappeared a week later attached to robust posts – Auckland Council staff had come to the rescue, creating a sustainable installation of the pickets that is still there today.
A few years later, Waiheke local John had a bright idea to continue the beautification of Palm Beach. Involving his four grandsons, Felix, Otis, Archie and Eli, they used the colours of the rainbow – Resene Candy Floss, Resene Chilean Fire, Resene Turbo, Resene Wham, Resene Resolution Blue, Resene Boogie Wonderland and Resene Giggle – to paint colourful steps to the beach.
"I have used Resene paint for many years because there is such an impressive range of colours and the paint stands up to outdoor conditions well, especially with these projects being in a marine environment," says John. "The most enjoyable part of the project was working with my four creative grandsons.
"These projects have created a wonderful colourful addition to the area plus they are stabilising the sand dunes."
Sit back and relax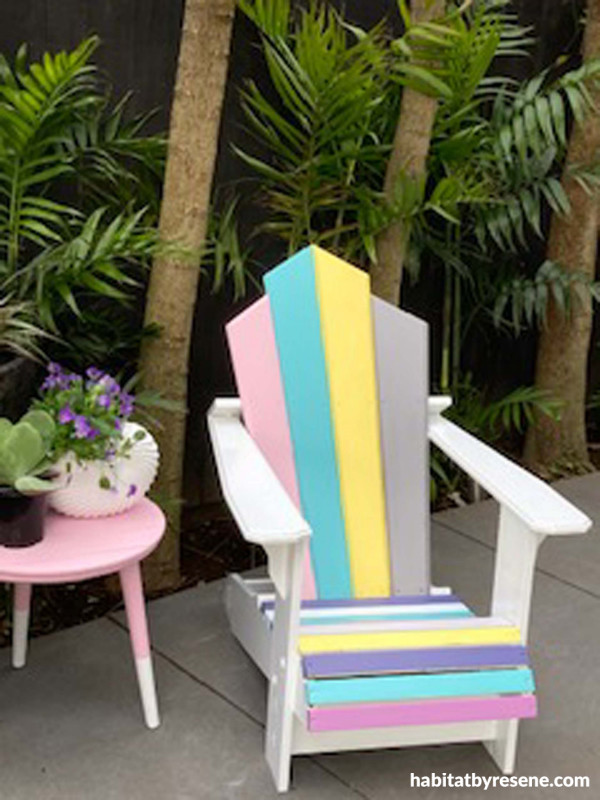 When Sandra's son Jayden brought home a chair he'd built during wood tech at school, Sandra jumped at the chance to brighten up her garden. She created a charming colour palette that included vivid Resene Energy Yellow and Resene Fountain Blue with pastel Resene Princess and soothing Resene Tranquil.
"I am most proud of having the project finished," says Sandra. "I love all the colours together - they look soft but still vibrant at the same time.
"The little side table also got a makeover and looks perfect beside the chair. The paintwork has made the chair a real feature now, it also has the tick of approval from Jayden."
Corridor cheer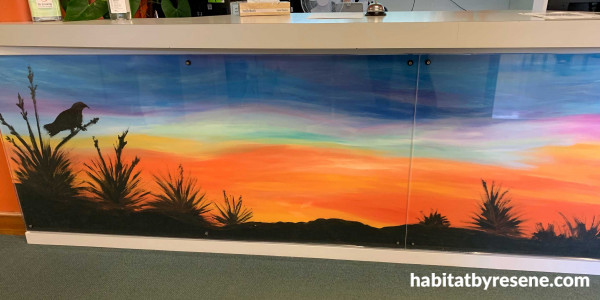 Stratford artist and teacher Lucy put her talents to good use at the local hospital, creating a stunning mural in the surgical outpatient's area with paints donated by Resene. Inspired by the orange colour scheme that encompassed the ward, Lucy captured the serenity of a summer sunset whilst still incorporating bold oranges, including Resene Adrenalin and Resene Outrageous. She paired the vibrant colours with cooling Resene Lochmara and Resene Picton Blue, with a silhouette of nature in Resene Black.
"I chose a more pinkie orange sunset as we tend to see them a lot around New Plymouth," says Lucy. "I am so thankful for Resene as they made picking colours very easy as there is such a variety.
"The most enjoyable part for me was meeting the hospital team, they gave me so much confidence and really hyped me up which is lovely when you are a person who second guesses themselves.
"I love the way the art blends into the rest of the space and looks like it just belongs. I also loved the challenge as it is much bigger than my average canvas, which forced me to be more relaxed with my brush strokes and the whole process was very therapeutic."
Check out more of Lucy's work on her Instagram @Lulabelle_Creations
Teeny tiny terrific Christmas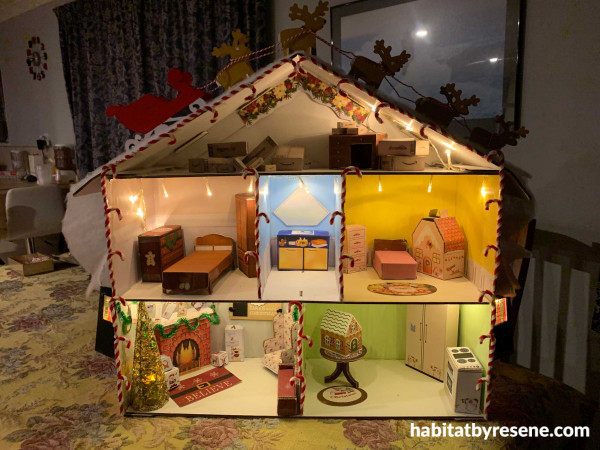 The weather outside is frightfully hot (hello summer), but it's snowing in teeny house land! Kim got into the Christmas spirit decorating her habitat by Resene teeny house in festive cheer including Santa and his sleigh in Resene Poppy, a festive kids' room in Resene Bardot and Resene Black on the bay windows. Kim used fairy lights to light up the house for Father Christmas and she printed furniture from Pinterest and pasted it to pieces of cardboard from the envelope the teeny house was delivered in. Order your teeny house online here and don't forget to enter our teeny house competition here.
Published: 11 Nov 2021