►
◄
latest
habitat tv
blog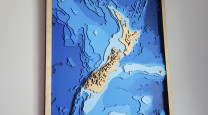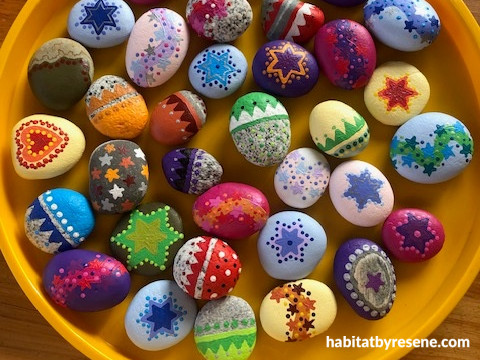 Reader roundup: Sunshine hallways, retro vibes and makeshift Resene downpipes
01 Nov 2023
As we head into late Spring and Summer, we've had an abundance of bright and cheerful projects sent in from our readers. From hope stones to zesty murals and wallpaper designs, take a look at these colourful creations to give you some inspiration. Remember to send in your own projects to [email protected].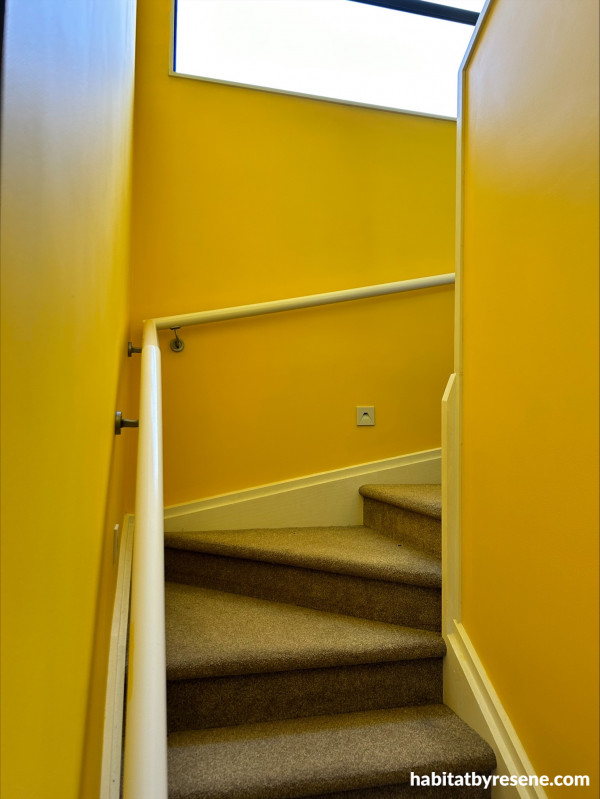 Our reader Marcus has painted his staircase and hallway in the bright shade of Resene Broom, a delightful sunny yellow. If you're up for a joyful shade like this, you could try other bold yellows like Resene Turbo and Resene Spotlight or go for a more subtle shade like Resene Corn Field or Resene Half Moonbeam.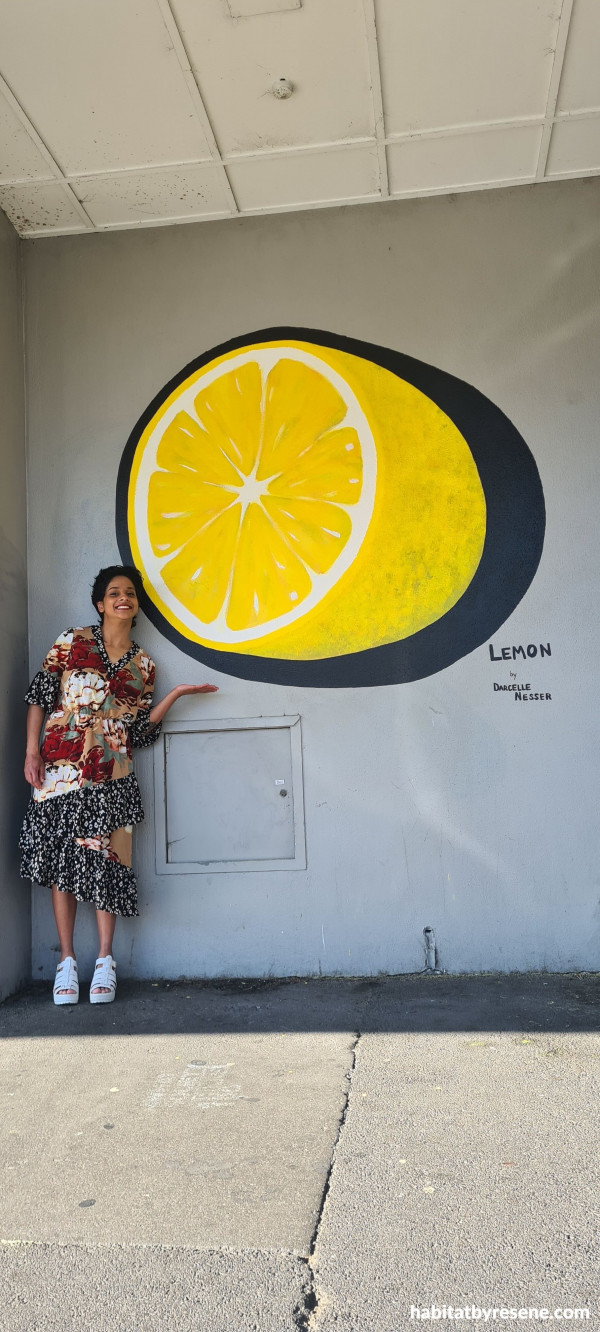 Artist Darcelle Nesser has just painted another bright, and zesty, fruit mural. For her lemon in Palmerston North, Darcelle used the shades Resene Turbo, Resene Broom, Resene Lima, Resene Pizzaz, Resene Half Pearl Lusta and Resene Nero for the shadow.
"After painting the giant Feijoa in the city earlier this year, I felt I needed to do more (paint more giant fruits around the city)," Darcelle says. "Springtime is when I feel like I come out of hibernation and start getting excited about being outdoors and painting again. It was the perfect time for a lemon - refreshing, energising, and bright."
Darcelle wants to keep painting giant fruits around the country and is more than happy to collaborate with anyone who has a small public wall free for a giant fruit to go on. Get in touch with Darcelle, [email protected]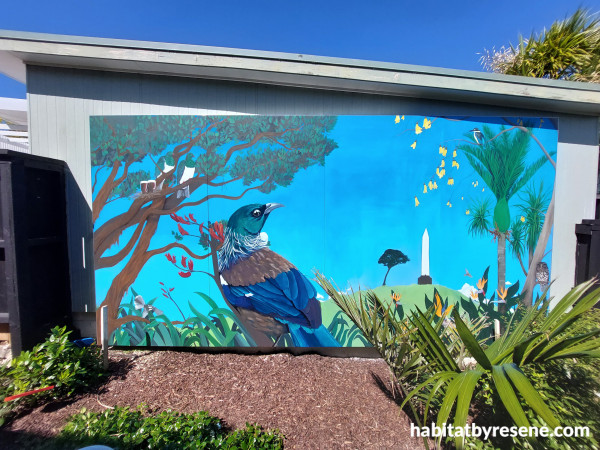 Ariana Andrews was hired to paint a mural for a local couple on Waiheke Island. "They wanted to celebrate their love for each other and their children," Ariana says. "Each bird represents a member of their family. The monument of One Tree Hill (Maungakiekie) depicts the location that they got married (tree standing at the time). The mural itself was also inspired by another one on the island, painted by a good family friend Danielle Mathieson, which is where they got engaged.
"Due to Resene having Lumbersider Low Sheen in their testpots I was able to use a lot of different colours to create this bright and vibrant piece, including Resene Buddha Gold, Resene Moon Yellow, Resene Festival, Resene Sun, Resene Buttercup, Resene Violent Violet, Resene Plum, Resene Blue Night, Resene Red Ochre, Resene Cardin Green, Resene Limeade, Resene Green Smoke, Resene Porcelain, Resene Boston Blue, Resene Madras, Resene Brown Bramble and Resene Wild Willow.
"Lastly, I finished it off with two coats of Resene Clearcoat UVS for an additional protective barrier. I am now working on a similar mural for my partner's father, as he fell in love with the Tui and Ruru."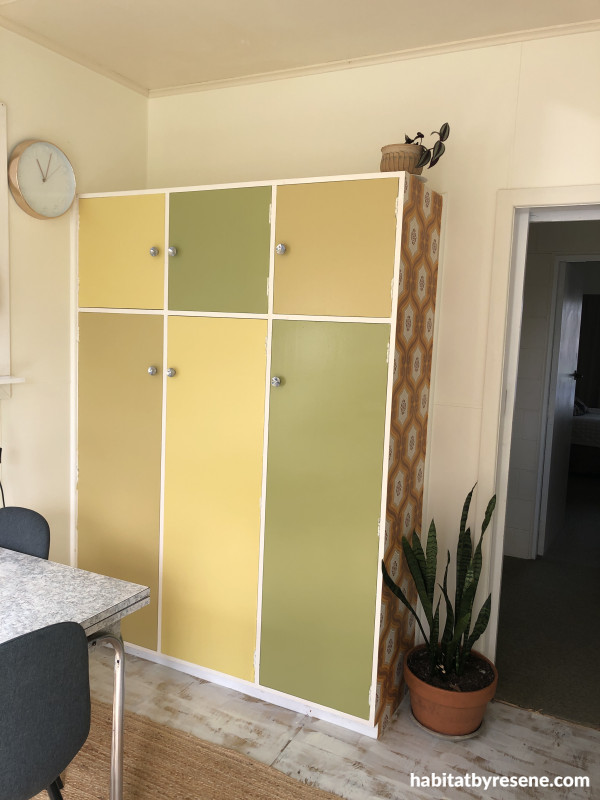 Kelly Madden has a 1973 house with some existing cupboards that were painted in a bright peach. Wanting to make them a feature, Kelly used a retro Crown Lynn plate as inspiration and repainted her cupboard in Resene Ipanema, Resene Laser and Resene Gingko.
"I am thrilled with the result and love the warmth of the colours and the quirky 70s feel," Kelly says. "After years of painting things in very safe neutrals in other houses, it has been really fun to do something that makes a statement. I have also used Resene Rum Swizzle to give the whole interior an update - what a great colour choice!"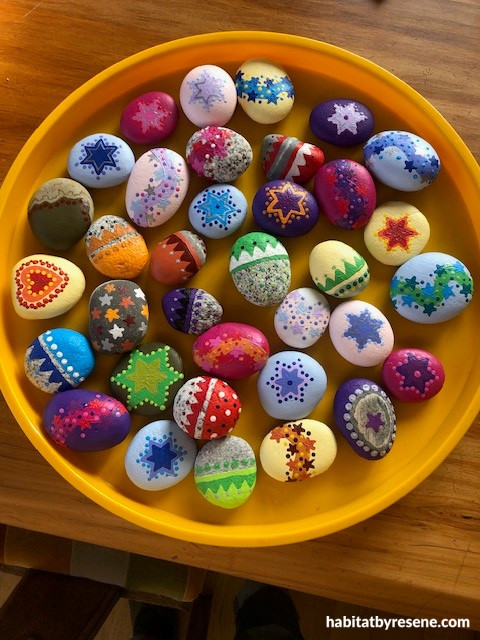 Janis Crampton, a supporter of the Cancer Society, has painted some brilliant hope stones with vibrant shades and joyous patterns. She has used an array of colours including Resene Rock Spray, Resene Tree Frog, Resene Endeavour, Resene Chetwode Blue, Resene Princess, Resene West Side, Resene Kingfisher Daisy, Resene Smitten, Resene Resolution Blue, Resene Half Dizzy Lizzy and Resene Colour Me Pink. Janis also tried her hand for the first time using some metallics including Resene Digital Blue, Resene Funtasia and Resene Yeehaa for extra sparkle.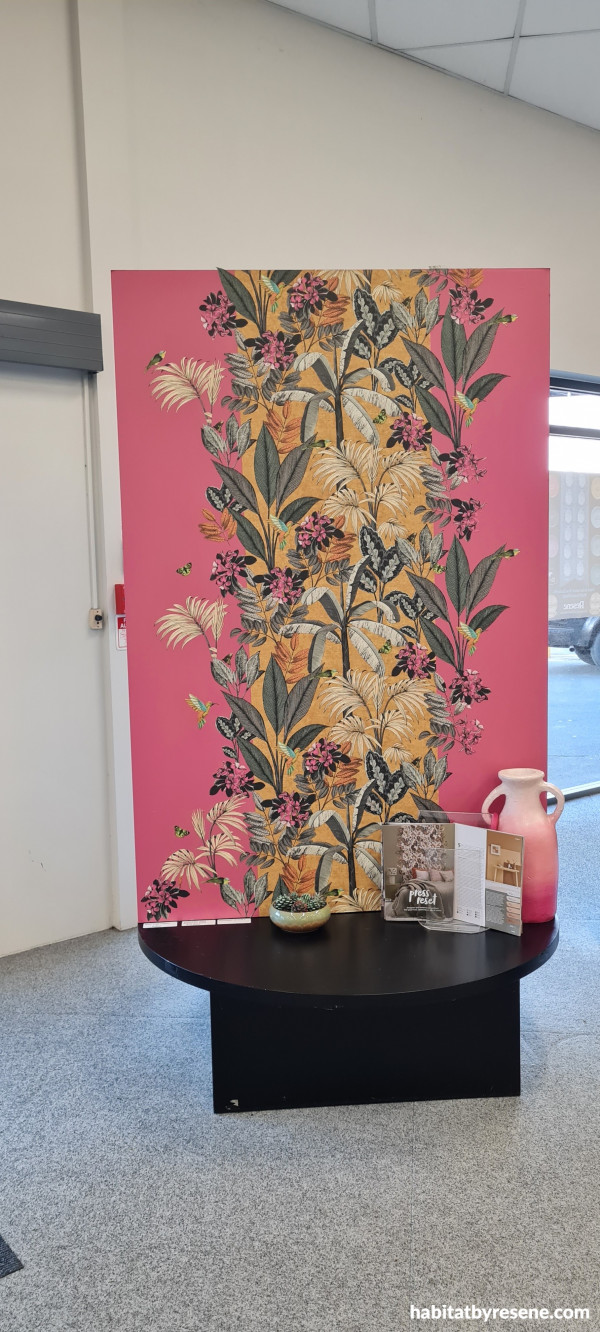 If you're after a vibrant and playful wallpaper design to try, this one could inspire you! The Resene ColorShop team in Tauranga took some inspiration from habitat magazine issue 38 and created a display using Resene Wallpaper Collection #387838-1. You can create this look by cutting out the design on the edge of some wallpaper to really make the pattern pop! Choose a vibrant wall colour as the background such as Resene Hopbush, a tropical pink.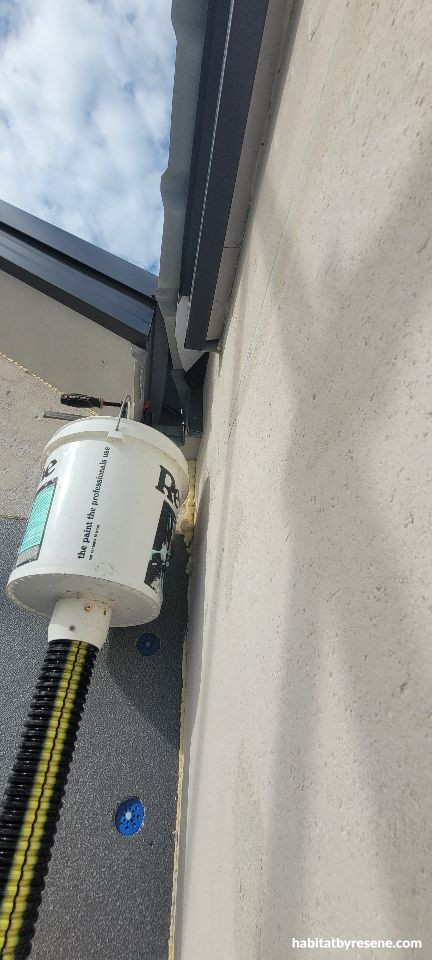 There are so many ways to reuse your Resene paint bucks, but this is one we haven't seen before - a temporary downpipe!
Share your projects using Resene with us – we'd love to see them! Email us at [email protected]
Published: 01 Nov 2023