►
◄
latest
habitat tv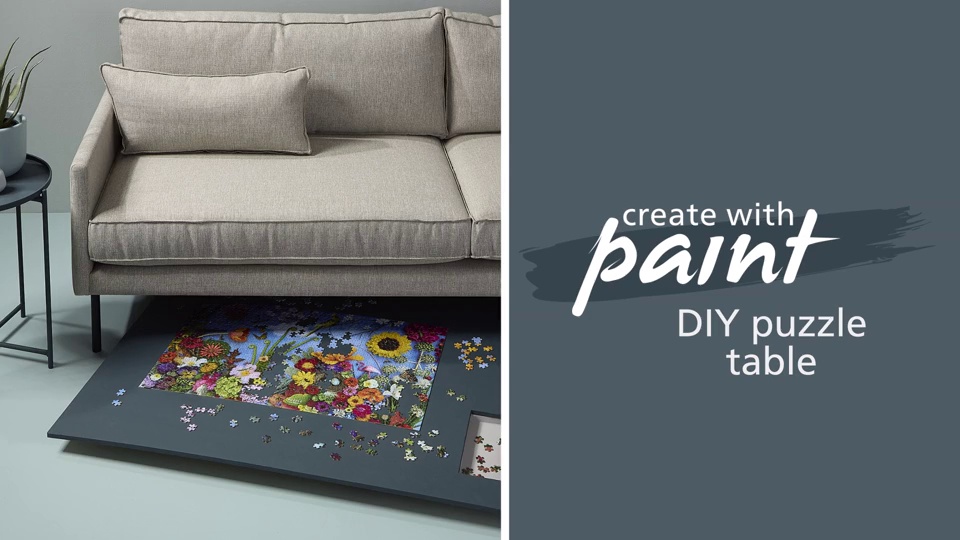 blog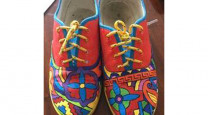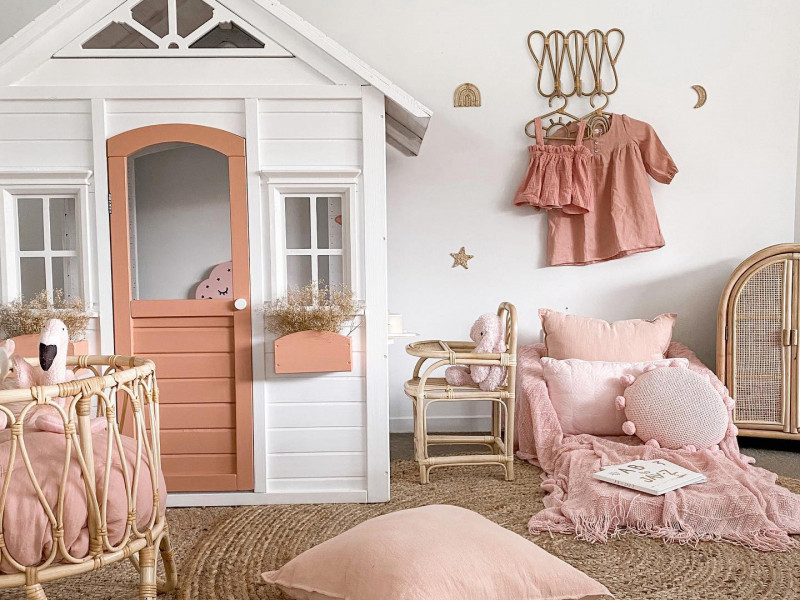 Reader's Round Up: October 2020 Edition
28 Oct 2020
This month we saw an abundance of creativity from our readers. From a pink door to an adorable cubby house, here are a few of our favourite recent projects.
Sumner's refreshed front door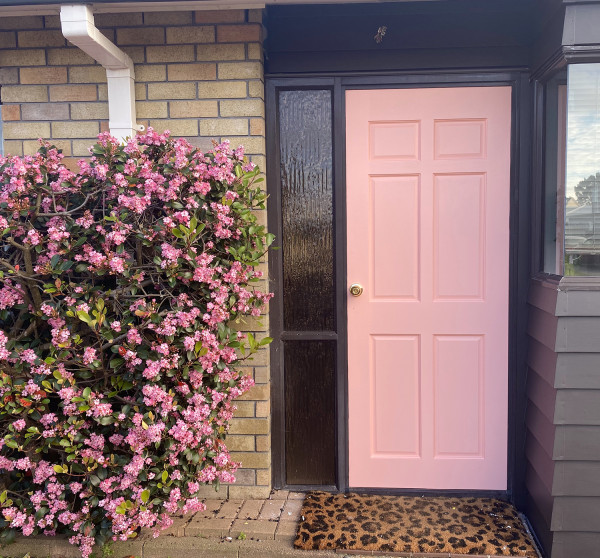 Painted in Resene Cornflower, a persimmon-meets-pink, Sumner's front door is now a stylish entry point to her home.
"I believe everyone should paint a part of their home a favourite colour. Too often we see brick-and-tile neutrals. Life's too short for boring houses!" Sumner's pink door is a testimony to the difference embracing your favourite colour can make, and a beautiful addition alongside her flowering front garden.
"I saw a very light baby pink door a few years ago and I thought how great it would be to be the house with the pink door," says Sumner of her front door's inspiration. "Also, when you own your own home, I just thought, why not? Big pink lover here."
For this look, Sumner primed her front door with Resene Sureseal before painting it in Resene Cornflower. "My mother is a colour consultant at Colour in Design in Mt Maunganui, so she helped me choose the right pink that wouldn't clash with our brickwork."
"I am most happy with the boldness of the pink and the happiness it brings – they do say colour affects your mood and the door certainly does!" says Sumner. "We are yet to add a brass pineapple door knocker (currently in transit) and a peep hole."
Hayley's adorable cubby house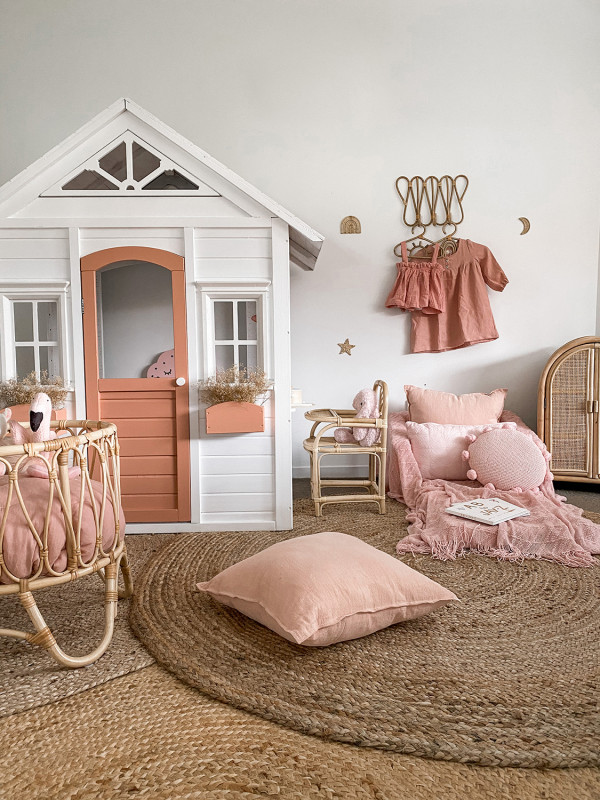 With a front door and flower boxes in Resene Just Dance, this cubby house is the perfect centre piece for this blush-filled play room.
As creative director of Inkah, Hayley has a particular eye for design. It is perhaps not surprising, then, that when it came to creating a play area for her daughter Arlo, she crafted something truly stunning.
"I had a vision for Arlo's play area that I wanted peach and pink tones," says Hayley. "Resene Just Dance, which I painted the playhouse with, was the perfect peach to complement the pink-and-rattan piece."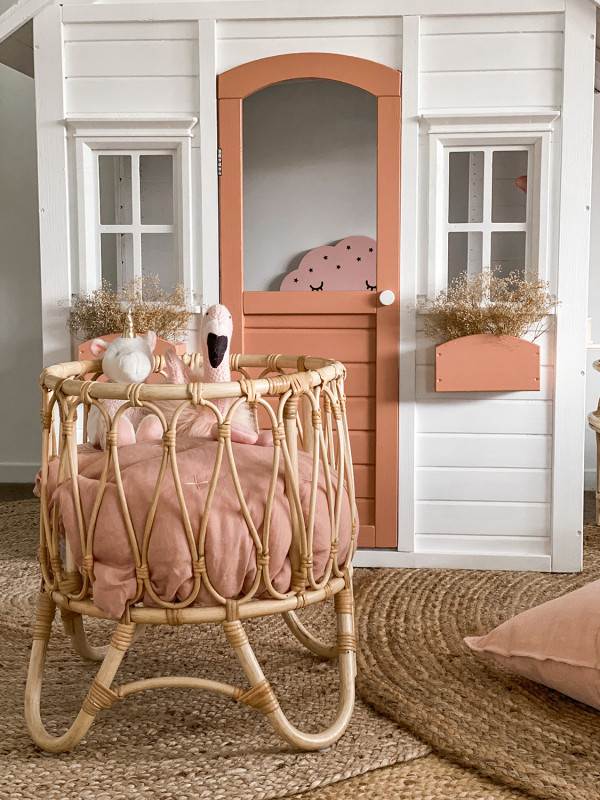 Peach Resene Just Dance perfectly matches Hayley's rattan furniture, which she designs for her business, Inkah. Woven rugs and dusty pink accents complete the look.
Filled with pieces of rattan furniture, including a rattan dolls bassinet, the gorgeous play room is the perfect space to encourage her daughter's budding creativity.
For more of Hayley's hand-woven rattan pieces, see her Instagram, @inkah.nz, or visit her website at www.inkah.co.nz.
Shonali's purple bedroom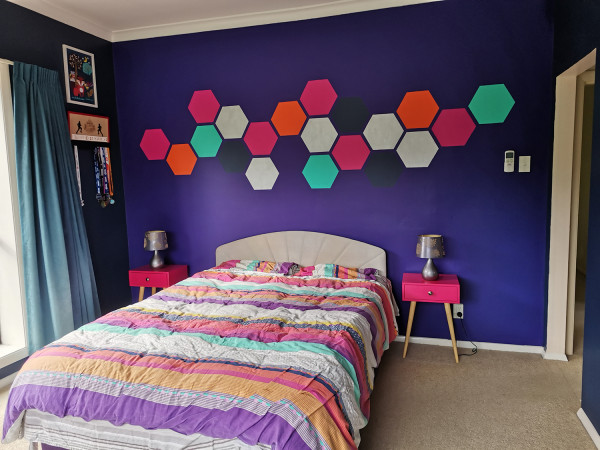 Against a base of Resene Christalle, Shonali painted a series of hexagons in Resene Trinidad, Resene King Tide, Resene Scrumptious, Resene So Cool and Resene Niagara. Adjacent side walls in Resene King Tide. Complete the look by painting bold side tables in Resene Scrumptious, a magenta pink.
Shonali loves colour. "I tend to go for bright and bold colours on at least one wall in a room," she says of her approach to decorating.
When she moved into her home six years ago, it was in many ways the perfect canvas. "It had very neutral colours and a light-coloured carpet," Shonali explains. "We have slowly been working our way around the house redecorating. Our bedroom was always on the list, but once we decided to replace the carpet in the whole house, it made sense to paint the bedroom first."
Shonali knew from the outset that she wanted more than a fresh lick of paint. "I had originally planned a feature wall in purple," says Shonali of her bedroom renovation, "but once we got closer to actually painting it, I wanted something with a bit more wow-factor."
After flicking through a copy of habitat by Resene and experimenting with some testpots, Shonali decided on a striking purple wall in Resene Christalle with a collection of hexagons in Resene Trinidad, Resene King Tide, Resene Scrumptious, Resene So Cool and Resene Niagara. Three adjacent walls in Resene King Tide, an indigo blue, complement those darker hues for a bold yet cosy bedroom.
Kate's revamped bathroom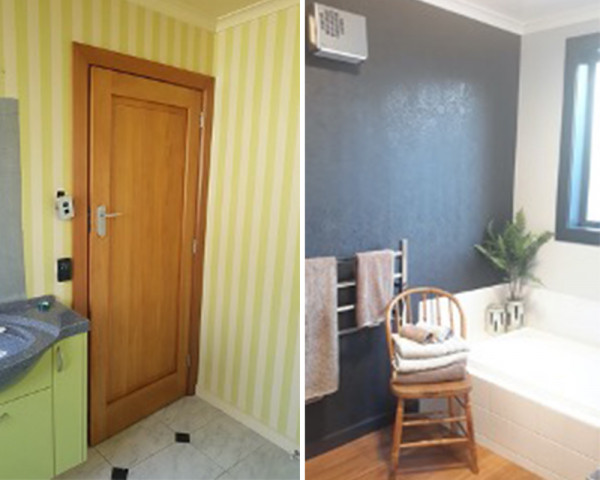 The addition of Resene Wallpaper Collection 35816-2, Resene Double Concrete and Resene Foundry has transformed Kate's bathroom from dated to decadent.
Kate overhauled her lime-stripped bathroom to create a spa-like oasis at home. "When we bought our home in 2012, the interior was mostly blue and yellow, with the same colour over the walls and ceilings," says Kate. "The bathroom and toilet had just been on the list of things to do, and it was time."
Complete with a feature wall in Resene Wallpaper Collection 35816-2, adjacent walls in Resene Double Concrete and window trims and skirting in Resene Foundry, Kate's renovated space is modern and brim-full of visual appeal.
images supplied by Sumner, Hayley, Shonali and Kate