►
◄
latest
habitat tv
blog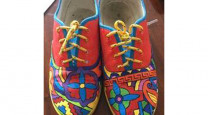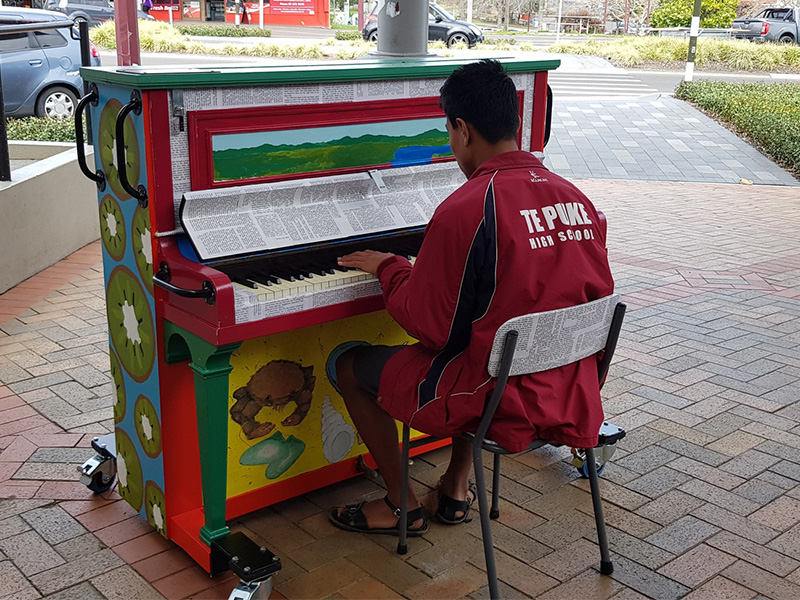 Readers' Roundup: October 2019 Edition
22 Oct 2019
We know spring has sprung when we start seeing plenty of fresh new projects popping up in our inbox.
If you're looking for inspiration as you head into the long weekend, take a look at these neat ideas submitted by three clever readers showing the creative ways they have used Resene paints, wallpapers and colours.
Lynda's dreamy nightstand
Lynda Cree recently refinished this small set of drawers in a textured anaglypta-style wallpaper from the Resene Wallpaper Collection brushed with layers of Resene Blue Moon, Resene Smitten, Resene Scotty Silver and Resene Goldmine to give it a shimmery, dream-like sheen.
Lynda is brimming with creative ideas, and the team at the Tower Junction ColorShop is always interested in seeing what she is up to and offering their colour and product tips to help her get the look she's after.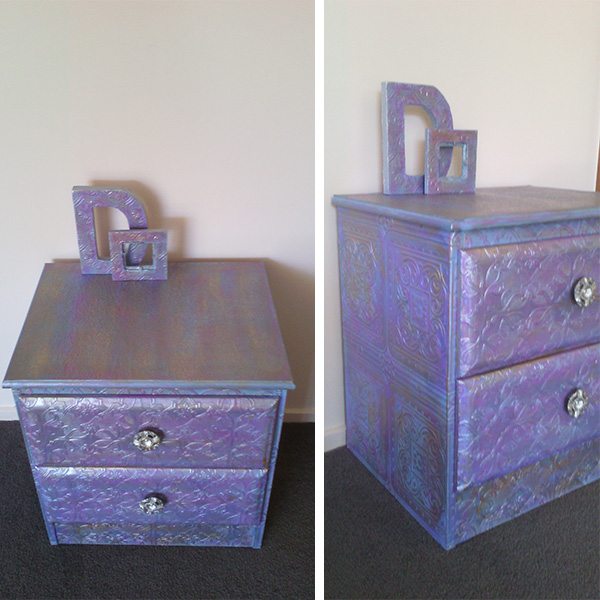 With sides and drawers first covered with a textured design from the Resene Wallpaper Collection, Lynda Cree used Resene Blue Moon, Resene Smitten, Resene Scotty Silver and Resene Goldmine to give this nightstand a dreamy aged-tin look.
Te Puke's colourful community project strikes a chord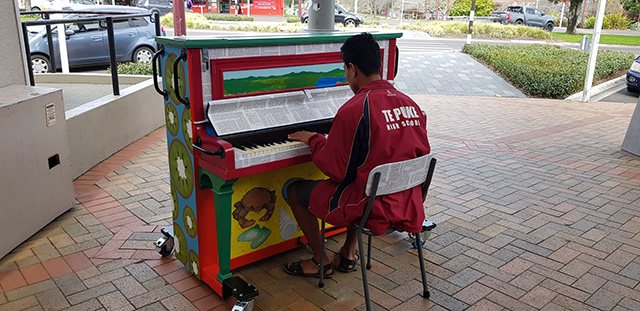 Amanda-Jane McFadden shared the news about a colourful new addition to the Te Puke Library, the Te Puke Library Community Piano, which was just completed in September.
"The artwork was painted by pupils Rico and Taka and art teacher Josephine from Te Puke High School. It represents the wider Te Puke area with fish 'n chips and the beach of Maketu, our kiwifruit and the surrounding hills. The community's different cultures are beautifully displayed on the piano's back panel," says Amanda-Jane.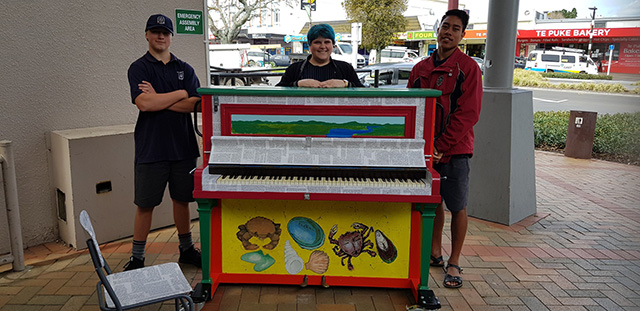 Taka, Josephine and Rico worked together to design and decorate the Te Puke Library Community piano.
Whenever weather permits, the piano will be stationed outside the library for passers-by and library visitors to tickle the ivories.
Resene supplied the paint for the project, a donation that's been commemorated with a plate added to the plate, and Te Puke Community Board paid for the wheels that allows the piano to be wheeled in and out of the library.
To learn more about the project, check out this article from the Te Puke Times.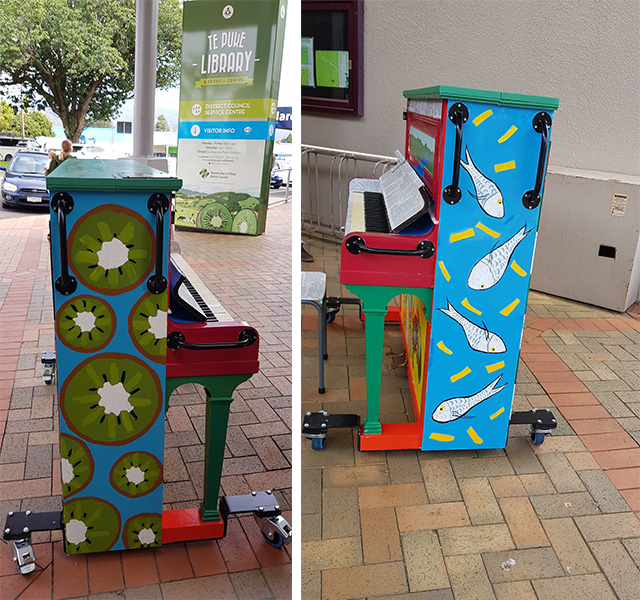 Tweet-worthy suites a special treat
Tony Davis wrote to advise us of a new nesting ground that's recently hit the market, known as Tufty Towers. We had a hoot reading through the real estate listing:
"Starting from humble beginnings and now available for immediate 'perch-ase', these lavishly appointed architecturally? designed nesting "suites", equipped with more 'bling' than a skyscraper in Dubai will suit the most discerning Avian buyers with the most 'well feathered' wallet! At 3m tall, it is 82m shorter than the Burj Khalifa. I thought about it but decided that the garden bird species we have might struggle with the height – and couldn't find a pole long enough anyway!"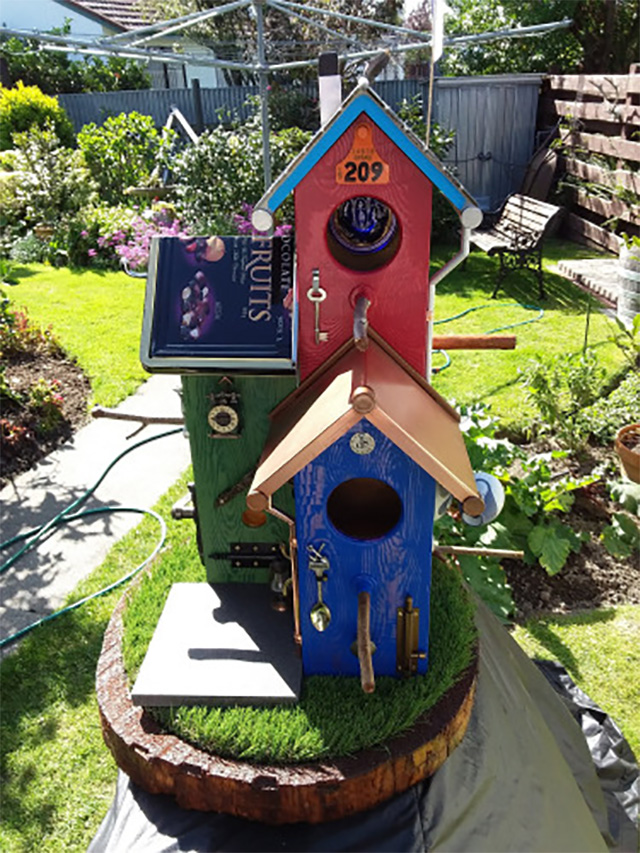 Tony built this impressive avian apartment complex coloured with Resene paints and timber stains.
"Each 'suite' comes with a perch choice of either magnolia or robinia, has antique gold interior walls and a choice of stained glass window colours! A 20mm Italian slate deck is provided for all residents to enjoy. Each tower is finished in a complementary dual-toned, wood grained colour-combo to give each tower its individuality."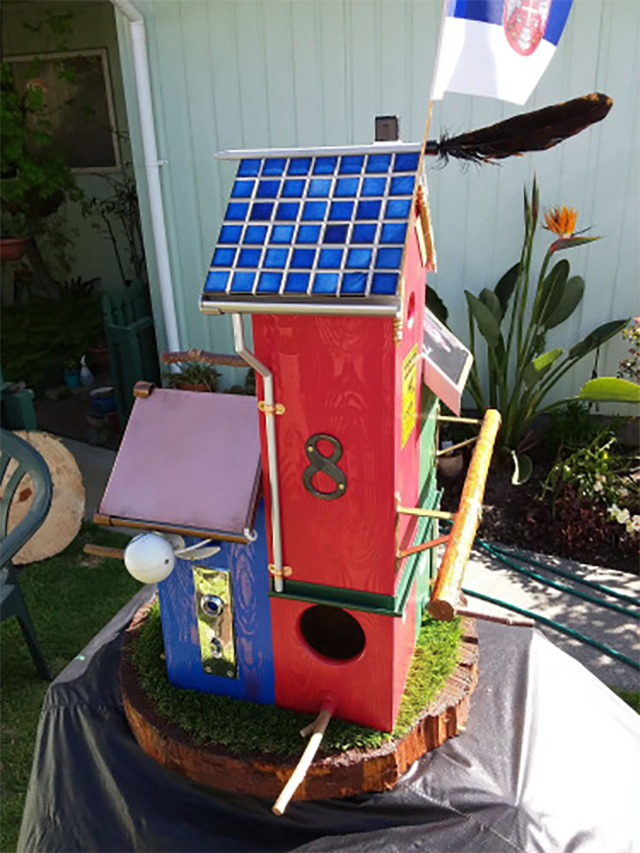 With nesting season in full swing, our team foresees the sale of these suites really taking off.
If you've used Resene paints, wallpapers or colours in creative ways we'd love to hear from you. Email photos and information to [email protected]. We look forward to hearing from you!
images Lynda Cree, Amanda-Jane McFadden, Tony Davis