►
◄
latest
habitat tv
blog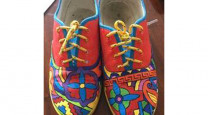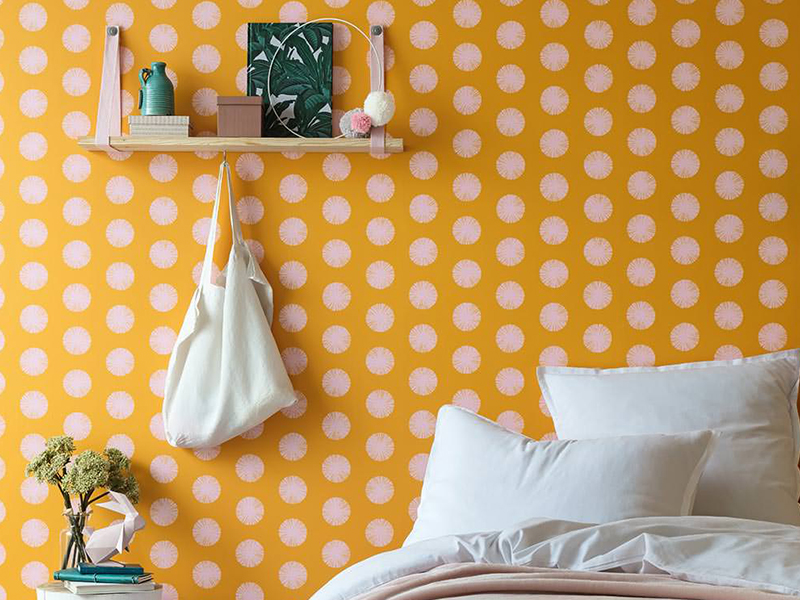 Recapture your joyful side with these playful wallpaper designs
09 Sep 2020
At its very essence, your home should be your happy place. The space where your personality is on display in all its glory. With joyful patterns, cheery colours and unexpected whimsical details, these wallpaper designs will let you inject a bit of fun into the place you call yours. Those thinking fun is a euphemism for inelegant should think again, while these eye-catching wallcoverings are a feast for the eyes they don't skimp on style. Let your personality shine with these delightfully playful designs from the Resene Wallpaper Collection.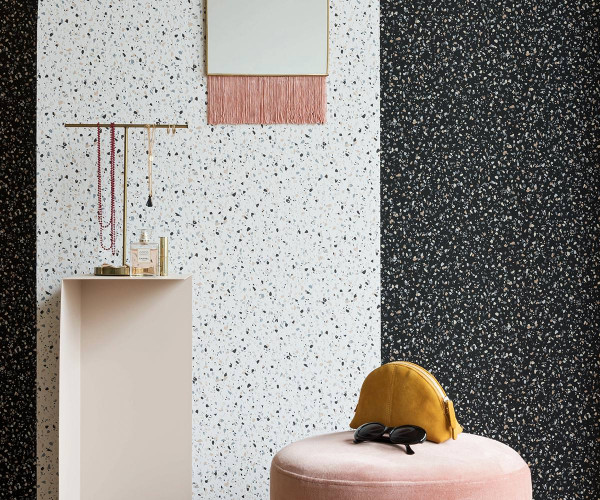 Reminiscent of speckled eggshells, terrazzo is a composite material created by folding marble, quartz and granite chips through a concrete base. Resene Wallpaper Collections 220185 (left) and 220186 (right) are modern, hassle-free way to incorporate the terrazzo look into your home. The freckles of blue greys and stone hues similar to Resene Gull Grey, Resene Mercury and Resene Biscotti lend the design a grounded feel in spite of its busyness. Using both colourways is a smart way to help break up the look. For a luxe pairing, add a plush velvet stool in a colour like Resene Dust Storm. Bring out the colours in the design with Resene Island Spice and Resene Wax Flower in soft furnishings and contrast with a jewel toned pop of Resene Hot Toddy.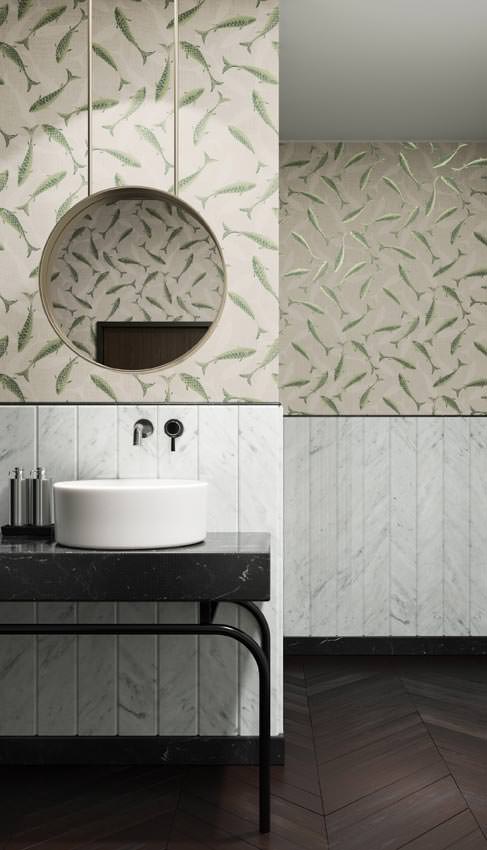 Any day that starts in a bathroom lined with the quirky fish print of Resene Wallpaper Collection IUM004 is sure to go swimmingly. Choose a mirror in a soft golden metal – or paint your own mirror surround in Resene Milky Way to pick up the soft warm tones in the wallpaper. If your budget won't stretch to marble tiles to line the bottom half of the walls, try tongue-and-groove panelling in Resene Hint Of Grey and trims in Resene Foundry for a look that is just as refined and durable. Tie in a couple of pops of Resene Norway to pull through the delicate green tones on the fish design. Resene Colorwood Mahogany timber stain works perfectly to introduce a beautiful deep tone on the wooden parquet flooring.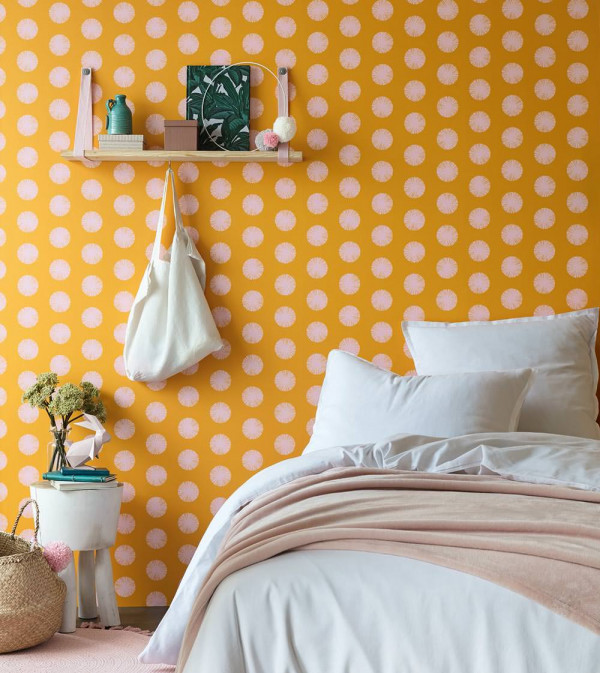 The rich orange tinged yellow of Resene Wallpaper Collection SMIL69732818 will bring a sunny feel to any room. The design features pom-pom like polka dots in a blossom pink similar to Resene Pale Rose. Combine this character filled wallpaper with a shabby chic footstool in Resene Merino to double as a bedside table and small accessories in Resene Surfie Green to contrast the warmth of the yellow. Introduce a soft accent colour with plush textiles in a hue in the spirit of Resene Tuft Bush.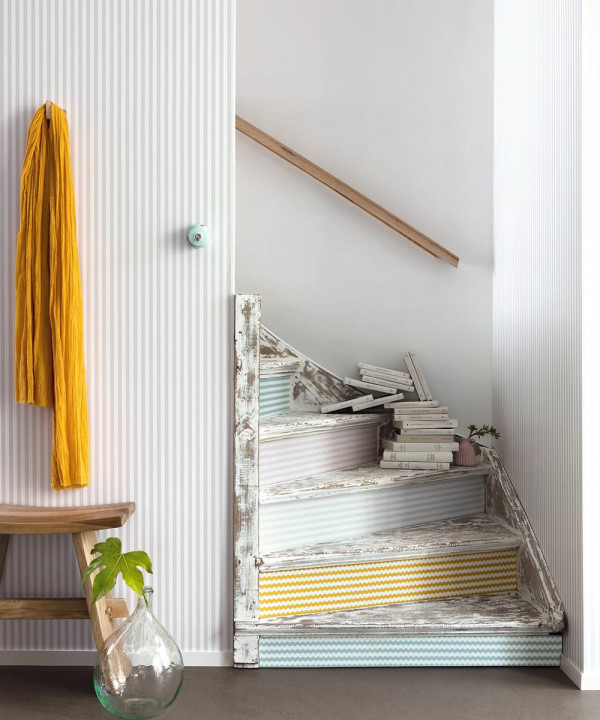 With a zigzag design reminiscent of ric rac trim, Resene Wallpaper Collection SMIL29699203, SMIL69766317, SMIL69762312 and SMIL69769505 have all the charm of a vintage haberdashery store. The design comes in a selection of soft candy shades reminiscent of Resene Half Pale Rose, Resene Sorrento, Resene Moon Mist and Resene Bardot. Use them to line staircase risers as a sure-fire way to put a spring in your step. A touch of Resene Scandal on a few small decorative accents like a light switch plate will play off the blue tones. Pair your stairs with walls in candy striped Resene Wallpaper Collection SMIL29889014 or paint your walls in Resene Quarter Powder Blue to finish this sweet cottage inspired look.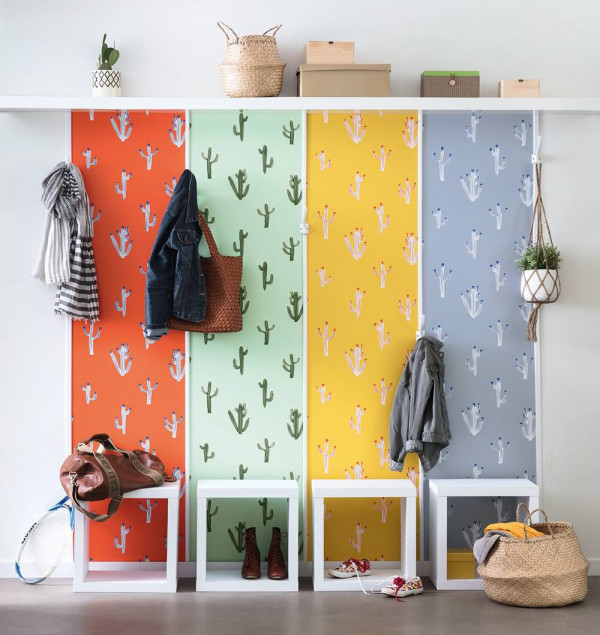 For a cheeky take on a 'commitment-free' living wall, try Resene Wallpaper Collection SMIL69753709, SMIL69757001, SMIL679752222 and SMIL67956414. The four colourways, in shades similar to Resene Sebedee, Resene Snowy Mint, Resene Cream Can and Resene Smokescreen, feature quirky cactus illustrations. Use them side by side in the entryway to your home against a backdrop in Resene Mystic and your arrival home will be anything but prickly. Crisp white shelving, cubby boxes and hook railings in Resene Alabaster help keep the space clean and orderly as well as framing the wallpaper beautifully.

View the latest releases in the Resene Wallpaper Collection at your local Resene ColorShop or get a taste of the designs online.