►
◄
latest
habitat tv
blog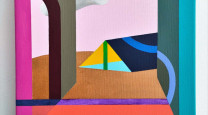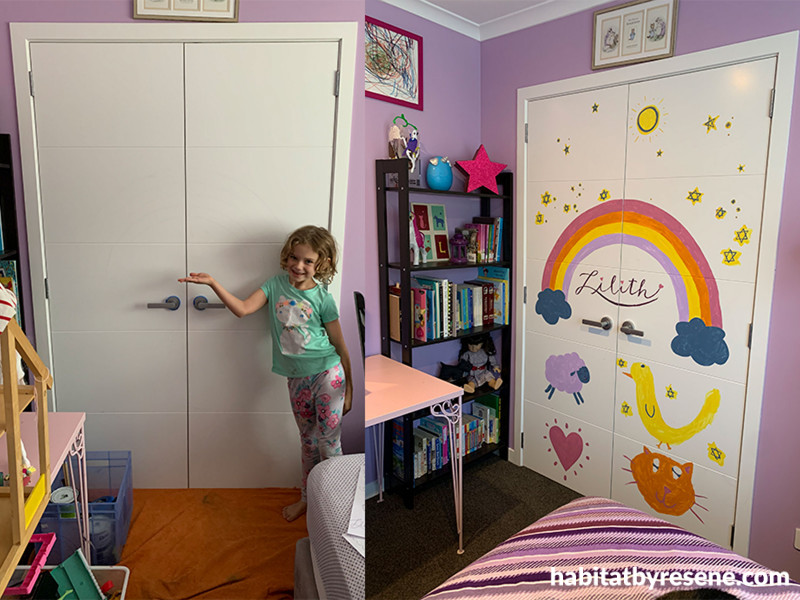 Refreshing renovations and radiant recycling: our readers get creative in this reader round up
03 Jun 2021
Creativity is at the fore in this vibrant reader round up. As the weather gets colder, our readers are warming things up outside with spruced up fences and colourful chairs. Inside, things are getting sophisticated with elegant bathroom renovations and magical cupboards.
Somewhere over the rainbow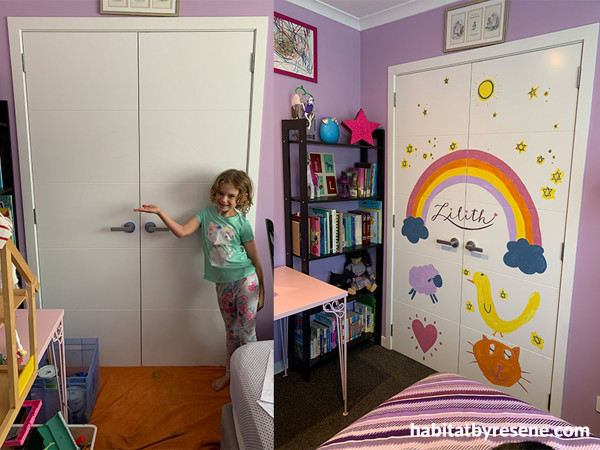 Rachel and her seven-year-old daughter, Lilith, embarked on a magical adventure when they painted Lilith's cupboard doors in her Resene Mozart bedroom. Lilith created the concept and the pair designed Lilith's ideas to fit the shape of her canvas. With a mix of freehand and pencil designs, the pair used happy Resene Bright Spark, Resene Fandango, Resene Perfume and Resene Tango with a deep blue Resene Wedgewood to anchor the rainbow. They got creative and mixed their own vibrant pink using Resene Bright Red, Resene Colonial White and Resene Cosmic. "We both love art and home decor, and spend much of our time making our home our own," says Rachel, who had previously painted a folk art inspired chicken to welcome the family's many chickens to their new coop. "It was fun to add different animals and shapes to the separate sections of the doors but tie it all together with the colours we had chosen together.
"Lilith is so proud of her work, and it's lovely that her space can be so reflective of her personality."
Take a seat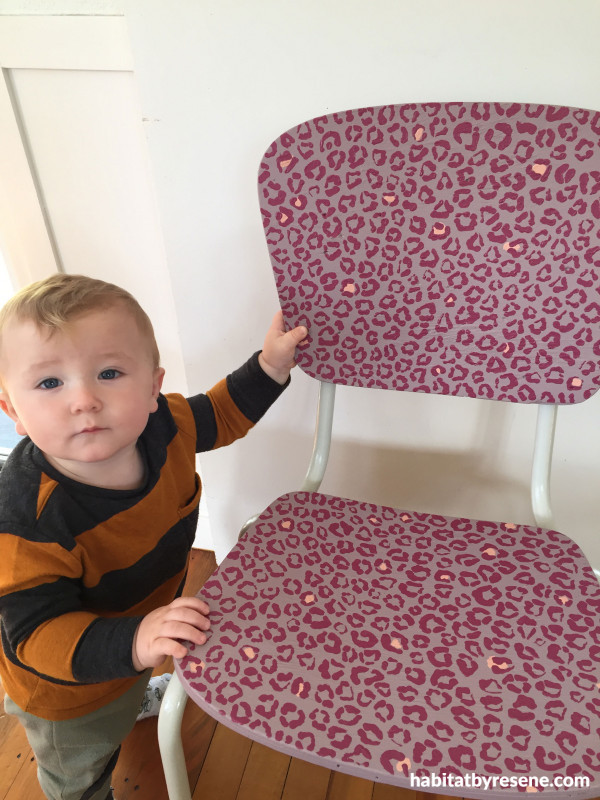 Casey created this chair-ful upcycling project with a range of Resene paints. She used Resene Bazaar as a base for her intricate leopard print pattern painted in Resene Love Me Do and Resene Just Dance. Casey's art style is inspired by tessellation (the tiling of a flat surface is the covering of a plane using one or more geometric shapes). "Anything and everything can be a canvas," says Casey, who finds it rewarding to paint recycled treasures. "It is incredibly therapeutic to fill a large area with tiny, hand-painted shapes and doodles.
"The colour palette chosen oozes feminine energy - something which I aim to amplify in my home, due to living with my son and husband."
See more of Casey's creations here
Taste of summer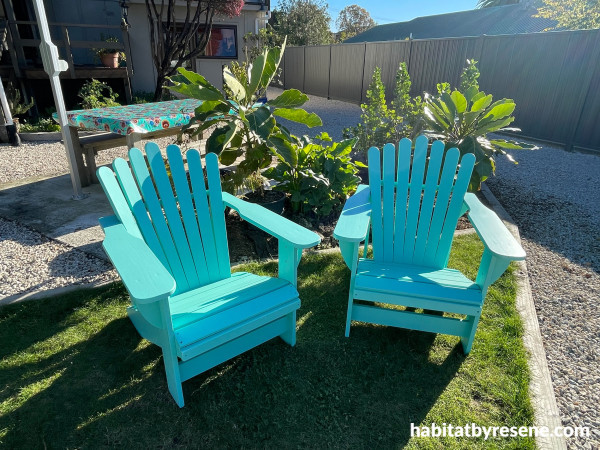 Primary school teacher turned interior designer Carley is 'putting the brakes on beige' as she puts it, with her new business Colourbolt Interior Design. With a passion for incorporating colour into homes, Carley made a splash when she painted her Cape Cod chairs in bright Resene Keppel. "The chairs make me happy every time I see them," says Carley, who says the bright colour has helped make an impact in her garden. "The colour Resene Keppel has always reminded me of the quintessential Kiwi bach, and I feel like we're on holiday living in Mapua, so the colour had to be incorporated somewhere.
"I love Resene and have used a lot of different colours over the years. We've just finished painting our lounge Resene Indian Ink - not my normal colour choice but it has totally made the room!"
See more from Colourbolt Interior Design here
On the fence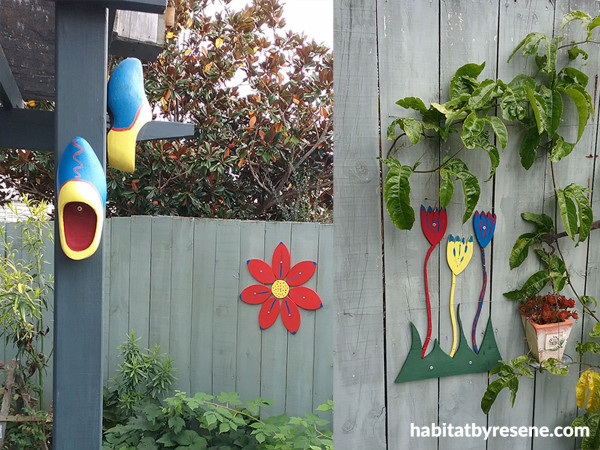 Paul livened up his winter garden when he used Resene paint to create colourful upcycled outdoor décor. "I wanted to brighten up the boring grey fence," says Paul. "I had some marine ply offcuts to dispose of and when my eye fell on my collection of Resene testpots I had an idea!"
Paul used vibrant Resene Guardsman Red, cool blue Resene Wet N Wild and yellow Resene Gorse for the flowers on his fence. The upcycled clogs were given a fresh update with Resene Wet N Wild, Resene Gorse and rich Resene Red Berry.
Going the extra tile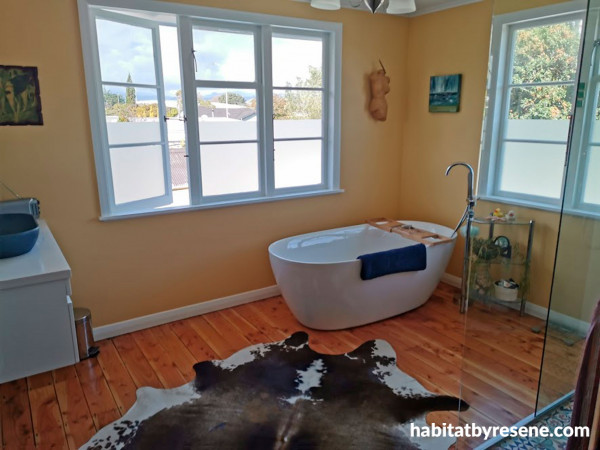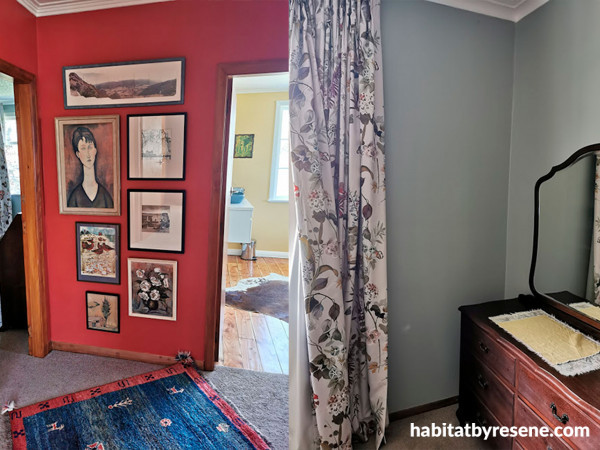 Marita's eclectic and colourful style was taken to new heights when she bought some beautiful heritage tiles for her bathroom. Little did she know that these tiles would inspire an entire upstairs makeover. She painted the bathroom in Resene Marzipan; a creamy amber. She chose vibrant and energetic Resene Mexican Red for the upstairs hallway and her favourite colour, Resene Robin Egg Blue, for the new master bedroom. "Resene Robin Egg Blue works really well in mid-century houses with lots of wood," says Marita. "I'm happiest with how the colours tie in the whole upstairs with the new bathroom.
"The Resene colours make the wood very rich, adding character and depth to what was just a cream colour before."
Published: 03 Jun 2021