►
◄
latest
habitat tv
blog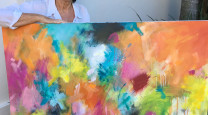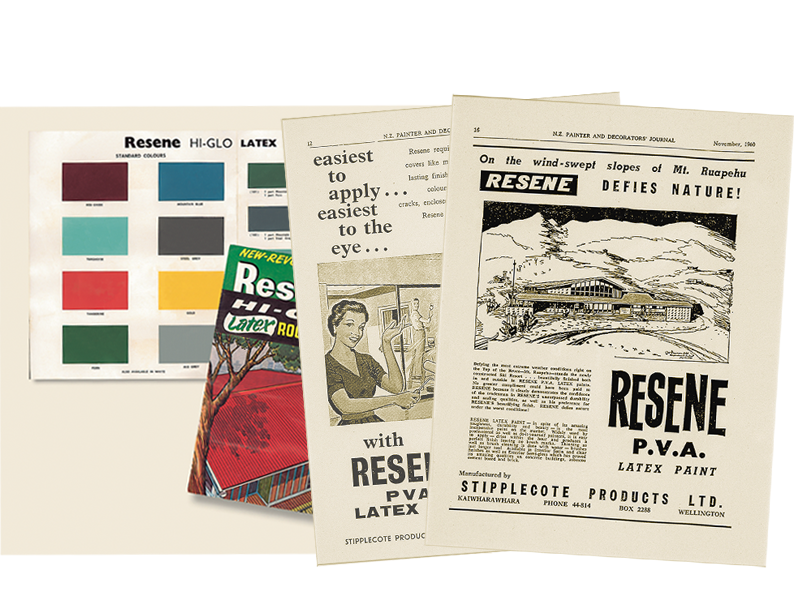 Resene from the beginning
16 Mar 2016
One of the country's largest family-owned companies, Resene turns 70 this year. Resene is a pioneering company and an innovator, producing eco-friendly paints and fashion colours way ahead of its time.
1946
Builder Ted Nightingale needs an alkali-resistant paint to cover his concrete buildings. There is nothing available so in typical kiwi style he develops his own – in a cement mixer in his garage! In response to demand from other builders, Ted starts producing his paint commercially under the brand name Stipplecote.
1951
Ted launches the first waterborne paint in Australasia under the brand name Resene – a name derived from the main ingredient of paint, resin. Waterborne paint has a very slow start. People are nervous of the new technology, thinking that a waterborne paint will just wash off.
1952
The company is registered under the name Stipplecote Products Ltd.
1960s
The company's perseverance and intense marketing of waterborne paints, including shop window demonstrations, finally starts to pay off as waterborne paints are accepted more widely.
The company removes lead from its decorative paints to create a more environmentally friendly product, a move that is well ahead of its time.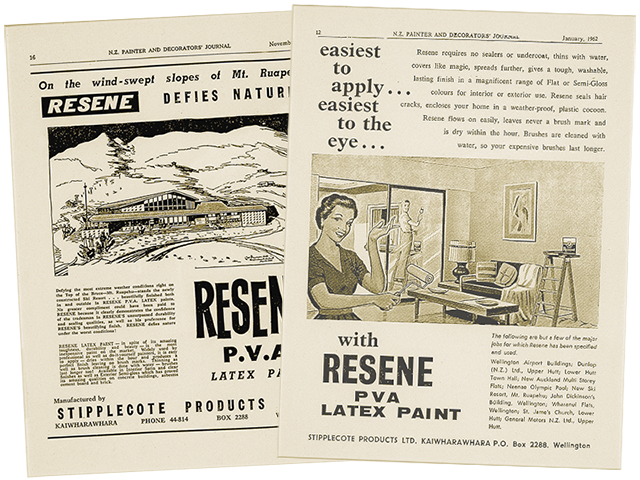 1970s
In 1972, Ted's son Tony takes over operation of the company. The company name is changed to Resene Paints Ltd in 1977 and its factory space gets bigger and better.
A radical step is made to the way Resene paint is sold. Instead of Resene being just a manufacturer and supplier, it decides to side-step traditional sales outlets and set up its own regional branches selling direct to painters and architects. This is a huge gamble.
In 1975, Resene opens the first of a series of retail stores – the Resene ColorShops – almost by accident when Tony buys a wallpaper company. The stores are overwhelmingly successful.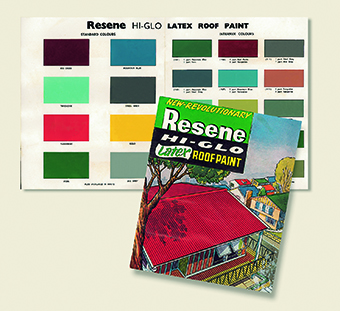 1990s
Resene joins the Environmental Choice programme.
The company introduces waterborne enamels and a friendlier alternative to solventborne versions.
Tony's son Nick takes over as general manager in the late 1990s, then becomes managing direct a few years later. Resene also expands in to Australia.
2000s
Resene launches the PaintWise recycling and recovering programme to deal with unused and unwanted paint and containers. Much paint is donated to community organisations and used to cover graffiti.
A company of colour firsts
Resene has built a reputation as the colour leader:
· In 1969 Resene set up a new system of colour, the British Standard Specification colour range (BS2660 range), which provided a range of strong colours at a time when decorators were used to pastel colours. The stronger BS4800 range followed in 1973. The launch of the BS5252 colour range in 1976 as a decorative paint collection was a world first.

· Resene pioneered the development of coloured paint bases, where previously only white was used.

· Resene was also the first company to offer a full range of testpots in New Zealand in 1981.

· In 1985, the Total Colour Multi-Finish System was launched. Combining an extensive range of colours with interlinked tinting systems for both interior and exterior, the flexibility and adaptability of this colour system was welcomed with open arms by specifiers and retail customers alike.

· Resene delivered virtual painting technology into thousands of homes with the launch of Resene EzyPaint in 1999.
· In 1999, the first of the Resene fashion fandecks, The Range 2000, was released showcasing fashion colours for the coming years. Resene also launched the hugely popular The Range Whites & Neutrals in 2003.
How did Resene ColorShops get their name?
Resene is often asked how ColorShops got their name. When the first ColorShop was opened in Wellington in the 1970s, Tony Nightingale (son of founder Ted and father of Nick who runs 1970s, Tony Nightingale (son of founder Ted and father of Nick who runs Resene today) had to come up with a name for the stores. He decided on 'ColorShop' rather than 'ColourShop' because it looked better (more evenly balanced without the 'u') and would be unique. The capital 'S' in the middle also makes it unique. Resene spells 'colour' correctly for normal colour charts and articles.
Tony had a huge impact on Resene's history, taking the company from a very small business to a nationwide business and then one that started selling overseas. Tony's spelling of the name 'ColorShop' has been retained in his memory.
Published: 16 Mar 2016