►
◄
latest
habitat tv
blog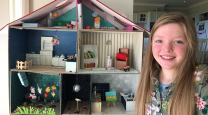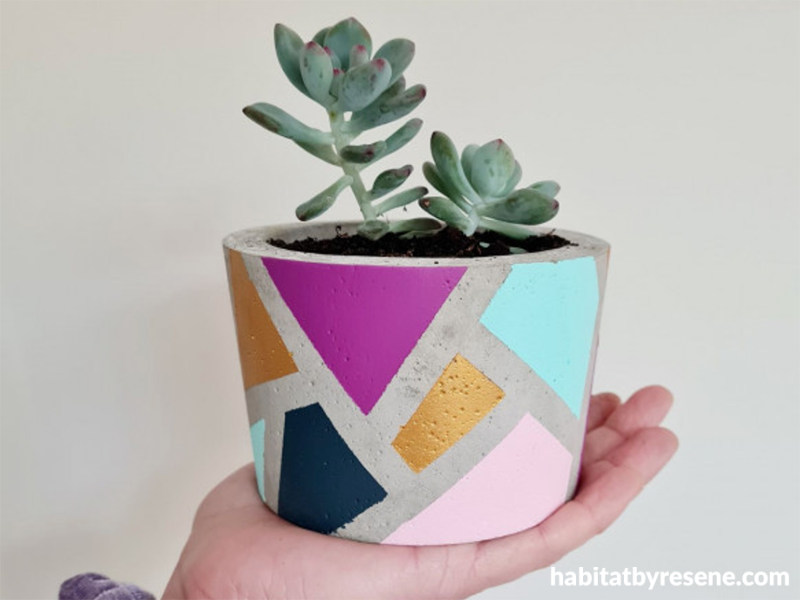 Shop local with our Mother's Day gift guide 
21 Apr 2022
Remember to make mum feel special this Mother's Day with a handmade gift. We've put together a collection of some wonderful local artisans and small businesses to help you shop small and find the perfect gift for your mother. Whether your Mum is a jewellery fan, a gardener, a pet lover or a DIY queen, these makers and their Resene finished products have Mother's Day sorted!
For the organiser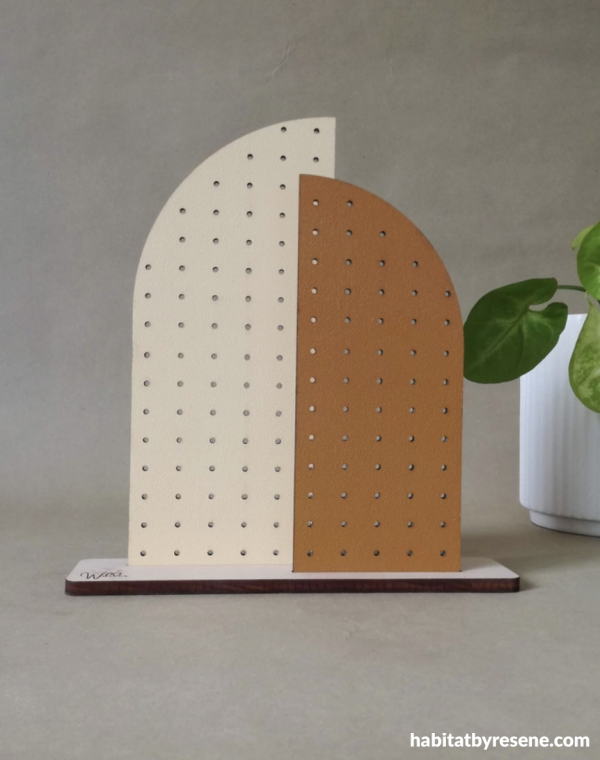 Resene Swiss Caramel and Resene Manuka Honey feature on this earring holder, a perfect addition for mum's dresser.
Combine a love for jewellery and organisation with these gorgeous Wilder & Cove earring holders. Leah started her business in 2021 after deciding she wanted a way to display her earrings, rather than keeping them tucked away in a box. "All my products are lovingly made by myself in my upper Auckland based studio. I use a range of MDF, maple and hardwood locally sourced here in New Zealand to make the products, and use trusted Resene paints." Resene Rumour Has It, Resene Swiss Caramel, Resene Twine and Resene Manuka Honey are favourites. www.wilderandcove.co.nz
For the recycler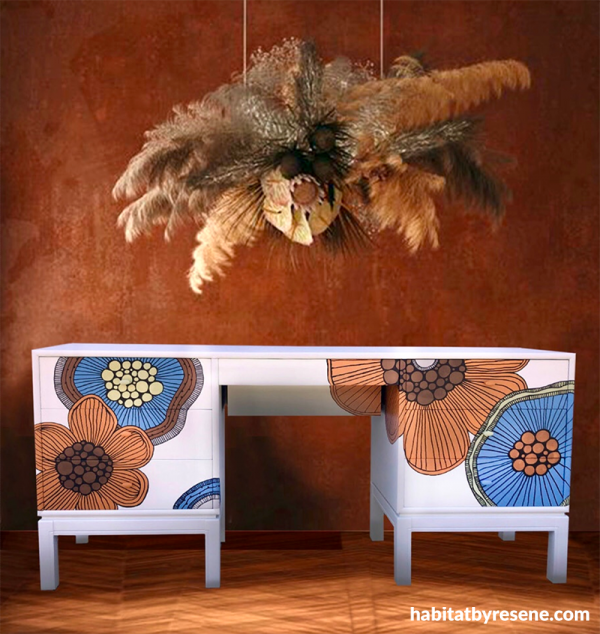 Unique recycled pieces made with love from Torbay, Auckland.
If your mum loves repurposed, re-loved, one-of-a-kind pieces, Byebyelove is a wonderful gift idea. Byebyelove was started by Heike and Jeanine. These two creative women made it their business to rescue what they call 'sleeping beauties' in garages, storage units or forgotten corners of the house to be kissed awake. "These pieces deserve the opportunity to shine again. Often they've survived a century with barely any wear and will do it again with a little bit of care and know-how," Heike says. Find them: byebyelovenz.co.nz
For the gardener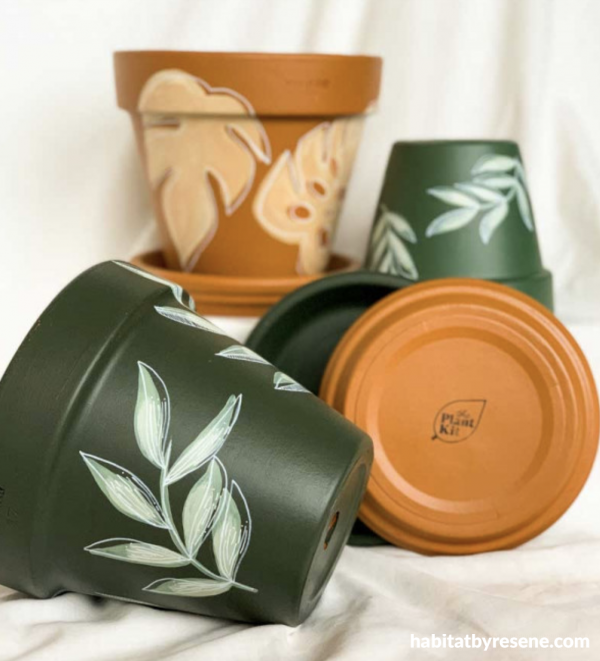 The Plant Kit pots use Resene Korma and deep Resene Forest Green.
If your mother is a keen gardener, a plant pot could make for a lovely gift. Based in Auckland, Celine's business 'The Plant Kit' was seeded in the country's first lockdown. "I decided to invest in an iPad, which was one of the best decisions I've made. I found a passion for drawing, plants in particular, which started my plant obsession." Celine's pots are painted with Resene paint colours. Her warm-toned pots (above) use Resene Korma and deep forest green pots Resene Forest Green. Find them: www.theplantkit.com

For the animal lover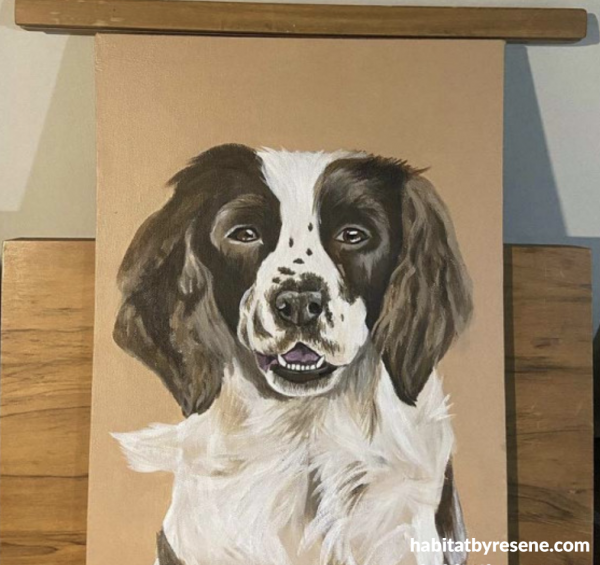 A spaniel portrait by Vanessa, using Resene Black, Resene Smitten, Resene Milk Chocolate and Resene Apache.
Has your mum got a much-loved pet in her life? There's nothing sweeter and more personal than a pet portrait. Christchurch crafter Vanessa Heaver isn't kitten around with her business Treasured Arts. The 23-year-old makes small portraits of pet cats, dogs and even horses on wooden key rings, fridge magnets and small canvases using Resene paints. Find them: www.instagram.com/treasured_art
For the nature lover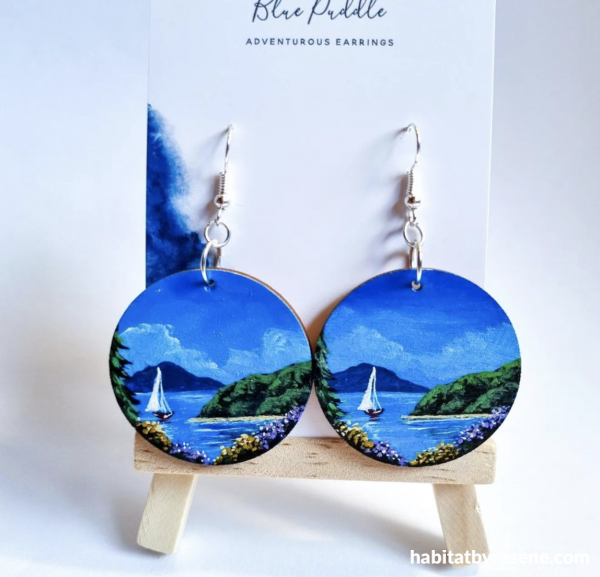 These adorable boat earrings feature Resene Bluetooth, Resene Alabaster, Resene Half Bone and Resene Cobalt.
Sarah Kolver is a painter of birds and whimsical landscapes. The twist: they are miniature, and dangle from earrings and necklaces. Sarah's earrings are brought to life with Resene paints. "I use Resene colours as my base colours, before painting in the detail with artist acrylics. My favourites to use are Resene Bluetooth, Resene Alabaster and Resene Half Bone. Resene Half Bone is creamy and provides a much warmer base for my paintings than pure white would, which is great."
Each pair of earrings takes several days to make. There's the staining and varnishing phase, the priming, the painting of her pictures with a tiny brush (really only a few mere hairs on a stick), and staining again with a satin varnish. Find them: https://chooice.co.nz/store/blue-puddle-earrings/
For the interior lover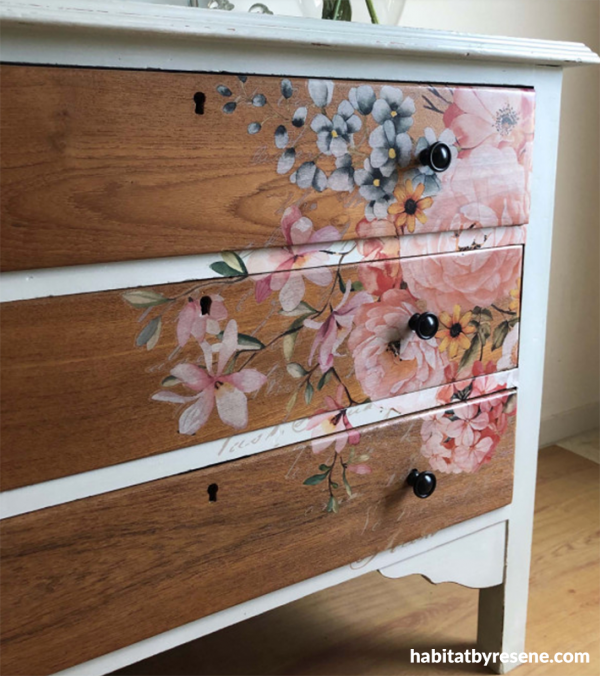 This solid oak vintage dresser was painted in Resene Half Robin Egg Blue and finished with a beautiful floral furniture transfer. The natural wood was sealed with Resene Qristal Clear Polyurethane.
Melanie's Mix Design & Co rejuvenates unwanted furniture into fabulous statement pieces with a wide variety of Resene colours and stains. Juggling single motherhood with her beautiful but labour-intensive work, Melanie works at home from her garage. "The beauty of that is being able to work around my kids," says Melanie, whose budget-conscious business has led her to not only paint furniture, but also do all the repair jobs needed to bring the pieces to life.
Working with a variety of styles from different eras, Melanie transforms old cabinets, drawers and side tables into fabulous works of art using a carefully chosen range of Resene neutrals. "I tend to mostly stick to neutral colours to suit most people's décor and interiors." For mums who love unique interiors, a piece from Melanie could be a very thoughtful gift for Mother's Day. Find them: www.facebook.com/MixDesignCo
For the jewellery lover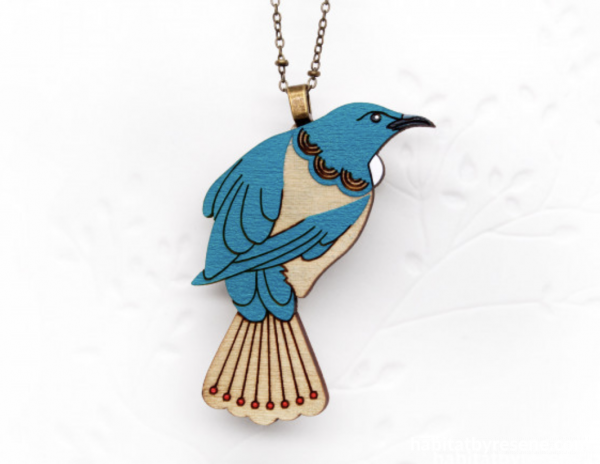 This lively Tui necklace uses Resene Guru for the base colour with pops of Resene Poppyand Resene White for the tiny detail. Felicity says she's lucky to have a steady hand and good attention to detail.
Artist Felicity Meade's playful jewellery pieces are inspired by kiwiana. Her wooden necklaces and brooches have taken flight across New Zealand. Felicity's creative process begins by lightly sanding a wooden board before painting it with a base colour. The laser cutter then cuts out her design, engraving away the areas of detail to reveal the wood. Felicity then uses white vinegar and a toothbrush to clean off any unwanted burn marks. She uses different Resene paints to get her colours just right, her favourite is Resene Niagara with its turquoise hue. A perfect Mother's Day gift for someone who loves both nature and jewellery. Find her: www.felicitymeade.com
For the colour lover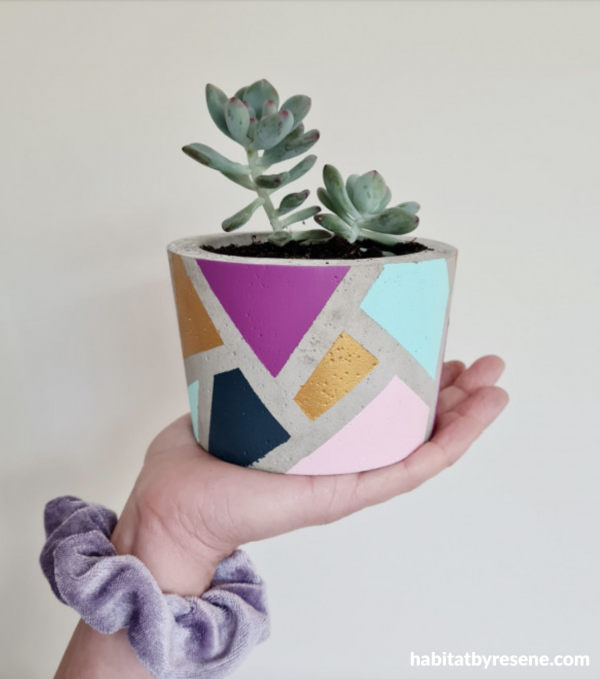 A geometric design on this concrete planter uses Resene Riptide, Resene Princess, Resene Warrior, Resene Belladonna and Resene Gold.
For a one-of-a-kind, colourful Mother's Day gift, a little planter could be for you. In 2020 an idea for a creative business was taking root in Nataly Castano's head. Her green-fingered business, Alegra, sees her creating handmade miniature concrete planters painted in vibrant Resene paints. "Alegra is my dream project and inspires me daily," says Nataly. "For me, it's about creating something small and unique that goes out there and generates a big difference in any space."
Originally from Uruguay, Nataly's business is derived from the Spanish saying, Alegra tu hogar, meaning 'joy to your home.' "The meaning behind Alegra is fully connected to the message I want to spread with my products and in some ways having a Spanish meaning behind it keeps me close to my roots." Find them: chooice.co.nz/store/alegra/
Treat mum this Mother's Day, and surprise her with a local, hand-made treat.
Published: 21 Apr 2022