►
◄
latest
habitat tv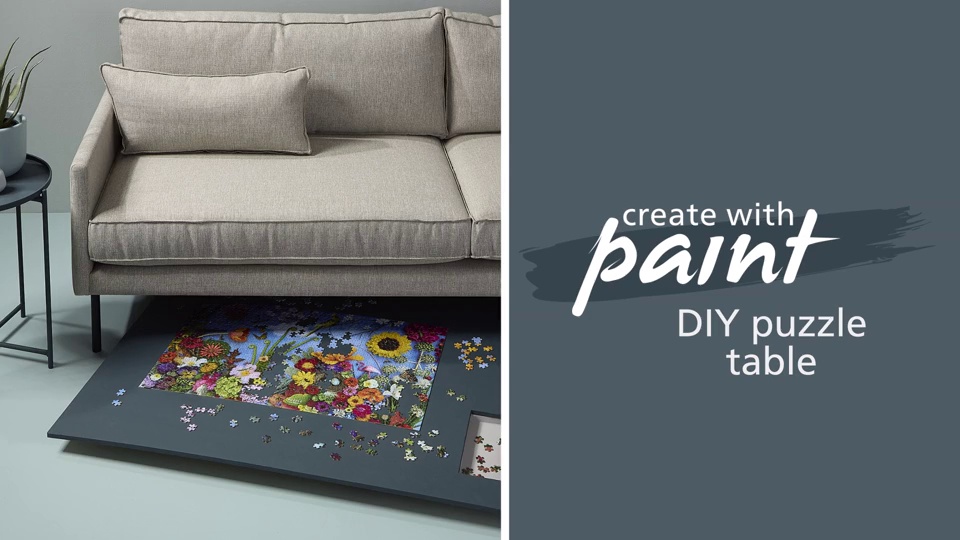 blog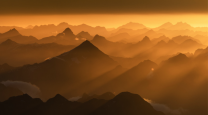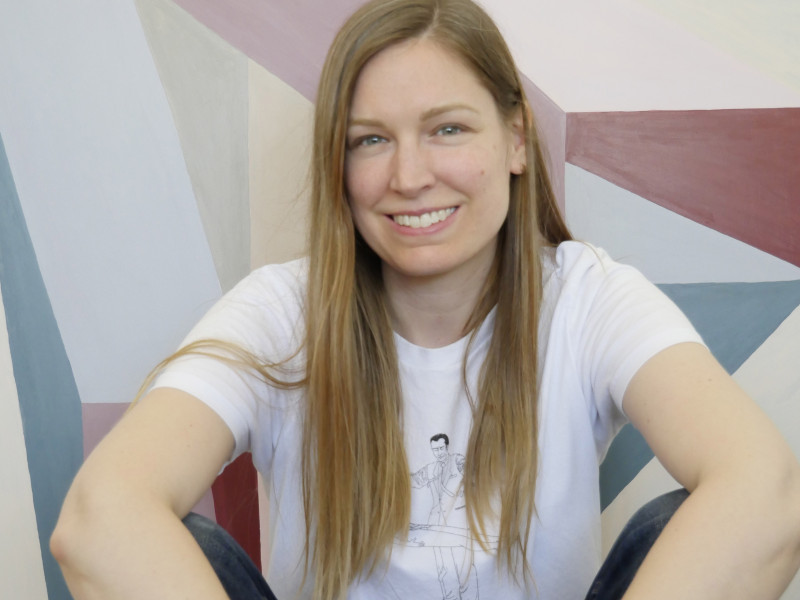 Straight lines and fine designs: artist Laura Woodward creates edgy art that's full of surprises
28 Jan 2021
Artist Laura Woodward loves to design with straight lines and right angles, but her works are anything but "square". The Wellington artist, who also works as a registrar for the Wellington City Council's City Art Collection, describes her geometric and linear pieces as "hard-edged, abstract, colourful and both orderly and illogical". Her pieces have ranged from huge murals down entire streets to smaller 20cm paintings. Whatever the size, their hypnotic three-dimensional quality means you can't keep your eyes off them.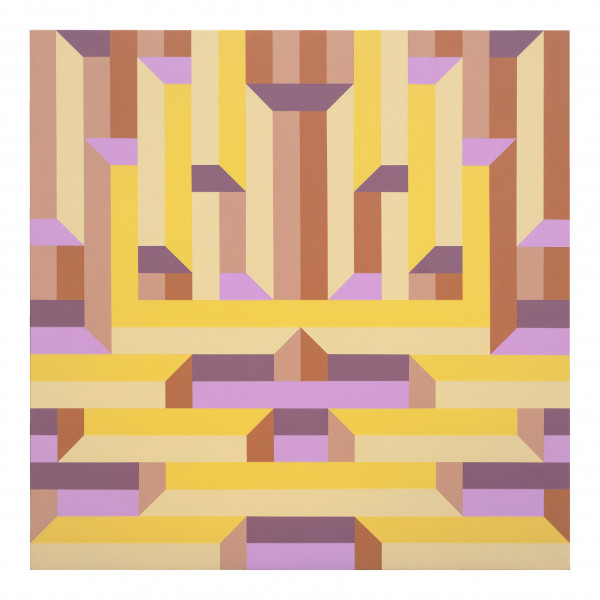 Laura's artwork 'Swatch' was painted with Resene Kournikova and Resene Florentine Pink.
Laura started off painting murals and wall art. Several of her past exhibitions feature pieces which snake their way around the walls of an art gallery. She's recently branched out into smaller works. Even though they are miniscule in comparison, they still take hours to create.
"First I draw hundreds of options, always changing things a little bit here, a little bit there, waiting for the composition to feel right," says Laura.
"I'm inspired by architectural features such as columns, beams and staircases as well as weaving, knitting and knots.
"I then add colour, rather intuitively by looking at my library of Resene testpots and seeing what jumps out. I paint the lids so it's clear what is inside."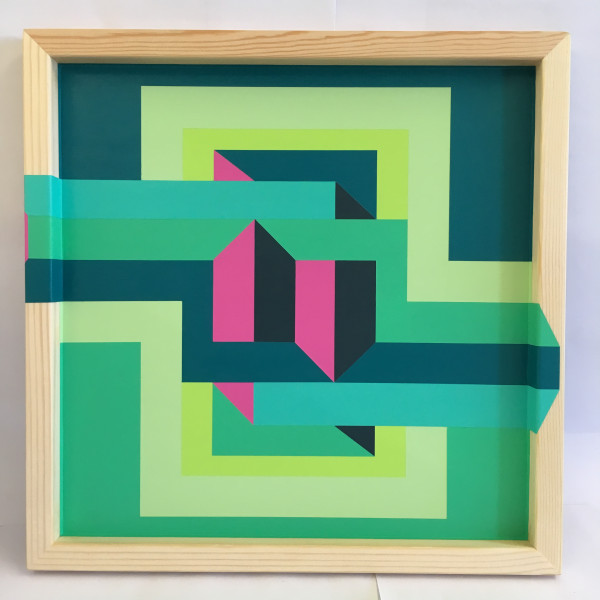 Laura recently completed a series of knot paintings. Knot Painting 8 is painted in Resene Cowabunga and Resene Smitten.
Her use of painter's tape is an artform in itself. Her pieces are so precise they could be mistaken for a computer-generated graphic.
"I feel like the tape queen! I've even been given tape as a birthday present," she laughs.
"With the right technique it can give a satisfyingly crisp line. Any little runs under the edge makes me almost physically ill. This is where a little bit of perfectionism is of benefit.
"I couldn't draw a straight line to save myself. When I'm doodling ideas, it doesn't matter but when things get serious, I have a collection of rulers and set squares I rely on."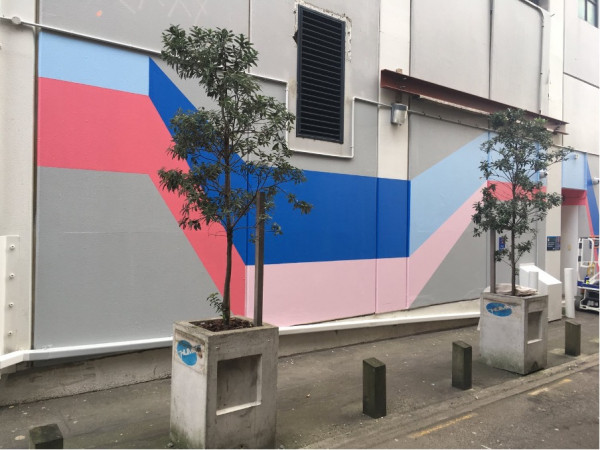 A section of Laura's Weaving and Waving mural painted down Forresters Lane, Wellington in 2018. The mural, painted in Resene colours, wraps its away around buildings on the laneway in a historic part of the windy city. The mural is painted in Resene Pink Lace, Resene Cabaret, Resene Quarter Pohutukawa, Resene Sail, Resene Mariner, Resene Decadence.
Laura's favourite colour is Resene Half Pohutukawa which she saves for special occasions.
"It's such a deep but vibrant pink/red, like the perfect lipstick. Resene Vintage is a gorgeously sophisticated purple, and even though I'm not a 'yellow person' Resene Kournikova keeps turning up in my work. Resene Ivanhoe is the most dreamy blue-grey. Resene Blanched Pink, from the Karen Walker Paints palette is a mystery. Depending on what it's next to it can look pink, grey or purple," she says.
Laura loves the physicality of creating a large mural but with her smaller work she loves playing on design conventions.
"I get to play out all my crazy ideas and bust myths of what colours 'should' work or where they 'should' go. I suppose it's curiosity. I like to break conventions. I've never been one for following the herd."
See more of Laura's work at Laura Ann Woodward and on Instagram @_laura_ann_woodward