►
◄
latest
habitat tv
blog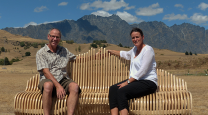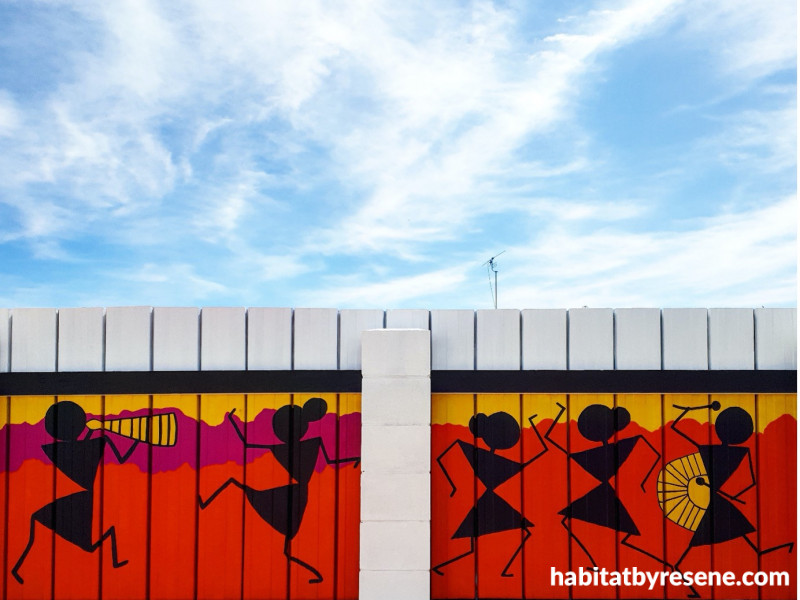 This Reader Roundup has everything including the colourful kitchen sink
22 Jul 2021
Across the country, our readers are getting creative with colour. This collection of artists, DIYers and serial renovators prove that the sky's the limit when it comes to working with Resene paint. From terrific tables to mega murals, fancy fences and whimsical wallpaper, this array of projects will inspire you to get crafty and pick up a paintbrush.
Raising the bar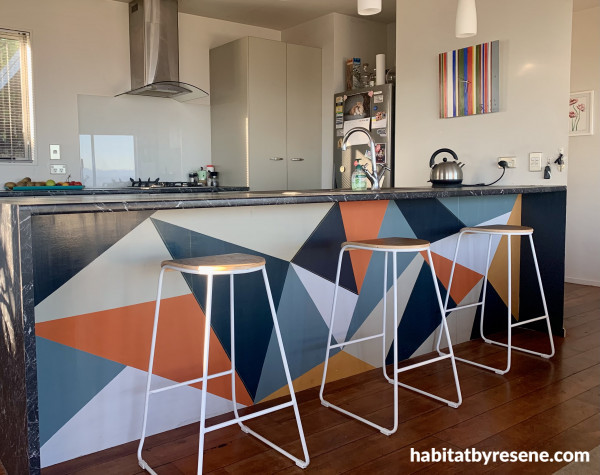 Mandy cooked up some creative colour combinations when she painted the bar in her partner's house. Taking inspiration from the sunset skies, mountains and sea views through the French doors of the home, Mandy used Resene Ayers Rock, Resene Artemis, Resene Blue Charcoal, Resene Hot Toddy and Resene Half White Pointer to create this contemporary geometric design. "I had previously painted and tiled my own kitchen a few years ago and I enjoyed painting with Resene testpots," says Mandy. "I loved pulling off the masking tape to reveal the crisp paint work and my partner's reaction to the finished piece."
Check out more of Mandy's work on her Instagram @preston.mandy, Facebook, or website
Moving mountains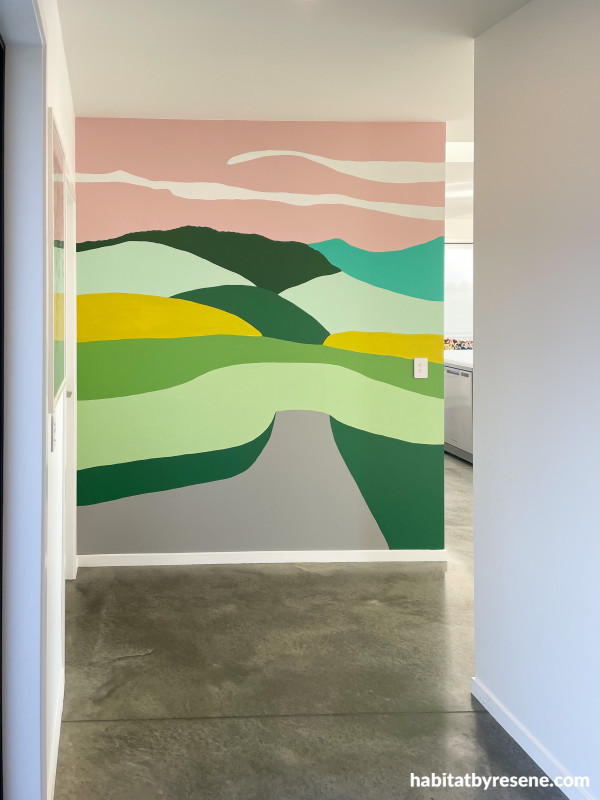 What do you do with a marked white wall that has to survive daily wear from school bags, scooters and toys? Paint a mural of course! Anita took the opportunity to turn a high-traffic wall in her home into a vibrant piece of art using Resene Paper Doll, Resene Goblin, Resene Fringy Flower, Resene Double Alabaster and Resene Mountain Mist. "I saw an article in habitat about someone who painted a mural in their home and it sparked the idea," says Anita. She began the process by taking a photo of the Kaitake Range from her driveway and used it as a base to establish the main lines and colours. "I used the Resene website to get an idea of which colours I might use, then I drew the design on A4 paper and tested out the paints," says Anita, whose favourite colour is Resene Paper Doll. "It took me three or four tries to get a colour combination that I was happy with.
"Then I drew the design on the wall freehand and painted it!"
See more of Anita's work on her Instagram @anitaaffleck
Turn the tables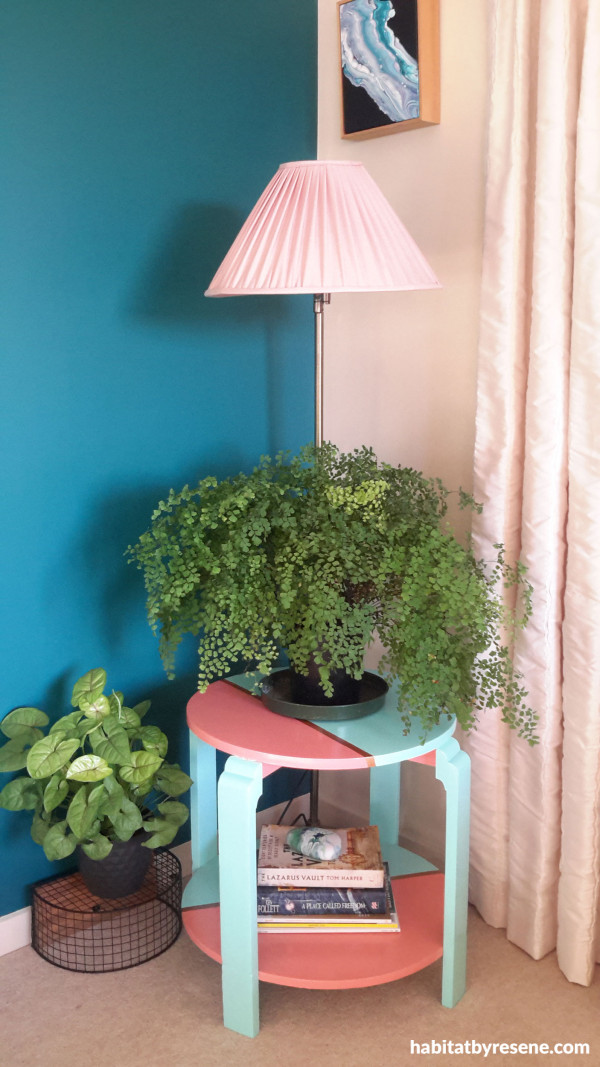 Heather is a creative who adores colour. Lots of it. With big, bold plans for her living, kitchen and dining room makeover, Heather started small. She upcycled an old wooden side table she discovered in a secondhand shop into a bright plant stand using Resene Riptide and Resene Glorious with metallic accents in Resene Bullion. "I have been known, when struggling with the final colour choices, to let the name help with the final decision," says Heather. "I enjoy the entire process, from the treasure hunt itself, choosing the design and the colours and then dressing the table."
You can see more of Heather's work on her Instagram @heatherwhiteartislife
Hero colour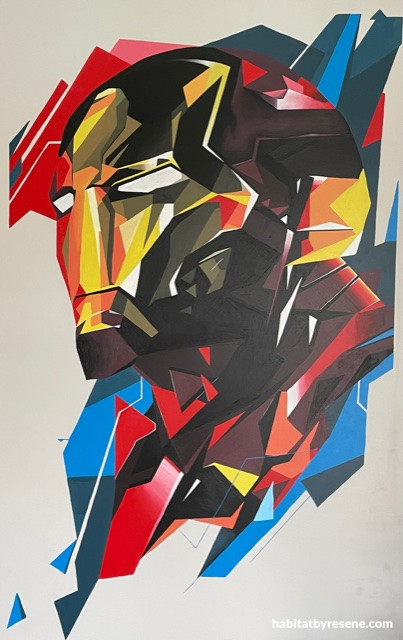 When Nikita was 14 years old her younger brother asked her to create something new for his bedroom wall. Nikita got to work masking out a large area of the wall, sketching the outline and bringing the painting to life with Resene Bright Red, Resene Turbo yellow and Resene Bondi Blue. "With the variety of colours in this mural I knew Resene testpots were going to be the best to use for this project," says Nikita, who used the three Resene colours as a base for her colour mixing. I hadn't done a project of this size before so it was a challenging one.
"I've always been a fan of geometrical shapes, so this design was an exciting one to take on."
See more of Nikita's work on her Instagram
Oceans of paint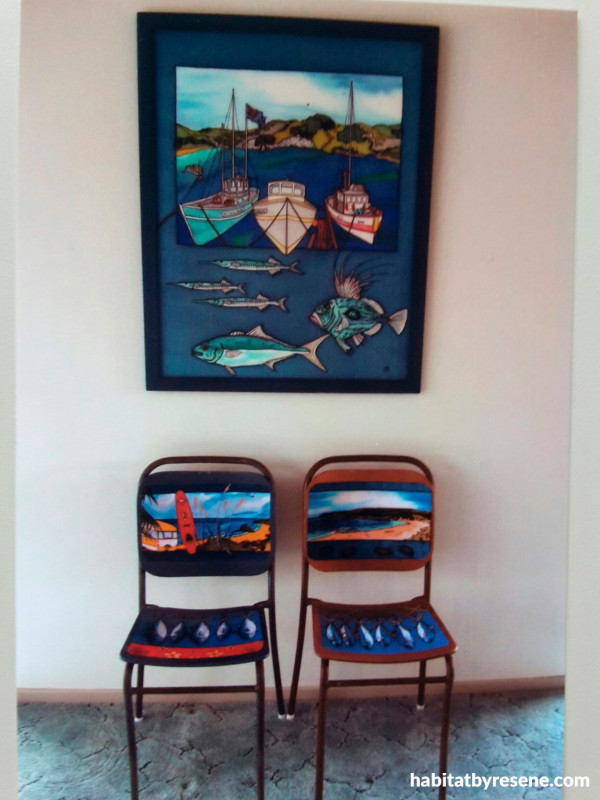 This year's winner of Resene's Creative Testpot Competition takes creativity to new heights with her colourful creations. Doris Riederer proved that testpots aren't just for home decorating when she created a collection of vibrant ocean-themed paintings.
Doris is a hobby painter and potter who has used Resene testpots in a range of art projects. Her colour palette is extensive and she uses everything from energetic Resene Hyperactive to deep Resene Retro. "I am a big fan of Resene testpots, the incredible range of shades helps me immensely - I could never mix up those amazing colours myself," says Doris, who is excited to have won the competition. "Through winning this competition I will be able to try out even more testpot shades. Christmas and my birthday have come all at once!
"I love all of the colours, but probably my absolute favourites are the metallic ones."
On a roll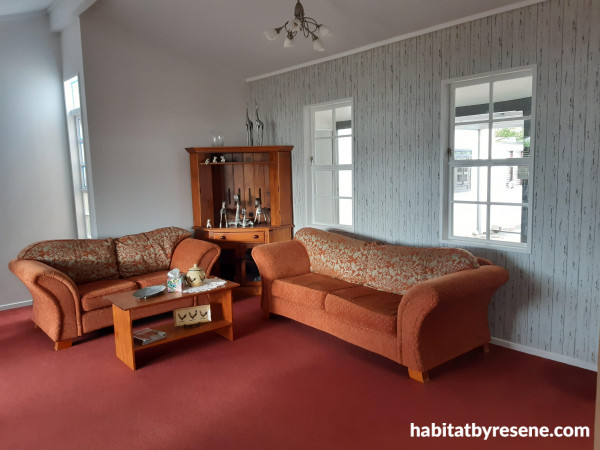 When Heather purchased her 1970s home, she knew it needed some good old-fashioned TLC. Heather covered the yellowing cream walls with elegant wallpaper from the Resene Black and White Wallpaper Collection. She has wallpapered for herself and others and knew exactly what style she wanted to achieve in her lounge. "When renovating the cathedral step down lounge I wanted to theme the feature wall to embrace the era of the home," says Heather. "I used an amazing paper from the Resene Farmhouse Wallpaper Collection - design FH37530.
"I love the outcome and everyone who visits my home says how much they love it too."
Mending fences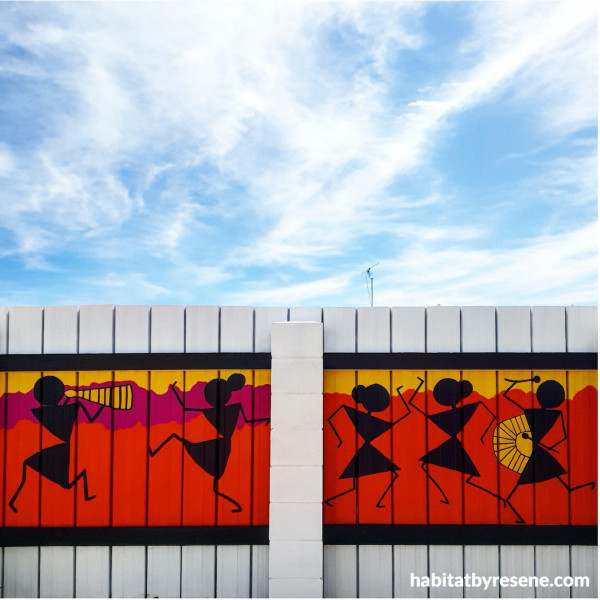 Judy made the most of lockdown when she created this festive and colourful mural on the fence outside her dining room window. She visualised the design before drawing the figures onto recycled paper and transferring the design onto the fence. The fence palings frame the art in Resene All Black, and Judy used Resene Daredevil, Resene Supernova and Resene Scrumptious for the background. "I paint what I feel like. In this case, I had just painted my fence as my house had recently been painted but the fence had not," says Judy. "What I like about the design is the exuberance, the joyfulness of it and its simplicity.
"I like this fence mural because it faces my dining area so it is lovely to look out at and, each time I pass by it, I feel happy."
Is it a bucket? Is it a letterbox? It's both!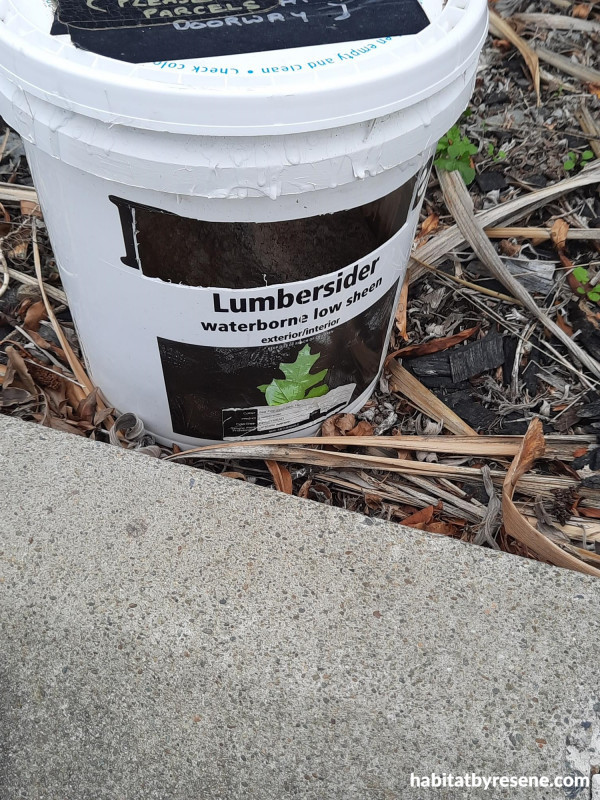 What better way to reuse an empty paint bucket than by turning it into a mailbox for couriers? Spotted by David from the Christchurch Resene team, this letter bucket is a great way to upcycle in the garden. Add a splash of colour with bright, eye-catching Resene colours. Be sure to make a label or sign nearby your bucket so couriers know where to put your parcels. For more upcycling tips and DIY ideas, visit the habitat DIY page
Published: 22 Jul 2021